hi, guys!
as you may know, i make a weekly dinner plan and go grocery shopping every sunday. it's a ritual. it's therapeutic. i love it. want me to meal plan and grocery shop for you? i will. it's my favorite thing to do. i will even do it for free.. how about a trade? i do your meal planning and grocery shopping, and you fold my laundry. PERFECT.
anyway, i decided to document yesterday's purchases so you could see what a typical week of groceries looks like. marshall went with me on my grocery run (i usually go alone) so that made it a lot quicker. i typically walk up and down EVERY aisle of EVERY store i go to (that's the therapeutic part for me) but since he was with me, i stuck to my list and was in and out a lot quicker.
we went to trader joe's, whole foods, and target. it's funny, after leaving trader joe's and going around the corner to whole foods, we ran into a couple while getting our cart. the guy said, "hey, weren't you just at trader joe's?" i laughed, telling him it's a sunday ritual! i love how close the two stores are. i always hit up trader joe's first because it's cheaper. i then go to whole foods to get anything i couldn't get at trader joe's—like kombucha and chobani.
i have a few steps to make my list.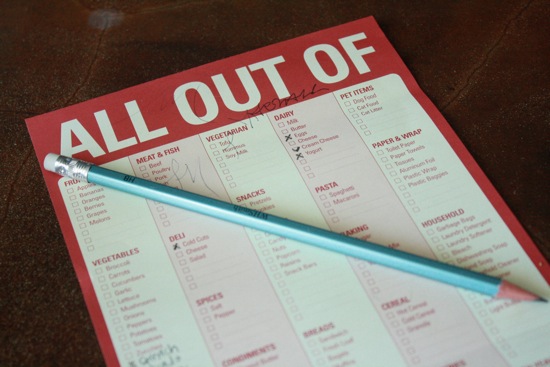 first i check the cupboards and i plan out my dinners for the week according to what i have on hand, then i write the needed items for those dinners on the list.
second, i take a produce inventory and decide what fruits and vegetables we need. we use a lot of produce in our morning whole food juice and i usually pair a veggie with dinner. i also like to eat veggies and hummus with my lunch and fruit before my workout. the produce items i ALWAYS have on hand are apples, bananas, broccoli, cauliflower, and spinach.
third, i ask marshall what he wants/needs from the store for his snacks, breakfasts, and lunches. i don't plan those for him, he decides and just tells me what to buy. this usually includes things like bagels, cream cheese, applesauce, canned soups, cereal, oatmeal, ice cream, and kombucha.
fourth, i take an inventory of what i have for my snacks, breakfasts, and lunches. i don't plan those day to day, but they are always really similar. as long as i have a few protein and a few carb options on hand, i can build a satisfying lunch. almost every day of the week, my breakfast is the same protein shake.. so i really just need bananas, spinach, and almond milk.
finally, i read through my list to see if there is anything i missed. i use this awesome list that has several items on it that i can check mark if i need them, which helps me remember if i missed anything. i LOVE this "all out of" list—it is so convenient!
it has a magnet on the back and hangs on our fridge so we can check mark or write in items we need as we think of them through the week. it's a list-lover's DREAM.
anyway, that's how i make my list. then i head out! i always hit up multiple stores. since my favorites are in salt lake (i live in a suburb to the north) i will usually make the journey out there and go to trader joe's and whole foods. if i don't feel like going that far, i will go to harmon's or smith's. if costco is needed, i will go there.. but i try to avoid it because i impulse buy like nobody's business and impulse buying at costco can get expensive. i am not super organized and don't look at ads to see what's on sale.. i simply go where i feel like. oh, and 100% of the time, i end up going to the store again during the week.
here's what we got yesterday! i will note the impulse buys so you can see how far i strayed from my list. i did REALLY well since marshall was with me and i didn't take time to mindlessly wander!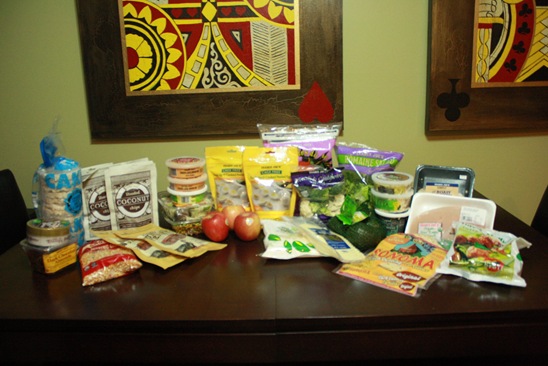 a closer look…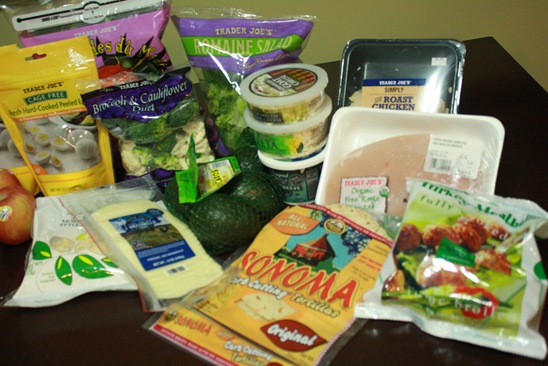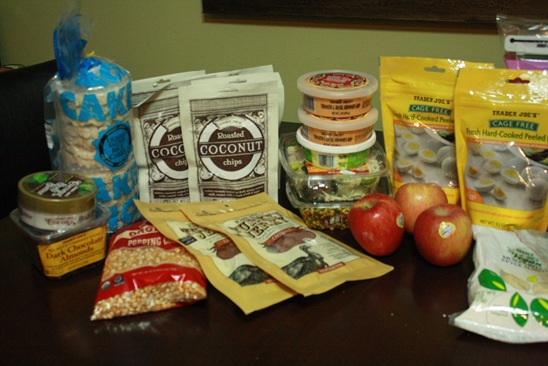 proteins.
hard boiled eggs
roasted chicken (cooked)
chicken breasts (raw)
turkey meatballs (frozen)
produce.
broccoli & cauliflower
spinach
romaine
apples
avocados
cheeses.
goat cheese crumbles
mediterranean feta
vegan mozzarella (going to give it a shot)<—impulse buy
mozzarella slices
whipped cream cheese
snacks.
coconut chips<—impulse buy
rice cakes
dark chocolate almonds
popcorn
turkey jerky<—impulse buy
other.
tomato basil hummus
tortillas
pre-made egg salad<—impulse buy
pre-made salads (2)<—impulse buy
coconut body butter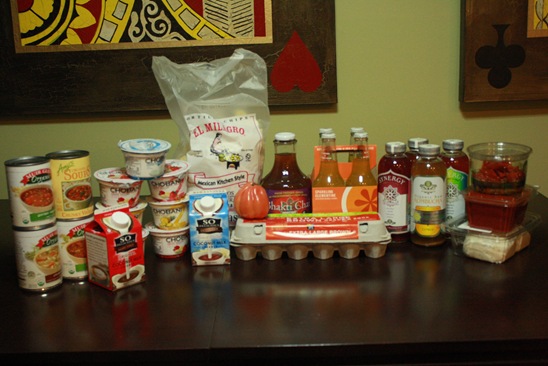 proteins.
eggs
chobani greek yogurt
produce.
drinks.
izze
kombucha
chai concentrate<—impulse buy
snacks.
tortilla chips (these are the best, they are super thin and delicious.. like restaurant chips!)
other.
pizza sauce, dough & toppings (see below)
coconut milk creamer (vanilla and plain)
canned soup

i usually don't go to target, but i needed some household items that aren't found at TJs or WF, so we went there on our way home. i typically buy deodorant, mouth wash, and razors at costco.. but i realized that if i went there to buy them, i would end up impulse buying way too much crap. (i impulse bought enough stuff as target as it is!) so i opted to buy these things at target to tide me over to the next time i *really* need to go to costco.
clorox wipes
all purpose cleaner
razors
mouthwash
deodorant
fruity pebbles<—impulse buy
lint roller
iron
sports bra<—impulse buy
extra lemon gum<—impulse buy
pear & raspberry chocolate chobani (i have only found these flavors at target!)

like i said, i don't really plan specific breakfast, lunches, and snacks.. but i do plan dinners! i don't plan exactly what day we will have each dinner, but i make sure to plan five or six dinners to have during the week. here's what is on tap for the week:
pizza
meatball subs & salad
spinach linguine with sausage marinara
chances are we will eat out at least one night and won't get to all of these meals, but it's nice to know we have everything for them (aside from the buns for the meatball subs.. i will buy those fresh on the day we have them.) the meal(s) we don't have will roll over into next week. remember, my groceries above don't include all the items for those dinners. i try to plan the dinners around what we already have and then buy the needed ingredients to complete the plan.
we had the pizza last night—it's our favorite meal! we have it at least weekly.. sometimes more. the dough is only $2 from whole foods (multigrain dough ball.) the toppings last night were marinara, goat cheese, and marinated veggies (tomatoes, peppers, and olives.) marshall made the pizza and finished it off with a balsamic glaze drizzle. mmmm.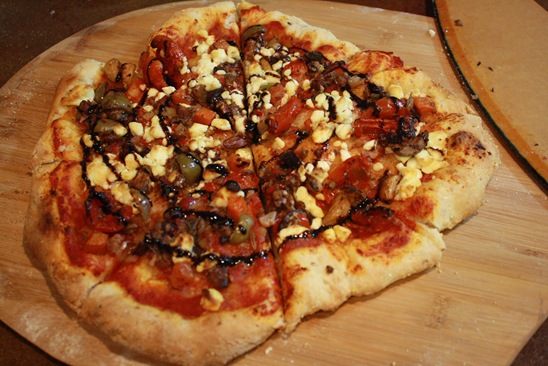 pizza is perfect for us portion-wise.. i have 3 slices and marshall has 5. it works out!
hope you have enjoyed my rambles about list making, grocery shopping, and dinner planning. let me know if you'd like to see more posts like this, i am happy to share!
Qs~
1. do you impulse buy often? what was your last impulse purchase?
2. what is your meal planning & grocery shopping method?
xo. janetha g.
p.s. clif CRUNCH winners have been emailed! thanks for entering the giveaway.