alternate post titles:
i eat out often.
from my iPhone to my face.
oh, i started eating candy again.
water? what's that?
life is delicious.
hello! i decided to document ALL of my eats since the last time i posted on friday afternoon. i haven't been blogging my meals lately and i love to do that, so i thought this would be fun. you are going to see that the weekend makes me eat at very random times and my choices aren't always the healthiest. but they are always the most delicious, that's what matters.
friday night i shredded my legs at the gym and then came home, got ready, and headed out to rory's birthday party. we all met up at lucky 13 bar & grill. i'd heard all about their burgers but had never been, so i was excited to go! the menu had burgers, wraps, apps, and salads.. but i knew i wanted one of their infamous burgers.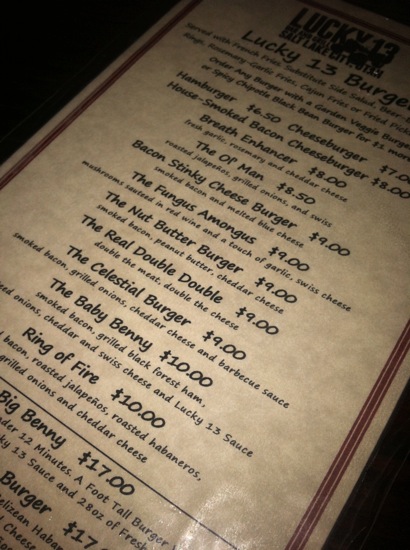 i perused the options and had a hard time deciding–i really wanted to give the nut butter burger a go–but in the end, the fungus among us won out because i LOVE mushrooms. i ordered it sans cheese, but the mayo made up for any shortcomings from the lack of cheese. the 7-oz patty was cooked perfectly (medium, just how i like it) and was full of flavor. i washed my burger & fries down with 32  glorious ounces of hefeweizen. it's my favorite type of beer!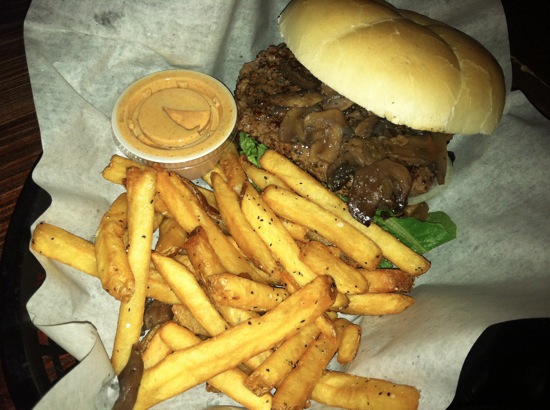 marshall got the special which had guacamole, bacon, and cheddar. i had a bite (thinking a bite of cheese won't hurt me!) and i thought it was incredible. he agreed.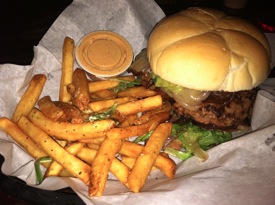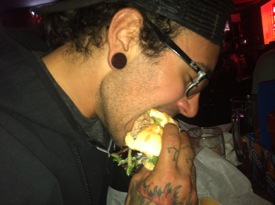 the fries were amazing, too. they came with a delicious mustardy-barbecueish sauce. they were so good that marshall ordered another side of them after we ate our burgers.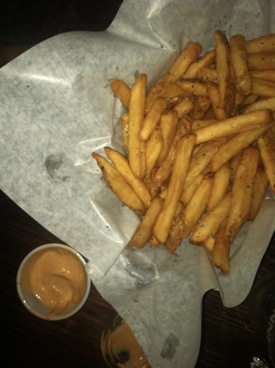 we will definitely be back to lucky 13 sooner rather than later. turns out they serve brunch on the weekends, which is my favorite meal ever! i love that the brunch menu states you can add a slice of bacon to any drink for a buck. can't beat that. 
i came home and had a few handfuls of my two latest vices: gummy bears and black licorice.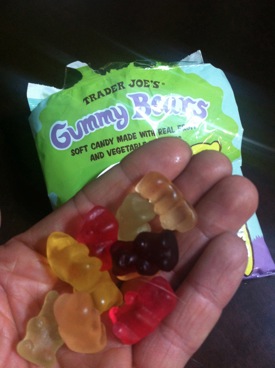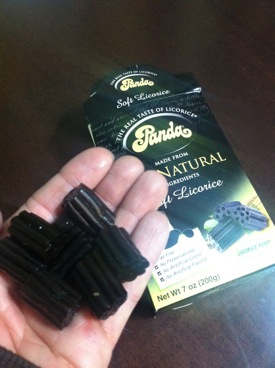 sooo.. you know how i didn't eat candy for a few years due to new year's resolutions? yeah, i started back up again when i was in the dominican republic. my boss' wives brought big bags of candy and i gave in.. and went straight home to purchase candy of my own. who knows how long this habit will last, but i really am enjoying it so i'll just go with it for awhile. 
saturday morning i got up bright and early to head to the very last optimal health challenge meeting at my gym. sad to see the challenge end! i will have to do a recap of the whole thing one of these days–my trip threw me through a loop and i didn't exactly finish the challenge as strong as i should have, but i am happy with what i learned! i brewed a chai k-cup with a little almond milk to drink during the meeting. i love this twinings chai.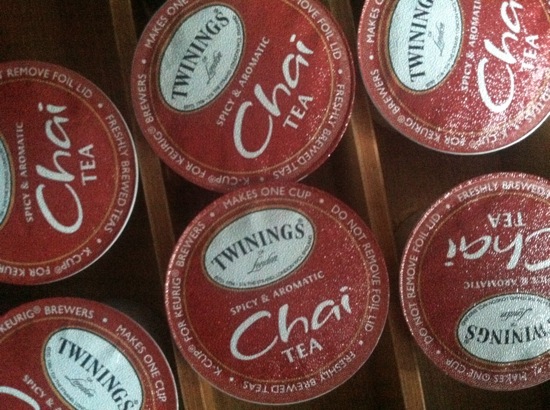 i love saturdays because momma b comes to GPP with me! we did the workout after the meeting, it was strict overhead presses and she was dominating those! SO proud of my strong mom.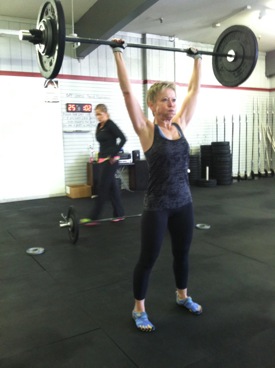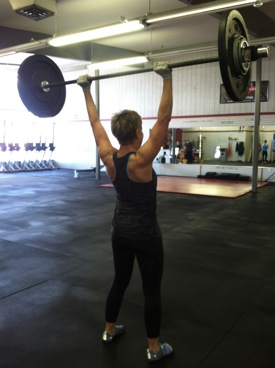 sure am glad i got her genes. ;)
after the workout i went to sunshine cafe with a couple of my friends. i ordered the garden scramble and shared a granola pancake with nikki. if you live around here, PLEASE go get a granola pancake from sunshine! they are so giant and fluffy and tasty and amazing!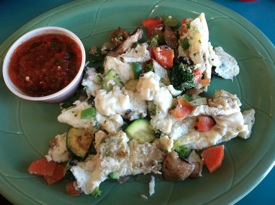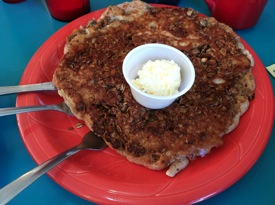 oh, and guess what else i had?! COFFEE.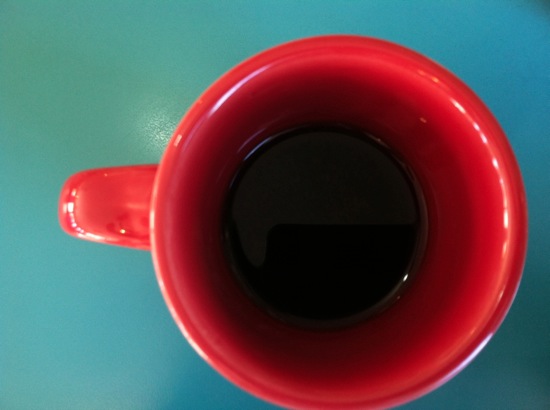 i gave it up in november per my acupuncturist's orders, but i really wanted one.. so i decided to test the waters. the verdict? my belly hurt later in the afternoon and i had a raging headache (probably due to the caffeine wearing off–it has much less than my tea.) i won't be switching back to coffee, but the temporary satisfaction was definitely worth it. pick your battles. 
i ordered some food to go for marshall, took it home, got ready, and then we headed out to do some shopping. i popped my pills en route.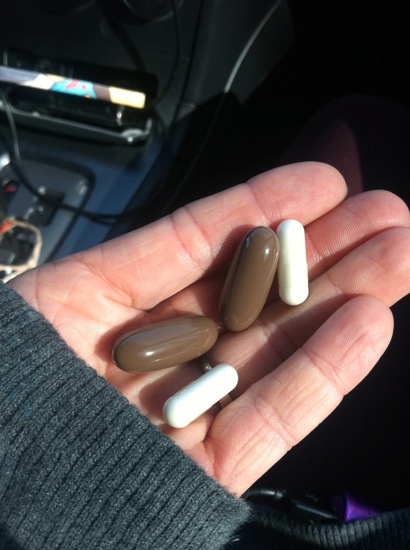 my current vitamin regimen includes thermo CLA, ALA, vitamin D, new mood, immune tech, and a gummy multi vitamin. 
we hit up a couple of malls, target, and bed, bath & beyond. i snagged an under armour sports bra and some jeans from AE. marshall got a packers hat. we also got a pizza stone and spatula for expedited pizza making at family dinner (more on that below.) 
my sushi & movie date with amanda and kerryne got canceled (sad!) so on the way home we stopped at zupas for a late lunch (oh, actually probably early dinner? it was almost 6.) i had chicken tortilla soup & a salad with chicken, veggies, pistachios, and sesame ginger dressing.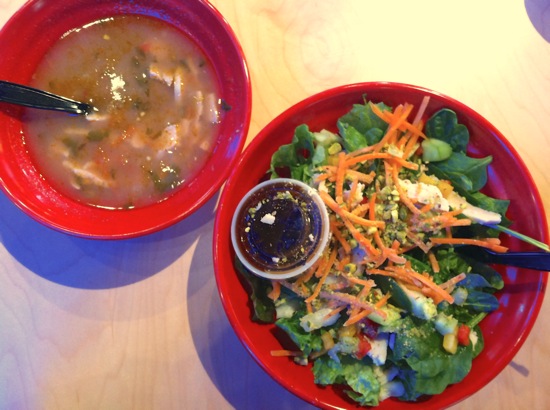 these crappy iPhone photos are starting to kill me. sorry 'bout that. 
we got home and cleaned up the house a bit. i wanted to eat something sweet but i didn't know what, so i had a few random bites of this and that.
kerryne gave me these coconut almonds for valentine's day and they are so flipping good! oh, and yesterday happened to be national almond day, so it was a perfect snack.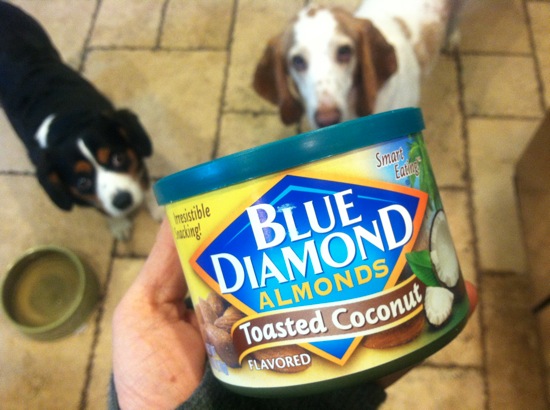 i had a couple bites of marshall's rocky road brownie he brought home from zupas. i am sure it had dairy. meh. i suck at food restrictions and my belly already hurt a little from the coffee.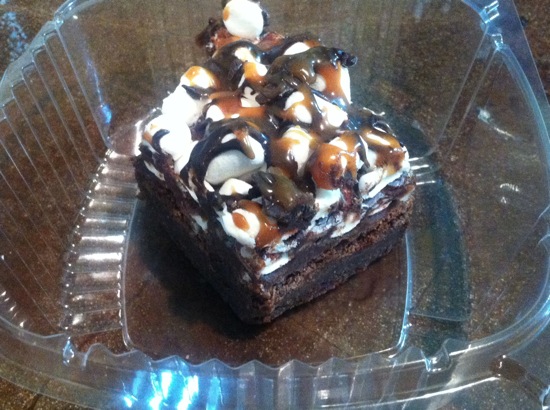 i also had some more black licorice.
we decided to watch our target purchase: pitch perfect. i'd been wanting to see it for ages! i popped some popcorn in my le creuset to eat during the movie. i heated 3 TB garlic grape seed oil and then added 1 cup of kernels. i topped the popped popcorn with melted earth balance and nutritional yeast. oh, and a little salt. i topped marshall's half with melted butter and grated parmesan cheese.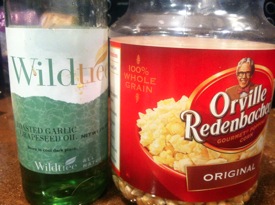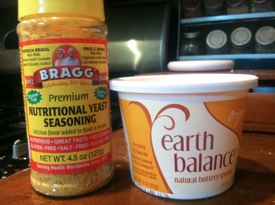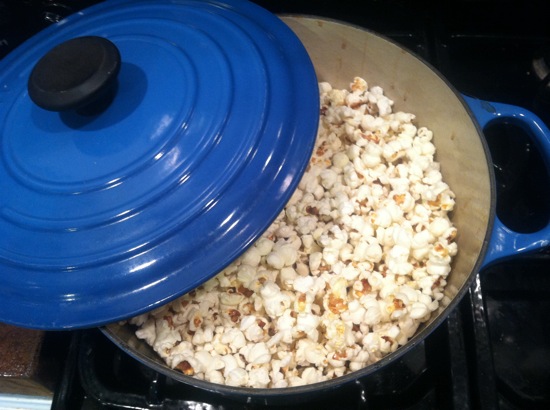 mmm.. i could easily eat bowl after bowl of popcorn and never get full. wanna know something weird? randy will NOT eat popcorn. the guy eats everything he can get his grubby paws on, but you but a bowl of popcorn under his nose and he turns it away. so strange. before him, i had never met a dog that didn't LOVE popcorn. he's crazy.
marshall went to a late movie (10:40 pm) with his friends, but i wasn't into it. they were seeing die hard and that's not really my idea of a good time. instead, i stayed home, looked at pinterest, read blogs, and watched family feud. i was hungry so i blended up a nighttime treat.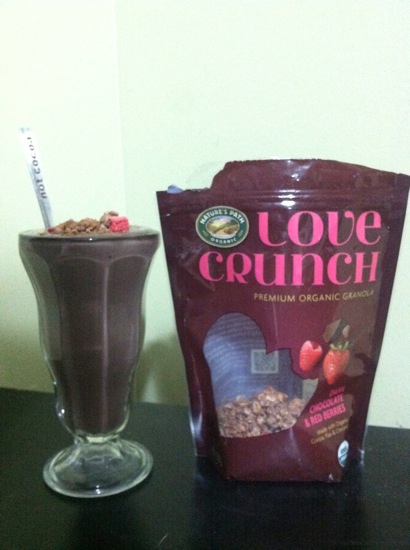 i made a protein shake with almond milk, vanilla bean plant fusion protein powder, a banana, PB2, dark cocoa powder, xanthan gum, guar gum, and ice. i topped it with love crunch granola and kept the bag next to me so i could sprinkle more on as i ate the shake. that's the only way to go, folks. 
midnight rolled around and then marshall got home so i got up to go to bed. i made a pit stop at the pantry and had two spoonfuls of this goodness: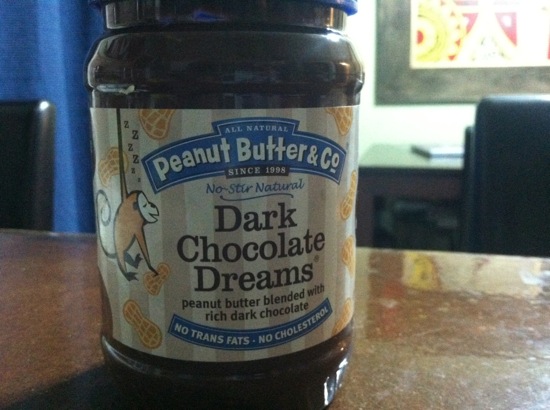 i wasn't sleepy for some reason, so i ended up staying up past 3 AM! what? i was texting some other insomniac friends and playing around with apps on my phone. i finally dozed off sometime between 3 and 4. that was weird. 
SUNDAY! 
i rolled out of bed this morning around 10:30. marshall had gone to the gym, so i made myself breakfast around 11. i whipped up a new recipe for protein pancakes.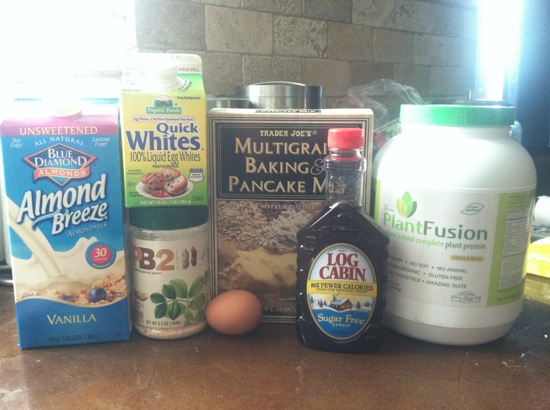 i made a single-serving batch using:
i made a peanut butter maple syrup by mixing 2 parts log cabin syrup with 1 part
PB2
. it's so good!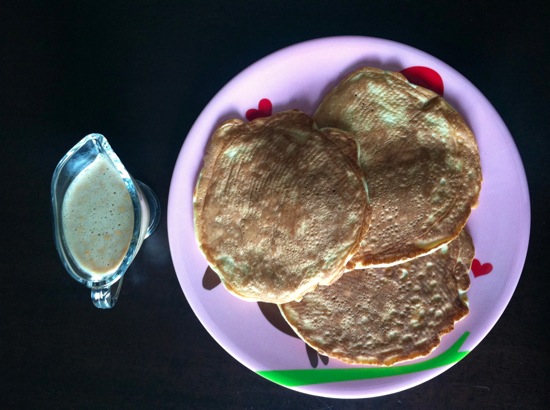 i made a chai latte with a chai k-cup, almond milk, and some of this oregon chai concentrate. 
i spent some time at the computer and got sucked into the vortex that is the internet. before i knew it, it was time to get ready to leave! we had massage appointments booked for 1 o'clock. we went to a new spot called knead a massage. gotta love a good pun. the massage was 90 minutes of amazing and it really helped my sore muscles feel better. 
after our massages we did our weekly grocery shopping. first we went to trader joe's (which was a madhouse! they need to open another one asap) and then to whole foods. i snagged a sample here and a sample there while doing my shopping.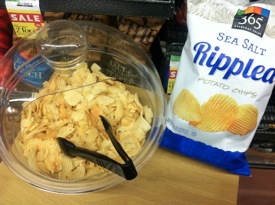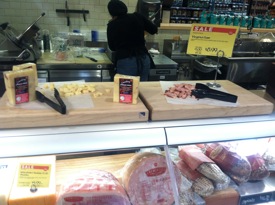 i can never go to whole foods without getting my favorite hot drink–a bhakti chai latte with almond milk. it's got a spicy kick that i love! marsh got a coffee.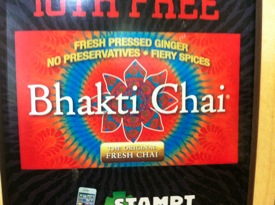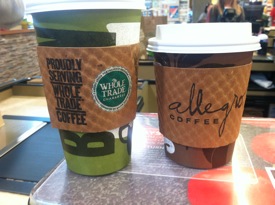 i had a quick snack when we got home. marshall's mouth got to it before my camera did…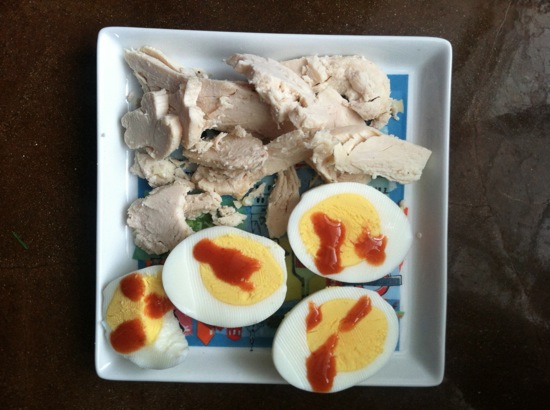 i also had some licorice and gummy mangos.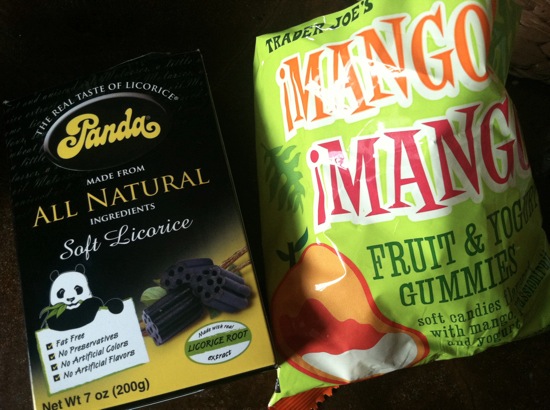 we headed up to my parents' house for a pizza party. i was the pizza chef and whipped up SIX different pies! we had a hawaiian (ham, pineapple, jalepeno, mozzarella, marinara), meat lover's (pepperoni, italian sausage, mushrooms, peppers, olives, mozzarella, marinara), cheese & mushroom with marinara, BBQ chicken, sausage & veggie with marinara, and my favorite–mediterranean (goat cheese, roasted garlic, marinated olives and tomatoes, and marinara.) 
i snacked my LIFE away while making the six pizzas. i had bites of all the toppings as i chopped them and i kept stealing my nephew's crusts and eating them because i love pizza crust! i made sure everyone had their favorite flavors served up, then i sat down to eat a couple slices of my own.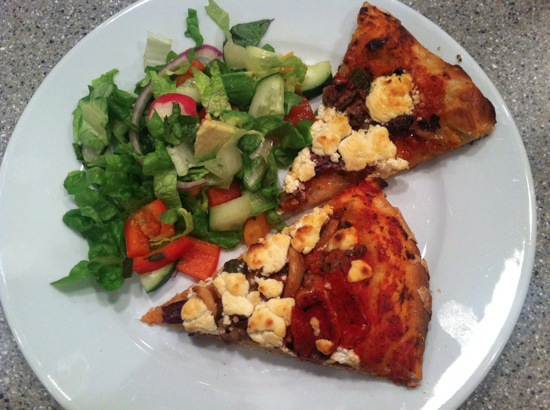 i had another slice after those two and i also picked a couple cups of watermelon out of the massive fruit bowl. my mom ALWAYS has a massive fruit bowl at family dinners.
dessert was root beer floats!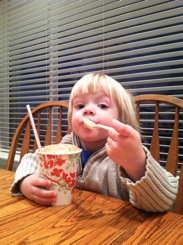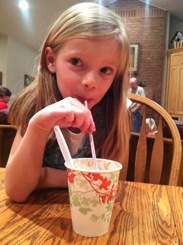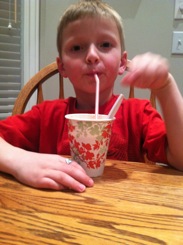 i had some nondairy ice cream for mine. the root beer came from trader joe's and it's excellent! there's nothing quite like a root beer float.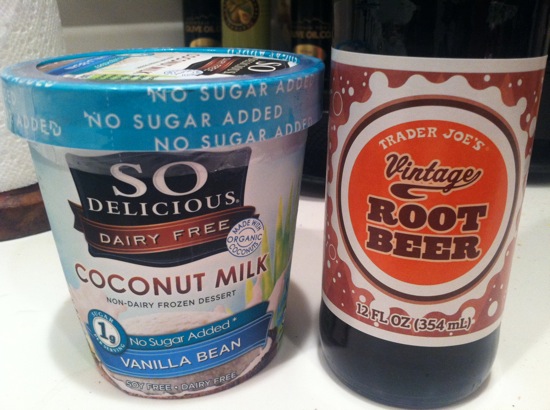 i laid on my parents' living room floor for a good 15 minutes after dessert. i was so flipping full.. that always happens when we have family dinner. it's inevitable! oh, and don't worry, once i got up off the floor i ate more fruit. 
i just got home and am sooo sleepy. probably because i got hardly any sleep last night and i was a short order chef for a couple hours this evening. ha! it was so fun, though.. totally worth the work. i love my fam. 
you may have noticed there really was not a lot of water consumption all weekend. in fact, the ONLY water i drank was 24 oz while shopping on saturday, the little dixie cup they give you after a massage, and a small cup at my mom's tonight. bad janetha g. that is the one healthy habit i struggle with most on the weekends!
now that you have seen how i eat all weekend long, you may be kinda confused since a lot of people think i am all health food all the time. i know my boss was pretty shocked in the DR when he saw me eating french fries. the truth is, i love to eat. i love to eat good food. good food can be healthy, good food can be unhealthy. you just have to find a balance that works for your lifestyle and make sure you don't over do it on either end of the spectrum (yes, there is such a thing as eating healthy TOO often.) you probably also noticed that i don't eat actual set meals on the weekend. i have done the eat-five-meals-a-day-every-three-hours thing before. it's GREAT for weight loss. it's not great for a social life. i prefer to eat when i feel hungry. sometimes that means two meals a day with lots of snacks. other times that means four small meals and no snack. it's always different, and it works for me. that's all that matters!
i loved sharing my whole weekend of eats with you guys! hope you enjoyed it, too. have a great monday and i'll check ya later!
Qs~
1. what's the healthy habit you had a hard time keeping on the weekend?
2. what is the best thing you ate this weekend?
xo. janetha g.