hi! happy day of love. no heart-shaped pink and red recipes over here—i am sure you got your fill of those on other blogs, though. i did do a fun little valentine treat for a few of my friends & family members.. it was quick & easy.
i got the printable for the labels here and here. tonight i will be eating tacos made by marshall—it is our valentine's day tradition to have him make me tacos and we stay in with the pups. i wouldn't have it any other way.
so.. i kinda did a disappearing act on you guys this week, didn't i? i'll be honest—my life has been rocky lately. this past week has been particularly trying. consequently, blogging falls last on the list. but i do miss it and want to get the rest of my trip recapped before i completely forget what i did! yes, it's been known to happen.
so, i already told you about the resort we stayed at while in the dominican republic, so in this post i want to tell you about the four excursions i went on. first of all, i think four excursions in an eight day period is a little too many and next time i will keep it to two, maybe three. in the past i have packed my vacation with excursions and found it a little overwhelming, so then i backed off to NO excursions at all and got bored, so that is the reason i went back to packing it in this time around. but, lesson learned, next time i will find a happy medium with just a couple excursions.
the funny thing about my four excursions was that the cheapest one was the best and the most expensive one was the worst—how about that?? the excursions i picked were:
friday: spa cruise
saturday: the reef explorer with 11 activities
monday: safari-an exploration of native culture & cuisine
tuesday: whale watching
i will tell you a little bit about each one so you can see what they were all about! (pssst.. this post is gonna be LONG! feel free to skip to the excursions you want to read about OR just skip this post all together. i won't hate you for it.)
SPA CRUISE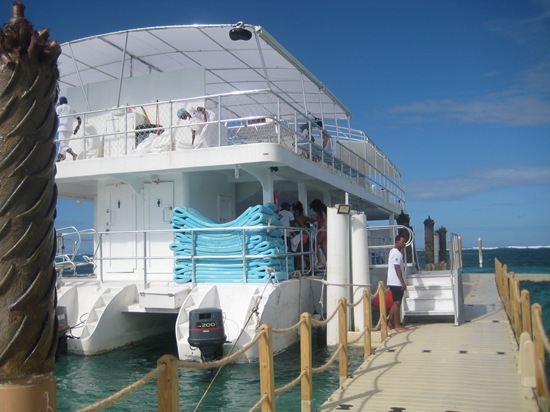 we always love to get massages when on vacation, so when we heard about this four-hour-long spa treatment on a boat for $149, we signed up RIGHT away. the agents told us it was a relaxing half-day away getting spa treatments including a massage and a foot detox along with a relaxing yoga class. both marshall and i were going to do the spa cruise, but he was sick on friday so i ended up going without him. that was fine—several of my travel buddies went on the cruise with me!
unfortunately, it was windy and overcast the day we were scheduled for our spa cruise. that made it a lot less relaxing than if it was a bright and sunny day, but we still went. they broke us into groups and my group started with the yoga. it was fun to hear the instructor lead the class in three different languages (french, english, and spanish!)
our next activity was relaxing in the ocean on a floating raft. umm—not so much. like i said, it was cold and windy, so the last thing we wanted to do was get wet. the sad part is that even if it wasn't bad weather, this activity would have sucked. they spent 15 minutes getting us all out onto the mats, we floated for about five minutes, and then they brought us all back in. i mean—had we been out there for 20 minutes at least we could have caught some rays, but it was legit like 7 minutes tops. it was kinnnnda a joke, to tell you the truth. but we were all in good spirits and just laughed!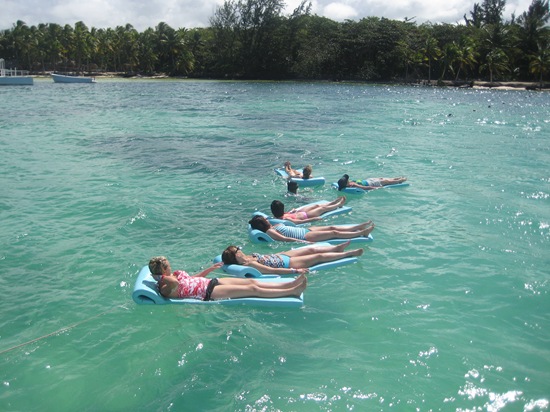 next up was massage time. first we all laid on these machine-operated massage tables which were pretty rad! i want one in my house!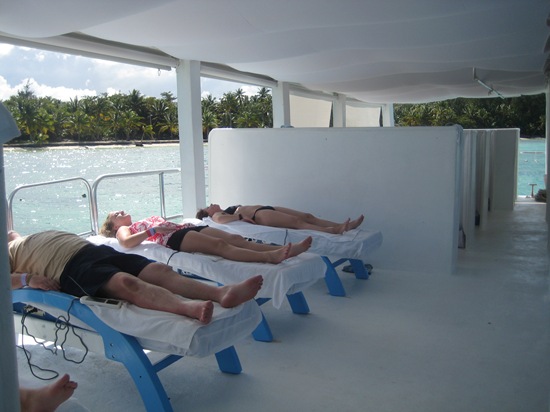 after twenty minutes on the mechanical bed, we spent another twenty minutes getting a massage from a masseuse. best part of the day, by far.
following the massage, it was time for our foot detox. it was pretty strange! here is a little bit about the process: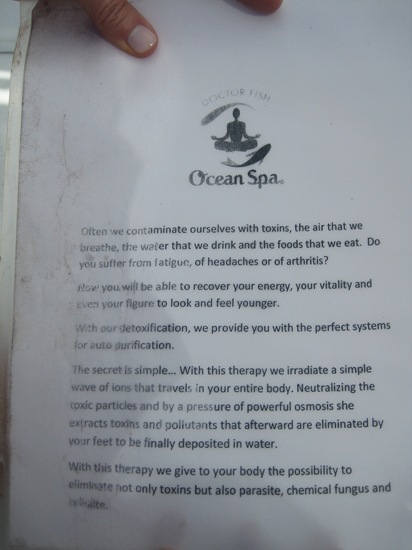 it was interesting to see the water change as we detoxed.. and, um, kinda funky.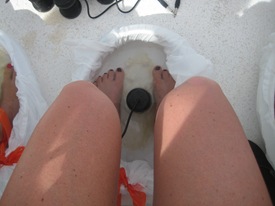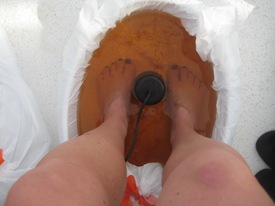 after the detox soak, we headed to a platform in the middle of the ocean for fish to suck on our feet. yep. CRAZY. it tickled so bad! and was just weird. but now i can say i've done it.. right?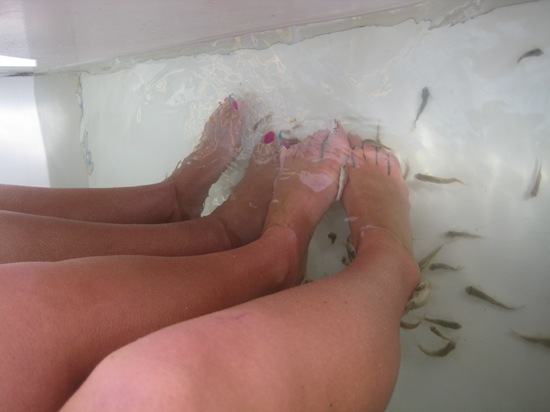 the "relaxing" cruise ended with some super crappy sandwiches and then we headed back to the resort. i have to say i wish i had just spent my money on an hour-long massage back at the resort. live and learn! marshall was real glad he didn't end up going, that's for sure!
REEF EXPLORER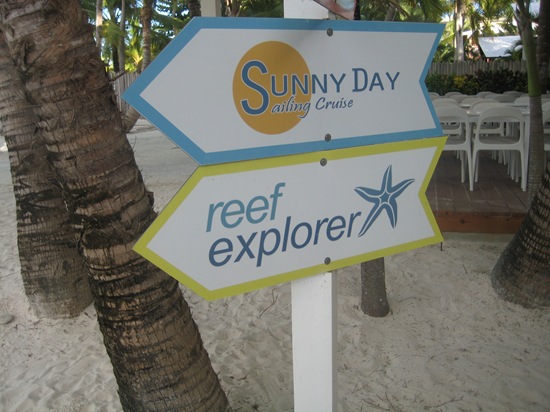 saturday we headed to the reef explorer—20 of the 22 people on our trip went, so it was fun to be with almost everyone. we took a boat out to a platform in the middle of the ocean and they dropped us off for a few hours to participate in our choice of eleven different activities. that's what the brochure said, at least. but now that i am recalling them and counting, i only come up with seven: paddle boarding, snorkeling, swimming with sting rays, mini-massage, kayaking, sunbathing and eating. the cost was $120 per person.
it was a beautiful day, so that was nice! i spent the majority of the time eating pineapple. i think i ate, like, thirteen cups of it. they also had chips & salsa, so i was all over that one. we spent most of the time hanging out on the lounge chairs and just relaxing. it was more relaxing that that dumb spa cruise the day before!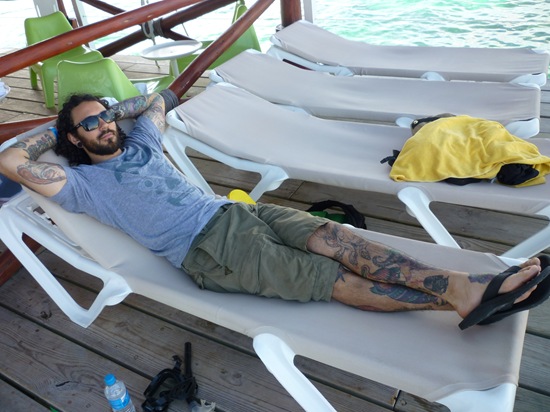 my favorite activity that i tried was paddle boarding. it was my first time and i LOVED it. it was a lot harder than i expected! balancing was a challenge, but once i got the hang of it i was a paddling fool.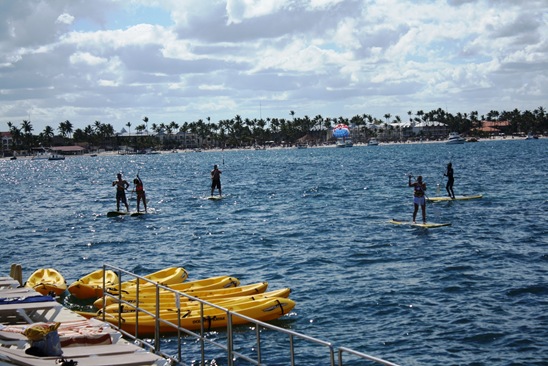 SAFARI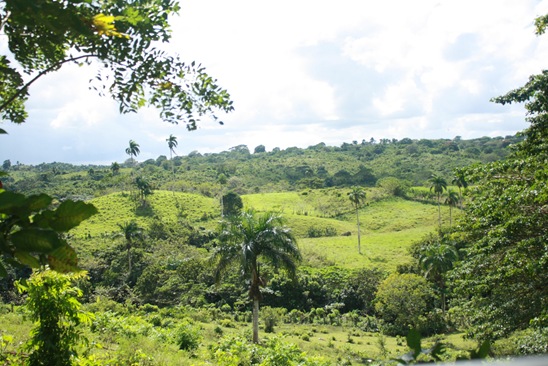 monday's excursion was the one i was most excited for and the one i ended up LOVING. it was only $90 a person and it was a full day excursion out and about punta cana in an open-air bus.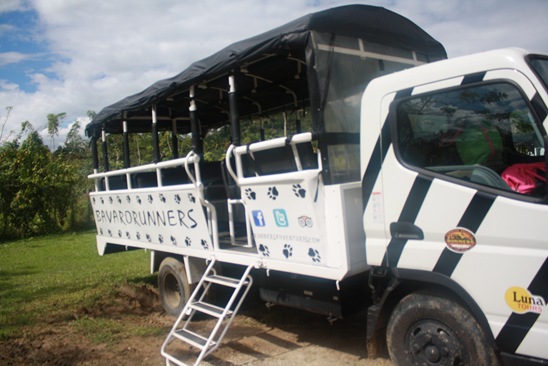 we did so many different activities and had an awesome tour guide, which made it a lot of fun. we started with a little horseback riding.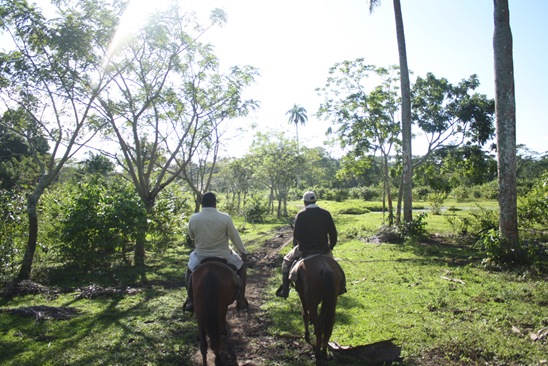 after the horseback jaunt, we headed to the sugar cane plantation where we learned all about how it is grown and harvested. we tasted it—delicious.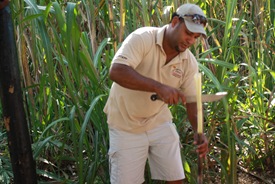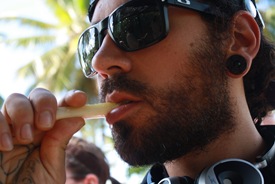 we moved on to seeing how the infamous dominican republic hand-rolled cigars are made. turns out they are more popular than cuban cigars these days. now you know.
our next stop was a typical dominican house  where i met a pretty cool little bug.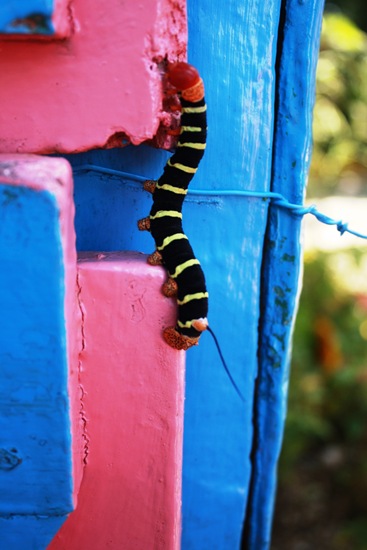 so pretty!
we toured the house and of course i snapped some photos of the kitchen.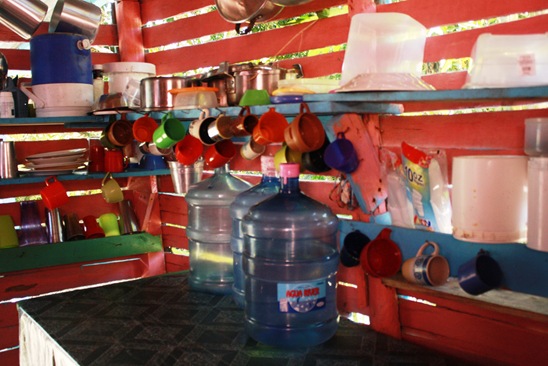 we then moved on to learn about foods native to the area: cocoa and coffee beans, pineapple, bananas, star fruit, mango, vanilla, and coconut. did you know it takes a year to grow a pineapple?! i had no idea.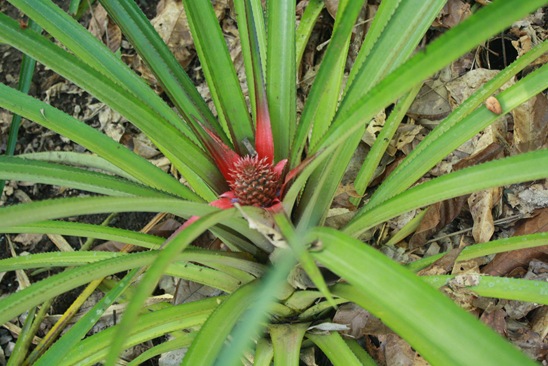 they let us try all the foods we learned about—the mango and the chocolate were my two favorites!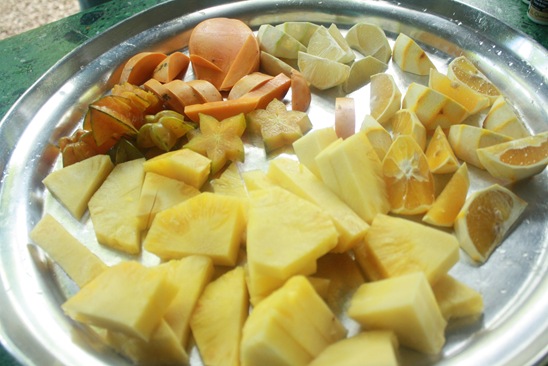 i then spent all my money buying food products, because that's what i do.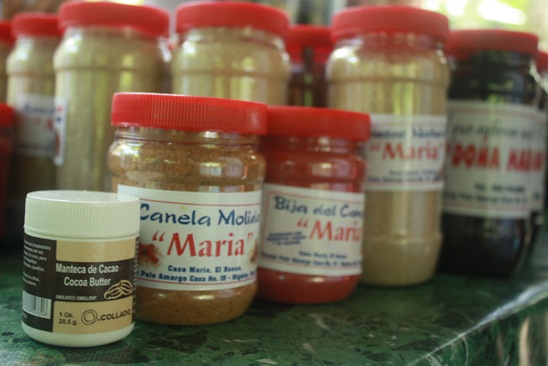 i got dark and light vanilla extract, oregano, and some chocolate.
we took a break for lunch and i had the most DELICIOUS meal of the whole trip. authentic dominican cuisine—it was so good.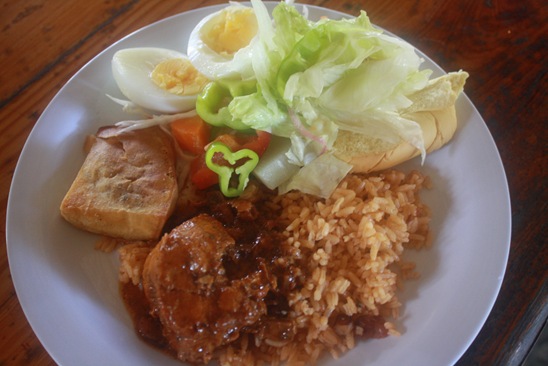 the day ended with an hour-long stop at a beautiful beach. it was nice to relax and soak up some sun.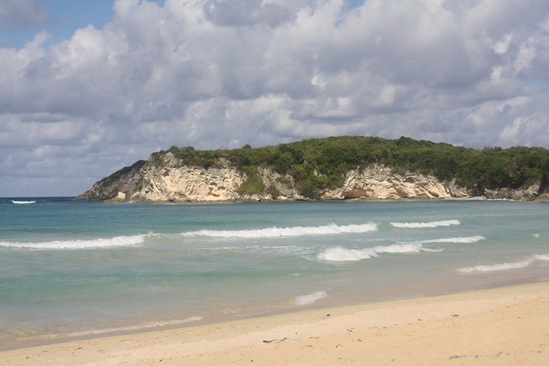 if you go to punta cana, you MUST do this excursion! i would have paid double for it! i loved learning about the local culture and cuisine and it was also a lot of fun since our tour guide was so awesome.
WHALE WATCHING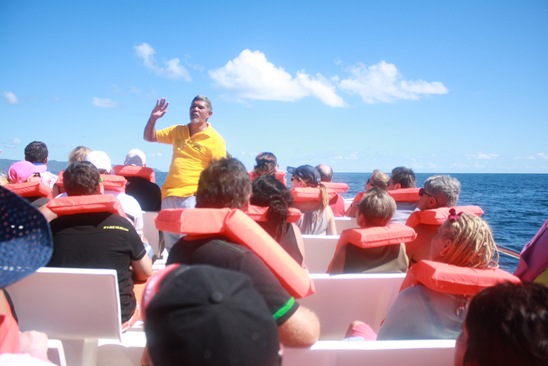 i don't want to end on a bad note, but whale watching was the worst experience of my life. seriously.. i have been deported from canada before, and i would rather go through THAT again than go whale watching again. IT. WAS. AWFUL. it was $159 per person and it was pure hell.
my main rant is that when we were sold on whale watching, we were totally lied to. we were told it would be a 2.5-3 hour bus ride from our hotel to the dock, then another 4 hours on the boat, a 1.5 hour break for lunch, and then a 2.5-3 hour bus ride back to the hotel. since we were getting picked up at 5:05 AM, i anticipated returning by about 5 PM. this was our last full day in the DR, so we planned to eat dinner with everyone that night and i wanted to be back in time for that. it was just marshall and i on the whale watching death sentence.
first of all, the bus ride to the boat involved three different busses and took SIX AND A HALF HOURS to get there. yeah. that was bad. we stopped halfway through for a bathroom break and to grab something to eat, but it wasn't at a restaurant. it was at a 7-11 type spot that had nothing in terms of breakfast. luckily i had a banana and a protein bar that marshall and i split. then it was back on the bus for a few more hours until we reached to dock. we then hopped on the boat (shown above) where they packed us in like sardines. after about 45 minutes of bumpy boat riding, we finally did see some whales.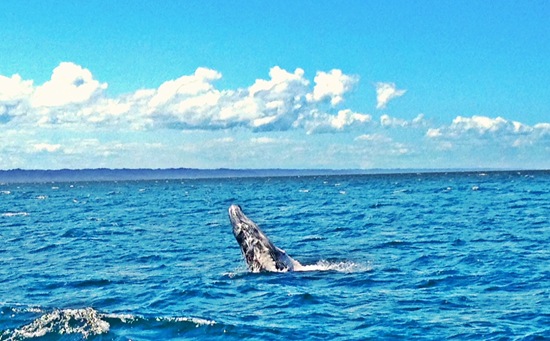 courtesy of marshall's iphone skillz
that part was cool, for sure.. the whales were awesome. but the whale watching lasted for less than a half hour. bummer. we then made our way to an island where we hopped off for lunch. they informed us that we would be served lunch and then get back on the boat at four o'clock—which was three hours later. ummm.. excuse me? this wasn't in the deal. if we didn't leave the island until four, and it took 6.5 hours to GET to the dock, that meant we would be home close to midnight.
i talked to the tour guide and he assured me that we would be back to the bus by 4:30 and back to our hotel by 7:30.. maybe 7:45 at the very latest. i don't know how that math worked out, but i said whatever and headed to eat some food. marshall was less than stoked (and super tired due to the early wake up call) so he took a nap under a tree while i ate some mediocre food. it was better than nothing, since i hadn't had a meal all day.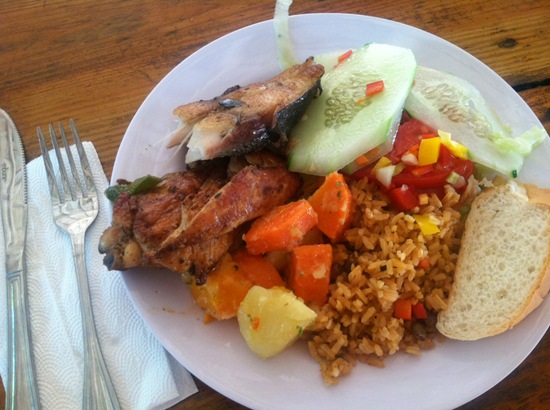 i will say the beach was beautiful and i spent the remaining time laying in the sand waiting for the dreaded bus ride back to our hotel. i really just wanted the day to be over.. and i had no idea that it was about to get worse!
after an hour-long boat ride back to the bus, we got on and started back to the hotel (or so we were told.) after about 45 minutes, the bus pulled over to the side of the road and a few of the tour guides hopped out. we didn't know what was going on. about 15 minutes later they came back to the bus—each with a few beers in hand! um, what? we were sitting there waiting for you to get booze??
we hit the road again and not more than twenty minutes later we were pulled over on the side of the road again. they told us to get out and go check out the sugar plantation. umm.. no. not in the agenda! i am fairly certain they had some deal worked out with the sugar plantation souvenir vendors because when we got upset about stopping, one of the guides said, "what? maybe some people want to stop and buy something!" ugh. no, we don't want to stop and buy something, we want to go home.
there was one more stop on the way back to the hotel—a bathroom break at a dodgy convenience store where we bought some dinner: doritos, pretzel m&m's, cold french fries, and a snickers bar. yum, yum. hours later, we finally were dropped off at our hotel at 9:18 PM. i wanted to scream and cry, i was super bummed about the whole ordeal. i did try to get my money back due to the horrible experience, but they said there was nothing they could do for us.
whale watching.. never again.
aw.. i didn't want to end this post on a sour note, but i definitely have done just that. recounting that experience kinda put me in a bad mood! oh well! i am sure i will laugh about the debacle one of these days. life goes on.
Qs~
1. what excursion(s) have you done while vacationing?
2. do you prefer going out and doing activities or hanging back and relaxing when on vacation?
xo. janetha g.