hey! i am on the beach. while i am gone, i have a series of guest posts lined up from many of my fabulous blogging friends. enjoy!
************************************
Hi meals & moves readers! First – I am HONOURED to be guest posting on Janetha's blog and I want to thank you for taking the time to read today's post! (I hope I don't disappoint)!
My name is Jess and I blog over at Truly Into Fitness. Although I do more YouTube Videos than blog post (I'm a daily vlogger.)

(jess & her swissy, annabelle. CUTEST EVER.)
I do enjoy to create high protein recipes and share them on my blog! If I can find a way to add more protein in a dish, I will do it! Which brings me to this specific recipe…it's probably by far my favourite recipe I've created up to date. Ladies and gents, I give you my Apple Strudel Protein Waffle.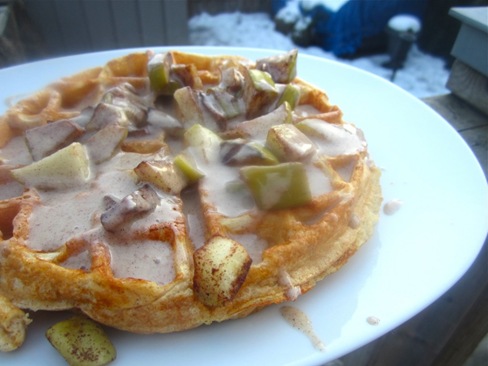 Oh yes, you heard that right. Apple Strudel Protein Waffle (which could easily be switched to a Protein pancake if you don't have a waffle maker!)
Let's start with my go-to Protein Waffle Recipe!
Ingredients
1 scoop vanilla protein powder
1/4 tsp baking powder
1/4 tsp cinnamon
1/4 cup egg whites
1tbsp pure pumpkin
Stevia to taste
Directions
1. Coat your waffle maker with coconut oil and heat
2. While your waffle maker is heating, mix all dry ingredients, then add the rest of the ingredients and mix
3. Once your waffle maker is ready, pour the batter in and close
4. This isn't waffle won't take long to cook. 3-5 mins MAX! Make sure to check on it!
And now…it's time for la piece de resistance!!! The Apple Strudel Protein FROSTING!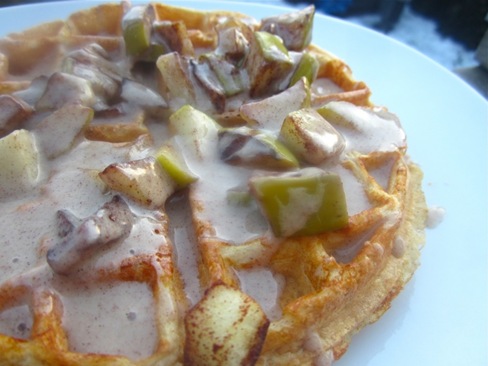 Ingredients
1 scoop of vanilla protein powder (I used Magnum Quattro in Vanilla Ice Cream)
1/4 tsp cinnamon
1.5 tsp coconut oil, melted
2-3tbsp water
1/2 apple, chopped
Directions
1. Heat 1/2tsp of coconut oil on your stovetop
2. Once oil is melted, throw your chopped pieces of apple and cook until golden brown and soft
3. Sprinkle some cinnamon and mix until lightly coated, set aside
4. In a small mixing bowl, place your protein along with cinnamon and mix
5. Add in melted coconut oil along with 2tbsp of water and mix
6. If mixture is still thick continue to add water (1tbsp at a time) until desired consistency 7. Mix in your cinnamon apple pieces and top your waffle!
8. Be ready to enjoy the best waffle you ever tasted…really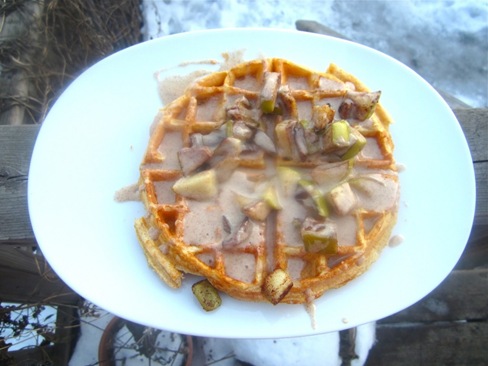 You could easily just make the frosting and add it to whatever your little heart desires…a protein mug cake, toast or even as is!! Hey, I don't judge!
I hope you enjoy!!
Much Love,
Jess