hey! i am on the beach. while i am gone, i have a series of guest posts lined up from many of my fabulous blogging friends. enjoy!
************************************
hi friends of janetha!
i know what you're thinking – a guest post? "but i come here to read jaNEEtha's blog – not juliE's blog"
that's okay. if you're friends of both of us then stick around and read
i promise it's not that long – i have blogging A.D.D. anyways and i won't take up too much of your time
but while janetha is on a little vaca – i'm stuck in cold frigid long island – freezing my butt off – and you're at your computer either scrolling down – or pressing the little 'x' box
either way – i've got you to get this far!
and maybe just maybe you'll be my friend after this too.
if you're like me – and let's be real – many of you probably are – because fitness/food/healthy living bloggers are all slightly the same – then you've been through many a fitness phases
i've been through it all
cardio queen, pink dumbbell lady, long distance treadmill runner (which was the worst fitness phase i went through), bikram yoga lover, back to cardio queen via spin classes galore, starting to lift heavier things, no cardio queen, jamie eason's live fit trainer, lifting heavier, finding my dear friend & trainer tara (who got me to really lift heavy things) and now here i am…
crossfit addict.
you actually got me at just the right time – because this week is my official one month anniversary since i started crossfit
if you're interested you can read the 5 posts i wrote on my blog which went into depth on the fundamental training sessions i went through when i first started
so instead of talking about what crossfit it, how cool it is, & what it's like – because honestly – you all already know.
i'm going to be a wee bit self centered and tell you why i love it.
after my many phases of fitness i was feeling mundane – it's not that i wasn't having fun – but i wasn't having FUN – of course i would still get the post workout endorphin high – but lots of times workouts felt like a job and – WTF – i wasn't getting paid – and it wasn't a job
just in case you didn't know – unless you're getting paid for it – working out is not your job – it's a hobby – it's supposed to be fun!
and so over christmas break i had some time off from work and i went to take a trial class at a box in my neighborhood
and the rest is history
over the past month i've grown mentally and physically – literally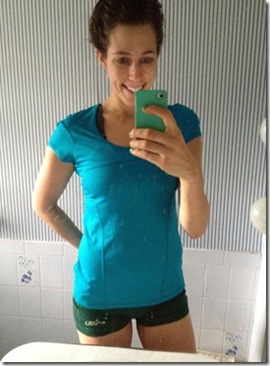 i've pushed myself through WODs that i never thought i could ever complete (ie: 150 pushups) which is a mental & physical challenge, the other day my mom (deej) told me my "ass was getting bigger) –> physical change, i've become more confident in myself, i've grown stronger, pushed myself to the max and i'll take my stronger looking arms over my past chicken wings any day
yes. of course i have LOTS of room for improvement – hell i'm still doing pushups from my knees until i can get real chest-to-the-ground pushups
but i've found something that is giving me the physical & mental changes i need to be a stronger person both inside and out
now i'm not trying to sell you on crossfit – because i don't think it's for everyone – but i am telling you that you should find something that is fun & that makes you feel like a stronger woman (or man!)
but stepping outside of my comfort zone – trying something new – going into the box alone – not knowing anyone – and just throwing myself into it has taught me a lot about myself – and makes me feel damn good.
not to mention it has me pinning lots of meaty recipes
so how bout it – what have you done lately to make you feel like a stronger person?
love to love you <3
-julie