hey! i am on the beach. while i am gone, i have a series of guest posts lined up from many of my fabulous blogging friends. enjoy!
************************************
Hi everyone, I'm Kristina from spabettie, where you will find plant based recipes, wellness and juicing, and two of the sweetest dachshunds I've ever seen.
My career background is a strange mix of accountant and spa director, which is where spabettie comes from – rather than a love of spaghetti like many guess… I do like spaghetti, though. I love food in general, really – and love the community that I have found myself in because of it. While my favorite part of blogging is creating recipes and sharing them with the community of faithful readers and fellow bloggers, my second favorite part is sharing some of my hamster-wheel thought process that is a soundtrack to my days: from my new favorite shoes in this years "it" color of emerald green and bringing back those ribbon barrettes from grade school, to nodding in agreement that yes, the television cannot be looked at when we hear the beginnings of the Sarah McLachlan commercial and having in depth conversations about my new emerald green shoes.
oh, wait… All the important topics are covered over at spabettie. and did I mention the cute dachshunds?
Either way, I made you muffins.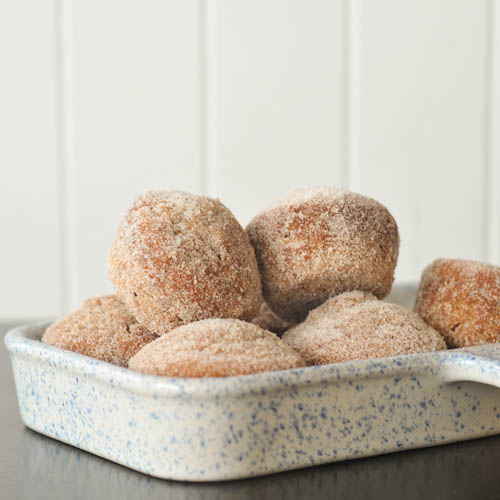 sugared chai latte banana muffins
adapted from tropical banana bread with sugared macadamia crumble
dairy, egg, soy and gluten free, vegan
makes 12-15 muffins
Ingredients
2 tablespoons flax seed, ground
1/3 cup water 1/2 cup coconut milk (So Delicious carton)
1 1/2 teaspoons apple cider vinegar
1/2 cup butter (dairy and soy free)
1/2 cup maple syrup
3 ripe bananas, mashed
1 cup brown rice flour
3/4 cup gluten free all purpose flour
1/3 cup chai powder (Natures Flavors)
1 teaspoon baking soda
1/4 teaspoon xanthan gum
pinch sea salt
Directions:
Combine flax and water, set in refrigerator to thicken.
Combine coconut milk and apple cider vinegar, set aside.
Cream together butter and maple syrup.
Add bananas, milk and flax mixtures, combine.
Add flours, do not stir – add chai powder, baking soda, xanthan gum and salt, mixing into flour then mixing together with wet ingredients, until just combined.
Pour batter into prepared (sprayed, floured) muffin pan.
Bake at 350 for 22 – 25 minutes, or until inserted toothpick comes clean.
Enjoy warm, or cool completely and coat in sugar.
Looking for more muffin recipes? I have a assembled a collection of my favorites. …and because cupcakes are really just muffins with lots of frosting, and some might eat that for breakfast, I've included some cupcakes too.
 
blueberry pumpkin hemp muffins

mixed berry oatmeal muffins with crumb topping

peanut butter chocolate cupcakes
Thanks to Janetha for having me here today, and thanks to all of you for reading – Cheers!