hey! i am on the beach. while i am gone, i have a series of guest posts lined up from many of my fabulous blogging friends. enjoy!
************************************************************************
Hi guys!
I'm Ashley, and you can find me over at My Food 'N' Fitness Diaries where I blog about all things food, fitness, pregnancy, and healthy living. It's a good time, so I hope you'll stop by one of these days and say hello!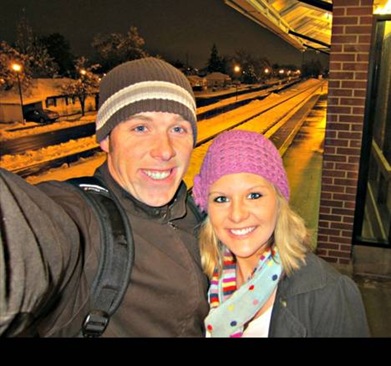 Just like Janetha, I reside in Utah and have been experiencing an unbelievably FRIGID winter here this year. One thing that helps me stay sane and still enjoy the winter months is to spend time in my beloved kitchen. All sorts of things come out of that kitchen – the good, the bad, the ugly. Fortunately, I have something REAL good that came out not too long ago, and I'm stoked to share it with you! So if you're having one of those lame and cold winter days, go get busy in the kitchen and make this. It'll cheer you right up!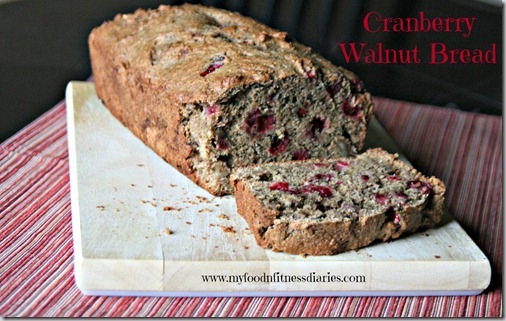 Cranberry Walnut Bread
Servings: 1 loaf
Prep Time: 10 minutes
Cook Time: 50-55 minutes
Ingredients:
2 tablespoons butter, melted
1/2 cup brown sugar
1 teaspoon vanilla
2 eggs
1/2 cup unsweetened applesauce
1/2 cup homemade cranberry sauce
2 cups whole wheat flour
1 teaspoon baking soda
1 teaspoon baking powder
1 teaspoon cinnamon
1/2 cup cranberries (I'm sure raspberries would be a great substitute!)
1/2 cup chopped walnuts
Directions:
Preheat oven to 350* F and spray a loaf pan with cooking spray.
Stir together butter, sugar, vanilla, eggs, applesauce, and cranberry sauce in a large mixing bowl.
Sift together dry ingredients and add to wet ingredients. Mix well.
Fold in cranberries and walnuts.
Pour batter into greased loaf pan and bake for about 50-55 minutes or until toothpick comes out clean from center.
Let cool and enjoy!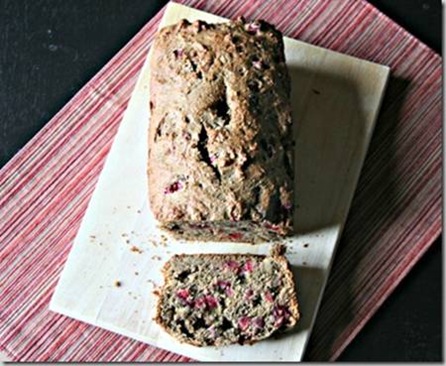 I love the mix of tart and slightly sweet intertwined into this bread. The walnuts give it the perfect little crunch too!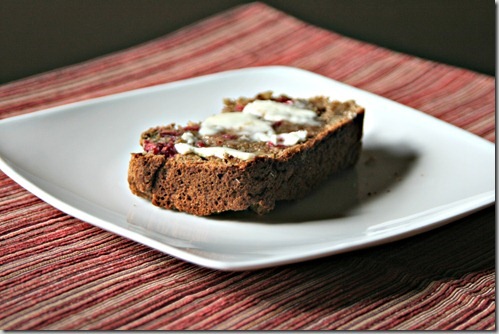 Enjoy warm with melted butter or top with some of your favorite nut butter!
I hope to see you over at My Food 'N' Fitness Diaries – sooner rather than later! Thanks for having me Janetha!