today wrapped up week three of the optimal health challenge and marked the start of week four. because life has been hectic, i have decided to summarize both weeks into today's post.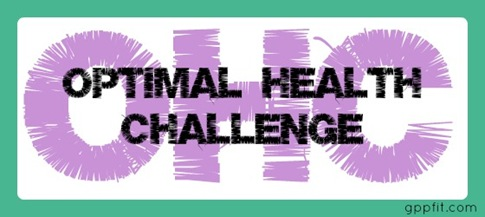 i am in the middle of a six-week challenge with my fellow gym members. this is NOT a weight loss challenge. the optimal health challenge is an opportunity to mess around with various methods to determine what ultimately works best for each of our individual bodies. each week we have three assignments directly related to three aspects: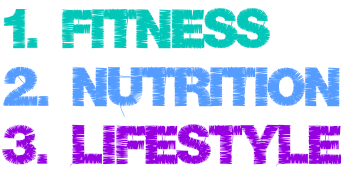 you can see my previous recaps here:
like i said, we just finished week three. here's a quick recap of the assignments and how they made me feel!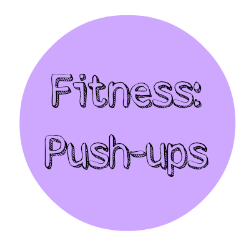 there are four areas we focus on at GPP: squatting, pushing, pulling, and core. then, of course, cardio. we've already covered squatting and cardio, so week 3 was all about the pushing movements. pushing movements hit half of the muscles in the upper body–half of your deltoid (front), half of your arm (triceps), and half of your torso (chest.) these include, but are not limited to:
strict push-ups & snaking push-ups (from toes or knees)
the three overhead pushes: OH press, push press, and jerk
triceps dips & other triceps movements (french press, skull crushers, and kickbacks to name a few)
it is important to incorporate a variety of pushing movements into our workouts because our muscles are worked differently with each individual movement. a strict movement hits strength and when we put our body into the movements it works many other aspects than strength, including our flexibility. both are beneficial!
our fitness assignment for the week was to complete a total of 1,000 push-ups of any kind–both strict and snaking. push-ups done inside of our workout DID count, so it was nice to knock out 100 in monday's hit the deck workout. i have to say that i fell short on this assignment (whoops!) and completed only 510 before the meeting this morning. i have managed to bust out a few more sets today and am sitting at 750 push-ups. i will get to 1,000 before the weekend is over. better late than never!
many people said that even after just one week of focusing on push-ups they could tell a HUGE difference in their body–not only their chest and arms, but also their core. push-ups are a fantastic do-anywhere exercise and have so many benefits.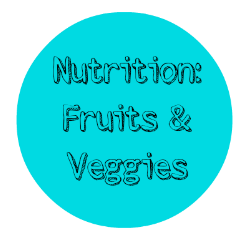 our nutrition assignment last week was to consume FIVE servings each of fruit and vegetables. they also had to be RAW servings. this one was TOUGH for me. i am pretty OK at eating fruit, but usually fall (very) short on veggie consumption. sometimes the only fruit and vegetables i eat in a day is in the blended juice marshall makes me. i am more drawn to carbs like bread, potatoes, oatmeal, and.. um.. cereal! i have a hard time with the fruit and veggies, not gonna lie.
i started out the first three days diligently eating my five servings. i found this little tray of precut veggies at trader joe's that was actually five servings for the whole thing. granted, it was the starchier veggies like jicama and peas.. but it still counted for raw veggie servings!
i ate a lot of steel cut oats topped with sliced banana. this was my breakfast most mornings.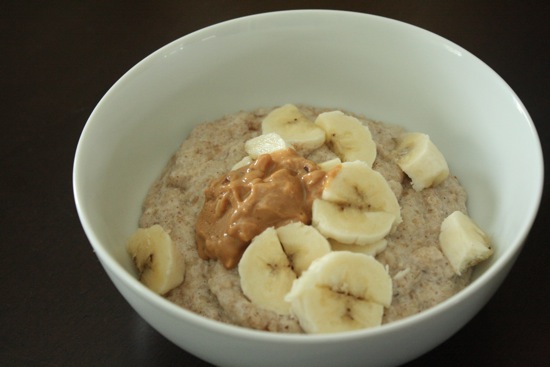 after a few days of eating so much fruit and so many vegetables, i felt so bloated. this was partially due to the fact that they were raw, but mainly because my body was just not used to eating so much produce. i was uncomfortable and bloated–and my measurements obviously went up. we are tracking things that are observable and measurable for this challenge in order to draw conclusions from these measurements and observations. it's important to take all factors into account, but mainly how i feel. however, it's good to measure things, too! i am using a tape and a scale for the measurable things. i am measured each week with a tape and my stomach went up about an inch. i don't weigh myself with a normal scale (don't need to know my weight–not trying to lose weight), but i am tracking how my weight fluctuates on this challenge by using the zero scale. it records your weight without telling you the number and then tells you how much you gain or lose. during the high protein week of the challenge, i lost weight. my body (clearly) thrives on a high protein diet. when i started eating so many fruits and veggies, i gained two pounds. the numbers don't matter, but it's interesting how they correlate to how i was feeling each week. i don't think i am active enough to eat all those carbs from fruit. they're sugar. YES, they are naturally occurring GOOD sugar, but sugar is sugar and if your body doesn't use it.. well.. you gain.
it is REALLY interesting to learn how my body responds to eating different ways. by the end of this challenge i plan to know exactly how my body wants me to eat and have a meal plan dialed in for optimal health. so far i have learned that i like at least 96 oz of water a day, at least 100 grams of protein, and i do better with about 2-3 servings of fruit each day and do better with cooked veggies. it's cool to make these observations!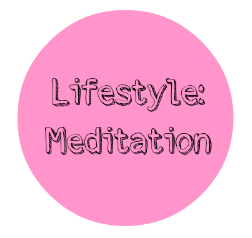 the lifestyle challenge last week was to find three minutes to lay perfectly still, eyes closed, and ZONE OUT. i found it was hard for me to find the time to actually DO this, but once i laid down to do it.. it was easy peasy for me. i am good at shutting my brain off (and have always been an awesome sleeper!)
i do this in acupuncture for nearly an hour each session, so three minutes wasn't bad. in fact, i fell asleep a couple of times! i found it interesting that a substantial amount of OHC participants COULDN'T do the three minutes of meditation. they tried and tried, but just could not allow their brains to let go and just zone out. this lifestyle challenge was definitely up my alley and i liked it a lot.
today we had our meeting introducing the week 4 challenges. they are awesome!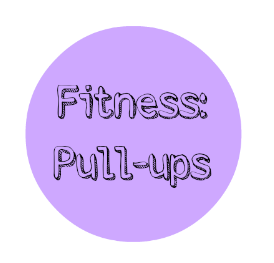 since we focused on the pushing movements last week, this week we are focusing on the PULLING movements. specifically: pull-ups. there are also other pulling movements like rowing, biceps curls, and cleans. but, for this challenge, our assignment is focusing on two different movements:
the reason we are focusing on TWO different types of pull-ups is because they hit two completely different parts of our bodies with the two pulls: a high pull and a mid pull.
high pull includes kipping pull-ups, strict pull-ups, and chin-ups.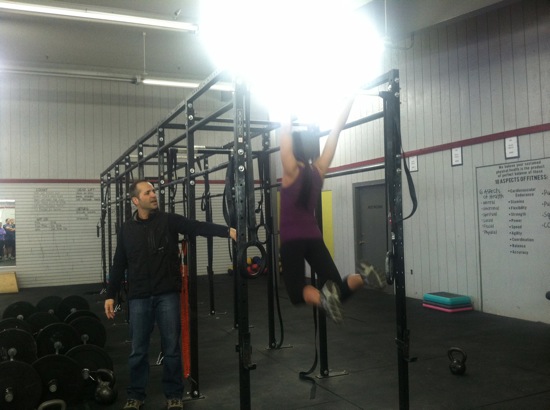 you hit the mid-pull muscles with an aussie pull-up. it can be done from a ring, a bar, with bands.. lots of ways to get a mid-pull!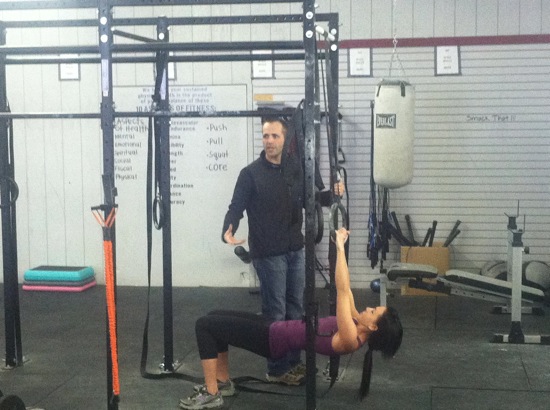 oh, and in case you are wondering, it's called an aussie pull-up because you do it from down under ;)
i completed my pull-ups at gold's gym today after walking 3 miles (bo-ring.) because there were no rings, i just did the aussies under the bar of the smith machine. there's not a good spot for kipping pull-ups at golds, so i did the high pull pull-ups on the assisted machine with 50# of assistance. since i will be on vacation most of the week, i plan to take bands with me to complete the same motions–high pull and mid pull–in my hotel room. improvisation, folks!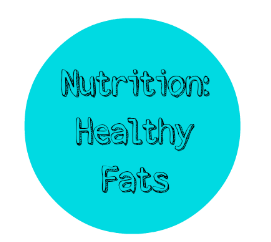 we have experimented with a high protein diet, a high fruit and vegetable diet, and this week we will be experimenting with a high fat diet.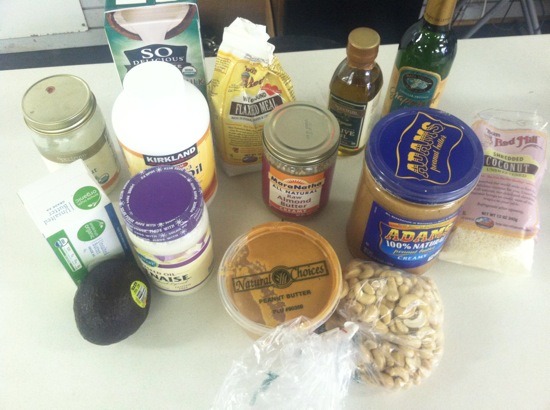 when i did body for life, i ate at a 40/40/20 carb/protein/fat ratio. this week, i will be upping my fat ratio to 35-40%, meaning 35-40% of my calories will come from fat. i know it's sometimes tricky to figure out just how many grams of fat that is. back in 2010, i posted a very detailed tutorial on how to calculate macronutrient ratios.. feel free to check it out. basically, a gram of protein is four calories, a gram of carbs is four calories, and a gram of fat is nine calories.
to calculate the number of grams for 40% of your calories from fat, you use this formula:

SO, say you eat 1600 calories a day and you want to get 40% of those calories from fat. here is the equation: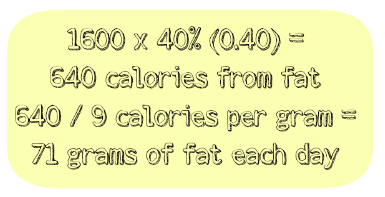 make sense?
i am really excited to see how my body reacts to a higher fat diet. right now i would say i've been eating around 25% and so i plan to increase my fat intake by 10-15% this week.
i came straight home from the meeting and blended up a fat-filled protein shake. it had almond milk, plant fusion chocolate raspberry protein powder, blueberries, ice, and hemp seed.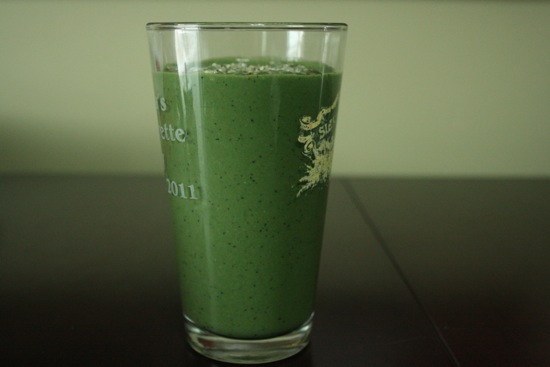 i LOVE these hemp hearts hemp seeds. i blended them into my shake and also sprinkled them on top. marshall puts them in our juice, too.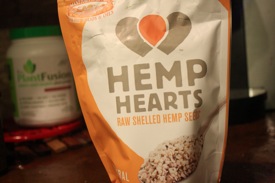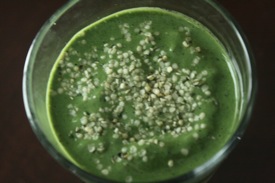 here is a great article explaining the four types of fat: saturated, monounsaturated, polyunsaturated, and trans fat. very informative. my friend candice, who is also participating in OHC, just posted all about fats. check it out!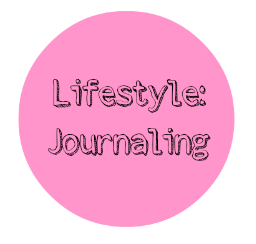 finally, our lifestyle challenge for the week is to journal our meals & moves. this one will be easy for me. i love to journal and truly believe it is a valuable tool! we will be keeping track of three things:
for each thing, we will be writing down WHEN, HOW MUCH, and HOW DO YOU FEEL. i still have my journal from when i did my first body for life challenge (before the blog) and i look back at that journal often. it is pure gold. i am so glad i wrote down what i was eating, my water consumption, what my workouts were, and, MOST IMPORTANTLY, how that all made me feel! we are all so different, so keeping a journal is like writing a book about yourself and you can use it for reference when trying to determine what works best for YOU.
WHEW.. that was a long recap and intro of weeks 3 and 4.. but i think it is very important to document this journey! i know it will be a little tricky to stick to my assignments with my vacation, but i will do my best.
well, it's saturday night! i am off to eat dinner at desert edge pub and then to the pinback show. can't wait!
Qs~
1. how many fruits & veggies do you eat daily? do you prefer raw or cooked?
2. what is your favorite fat source?
xo. janetha g.