heyo! friday! yay. i'm a fan.
it's been a really busy week for me, so i haven't had a chance to tell you about this week's optimal health challenge assignments yet. if you want to know more about the 6-week challenge i am participating in with my gym, click that link.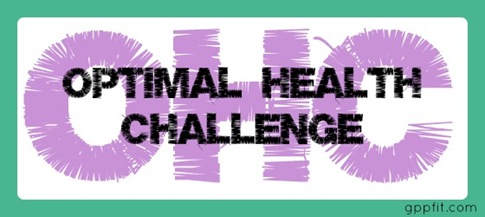 in case you don't want to read back, here is OHC in a nut shell. each week we are given a diet, exercise, and lifestyle assignment. this is not a weight loss challenge. instead, it is a program designed to help each individual participant learn more about their own bodies and better their own lives. with the diet assignments, we have been able to learn about what type of diet our bodies respond well to. with the exercise assignments, we have learned more about proper form, execution, and heart rate management. we have classes every saturday to learn and then practice those lessons throughout the week. the lifestyle assignments are designed for us to love ourselves and others as well as be grateful for our lives.  it's a COOL challenge. i am loving it!
week 1 assignments (recapped here) were:
at least 64 oz of water a day
1000 extra squats for the week
post one thing about ourselves we are grateful for each day
this is week #2 of 6.. i am going to tell you all about it!

our nutritional assignment was to eat one gram of protein per pound of body weight. i am not sure how much i weigh, but last time i checked it was around 125, so my daily protein goal this week has been 125 grams.
when i did body for life, i ate five times a day and consumed around 25 grams of protein at each meal.. so 125 grams was something easy for me to hit and also something i was also very aware of. however, when i started tracking my protein consumption, i quickly realized i have been eating drastically less than i assumed! i've typically been eating around 80 grams each day lately, so i did have to ramp it up quite a bit to hit 125 this week.
one problem participants ran into when trying to fit in extra protein was keeping within a calorie range that was appropriate for their activity level. of course when you add protein grams (each gram of protein is four calories) you are going to increase calories drastically.. so you have to adjust your other macronutrients (fat grams.. which are 9 calories per gram, and carbohydrate grams.. which are 4 calories per gram.)
i made a handy chart for easy reference of protein sources and just how many calories are in each gram of protein in those sources. (click chart to enlarge!)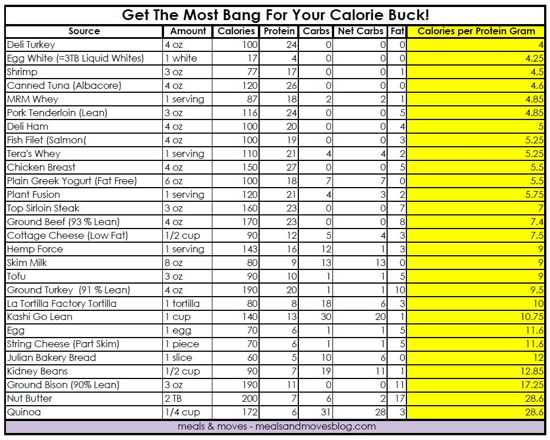 so, as you can see, if you are close to your calorie requirements for the day but need to get more protein in.. you are better off eating something like egg whites or shrimp rather than something like beans or nut butter. make sense?
i have made a very conscious effort to eat 125 grams of protein each day. i remember how well my body responds to eating a higher protein diet! i didn't reduce my carbs–it wasn't a low carb diet–i just made sure to get enough protein in. i found myself to be full for so long. i felt awesome. i had lots of energy. i really enjoy eating this way, it's just a matter of making sure i do! it does take a little planning and making sure i have protein sources on hand, but once the work is done i can easily eat the protein and enjoy it. i KNOW that is why i did so well with body for life. 
one thing i have brought back into my life are protein cakes made in the microwave. they are fast, easy, protein-packed and SO delicious.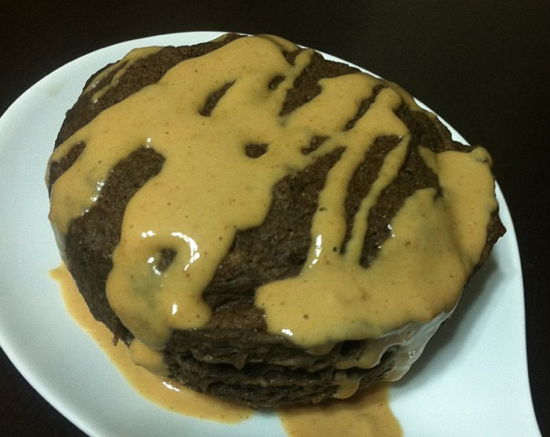 this particular cake had:
i combined the above ingredients in a mug sprayed with olive oil and then microwaved it for 90 seconds. i drizzled it with some PB2 to make it a peanut-buttery chocolate treat. this was actually one of the best ones i have ever made! it was my first time using
hemp force
in a protein cake and i think that is what made the texture so amazing.
the stats were amazing, too: 155 calories, 22 grams protein, 7 grams net carbs, and 3 grams of fat. can't beat that! i've been eating them almost every night.

the fitness assignment this week was FIVE extra hours of cardio. yowza! five! that is a lot for this cardio-hatin' lady. the nice part about the challenge was that we were to stay at about 70% of our predicted maximum heart rate.
70% of your predicted maximum heart rate (PMHR) is calculated like this: 220 – your age x .70 = 70% PMHR. so, for me (i am 29), i wanted to do 5 hours of cardio with my heart rate right around 134 beats per minute. let me tell you, that was hard to do! after getting the assignment, we did a little group exercise where we did burpees–both fast and slow–trying to determine how much effort we had to exert in order to reach 70% of our PMHR. it was fun to see how my heart rate fluctuated and how easily it was for me to control it!
i don't use a heart rate monitor, so i checked my heart rate using this simple method:  take your pulse for six seconds (i always touched my neck) and then multiplying the number of beats by 10 (aka one minute.. you know.. 60 seconds) rather than counting beats for a minute straight. easy peasy.
we learned a lot about cardio and the three energy pathways (ATP PC, glycolytic, and oxidative) and how at no point are we ever just using one pathway. we are never just burning carbohydrates or just protein. it's true! and it is why that whole "fat burning zone" in relation to your heart rate is a complete MYTH. i think most of us already know that, but it's good to reiterate. we also talked about gauging our cardio by using the RPE scale, which i have blogged about before. it's a great tool!
i finished off my five hours of cardio last night. it was kind of a pain to get those extra hours in, but i am proud to say i did every last minute! three hours were done on the treadmill and two were done in group fitness classes. the classes were definitely way more fun because i was with friends! i think it's safe to say i won't be doing any extra cardio any time soon.. i am a minimalist for life. hah.

our lifestyle assignment was to do at least one random act of kindness for someone. they asked us to keep it anonymous, but i definitely checked this one off the list. i love serving others and doing what i can for whoever i can as often as possible! i know it makes others feel great when they receive random acts of kindness.
in fact, i actually received an act of kindness this week! my sweet friend mara sent me a package with a beautiful handmade scarf, headband, and cute little owl!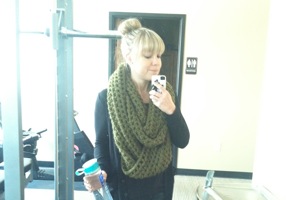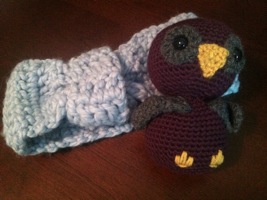 fun fact about the owl: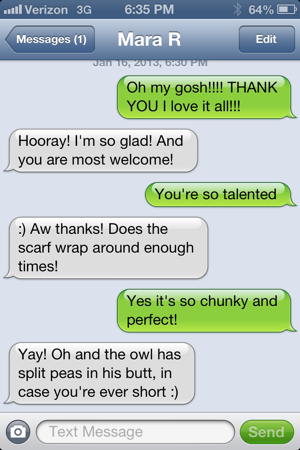 hehe. split peas! love it. thank you, mara!
so.. that is week #2 of OHC in a nutshell! tomorrow morning marks the beginning of week three. we will have an OHC meeting and new assignments. i can't wait to see what's in store!
the rest of the weekend is filled with food, friends, and fun. marshall planned a little get together tonight and we are having a taco bar then playing games. tomorrow is kristen and rory's engagement party—cannot wait! and then sunday will hopefully be pretty mellow.
hope you have a wonderful weekend, whatever you do!
Qs~
1. do you track your protein? about how many grams do you eat daily?
2. cardio: love it or loathe it? favorite type?
3. what was the last random act of kindness you did for someone or received?
xo. janetha g.