woah boy.. it's been a DAY. i know it is cliché to say mondays suck.. but this monday, my friends, sucked just a tad more than the rest of the days of my life.
allow me to vent, just for a second? thanks.
things started bright (er–DARK) and early with a cold house and a power outage. because the power was out, i couldn't get ready for work.. okay, so maybe that was a blessing in disguise because i was able to sleep another 45 minutes before the power clicked back on. but once i got up and going, i realized i had no contacts on my eyeballs.
i (literally) take my contacts out of my eyes once every 2 to 3 months (okay, sometimes 4…) and last night i took them out per marshall's advice. whelp, wouldn't you know it, this morning i tried to find a new pair and realized i was out. so.. it was four eyes for me all day. i hate wearing my glasses.. not because of how i look, but because of how i SEE out of them. i seriously feel drunk and can't drive properly and have no depth perception and my peripheral vision is nonexistent. i just don't love glasses. so there was that.
on my way home, i had to stop by costco to snag some contacts because there was no way i could work out in glasses. not with all that huffing, puffing, and jumping! unfortunately there was a line longer than randy the basset hound and so that took forever.. which made me late for my trainer training class at GPP. but it got worse.. whilst driving from costco to the freeway entrance, there was a major traffic jam and i was gridlocked for three full green light cycles. aggravating. once i got near my house, OF COURSE i hit the longest train ever (i pass two train tracks on my way home.) i am known as the train magnet amongst everyone i know. i'm cursed.
i finally got home and INHALED a raspberry cheesecake cookie (whoops) and changed into my gym clothes then bolted out the door. all of that made me about 20 minutes late for my training class, which only lasts an hour to begin with.. dang. there was also a nugget of disappointing information regarding blend retreat dropped on me via email en route to GPP. i can't share said nugget with you, but it's a big deal and it's causing me a lot of stress! praying it will all work out, though. say your prayers for me, mmmk? thanks.
heavy sigh.
i let out all my aggression on today's workout: meg-inator. it's one of those GPP workouts that EVERYONE dreads.. right there with thrust-o-rama and fitzoner. it was my first time attempting meg-inator at the Rx weight and i finished in 15:59! cannot complain. it was a super hard and shitty workout, though. ugh.
our fitness assignment this week for the optimal health challenge is to squeeze in five extra hours of cardio (ugh, haha!) so i jetted over to gold's gym to participate in 45 minutes of candice's body attack class. a lot of my friends went and it was tons of fun, it didn't even feel like exercise! hah.
i came home and immediately made a post-workout protein shake because that was just too much working out for me for one period of time.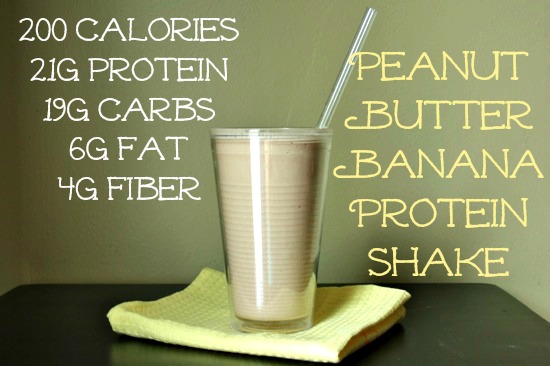 [pinit]
it had 1 scoop of plant fusion protein powder, 1/2 a banana, a cup of almond milk, 1 TB pb2, and a bunch of ice. simple, but filling and tasty.
that didn't hold me over for long, so i got to work on dinner shortly after sucking it down.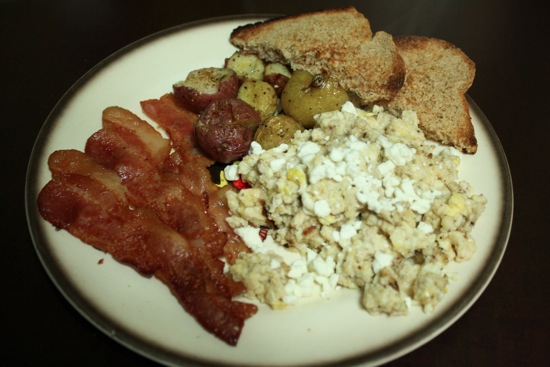 when i told you guys that we have bacon & eggs for dinner at least once a week, i wasn't kidding. it's so quick and easy! not to mention delicious. tonight's breakfast for dinner included 3 slices of center cut bacon, roasted creamer potatoes, sourdough wheat toast, and a heaping cup of egg whites scrambled with an egg and some goat cheese crumbles. mmmm.. i love breakfast for din.
whelp, that's really all i've got for you about today. sorry i'm a little moody! i will leave you with a few random odds and ends since this day deserves no more attention.
look, ma, i'm on a cereal box!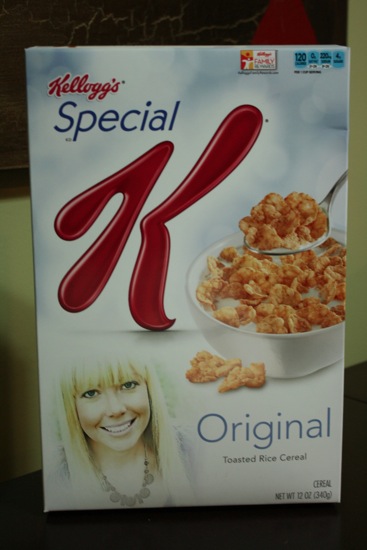 haha.. yeah, kinda fun, right? i can't eat this cereal because it has dairy in it, but i absolutely i LOVE special K's protein plus cereal (i ate a box of it in 4 days.. whoops!) i am going to save this one for kicks.. since cereal is my favorite food.
my best friend is cuter than yours.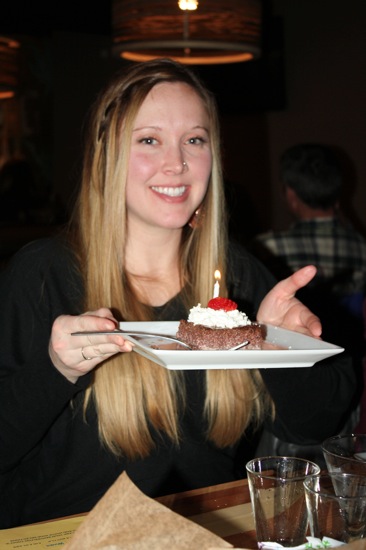 happy 30th to kristen last friday! we had fun celebrating with tacos and tequila at taqueria 27. utah locals, GO THERE.
trader joe's released their top products of 2012.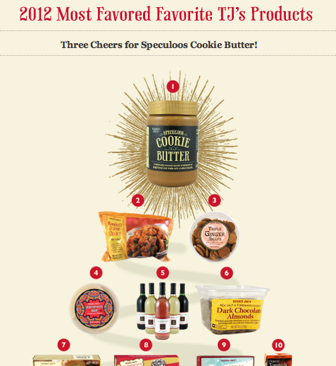 i am happy to report i have tried (and love) 50% of the items on the list. and i fully intend to try (and love) the other half. i am even happier to report that my life is so much better now that we have a trader joe's in salt lake city. yes, i am that serious about my grocery shopping.
mmmkay, i'm calling it a night. here's to a happier tomorrow!
xo. janetha g.