hey guys! thanks for all the get-well-wishes regarding my treadmill tragedy. the wounds are feeling much better today, yay.
it's been a VERY busy day. not only did i work my 8 hours at my day job, but also a couple hours working on the blend retreat website and working on the registration process. tomorrow night i will be posting information about the retreat venue, registration opening date and early bird pricing, and other fun details about blend! EXCITED!
i also made a little time to squeeze in my GPP. luckily today's workout, water breaker, was a quick one. it took me a little under 14 minutes.. but those minutes were flipping intense. those power cleans and pull-ups were brutal, and the kettlebell swings were prescribed at a heavier weight than i am used to (since it was only 10 swings per round.) it was my first time with this workout, and have to say i am a fan of water breaker.
speaking of water.. i want to tell you about this week's assignment for the optimal health challenge that i am participating in with my gym.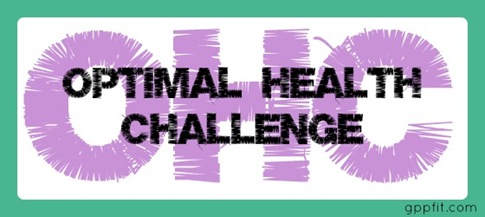 a little background—each week the participants are given a nutritional challenge, a fitness challenge, and a lifestyle challenge. the challenges are independent of each other and they change weekly.
the nutritional challenge this week is to drink at least 64 ounces of water, which is half a gallon. i typically drink way more than this, so that amount is not a challenge for me. instead, i am aiming to drink at least 100 ounces a day.
in our OHC meeting on saturday (when we were given our weekly assignments) my GPP trainer, lizz, explained three main reasons we want to drink enough water each day.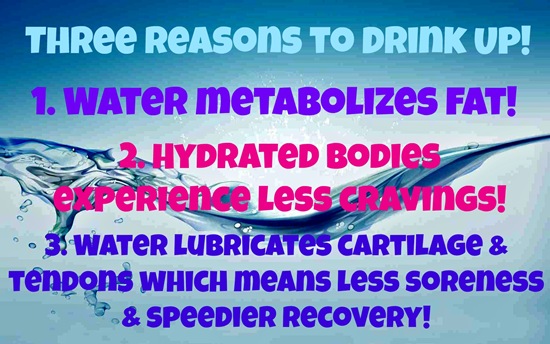 pretty great reasons to drink up, right? plus, you'll get more steps in with all those bathroom breaks.
the exercise challenge given to OHC participants this week is to properly learn the basics of a squat, the five cues, and why following each one is important. we had a 30-minute training session where the GPP trainers taught us all about squats, it was fun!
you know i am a HUGE fan of acronyms.. so when i saw this long one written on the board in the meeting last saturday, i got excited.
can anyone decipher it? no? here, let me help.
ONE


TWO


THREE


FOUR


FIVE


easy enough, right? those are the five cues to remember when executing a perfect squat. this week we are all practicing our form and have been instructed to do 1,000 perfect squats in our free time. i am halfway there with 500, so i better get squatting before saturday rolls around! i also have to submit a video of myself listing the five cues and performing a squat to be critiqued by the group. i haven't done this yet, but will be soon.. i think this is a good idea because constructive criticism is a great way to learn!
like i mentioned above, there is also a lifestyle challenge each week to go along with the nutritional and fitness aspect. this week we have to (get to?) list one thing we are grateful for about OURSELVES. not gonna lie, it has been harder to come up with things about myself that i am grateful for rather than just something in general.  i have listed four things so far (for the four days this week):
grateful for my thumbs (because, seriously, they are awesome.)
grateful for my love for and desire to cook (not everyone loves it!)
grateful for my ability to always take the higher road when faced with conflict (thanks for the lesson, momma b!)
grateful for my ability to laugh at myself (the treadmill mishap encouraged this one.. haha.)
i am excited to see what the next five weeks of the optimal health challenge brings. it's a challenge unlike any that i have ever done because it is teaching me so much. not only will i learn more about nutrition and fitness in general, but also how the diet and exercise tweaks relate to me, my body, and my lifestyle. i know we will be experimenting with different food types and macronutrient distribution. i am anxious to see how my body responds to the different assignments.
if you are interested in doing the challenge (you can do it virtually and have the meeting videos emailed to you) then you can still sign up! there are 5 1/2 weeks left in the challenge so it's not too late. plus, each week is different. you can use this form to get more info. and, in case you missed it, you can click here to see the orientation video to learn more about OHC. (note: i am not employed nor compensated by GPP. i paid to participate in the challenge and will be periodically blogging about my experience.)
well, that's enough rambling for tonight. i have some squats to do and a little more water to drink. have a great night tonight and a fabulous day tomorrow!
Qs~
1. how much water do you drink each day?
2. what is one thing you are grateful for about YOURSELF?
xo. janetha g.