just like the rest of the world, i love pinterest!
i love browsing and repinning everything from household tips to recipes to outfit ideas. i always have good intentions to actually put those pins to use in real life. that's the whole point of having a virtual pinboard, right? so, i have been trying to make more of an effort to put those pins of mine into action.
to keep track of "keeper" pins, i created a board called "pinterest successes" and when i try something i saw on pinterest and it works out well, i move it from whatever board it was on to the success board. oh–and for those pins i try and they are a huge flop? they get deleted. although i should start sending things in to the blog pinterest fail.. it's so funny to read about those failed attempts to recreate something seen on pinterest!
i thought it would be fun to share some of my pinterest successes as they happen. with that in mind, i'd like to introduce my new series: from pin to post!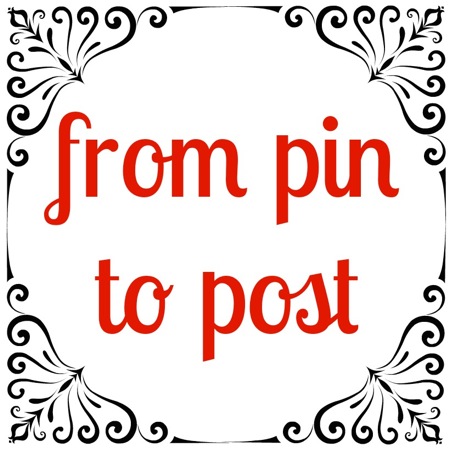 my first pin to post is a recipe that had been on my savory eats board for months.
i originally saw this recipe for crock pot sweet potato bisque on katie's blog last september and pinned it immediately. i bought the ingredients a few times, too, but never got around to making the bisque! i don't know why i didn't make it sooner.. this recipe is really so simple and SO good. we had it for dinner last night and i immediately moved the pin onto my pinterest successes board–it's a keeper!
i did make a few modifications to the recipe which i have listed below.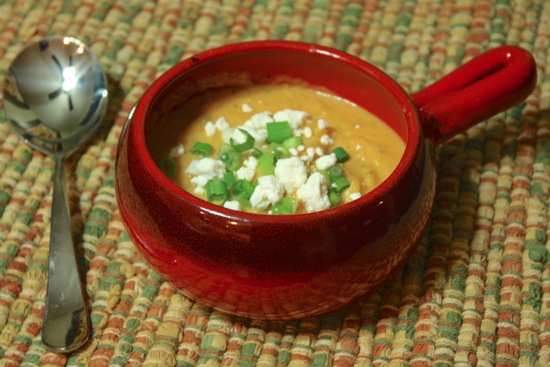 crock pot chicken, cauliflower, and sweet potato bisque
adapted from yes, i want cake
active time: 20 minutes, cook time: 3 hours
yield: 6 servings
ingredients:
20 oz frozen cauliflower florets
2 medium sweet potatoes, peeled and diced
1 medium yellow onion, peeled and diced
24 oz vegetable broth
1 TB jarred minced garlic
1 tsp dried thyme
1/2 tsp red pepper flakes
8 oz nondairy milk
4 oz nondairy cream cheese
2 TB earth balance or other nondairy butter sub
1 TB trader joe's 21 seasoning salute or other seasoning blend
1 rotisserie chicken, shredded (or 12 oz boneless, skinless chicken breasts cooked and shredded)
salt & pepper to taste
garnishes: crumbled goat cheese, chopped green onion, and more salt & pepper
directions 
combine cauliflower, sweet potatoes, yellow onion, broth, garlic, thyme, and red pepper flakes in a crock pot.
cook on high until sweet potatoes are soft, about three hours.
add milk, cream cheese, earth balance, and seasoning blend.
use an immersion blender (or transfer to a food processor or blender) and blend until smooth.
fold in chicken and season with salt and pepper.
serve with goat cheese, green onion, and more salt & pepper to taste.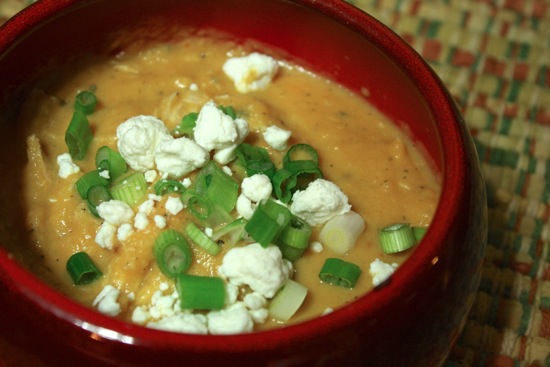 a few notes on my modifications..
*i tweaked the amount of cauliflower, potato, and broth mainly because the frozen cauliflower i had came in 10 oz bags.. so i used two bags.. which then made me up the amount of potato and broth.
*i can't do dairy, so i subbed out the evaporated milk and cream cheese.
*i have found i can handle small amounts of goat cheese, though, which really upped the creamy factor of the bisque.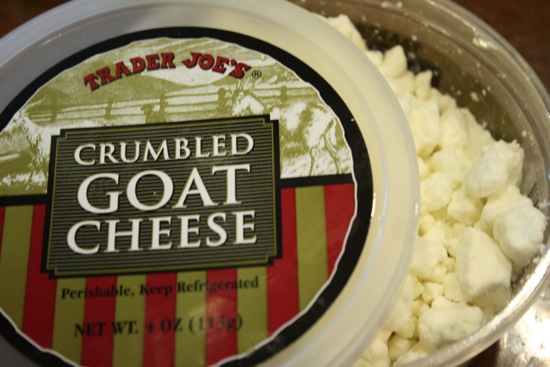 *i wanted to add a protein element so that's where the chicken came in.
*i have a heavy hand with seasonings, so i added quite a bit of my very favorite seasoning.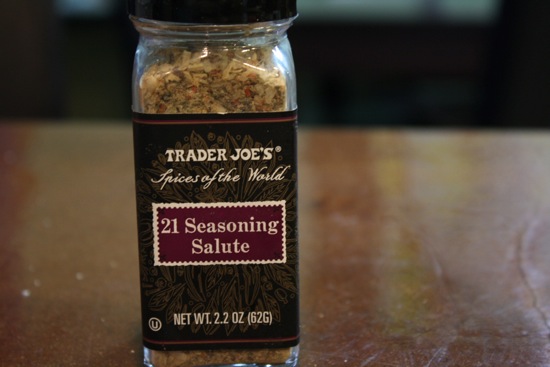 i plugged my version into my nutrition label generator and was pleased with the stats!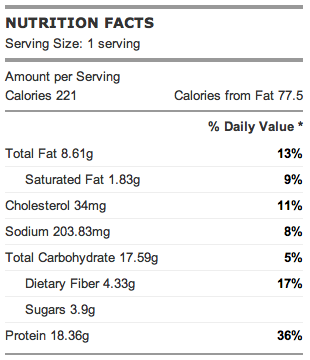 a super creamy, dreamy bisque with that nutritional profile cannot be beat.
thanks for the amazing recipe, katie!
Qs~
1. how often do you put your pinterest pins into action?
2. any pinterest fails or successes to share with the class?
xo. janetha g.