despite the single-digit temperatures in utah right now, i have still been blending up and consuming protein shakes almost daily. they are such a great option for a quick, nutritious meal! plus they help tame that wild sweet tooth of mine.
i don't usually post recipes for protein shakes because they are so simple, but this combo is one of my absolute favorites, so i thought i would share!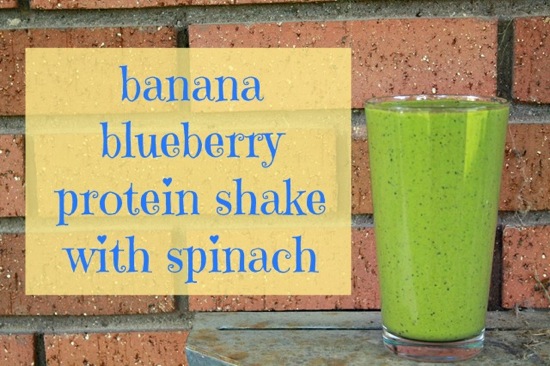 banana blueberry protein shake with spinach
makes one serving
ingredients:
1 serving of your favorite vanilla protein powder (mine is plant fusion vanilla bean)
50g frozen blueberries (roughly 1/2 cup)
50g FROZEN banana (roughly half of a medium banana)
2 cups spinach
4 oz (1/2 cup) milk of choice (i use unsweetened vanilla almond milk)
4 oz (1/2 cup) water
15 ice cubes
optional: 1/2 tsp guar gum (this is a thickening agent)
directions:
place all ingredients in a blender (i use my
vitamix
) and blend until smooth.
note: it is VERY important that you use a frozen banana–that helps the consistency turn out super smooth and creamy. i always peel a bunch of bananas, cut them in half, place them in a freezer bag, and pop them in the freezer so i have them on hand at all times. make sure you peel the bananas before freezing them, though! it's pretty difficult to peel a frozen banana.
this shake is approximately 250 calories, 30g protein, 30g carbs, and 4g fat. this will vary depending on the protein powder you use.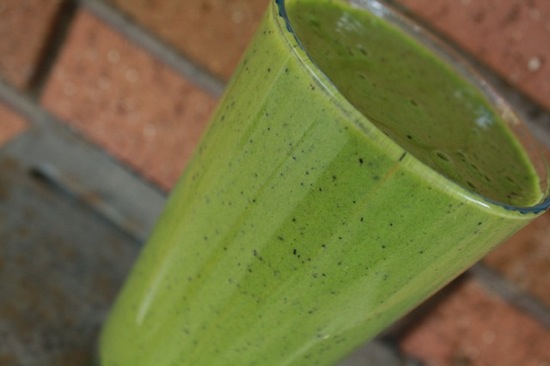 mmm.. green goodness.
don't be intimidated by adding spinach to your protein shakes. believe it or not, you can't even taste it in there!  spinach contains many vitamins and antioxidants. it is high in vitamins including A, C, K, and the B vitamins. it is also rich in iron, calcium, omega-3, protein, folic acid, folate, and magnesium. i have only listed a handful of the nutrients it contains. because of the many nutrients spinach is packed with, it ends up being very beneficial to our health for so many reasons. here are just a few!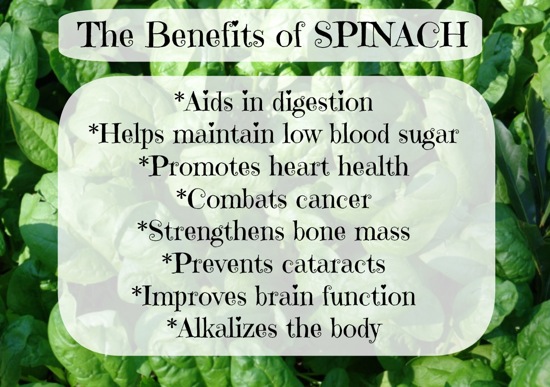 i guess popeye was onto something, aye?
we blend up a lot of spinach in our house. i put it in my protein shakes, like this one, but marshall also puts it in our morning juice each day. and, yes, i know i owe you guys a post about his juice recipe! i have not forgotten.
so next time you blend up something to drink, throw a handful or two of spinach in there for good measure and enjoy!
Q~
what is your favorite protein shake recipe? sharing is caring!
xo. janetha g.