time for more ask me anything answers! i am trying to keep up on these, promise.
first, a couple on body for life…
Q: Hey Janetha, can you talk a bit about what you did for your free days when you did body for life? I LOVE the idea of a free day and it works really well for me but I want to know what other people who've already done it (with AMAZING results) used to do.
A: when i did body for life, i followed it to a T. that meant 6 days of strict clean eating with 40/40/20 carb/protein/fat ratios.. and then one FREE DAY a week. free day meant you could eat anything you wanted, as much as you wanted, whenever you wanted. and i did that. i ate lots of ice cream, bread, cereal, mexican food, and the occasional booze when my free day came around. i wasn't at all "careful" on my free day and i ate to my heart's content. i think this approach is awesome as it helps keep you sane when following a program! if i had a craving during the week, i simply wrote it down and if i still wanted it when my free day came, i'd eat it.
Q: Hey Janetha, I was looking at Emily Alver's site and she mentioned that she got all her carbs for BFL from fruit and veggies only. What are your thoughts on that?
A: i wouldn't and couldn't do that. i like other carbs too much, and don't think other carbs are detrimental to success. i got my carbs from lots of wheat pasta and bread, brown rice, potatoes (both sweet and white), approved cereals, and.. yes.. fruit and veggies. i think that there are so many great carbs out there, there is no need to restrict to getting your carbs only from fruits and vegetables.
next, a bunch on fitness and GPP..
Q: Would you PLEASE send more body progress pics as a result of starting GPP? You have BFL ones but i'd love to see how GPP is making changes too?
A: hmmm actually i would say GPP is making changes not based on appearance. i am stronger, faster, more flexible, more coordinated, have WAY more endurance, and a handful of other fitness-related improvements. i will say my arms look better (to me) and i am loving my back definition.. but my body has not changed THAT much as a result of starting GPP.
this is because i was already in shape when i started going to GPP. i documented my BFL challenge because i was doing it for weight loss. it was a 12-week program. i don't document my body now with photos because GPP is not a limited time challenge—it's just my gym. i go there to stay in shape and i will be going there for the rest of my life! it's not really a "before and after pics" type of deal.
for a visual reference, here is a shot of my midsection in january 2012 on the left after jamie eason's livefit trainer. i started going to GPP in april. on the right is a photo of my midsection in september 2012. no difference!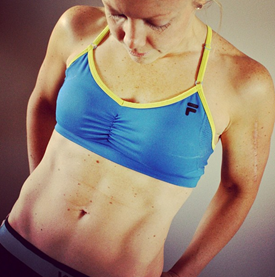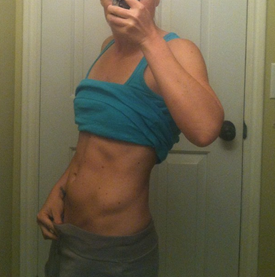 Q: How long did it take you to see real results when you started GPP?? Did you gain weight, bulk in places before they thinned out?
A: this answer goes along with the last one. i didn't have a lot to "thin out" when i started going to GPP. when i did BFL, i had weight to lose, and i DEFINITELY bulked up in places (specifically my thighs and biceps) before thinning out. that's just part of getting in shape, building muscle, and losing fat. don't let it discourage you if that is what you are dealing with.
Q: I've noticed that now you hardly ever take total days off. How come?
A: i am not sure what you are referring to? i don't blog all my workouts, but i do take one full day off a week (at least—sometimes two.) maybe you are referring to dedicated december, where i did do something active on my rest days (except for christmas, i did not a damn thing that day.) sunday is my typical rest day, but the sundays in december i tried to be a little active. i went snowboarding once, walked on the treadmill for 2 miles once, and did some fun squats with marshall on my back once. like.. maybe 15 squats. i don't think those are considered workouts, hah. especially since i didn't break a sweat.
you have to understand that i sit for eight hours a day at a desk. if i walk on the treadmill while reading a magazine for two miles on my rest day, this is still walking less than the average human. i am sedentary and lazy at heart… which is why i love the fact that my workouts are 30 minutes or less each day and i only have to do them 5-6 times a week to maintain my physical fitness! i see a workout as elevating your heart rate for a period of time while concentrating on improving one or more aspects of fitness—and i do this 5-6 days a week.
Q: Is Neil going to expand GPP's locations? I would love one in Sandy, Utah. :) AND Do you know of any GPP type facilities anywhere else in the country (Minnesota??)? I know we have a ton of Crossfit places but you keep saying GPP is different so I thought I'd see if there are any anywhere else.
A: right now, the only location is in centerville, ut. there is a group in oklahoma that follows the programming and i know neil would love to have more affiliates in the future. unfortunately for those not here locally, you have to go GPP on your own! but the cool part is that it is free. the workouts are posted with very informative video demos so you can safely follow the programming remotely. we have remote GPPeeps all over the world, it's so cool to interact with them all!
Q: Do you know anyone who has done the GPP Synerfitness at-home workouts? I found it on the GPP page and I'm really curious about it. Considering I don't live anywhere near Utah to try GPP for myself, I might give the at-home workouts a try!
A: (from neil, GPP owner):
To be honest, I'm not super satisfied with what is going on over at GPP Synerfitness.  It was a great idea that hasn't really caught on.  It is an excellent site with amazing products and services, but IMHO you can do just as well with the GPP site alone.  The thing is, every exercise has mods, alts and scales for home use.  If we don't include these on the GPP site, you'd only have to drop a question to comments to get either me or one of our (excellent) vets to answer for you.  There has become quite a following of folks off-site.  Those folks have a lot of experience modifying GPP workouts to fit their needs at home.  I know it's only like $6 per month, but you'd get the same for less at the GPP site. 
Hate to say that, because frankly it costs me money.  The GPP Synerfitness site is something I get paid for.  The GPP site is free.  But, truth is truth.
If they choose to go for the GPP site, tell them to post daily.  They'll need the community support to stick with this thing.
Q: What do you think of Insanity? Worth giving it a try? What are your takes on yoga – Bikram, Power, etc.?
A: i did insanity in 2011. not gonna lie, i didn't love it. too much cardio, not enough variety, and i got bored. i did the full 60 days, but i would never do it again.
i have only tried one type of yoga and that is bikram. i love it! i haven't tried any other types. i haven't been to bikram in a very long time, but that's simply because it's not convenient in terms of location and class times. i hope to go back sometime soon, though!
and, finally, some randoms for good measure…
Q: Are you still in contact with Eden and Deb?
A: yes! i email with both of them at least once a month. we all lead very busy lives but still take time to catch up when we can. unfortunately i don't have any trips to LA planned to see them, but hopefully i can make it there sometime this year. i still read their blogs—eden posts nearly daily and deb posts once in a blue moon (hehe, throwing you under the bus, friend!) but it's nice to have technology to keep in touch. i love, love, love those two!

(yes. that's us having a photo shoot in the shower in deb's husband's buttonup shirts…)
Q: Where do your dogs sleep?
A: better question: where do marshall and i sleep? because the dogs rule the bed! here is a photo i made over a year ago to show you just what i mean: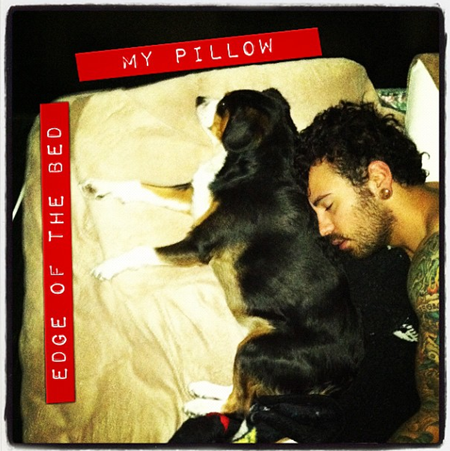 hah. bed hogs. but we love 'em.
Q: How many hours per week do you spending blogging and do you make any money from your hobby?
A: hmmm, honestly, it varies so much. if i have a recipe i want to post, that takes longer because there are photos to take and editing added to the posting. if it is a post like this where i just ramble or one of my random riff raff posts, it takes less time. i would say, on average, a blog post takes me about an hour. sometimes i spend up to 2.5 hours on a single post, other times it may take only 45 minutes.. but rarely less than that.
i used to have foodbuzz ads on my blog and i earned revenue from that ad network, but they recently ended all their contracts. i am actually transitioning to a new ad network—i chose glam media—and will be working that all out this week. aside from the small amount i make from ads, i will make money on a sponsored post here and there… but they are few and far between. i actually don't EVER want blogging to be my job. it's my hobby and i would like to keep it that way. i do it for fun and don't feel pressured to post certain things to generate traffic—or any pressure to even post at all! i have my full time job that i love. blogging is not a job.
lastly, not a Q, but it came in the box and i had to post it because it made me happy :)
"Your mum is BEAUTIFUL …. I can't believe she's sixty … oh my gosh! (Just read her birthday post.) Wowie zowie she gives me hope!"
I KNOW! my mom is beautiful, strong, smart, incredible… my true hero! love momma b to the moon!
that's all for today—whew, that was a LOT! thanks for reading!
Qs~
1. what is your favorite carb?
2. dog owners: where do yours sleep?
xo. janetha g.
p.s. someone left a question but it got cut off.. it said: "Hi Janetha I'm not sure if you can answer this on your blog. I don't mind if you do but being new year I imagine it might bring a tone of unhappiness which I know isn't what new year is about. I've followed your blog for quite a while. I've always r" nooo idea what that was leading to.. but if it was you, go ahead and resubmit the question.