hello and happy thursday, january 3rd to you!
not only is it the beginning of a new month, it is also the beginning of a new year. new beginnings are very powerful for many. sure, it's just another thursday to some, but several people see the new year as a clean slate, a chance to make changes in their lives, and a fresh start!
i am one of those people who see the start of 2013 as an opportunity to make the most of my life. not that i wasn't trying to do that already—i just see the new year as a little push to focus more on what i was already aiming for.
i have been reading about several different new year challenges and programs many of you are doing. i am personally going to be dabbling in a few!
for one, i will be joining momma b, my sister, and my brother in law in the fitmixer bootcamp, which starts january 14th.. i am not doing the bootcamp by-the-book this time around, but i will be participating in some aspects of it!
i am also going to play along with the pv.body 30 day challenge, which is a month of daily challenges to help kick start a fit & fabulous year. again, i won't be doing every day, but i will pick and choose the days that fit in with my schedule and goals.
(click each of those links to learn more about what those two challenges are and how to join!)
of course my gym, GPP, is offering us an awesome challenge for the new year. i knew they would have something up their sleeve, i just didn't realize how comprehensive it would be. i am seriously stoked for the next six weeks.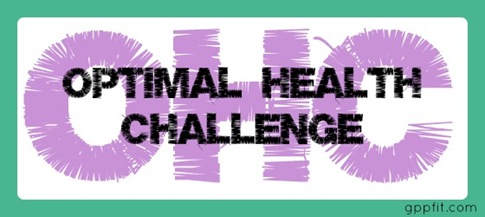 GPP's optimal health challenge is a six-week program that focuses on three things:
instead of being given very specific workouts and a dictated nutrition plan, each week we will use the challenge to learn. we will learn about fitness & nutrition and how each lesson relates directly to our own lives—since we are ALL different and we ALL need very different combinations of diet & exercise in order to achieve optimal health.
each saturday we will attend a meeting at GPP headquarters. in the meeting, we will be issued a week-long fitness challenge and a week-long nutrition challenge. we will also be given lifestyle assignments, such as expressing things we are grateful for on the GPP site. the cool part about the weekly meetings is that it's actually like class—we will be learning valuable information to propel us through the year (and through the rest of our lives!)
the lessons will teach us a lot about why we work out the way we do. we will learn the skills to perfect our movements—from squats to cleans to curls and everything in between. we will learn why we sometimes do strict movements and other times use our bodies to get the rep completed (such as strict pullups vs kipping pullups or strict pushups vs snaking pushups) and the benefits of each technique. we will be given nutritional information and be instructed how to apply it to our individual lives in order to achieve optimal health.
for those who aren't local, they will be filming the meetings and sending the assignments out each week via email. we have a lot of remote participants already! note–this is NOT a weight loss challenge. it is a program designed to discover more about my body, my health, my fitness, and how i can combine various methods to be the best me i can be.
as you can tell, i am super stoked on this new challenge. it's a totally different approach than i have ever taken. usually i do challenges that dictate things more specifically, but they never really elaborate on the why or how those things are determined. yes, i learn through experience, but no challenge has been geared specifically to inform.
if you are interested in the long version of the challenge explanation or are thinking of joining us, click here to watch the 15-minute orientation video. if you decide to do OHC, let me know and we can do it together. i know candice and momma b are both already on board!
that's all for tonight—i have a husband to feed and some pups to walk (in the frigid temps!) have a great night! already friday tomorrow, yay!
Qs~
1. are you doing any challenges or programs for the new year?
2. do you see a new year as a symbolic "clean slate" or is it just another day, week, month for you?
*FYI: i am not employed nor compensated by GPP. i wrote this post because i blog about my life and what i am doing with it. i paid $75 to participate in OHC and will be blogging about it sporadically, but not entirely since it is a paid program and would not be fair to paying participants if i blogged everything the program offers.