hello! friday already–gotta love a 3-day work week. it's been snowing on and off here in utah and i am happy to be tucked inside my house where it's safe and warm. i may not leave all weekend.. we'll see! (i am lying. i have acupuncture tomorrow and haven't been for two weeks. that is well worth braving the snow and cold.)
because i have nothing in particular to ramble about, how about a list? bloggers love lists AND alliteration, as we all know, so a friday five list is definitely in order.
1. marshall got me a fitbit zip for christmas.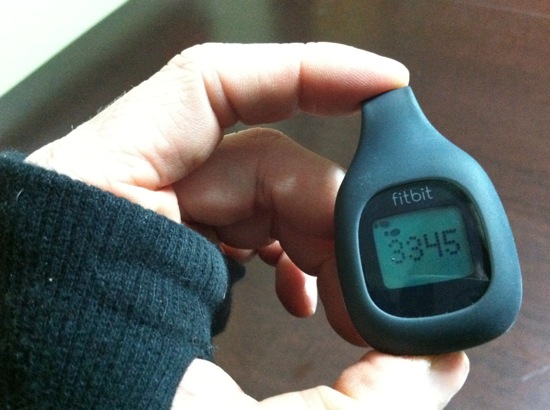 cool! i had never even heard of these things before pulling it out of my stocking on christmas morning. you simply clip this nifty device anywhere on your body (or put it in your pocket) and it tracks your activity! it will tell you how many steps you've taken, miles you've walked, approximate calories you've burned, and also doubles as a clock.
there is a free online dashboard included with the purchase of a fitbit zip. you can use this dashboard to log your food, extra activity like workouts, sleep, water consumption, heart rate, measurements, and many other things. i just set it up last night and today is my first day using it–i have come to the conclusion that i am WAY TOO SEDENTARY. clearly, since it is 6 PM and my steps are at 3,345…oy. i am going to start pacing around the office just to get my steps in, ha!
oh, and coincidentally, jenn has an awesome review and giveaway about fitbit zip up on her blog now. check it out!
2. i've got a clothes hoarding problem and a plan to fix it.
i have WAY too many clothes that i don't wear. lots of these things are 5-10 years old and i can't bear to part with them due to the "what if i want to wear it SOMEDAY" syndrome. it's irrational thinking and i am a pro at it. i have managed to donate several bags of clothes and shoes this year, but i know i could stand to part with a lot more simply because i don't wear the majority of my clothes.
SO–here's the plan. i turned ALL my hanging up clothes around in my closet so the hanger hook is facing the opposite direction, like so: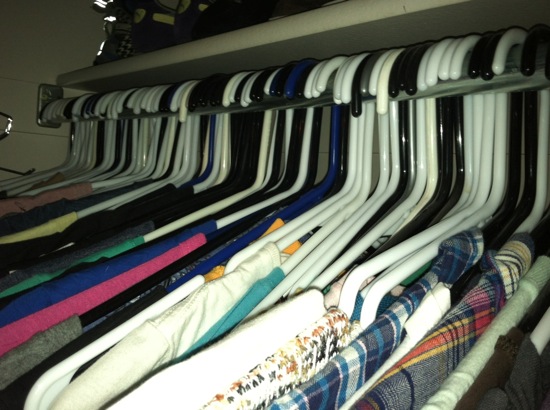 when i wear something from my closet, i will hang it back up the right way. at the end of 2013, any items that are still hanging up backwards will be donated. i figure if i don't wear them for a whole year–not in any of the four seasons–then i should not be holding on to them "just in case i want to wear it" or for sentimental reasons.
not sure how i will sort out the clothes that are in my dresser drawers, but i plan to do the same type of thing for those items. any bright ideas how to go about this plan for folded items? i'm all ears.
3. i possess zero desire to get crazy on NYE. 
maybe i am old, maybe i am boring.. probably both. but the whole new year's hype and pressure to do something exciting is just not my cup of tea! i plan to keep it mellow this year and celebrate with my husband, BFF, and a handful of other people. in years past i was all about getting dressed up super fancy and heading to the bars, but that has lost all appeal to me! i am sure i will still enjoy a little bubbly, but that's about as wild as it gets.
4. i love the smell of a real tree, but hate the cleanup of pine needles when christmas is over.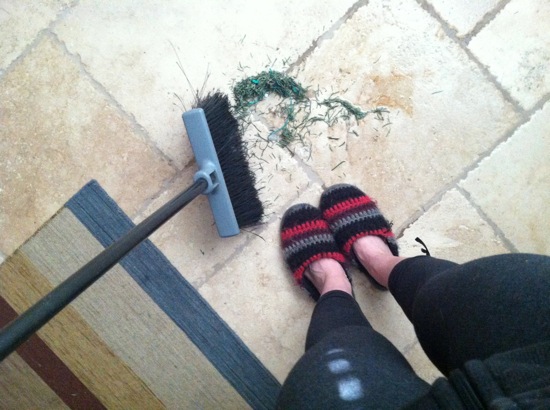 pine. needles. everywhere.
on the up side, all my christmas decor is put away!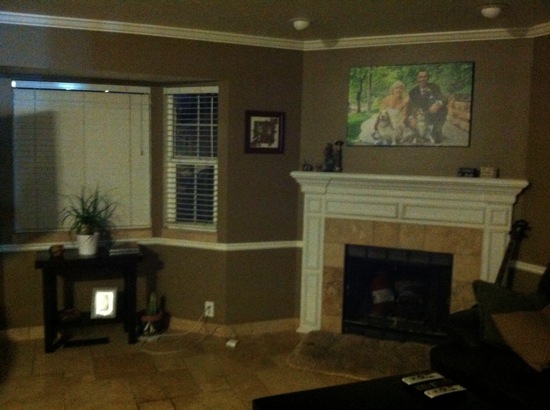 i usually leave my tree up past new year's day.. but i was on it this time around. *pat on my back* yup.
5. i'm addicted to buying lulu stuff on ebay.
so i started shopping for lulu on ebay when i realized the current scuba hoodies online are different than the original version that i love–they are shorter and have thinner material. no thanks. but then that opened up a whole world of options and we all know i have an online shopping problem! it's fun to shop for lulu on ebay because they are a brand that has something for only a limited time and then it's GONE and you can't purchase it again (unless, of course, you find it on ebay…)
i recently bought a (used) duffel bag and a (new) extra long cool racer back tank. i may or may not be bidding on 8 other items at the moment…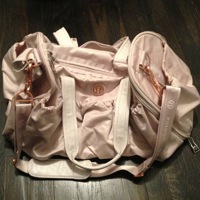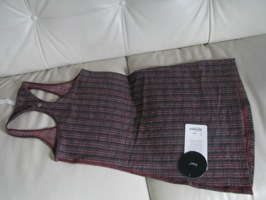 at least my #2 list item will help clear out more room for more ebay purchases, right? hah.
it's time to announce the onnit giveaway winner.. #44 marisa! congrats. thanks to ALL of you who participated in the 12 giveaways of christmas. that was fun! there are still two giveaways going on right now for you to get in on–the final week of dedicated december (a thermos water bottle) and the overall winner of dedicated december (a $25 gift card to swanson.) log your workouts today through monday, and i will pick those two winners in the middle of next week.
in other news, i have been nominated for healthline's best health blog of 2012 award. obviously you don't have to vote for me, but if you want to.. click here, then click "alphabetical" and then page 20. that's where you can find me. you can vote once every 24 hours.
ohhh kay, that's all for now. have a fabulous weekend! the final weekend of 2012, pretty crazy.
Qs~
1. real or fake tree?
2. new year's eve plans?
3. last thing you bought online?
xo. janetha g.