hey! kinda went MIA on you guys. i have said it before and i will say it again: 'tis the season. how about a random post?
life has been busy.. i shopped my freaking FACE off yesterday. after the gym i went to starbucks then costco then smith's then village inn then walgreen's then home.. only to unload my car and head out again! i went to fice then trader joe's then whole foods then lululemon. WHEW. eight million hours later i got home with all my christmas shopping DONE (and my amex practically maxed out, hah.)
what else? oh, i went to a beach-themed christmas party on friday night (forgot my bikini, whoops…) and then an ugly sweater party last night.
i have been making sure to stick to my dedicated december challenge each and every day! friday i did beaver mtn, which is a favorite GPP workout of mine. i LOVE box jumps, power cleans, and ski squats.. so it's no shocker that i love this one. saturday was rough tabata+400. the "rough" part of the tabatas was that during the 10 seconds of rest, we didn't really get to rest. the rests consisted of a plank, a 6″ hold, and a squat hold. each tabata was broken up with a 400m run in the 25 degree cold.. lovely!  it was cold, but it was fun.
because i want to take my rest day on christmas, i decided to hit up gold's gym today for a quick cardio sesh since GPP is closed sundays. i can't handle steady-state cardio, it makes me stabby, so i made up this fun little routine that left me breathing heavy…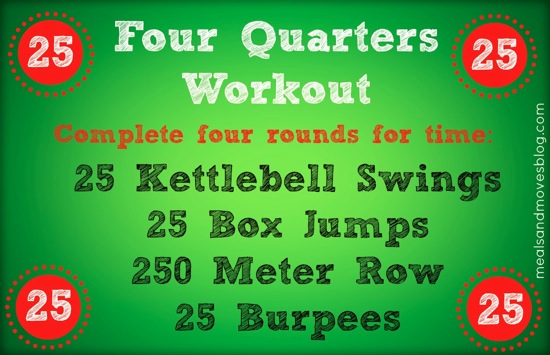 [pinit]
you know how i am with numbers.. of course i had to do four rounds of four moves! it worked out to 100 reps of each move (and 1000m row on the rowing.) i finished in 19:54. give it a shot–let me know how you do!
i just visited the GPP site to pull the links from those workouts i just talked about, and i got a little scared when i saw monday's agenda: the 12 workouts of christmas! eeeep.. this should be killer. it's quite the add-on routine…and it's super cute the way they wrote it up.. haha.. go read it, it's fun.
let's see.. what else.. oh, meals! meals have been all over the place. i got some crazy idea that even though i can't eat dairy, goat cheese might be okay. i ate a cobb salad with goat cheese last night and ended up with a really bad stomach ache that carried over into the morning. so lame. i ended up skipping my snowboarding plans and sleeping in until i felt human again. i kept my breakfast mild–half a bagel with jam and a small bowl of granola with soy milk.
i spent part of the afternoon making jar after jar of nut butter…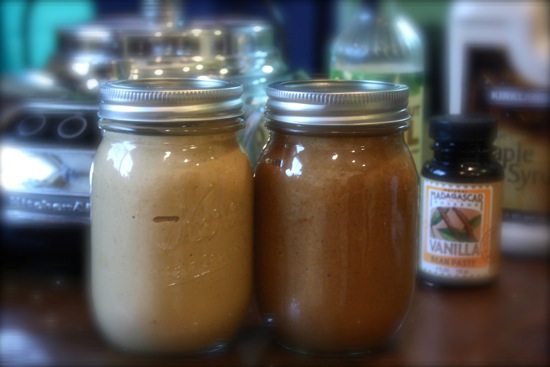 those two flavors are maple cinnamon vanilla peanut butter and coconut maple vanilla cashew butter. both have long names, both are delicious. i know this because i sampled way too many spoonfuls while making them! that kinda left me wanting something savory, though, so i whipped up scrambled eggs and a slice of wheat sourdough toast with smashed avocado.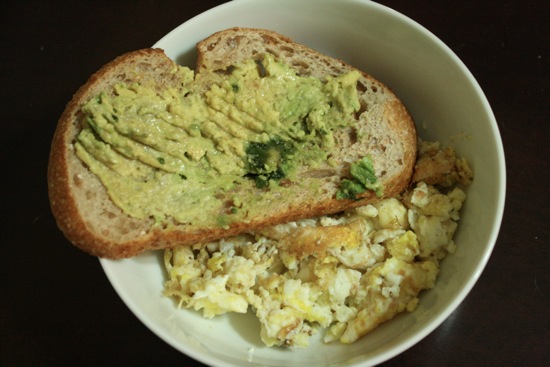 i got the wheat sourdough bread from trader joe's.. can i just tell you how much i LOVE having one locally finally?! it's a dream come true! i followed my eggs & toast up with more savory snacking: flamous falafel chips (so good) & TJ's triple layer hummus.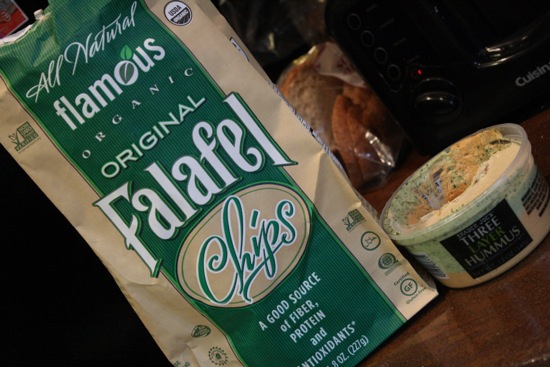 again, SO GLAD to have trader joe's in the salty city.
hmm.. what else, what else? i have been watching a little football with marshall (yay, packers!) and wrapping presents (something i hate… necessary evil!) it's fun to put presents under the tree.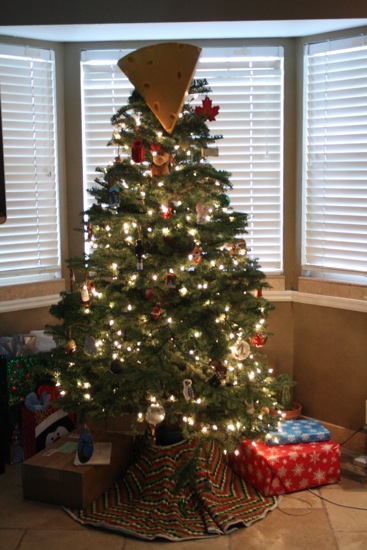 hmmm. i am a little nervous about leaving the pups alone with those presents under there, though. you never know when randy is gonna pull a randy. as for now, he is cuddled up in a tight ball dreaming of sugar plum fairies. or of bread. yeah.. probably bread. he loves bread.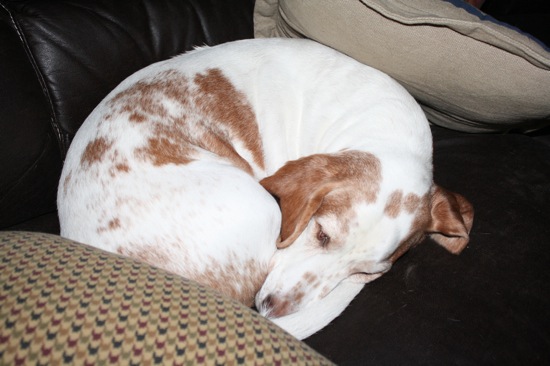 he's not naughty when he's asleep.
i realized i better post a giveaway today–and then one more tomorrow–to fit all 12 giveaways of christmas in! yikes, this month has zoomed by.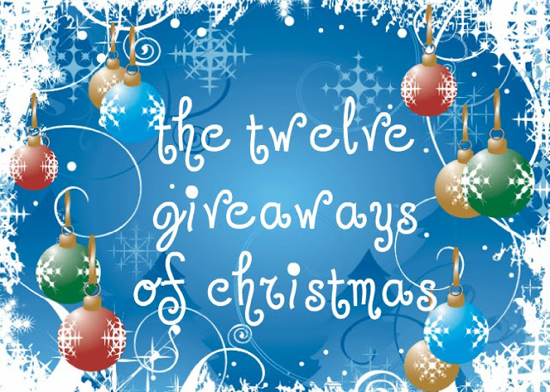 this giveaway is coming to you from me, myself, and i!
you know i LOVE LOVE LOVE contigo products… so i want to give one of you a contigo hot mug.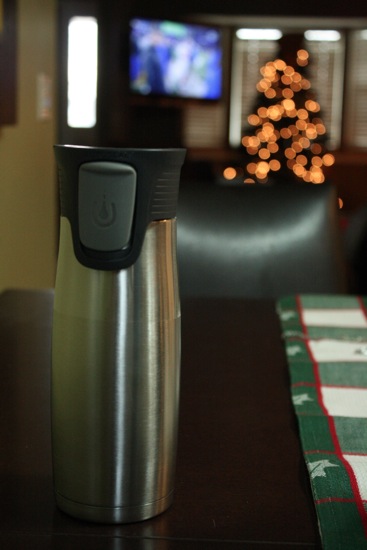 this bad boy keeps your beverage hot all day long–not even exaggerating.
to enter, leave a comment on this post. (any comment will do!)
for additional (optional) entries:
tweet: "i want to win one of @janeeetha's #12giveaways! a @gocontigo mug! http://wp.me/p1B7vY-cQk" and leave a comment stating you did.
pin an image of this post to pinterest. leave a comment stating you did.
i will announce a winner on christmas.
oh, and you can also enter giveaways #9 pv.body running top and #10 special k prize pack–i am running them until christmas day.
merry christmas eve eve!
xo. janetha g.