as promised, i have an awesome guest post for you today. it comes from my GPP buddy, candice s. she is one inspiring lady! not only is she fit and fabulous, but she is also very diligent and dedicated! she recently cut sugar out of her diet and has had life-changing results, so i asked her to share her story with you today. here she is!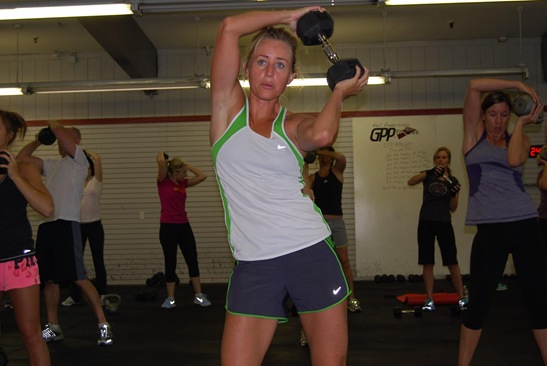 I met Janetha at GPP this year. I had a similar conversion from Gold's Gym to GPP over 3 years ago.  I was super flattered that Janetha asked me to do a guest post. She is a celebrity on the world wide web and a very popular member of GPP. I feel a little silly writing this post because this isn't a big weight loss story and I have no dramatic before and after photos. I am just a normal person trying to stay as healthy as possible despite my love for food. Here's my little story take what you will out of it.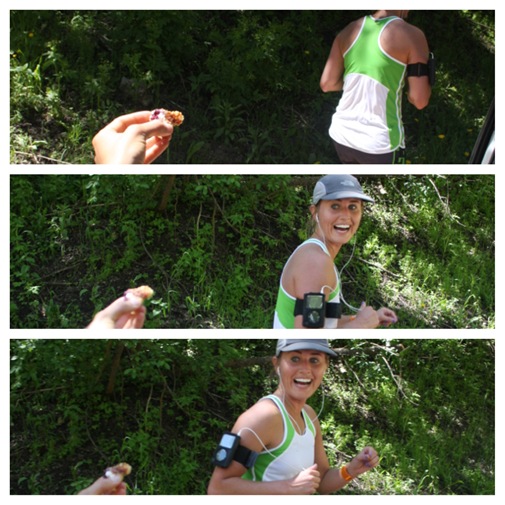 Mid-Race Feeding. The excitement on my face gives you a little insight into my love affair with food!
In October of 2011, I was 3 months away from turning 30 years old. I was weighing in about 5 lbs heavier than I ever had in my life.  I know it isn't much, but I knew I couldn't afford to gain 5 lbs every few years. Luckily, the gorgeous and talented GPP trainers introduced a "Crash Course Challenge" – a 6 week long health challenge where you set your own goal and commit to reaching it with a $50 buy in.  My goal was to lose 5 lbs and I planned to do that by sticking with the "Burst Cycle Diet" and an extra 30 min of cardio 5x per week. It took me 3 weeks before I even lost 1lb, those were some stubborn pounds. But by the end of 6 weeks, I had lost 5lbs and reached my goal.
The challenge ended Thanksgiving Day and December was casting a big scary shadow over the momentum we had gained. So, those crazy GPP peeps and our trainers talked me into another 6 weeks of hard work.  At the end of 12 weeks, I had lost 9 lbs.  It was a slow go and really tough, but I was proud of what I had done.
After all that work, I was determined to maintain my new weight. So, for the past year, I have weighed myself daily and tracked my weekly average weight.  I know that seems obsessive and may not work for everyone – but it worked for me. I needed something concrete to look at and I love spreadsheets and data. So, that is what I did all of 2012, tracked my weight meticulously and maintained it all year (within 1-3lbs).
One year later, and in true GPP form, they throw another challenge at us. The Turkey Day Challenge which included no sugar until Thanksgiving. I was scared. I had never given up sugar.  I had lived my life cutting out calories from cheese, salad dressing, gravy, and butter so that I could eat dessert. Nothing is too rich, or too sweet, or too much – it is all yummy.  I didn't want one cookie, I wanted 6 or 7 cookies.  But… I love a challenge, especially a GPP challenge.  So, on Oct 28th at midnight – I was scarfing down homemade caramel chocolate pumpkin bars…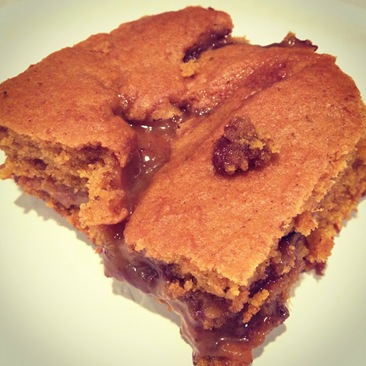 Actual Item. I took a picture in memoriam!
…and sadly tucked away my tub of Cutler's cookie dough in the freezer. I was committing to No Sugar until Thanksgiving.
On the first day, I looked through the kitchen at work to make my usual turkey sandwich for lunch.  Checked the bread – sugar added. Checked the turkey – Sugar added.  I ended up eating lettuce and dry tuna because there weren't any other options in the entire kitchen with no added sugar. Let's just say I had to start doing my own shopping and lots of label checking.
10 days into the challenge and without one cheat –I hit a number on the scale that I hadn't seen all year, and probably hadn't seen in at least 8 years.  I was ecstatic. 6 weeks later, I hit 2 lbs lower than that.  My weekly average weight is now down 3 lbs which I thought was impossible.  My enthusiasm in these numbers has less to do with the actual number and more to do with my body reacting to this change in my diet. The weight loss was a big surprise and a small vanity bonus to this entire challenge.  The real benefit is feeling in control of my life and my body. I'm totally empowered by the fact that I am no longer a slave to chocolate chip cookies. I feel like I can do anything. 
Now, don't be fooled.  I still drink too much diet coke, and indulge on salt and vinegar chips – I have not conquered all.  But I have beat sugar, and I don't plan to ever go back.
Here are a few things I have learned through this process:
Just because it says wheat or multi-grain does not mean it is the best option – I found that most of the time these were the items with the most sugar added
Fat is good – I had lived my whole life afraid of high fat foods.  Now that I am eating more of them instead of empty sugar calories, I feel full and am still losing weight.
Getting older doesn't mean you get weaker or fatter – age has helped me understand my body more and appreciate it and take care of it.
I can do hard things – I don't have to give into my greedy appetite. I can do things that I never thought were possible
Declare it! – Tell people what you are committing to and enroll those around you for support.  I probably did this too much, but it worked and I had tons of encouragement.
Go ahead a give it a try. I think you will be surprised at the results.
-Candice S.