hey, guys! already sunday.. i knew this weekend would fly the flip by. i just got home from the most delicious brunch at taqueria 27. utah locals MUST try it. so…  i realized it is now the 16th and i still have six giveaways of christmas to post before the 25th! class act right here, folks.
before i get to the giveaway, i want to share some photos from last night. we went to lindsay and brandon's annual holiday party. this year's theme was ugly sweaters, which made the party so much fun!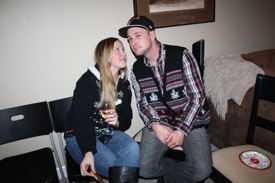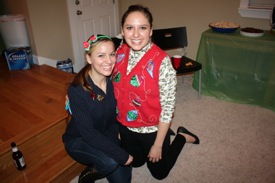 even the beers had sweaters! i am in love with the houndstooth.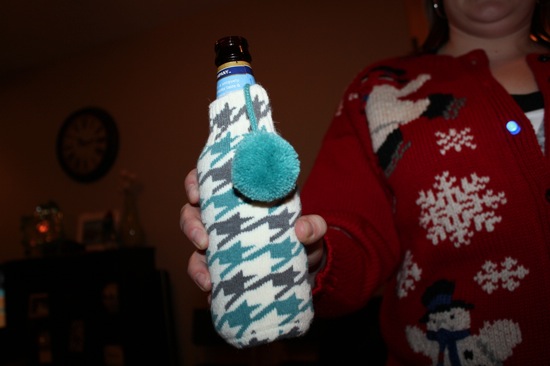 it was a blast, thanks for having us, linds and B!
giveaway time!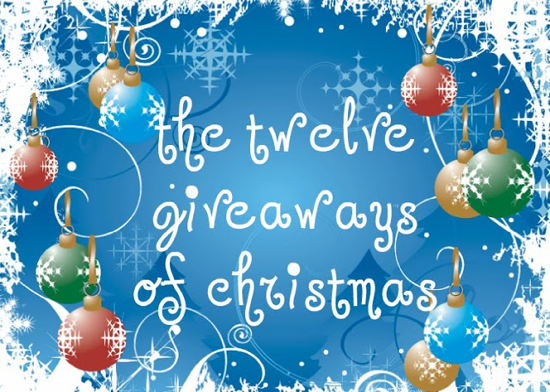 i have blogged about KIND healthy snacks before. i love them–not just their tasty products, but for the wonderful, KIND things their company does to benefit others. well, they are at it again.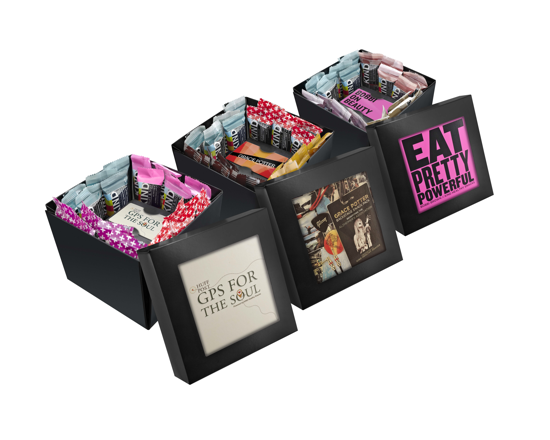 this holiday season, KIND has teamed up with syndicated columnist arianna huffington and beauty expert bobbi brown to create a campaign called "snack and give back". this campaign was designed to encourage folks to snack smart AND give back this season–as the title implies! both arianna and bobbi have custom-designed and personally-curated cubes comprised of their favorite KIND bars in which a portion of sales will support charities of their choice. here is the info:
Arianna Huffington's GPS for the Soul Cube encourages individuals to disconnect from the stress of a hyper-connected life and regain balance by taking a snack break.  A portion of sales from each cube will support the Committee to Protect Journalists, a nonprofit organization committed to defending press freedom worldwide.
•Flavors include: Dark Chocolate Cherry Cashew + Antioxidants, Almonds & Apricot in Yogurt, Dark Chocolate Nuts & Sea Salt and Pomegranate Blueberry Pistachio + Antioxidants.
Bobbi Brown's Eat Pretty Powerful Cube promotes beauty from the inside-out by encouraging individuals to snack on foods rich with natural nutrients and antioxidants. A portion of sales from each cube will help to fund a new KIND Kitchen at the Broome Street Academy, a free public charter high school in New York City.
•Flavors include: Dark Chocolate Nuts & Sea Salt, Cashew & Ginger Spice, Dark Chocolate Cinnamon Pecan and Madagascar Vanilla Almond
Additionally, as part of the campaign, KIND is making a $10,000 donation to each charity!
these cubes would make GREAT holiday gifts–not only would you be giving the gift of KINDness to a loved one, but you would also be giving back to the community.  or, you can always buy a snack cube for yourself.. hehe. these cubes are available for purchase at www.SnackandGiveBack.co for $42.95.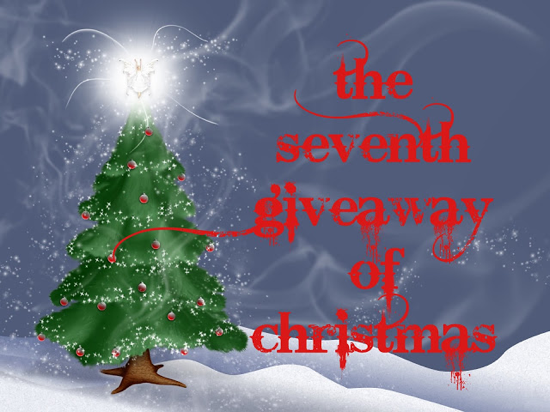 KIND contacted me, asking me to spread the word about this great campaign. they also offered to give away a sample pack of the bars that come in the KIND cubes!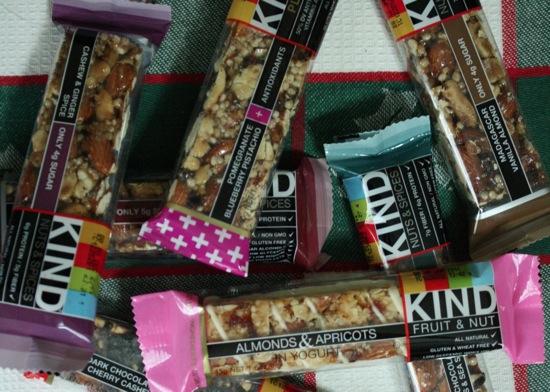 to enter: leave a comment stating the last KIND thing you did for someone else.
for an additional (optional) entry:
follow @KINDSnacks on twitter and tweet: "I want to win one of @janeeetha's #12giveaways! A sample pack of @KINDSnacks! http://wp.me/p1B7vY-cO7" (leave an additional comment stating you did this.)
pin the image below to pinterest. (leave an additional comment stating you did this.)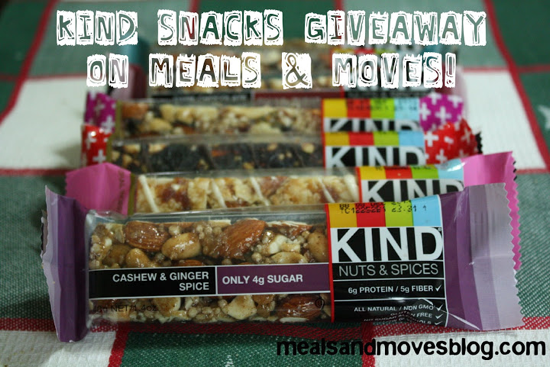 as always, the winner will be announced when i post the next giveaway of christmas. good luck!
xo. janetha g.
p.s. the winner of giveaway #6, the living proof fit gear tank is #11! haley!