my iPhone camera was my BFF this weekend. i have proof. ready, go!
i kicked off my saturday with some GPP–best way to start my day now that i'm not allowed to drink coffee, ha. 
the workout was saturday rec.. lots of fun because there were nine different moves in the workout and we could complete them in any order we wanted. GPPeeps were all over the place!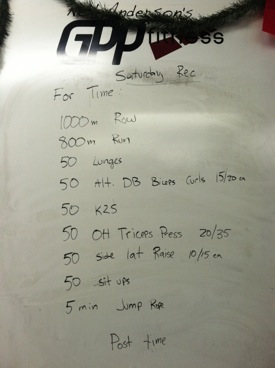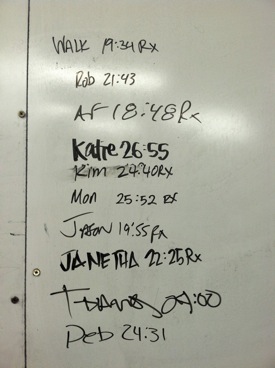 i finished in 22:25, which was about 12 minutes faster than the first time i did this workout back in april (the month i started GPP.) sweet!
later that morning i headed to acupuncture. i was thinking about how super stoked i was because i finally got my car back from the body shop. yay! missed you, subaru!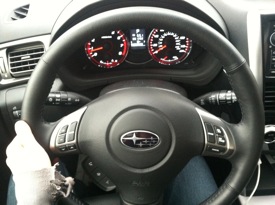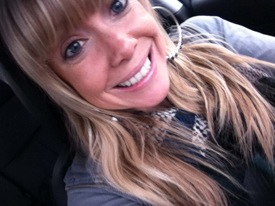 thrilling.
acupuncture was so great, as usual. i am HOOKED, guys. and i am pooping every day. fact. i dozed off three times in yesterday's session. i woke myself up every time with my snoring. why do i snore? hate that. probably not as much as marshall does, though…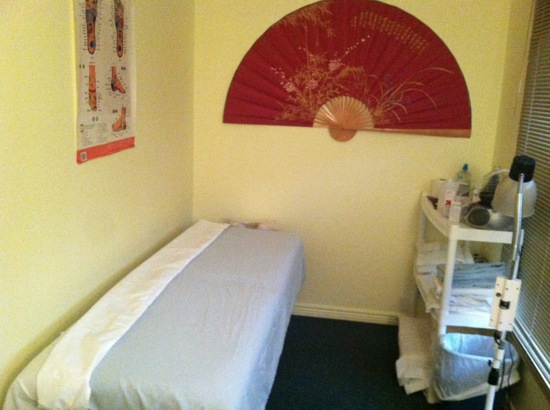 after the pins and needles, i headed to trader joe's because i can't stay away despite the crowd. i didn't take iPhone pics.. i was too busy navigating my way through the masses of people. wonder when the crowd will die down? likely never.
then i met a handsome guy named marshall for brunch.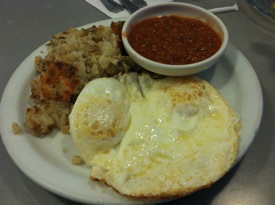 we went to the park cafe. i had a couple of over medium eggs, breakfast potatoes with salsa, and whole wheat toast. oh, and tea. i miss coffee. fun fact: i was a waitress at the park cafe at the ripe old age of 19. then the cocaine-addicted owner sold the cafe without telling the staff and one day i went into work and learned that i no longer had a job. awesome… 
i was going to do some christmas shopping but it was cold and i wanted to be inside my warm house! so i came home and made that delicious banana bread i posted yesterday.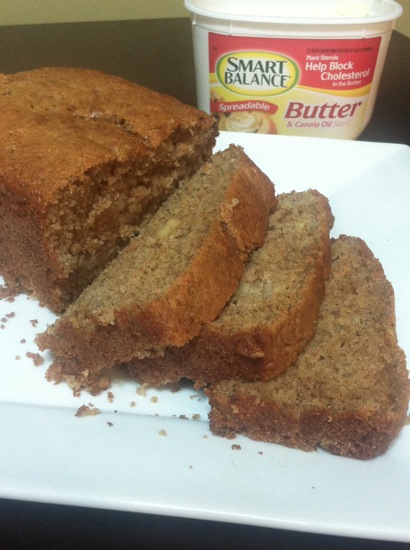 yum. 
after that it was back out the door to the GPP girls night out! we headed to biaggi's for some food and fun.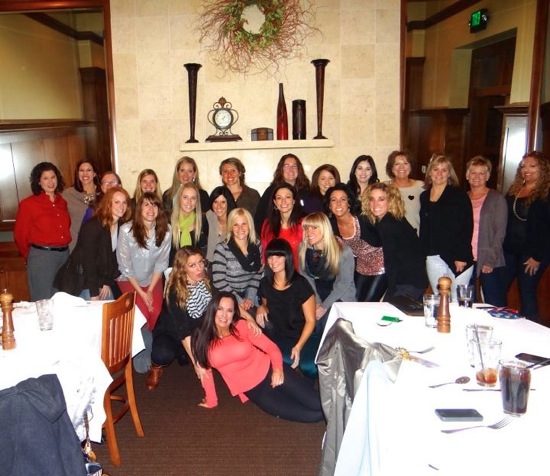 i love my ladies. so much so that i had to DART into this photo. look at me flying into the frame!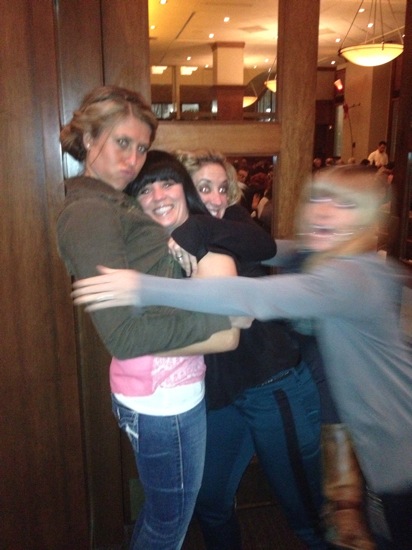 haaaa! makes me laugh. we had a take two. and a take three. (and four, five, and six.. i will spare you.)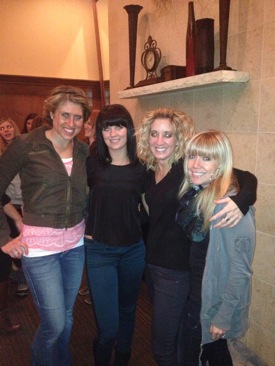 clearly the photo on the right was so we could document how cute the back of mandy's top was. love it.
i came home to the sweetest husband ever–he massaged my feet with trader joe's coconut body butter. truth be told, he was trying to help me put away the TJ's stuff i bought, and i had purchased the body butter for santa to put into his stocking on christmas… but he saw it. and then i was all downhill from there. he's hooked and wants to use it all the time. it is just that good. penny and randy smell of coconut… although i don't think it does much for their fur. hmm.. maybe it does. ya never know.
insert some sleep and fast forward to sunday morning. cuddle sesh.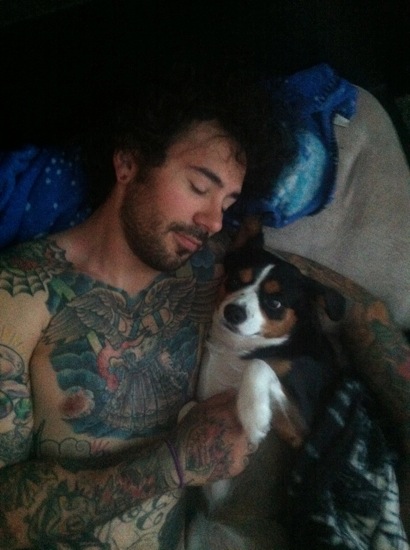 it was hard to leave these guys, but i had snowboarding to do. so i dragged my butt out of bed and met up with the lovely jessica.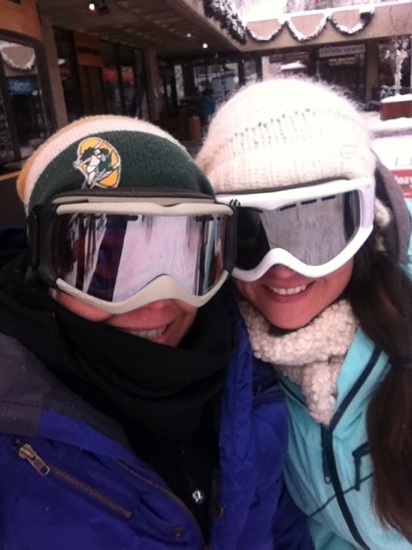 marshall let me wear his packers beanie for good luck! it worked.. they won their game tonight. go pack go!
turns out it was, like, four degrees at snowbird today! and it was snowing hard. burrrrr. we took a run, then took a LONG break in the lodge. i drank tea.. lame. i wanted hot chocolate or coffee, but both are banned from my life.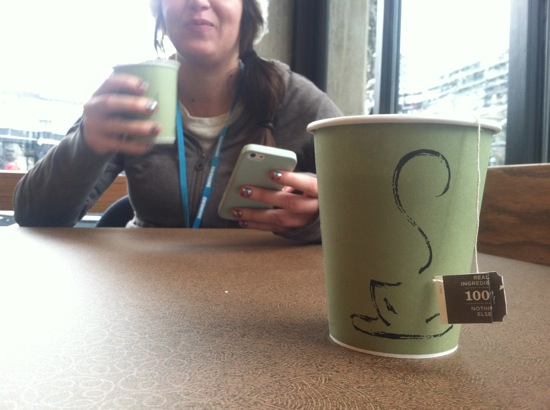 sigh. cry.
we met up with a few of our friends and headed back out into the cold. at least we were bundled!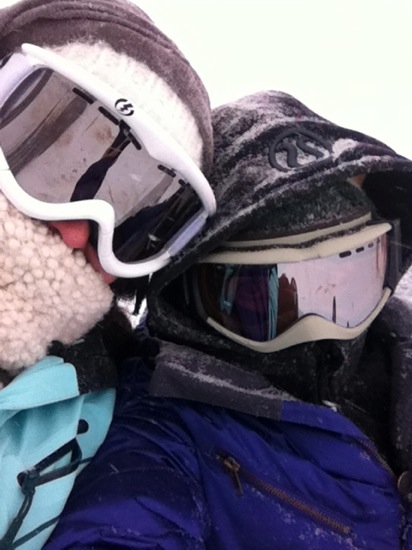 burr. we rode for about an hour and a half before calling it a day. the snow was pretty decent, but kinda icy in some spots. all in all it was a good day on the mountain!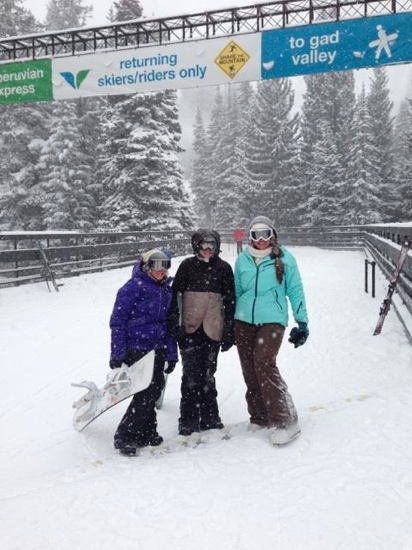 after riding, i headed to lululemon for browsing (bought nothing, thankyouverymuch) and then next door to whole foods for a few groceries. that never happens with me.. i can't stop at a few. $100 and four bags later i came home and marshall made me dinner.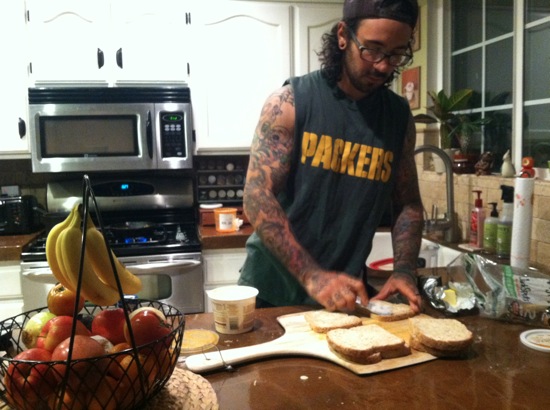 on the menu was broccoli soup and grilled cheese with kombucha to drink.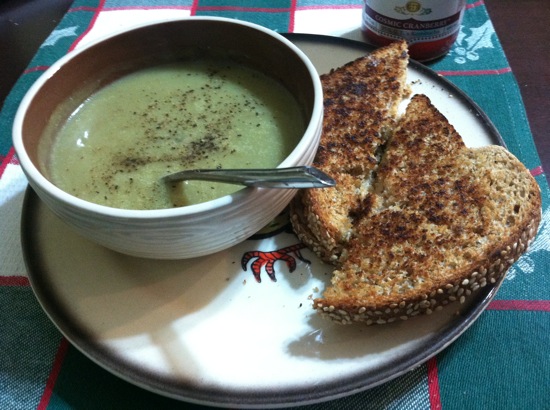 since i can't have dairy, he made me a grilled cheese using daiya jack cheese.. sigh.. not the same, guys. NOT. THE. SAME. 
can we talk about my meals today? breakfast was a bagel and banana bread, lunch was crackers, banana bread, and granola, dinner was a grilled cheese, and dessert was popcorn and dark chocolate covered almonds and a joe joe. who needs fruit, vegetables, and protein? clearly not me. whoops. there's always tomorrow.
after dinner i blogged the 4th giveaway of christmas then parked it on the couch to watch the rest of the packers game. penny was on my lap, randy pouted.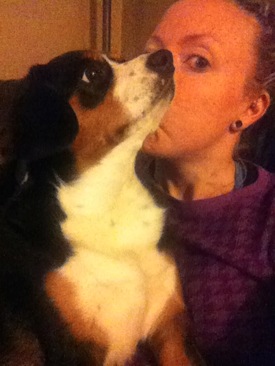 boohoo.
then i made some popcorn for dessert, like i mentioned just barely. plain for me and buttered asiago for marshall. did i mention i hate being a non-dairy person? it sucks. bad. whilst eating my boring, plain, non-cheesy popcorn (just now realizing i should have at least sprinkled nutritional yeast on it…) i checked a few comments. the question for the giveaway was what do you splurge on and what do you save on when shopping.  valerie's answer made me laugh.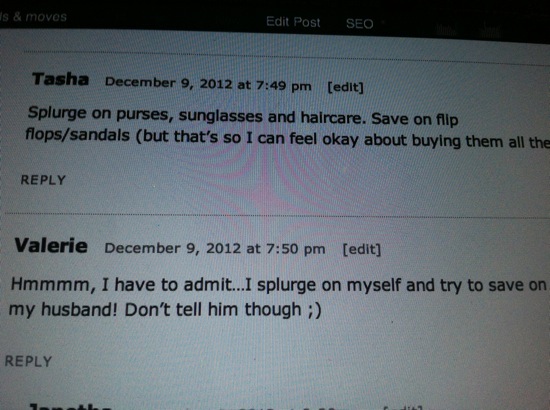 ha!that made me laugh.
then i laughed even more when randy attempted to be a cat. dude, randy, you're a big, long dog.. it just doesn't work, buddy.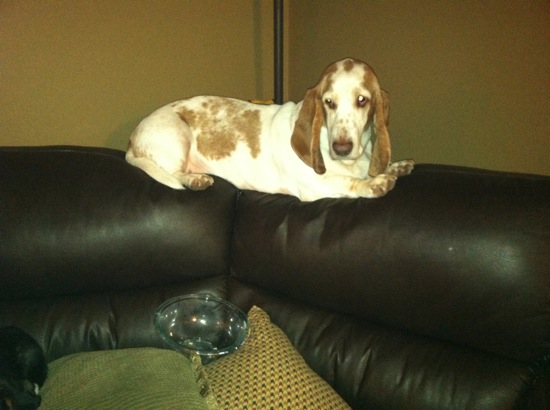 he was up there for 2.2 seconds before he realized how uncomfortable it was for a dog of his size. and, yes, that is my empty popcorn bowl on the couch below him. 
i spent the next couple hours online shopping. i have almost all of my christmas shopping done now! just gotta get marshall, momma b, and my brother in law gifts. gotta love the internet and paypal.
and now.. it's 10:18. i'm going to bed. good night!
Qs~
1. what was the last photo you took on your phone?
2. what was the last thing you bought online?
xo. janetha g.