guys! it's been a day. mondays usually are rough, but today was exceptionally rough. i honestly think it has a direct correlation to the fact that i did not get to sleep in either day this past weekend. i typically sleep in until 10 or 11 on saturday or sunday (sometimes both), but was up at 6:45 on saturday (!!!) and at 8-something on sunday. that's a recipe for disaster. i would be a horrible mother, i love my sleeping in.
things started off bad today when i was at target doing some gift shopping for our company holiday party. we play this fun gift exchange game and so i had to by 35 random gifts. i thought this fire proof safe was pretty random and somewhat useful, but it was on the top shelf… so as i was pulling it down, the corner of the box the safe was in rammed me in the eye. i cried. yep, there in the aisles of target, cryin' like a baby. geez.
things at work were pretty mellow up until literally 2 minutes before i was supposed to leave. a call came in from a guy who was not stoked and the phone call took around 20 minutes. blah–that had the domino effect and made me late picking up the pups, late changing for the gym, and late for my 4 o'clock training class at GPP. (FYI i am still training to be a trainer.. learning lots! it's fun.)
i worked out my frustrations at the 5:45 class. today we did tabata repeater and it was a doozy. the pull-ups and OH presses were killer for some reason today. i think my upper body is trying to tell me something. not sure if that something is "work harder" or "give me a break" ha–i am gonna go with the latter since i have taken it easy on the workouts the past couple of days.
speaking of workouts, have you logged yours on the dedicated december page today? make sure you do!
so, if you haven't already figured it out, tonight's post is gonna be a pretty mindless post of mishmash. i actually get a lot of feedback that you guys like my brain vomit, so who am i to withhold random rambles??
ohhhh guess where i went yesterday?!?!?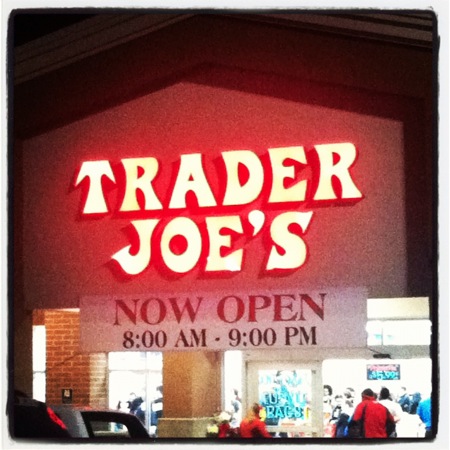 YES. that is right. trader joe's! and i was not in california or las vegas or arizona or any other state that i have to frequent to score TJ's goodies. i was right here in small lake city! SO stoked we FINALLY got a trader joe's! i will admit, last night's trip was less than perfect. the aisles were crowded and many of the shelves were bare, but it doesn't matter. we have a trader joe's now. and we will probably get more. hallelujah.
wanna know where else i went yesterday? target and smith's. because trader joe's was out of some of my grocery list items, i had to make a run to target. i got everything else i needed, except bagels for marsh. i usually buy a locally made brand from whole foods, but i wasn't venturing back out to the salty city, so i went to target. luckily thomas bagels are in most stores in my town and he looooves thomas brand bagels–either cinnamon raisin or blueberry. turns out, the rest of the world loves them, too. target was out of both kinds, so i was the good wife and went to smith's to track a bag-o-bagels down. guess what?? they were out TOO.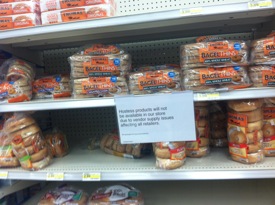 i gave up. plus it was pouring down rain and i was wearing uggs that are of the sweater material variety which don't fend well in puddles. drat.
let's see, what else? oh, i've been rocking out to the get up kids for the past two days. they are one of my favoritest of favorites and i had seriously been neglecting filling my ears with their sweet tunes lately!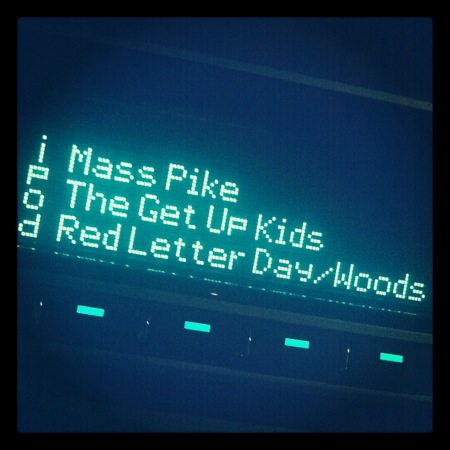 reminds me of being a teenager. sometimes i miss it. other times i don't. okay, most times. but sometimes being a grown up is the pits.
dinner is ready! be right back.. i am gonna eat real quick. i made sweet potato shepherd's pie. and yes, it is 8:48 PM. we eat late.
the cheesy side is marshall's. i am still on the non-dairy, non-coffee train. so far so good, my gut pain has lessened drastically and the acupuncture is helping me in the you-know-what department. on that note.. time to go eat. ha.
….whelp, i'm back. while we were eating dinner, i asked marshall this question i saw on facebook earlier from hungry girl:

his answer? nope. he likes our homemade pizza too much. he's right, it is way good.. but i would totally give it up for a million bucks!
something else happened while eating dinner. it dawned on me that i have a VERY important camera card chock full of photos of things i need to blog about. i just tried to locate said card and, yep, CAN'T FIND IT. par for the course. say a prayer for me, kay? crap.
while you are praying, i am gonna go clean up this huge mess of a kitchen sink before calling it a night. sigh.. like i said, sometimes being a grown up is the pits ;)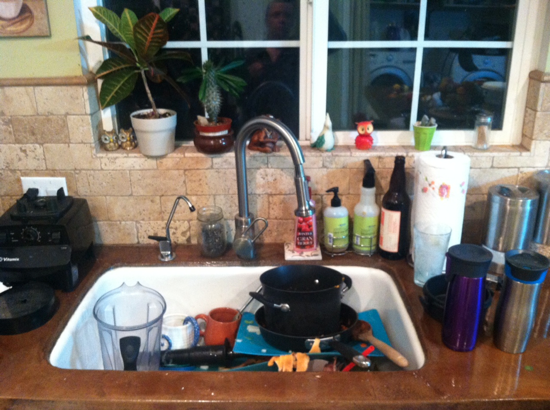 i am tired. looking at that makes me more tired. wanna know what else makes me tired? this photo of randy yawning.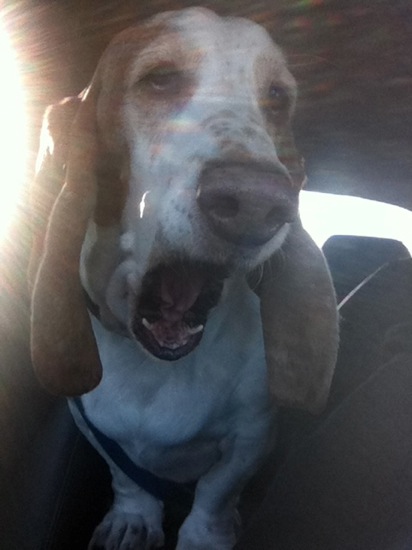 just kidding. it doesn't really make me tired. it just makes me laugh! he's so cute.
i'm gonna go now.
Qs~
1. what's your answer to the million-dollar question? would you give up pizza of all kinds for a million bucks?
2. what time do you eat dinner?