hi, guys! before i get to today's post, i want to let you know about fitmixer's sweet cyber monday sale on their next online boot camp! until 11 PM MST tonight, you fitmixer's boot camp registration is $50 off making the final price $99.95! SO cheap. the boot camp starts january 14th. the registration includes an 8-week online boot camp with meal plans, daily workouts, and product to last you the full 8 weeks. you will also have unlimited online support, recipes, and weekly webcasts. to purchase, click here and enter the code CYBER50 at checkout. this is a KILLER deal! snag it while you can.
*************************
okay, i've got a little monday motivational message for you today.
saturday's workout included bent rows AHAP—for those of you who are not acronym freaks like me, that stands for "as hard as possible".  i was sharing a barbell with a couple of lady friends and we kept adding more and more weight onto the bar. it was hard. definitely as hard as possible. i was surprised when i finished my last set of rows at 125 pounds. i pushed myself past my comfort zone and was really working that AHAP 100%.
after the workout, i was sitting with one of my GPP friends, katie, and she was going on about how impressive it was that the three of us were lifting so heavy. she said something that really struck me: "i really need to be stronger." i heard a twinge of disappointment in her voice, so i could tell she wasn't impressed with her own efforts on the workout that day.
that statement sparked a thought and i had to tell her my feelings on the matter. i explained to katie my thoughts on the RPE scale and how it related to this workout. again, for the acronym-challenged, RPE stands for "rate of perceived exertion". you can click the link for a detailed rundown on the scale, but basically it is a way to measure how hard you are working on a scale from 1 to 10. for an example—a 1 is sitting on the couch watching TV and a 10 is running from a bear as fast as you possibly can. let's hope there are no bears around…
anyway, i told katie that i truly believe it DOES NOT matter how heavy the weight is that we are lifting. it's just a number. all that matters is that we give it our all. obviously we all have different lifting capacities, and to compare the amount you are lifting to the amount of another isn't fair. think about it—if a workout dictates to do something AHAP and you are lifting something that is honestly as hard as you can possibly lift and the person next to you is lifting something at about 75% of their maximum effort (even if it happens to be 25 pounds more than the weight you are lifting) then YOU are going to end up getting more benefit out of the exercise than the person not giving it their all. the actual number of pounds lifted DOES. NOT. MATTER. if you are giving it 100%, then you are giving it enough! you don't need to be stronger. you need to be proud of your efforts! you ARE strong enough.
later that day i went to acupuncture. for my acupuncture appointments, i lay on a bed with 30+ needles poking into various parts of my body and i have 45 minutes to lay there patiently with no distractions. it has given me a whole lot of time to just think. and think. and think. saturday afternoon, my thoughts drifted back to the morning's workout and the conversation i had with katie. i smiled, because i love this girl and i think she is so dedicated, diligent, focused, and just plain strong. she's very inspirational to me, and she probably doesn't even realize it because she is thinking about needing to be stronger. (and i hope you are reading, katie, because you need to be aware of the influence you have on me and on others!)
my thoughts about our conversation ended up snowballing into a much broader idea. and, i will warn you, this might get a little sappy.
i first thought about the phrase, "you are strong enough." and then i thought of all the other areas of life where it is easy to think we are lacking, or to sell ourselves short, when in reality we really ARE enough.
how strong we are.
how pretty we look.
how much we know.
how nice others think we are.
how fast we can run.
how much we are worth—both literally and figuratively.
the list goes on…
there are way too many areas in life where we don't give ourselves enough credit. being human is already enough of a challenge—we don't need to make it harder by telling ourselves that we aren't enough of this or that! the saying goes that you are your own worst enemy, and sadly, it's often true.
so, today, i want you to remember something.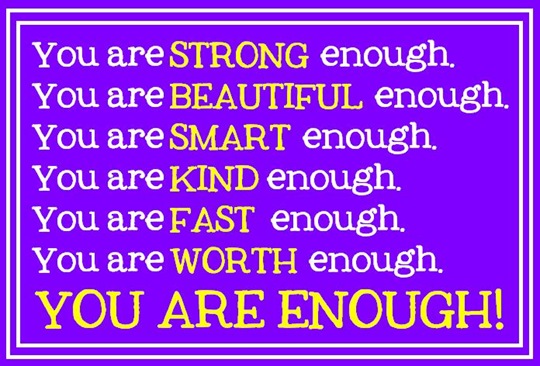 [pinit]
don't let anyone—especially not YOURSELF—make you think any different.
just give 100% of yourself to every thing you do each and every day, and i promise.. that will be enough. love yourself today, work hard, and love yourself even more tomorrow.
before i go, i want to share this motivational thought i came across some time ago. it is anonymous, but whoever wrote it sure knew what they were talking about. i love it. i hope you do, too.
[pinit]
this concludes today's sap-filled episode on meals & moves. now go hug yourself. you could even get a little crazy and kiss yourself in the mirror.
Q~
what is one thing you absolutely love about yourself?
xo. janetha g.