i got in a car accident today. ugh.
don't worry, i am fine and so is the woman who hit me. it was just alarming and time consuming and a wee bit scary.. but all is good.
i was exiting legacy highway and turning left onto a street called park lane. as i was turning left, a car heading eastbound on park lane ran their red light and tagged the tail end of my vehicle in the intersection. i was VERY lucky that i was almost through the intersection! had i i been hit less than one second sooner, her car would have hit the driver's side door (and me, the driver) instead of just the back end of the driver's side! phew. my new car has some damage, but it will be fixed up in no time. luckily the woman who hit me ended up having insurance–after initially scaring me by telling me she was uninsured (how she didn't know if she was insured or not is beyond me, but i am glad she was!)
the whole police report process took quite a bit of time. the officers told me that about two accidents happen in that very spot each week! it is a very misleading stoplight and i definitely see why the woman failed to see the red light. it's unfortunate, but i am so glad we are all okay!
that was only one of many stressful and/or aggravating things that happened today. it's been a rough one. i am grumpy. the last thing i wanted to do when i got home from that fiasco was make an elaborate dinner, so i pooled my resources.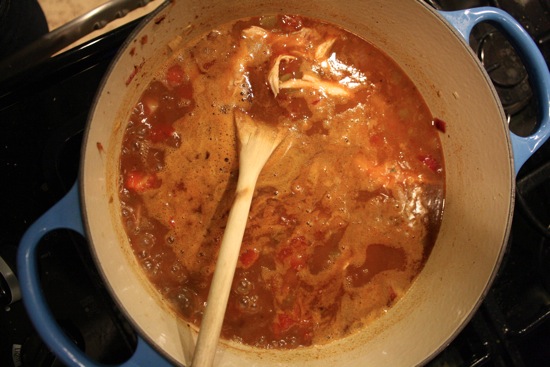 the one type of food we eat most in our house is mexican. we love it and eat it at least twice a week. so, naturally, i have plenty of mexican ingredients in my pantry and fridge.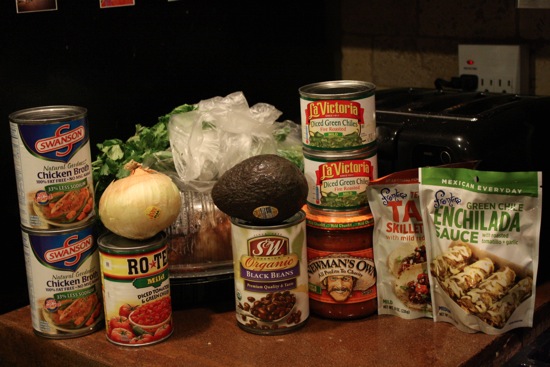 it's cold out, which means it's soup season, so i gathered a plethora of mexican ingredients and made up a quick soup. the only thing i didn't have on hand was the rotisserie chicken, which i snagged from the store today.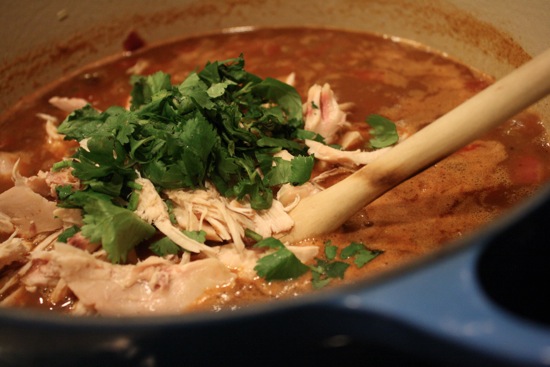 this soup was super quick to make–we were devouring it less than twenty minutes after i started making it. and i mean DEVOURING.. this on-a-whim soup actually ended up tasting AMAZING!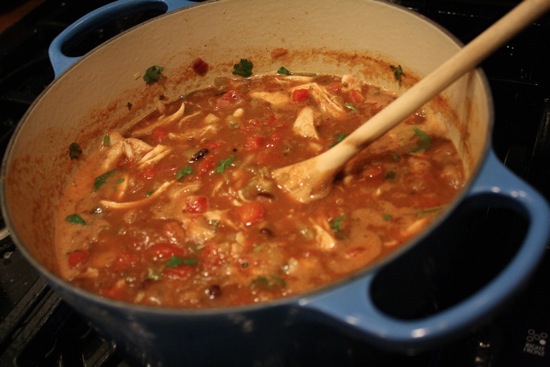 i have lovingly named this "mexican dump soup"–because i really did just dump everything in!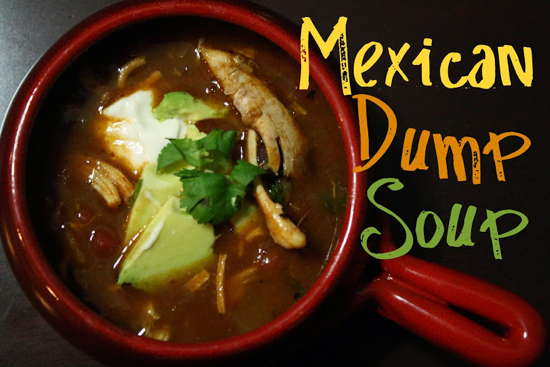 mexican dump soup
prep & cook time: under 20 minutes
makes six servings (about 1.5 cups each)
ingredients:
1 TB olive oil
1 medium onion, diced
14.5 oz can broth (chicken or vegetable)
14.5 oz can black or pinto beans, drained
10 oz can rotel (can sub diced tomatoes)
7 oz can diced green chiles
16 oz enchilada sauce (i used 8 oz green and 8 oz red)
1/2 cup (4 oz) salsa
meat from one rotisserie chicken OR 12 oz cooked chicken breast, shredded
1 bunch cilantro, roughly chopped
optional garnishes: sour cream, shredded cheese, avocado, cilantro, tortilla chips
directions:
heat oil in a large pot over medium-high heat.
add diced onions and cook until they are soft, about five minutes.
dump broth, beans, rotel or tomatoes, green chiles, enchilada sauce, and salsa into the pot. bring to a boil.
reduce heat to low and let simmer for about ten minutes.
meanwhile, shred the rotisserie chicken or cooked chicken breast and chop the cilantro.
add chicken and cilantro to the soup, stir to combine. let simmer for an additional 2 minutes so the chicken warms through.
remove from heat and serve immediately with garnishes of choice.
enjoy!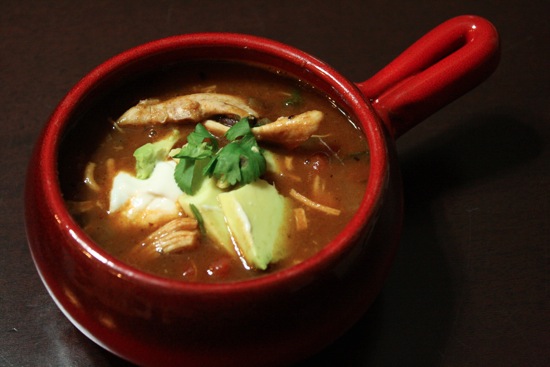 side note: i used a couple non-dairy subs for my soup. i can't say they taste quite like the real deal, but they will do.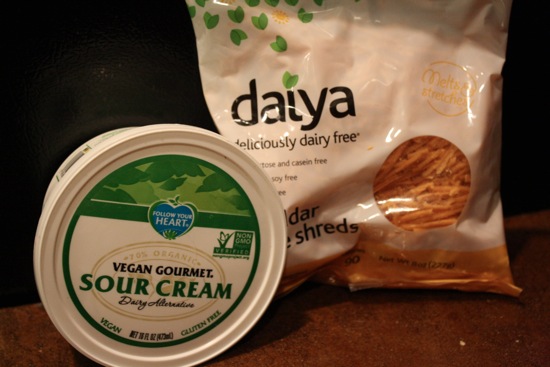 sigh. giving up dairy has been pretty hard for me.. but if it helps my GI problems then it will be worth it!
that's all for tonight. i am going to try to get to bed early because i KNOW tomorrow is going to take a lot of energy to get through. going back to work after a 4 1/2 day weekend is never easy!
have a fab monday. check ya later skaters.
Q~
1. have you ever been in a car accident? let's hear the deets.
2. what type/ethnicity of food do you eat most often?
xo. janetha g.