today was good. this post is gonna be freakin' long. it's for posterity's sake!
i kicked things off with one very intense workout at GPP along with a trillion of my closest, sweatiest friends.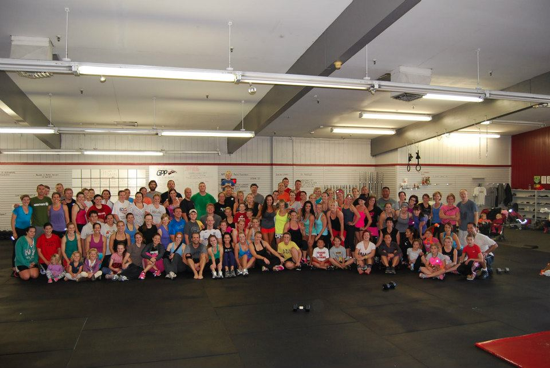 *workout pics taken from GPP's facebook
that's a whole lotta GPPeeps. we did a mash-up of some GPP classic workouts. the whole routine was appropriately dubbed "pie burn".
it's a rather lengthy routine, so you can click here to see the exact rundown. ay, ay, ay!
each mini-workout was sandwiched between a 5-minute stint of burp-o-rama.. 10 burpees every minute on the minute for five minutes. YAY, BURPEES.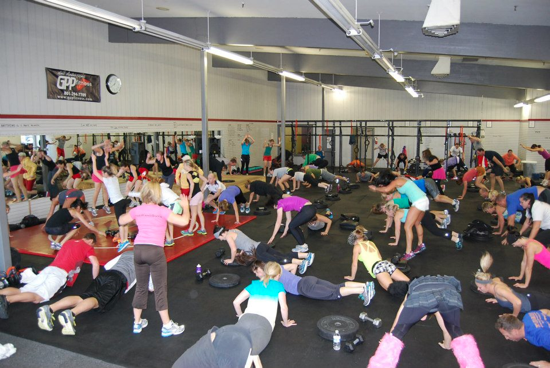 after the first five minutes of burpees, we got right down to business with rough boy squats. ouch. that burned for me! but nikki, my friend next to me there in the teal with the hot legs, holds the GPP squat hold record of 4 minutes…so i am sure this was a walk in the park. CRAZY TALK.  she's amazing.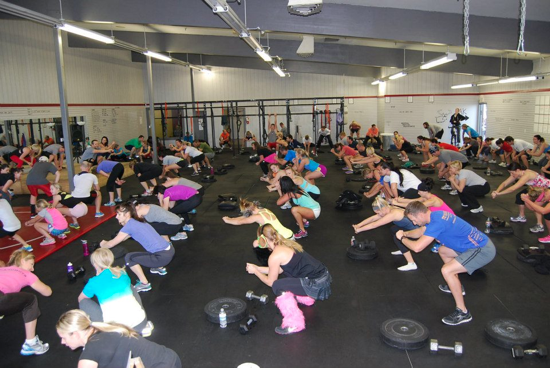 after some plate switches and another round of burpees, we did a shortened version of the STAL medley=shoulders, triceps, abs, legs.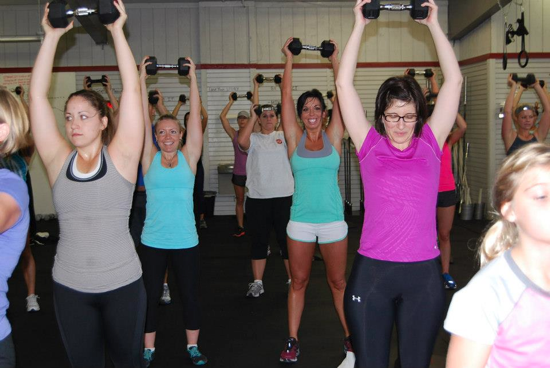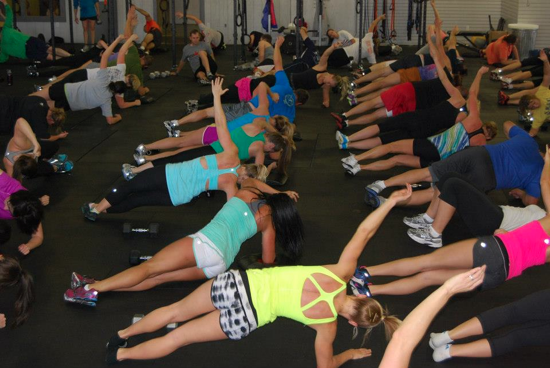 haha–love this photo. we all look like dead bodies. colorful dead bodies.
kenzie got down on the bacon lattice butternut squash pie during her triceps pushups.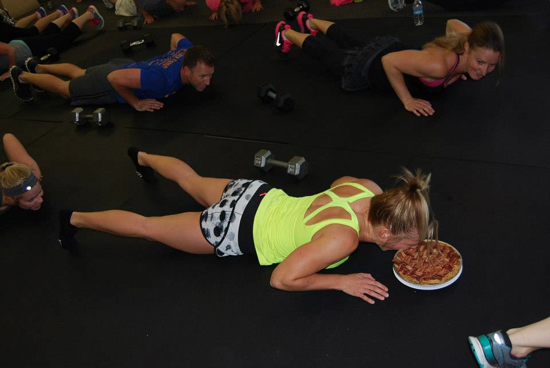 yeah. bacon. lattice. pie. court made it.. she's got talent.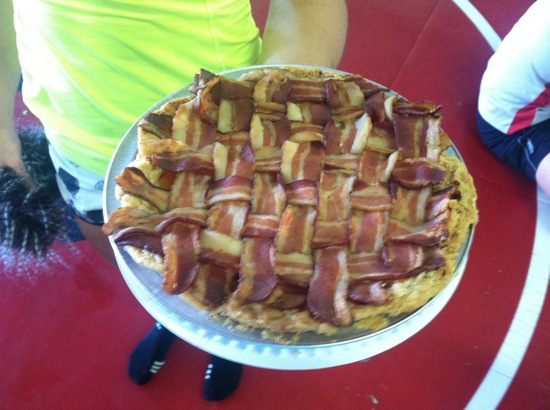 it was such a fun morning! there was so much energy in the room (and sweat..) and it was great to see several faces that i rarely see due to going to GPP at different class times.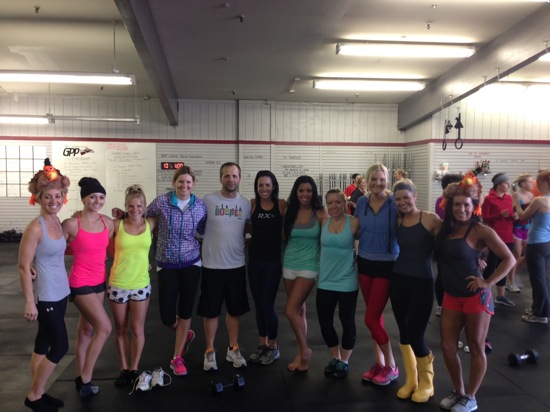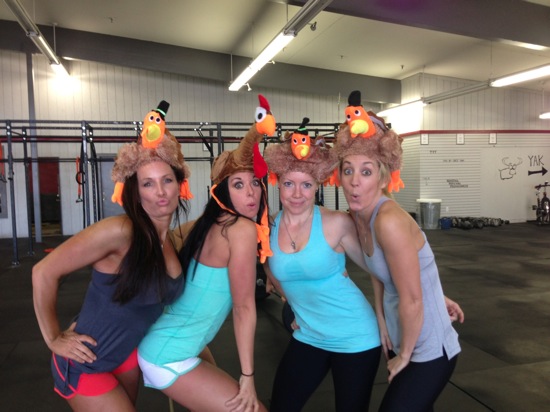 i made a stop at starbucks on the way home. i found a drink that isn't coffee that i looove–it's a good replacement since i can't have coffee right now. i get a soy latte with two chai tea bags (not chai tea concentrate) which makes it unsweetened.. tastes phenomenal.
once home, i made some quick cooking steel cut oats (picked those up at trader joe's in september) and then marshall made them fancy with an apple cinnamon sugar garnish!
tada!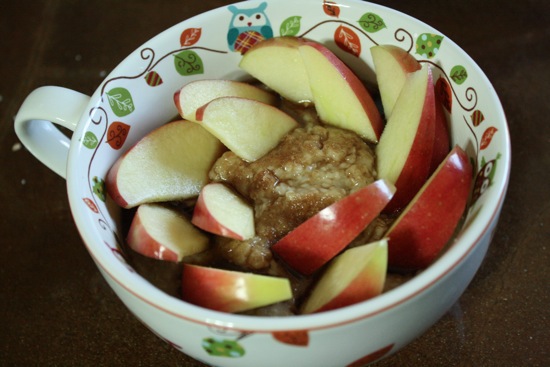 my bowl was a little less apple-licious, but he still did a fun and fancy job on the garnish.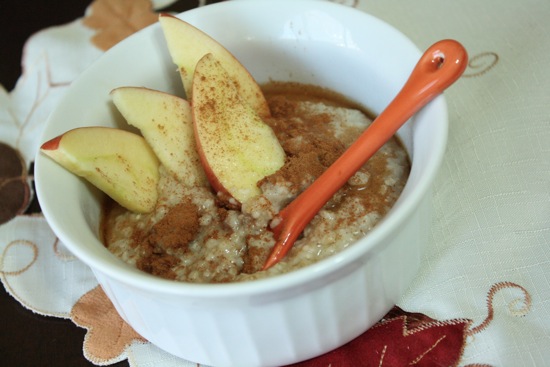 i used the next couple hours to make a sweet potato casserole and a green bean casserole–my two dinner assignments. isn't the sweet potato one pretty? this was pre-broiler.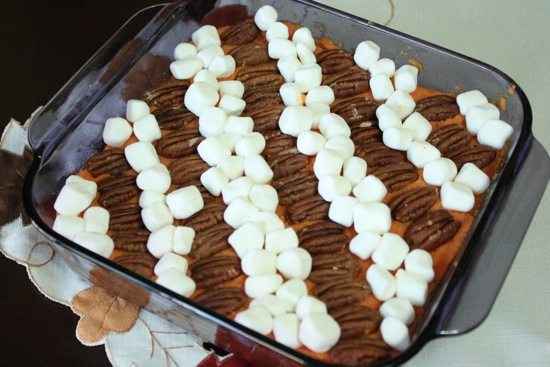 we got to my parents' house at 2 pm. it was a little dinner crowd this year–just my parents, marshall, me, and the pups!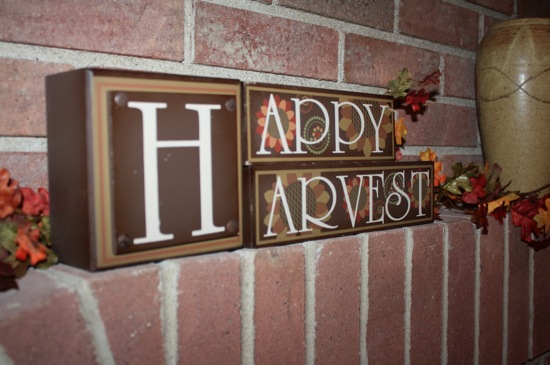 momma b still made a 22-pound turkey because we live for leftovers!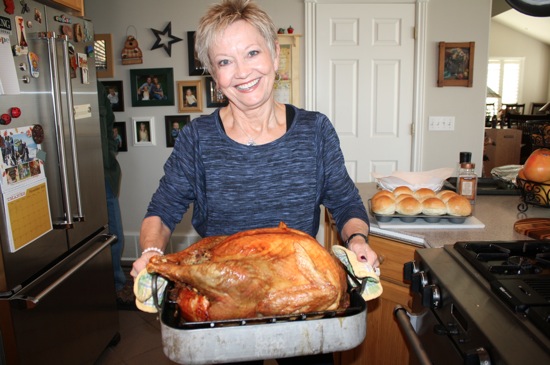 dad carved, mom un-stuffed the stuffing.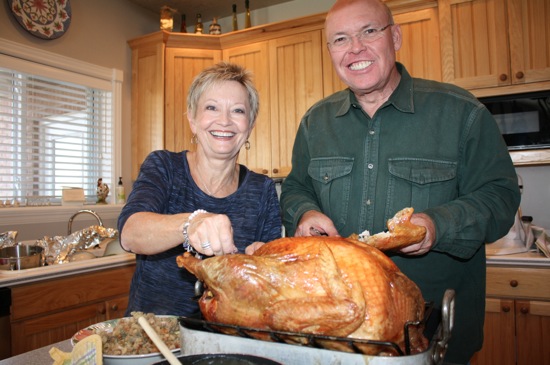 randy pants watched… and hoped for some turkey to fall into his mouth.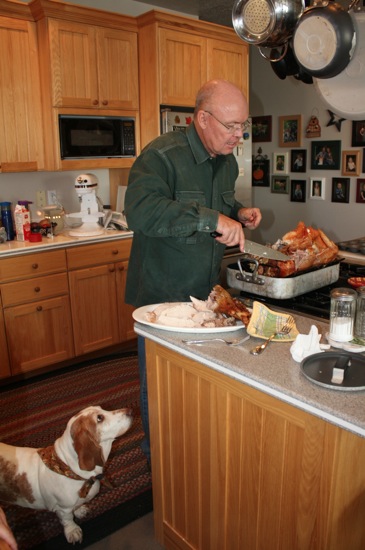 my mom collects salt & pepper shakers.. i LOVE seeing which ones she busts out for the holidays. the mini pumpkins in the wagon made me squeal. i loooove little things.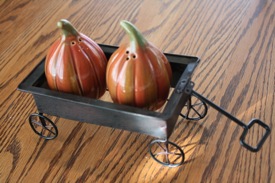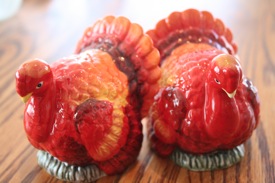 we sat down to a huge feast–it was perfect!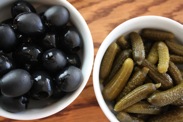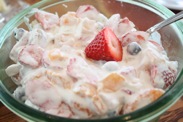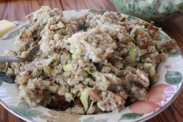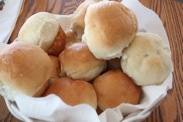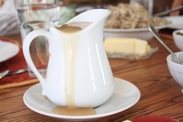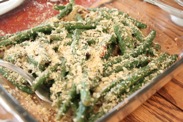 i started with a little of everything, but then went back for seconds, thirds, and fourths of stuffing. IT IS MY FAVORITE PART. and it's stuffing, not dressing. dressing goes on your salad! got it?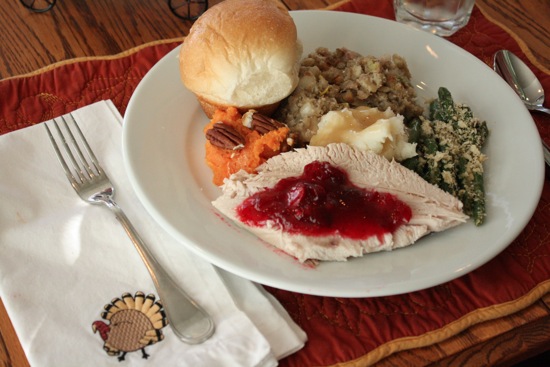 after dinner we immediately switched into lounge-mode. it didn't take long for that to happen!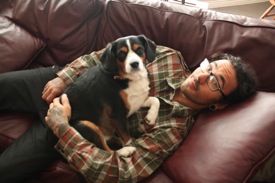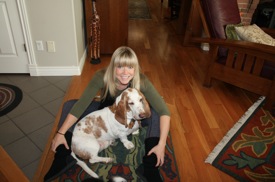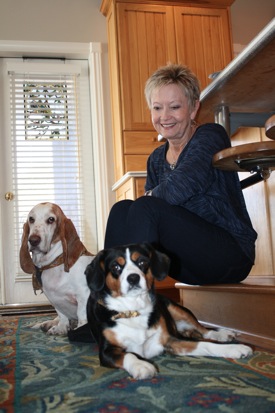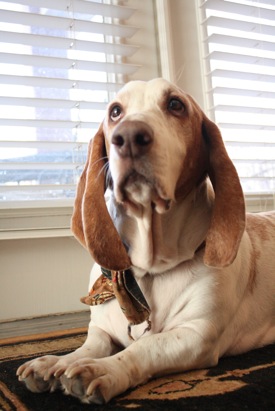 we needed to walk off a little of that full feeling, so we leashed up the pups and wandered down the road. marshall was a babe and stayed behind to clean some things up.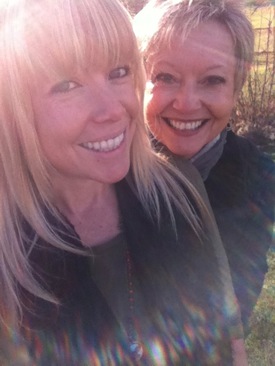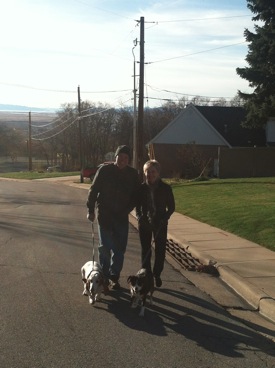 randy walking randy.. (my dad's name is randy. totally not planned, marshall had randy already when we started dating!)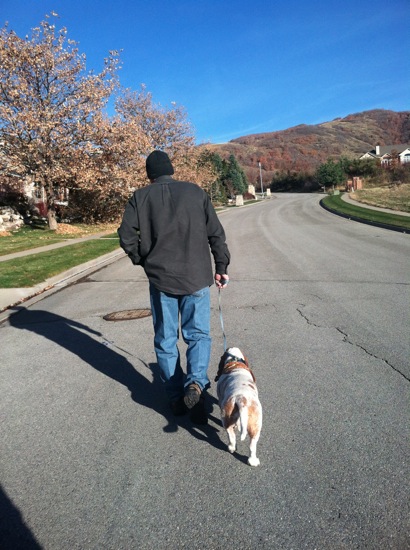 momma b walking penny.. (my mom's name is sue, not penny, but how would that be if it was?)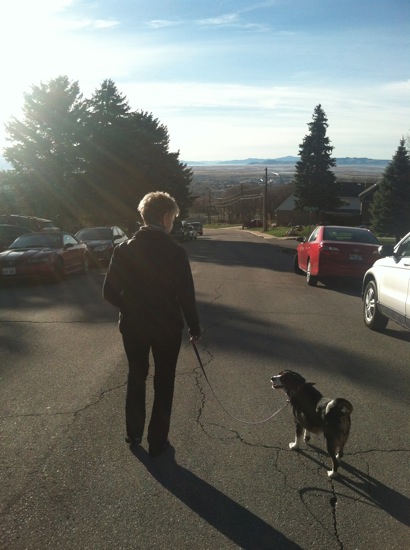 we spent the next few hours playing games–we picked a couple of our faves, boggle and rummikub.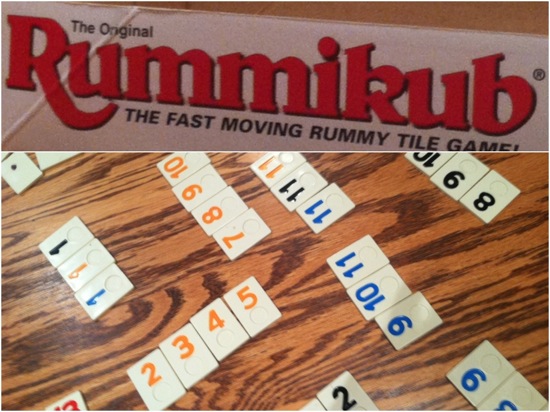 well, my mom and i played games. the guys and pups napped!
even though i was still super, super, SUPER full from stuffing (literally stuffed from stuffing, oh my hell) i made a little room for pumpkin pie with vanilla bean whipped cream. it's a must on thanksgiving, right?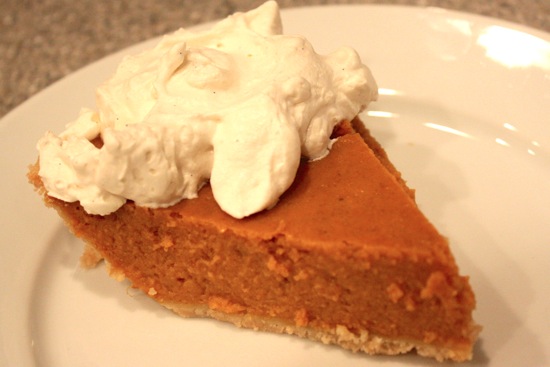 yum. oh, and clearly i threw a little bit of the dairy restriction out the window today. although the majority of the meal was dairy-free! just the whipped cream and then some butter and a splash or two of milk in the various side dishes. and my stomach feels fine, score.
after the pie (and after i kicked my mom's butt in both games–love you, mom!) we packed up a BUNCH of leftovers (we will be eating turkey for at least 2.5 weeks) and headed back home.
even though we didn't get to see a lot of our family this year, it was still definitely a happy thanksgiving. i hope you had a lovely holiday, too!
lots of love from my little fam to you and yours.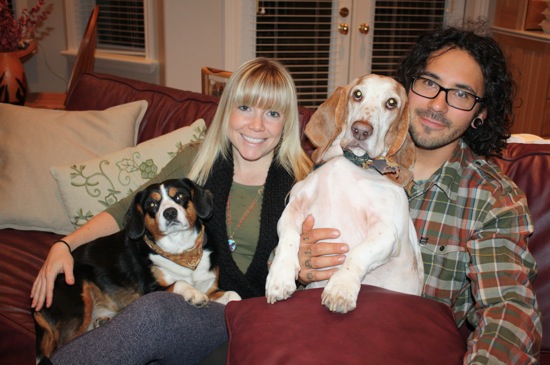 xo. janetha g.