i love all the blogs i read, but if i see one more thanksgiving recipe roundup, i may scream. or just close my laptop.. that works, too. i am not trying to be a hater, i am just being honest! and if you compiled a round up on your blog and are reading this, you should just laugh! or at least crack a smile.
i will spare you another roundup. come to think of it, i don't have very many thanksgiving recipes published as it is. while i do love to experiment with new recipes, sometimes keeping it traditional is best. this year, we are going to my parents' house for thanksgiving. it'll just be me, marshall, and my parents. i am sure my mom will still manage to cook thanksgiving dinner for an army—we are known for that.
yeah. that's us.
i am so excited to just eat the thanksgiving dishes i grew up with. nobody can make stuffing quite like momma b and that is my FAVORITE part of the meal. i will save the fancy shmancy and razzle dazzle recipes i have bookmarked (granted, some were found through those thanksgiving roundup posts!) and make them another time. who says you can't have thanksgiving-themed food the rest of the year, right??
this post might be all over the place. i mean, look at the beginning.. clearly i have no direction in mind.
so, i went to acupuncture again today!

source
no, not me.. and i don't think i look this beautiful and peaceful as i am getting needles poked into various parts of my body. but, surprisingly, it does not hurt a bit.
it was my second time. i go again on saturday.. marshall is going to go, too. it's a date! with needles! ha. except i doubt we will be in the same room. in fact i don't just doubt it, i know we won't be. i am still going to make him buy me a meal afterward, though. you can bet your bottom dollar on that one. or your top dollar, the choice is yours. shit, you don't even have to bet at all. what am i even talking about? oh, right, acupuncture!
if you missed my first post about it, clicky click. here's a little update. i have gone a week without dairy aside from two very small slip-ups. not the end of the world. i have also gone a week without coffee, i am fairly certain that's a miracle. i am digging the english breakfast tea, though. it comes in k-cups and reminds me of the days when i lived in london.
anyway, i have followed all dr. ding's instructions, but i still have had pretty bad pain and bloating. the first three days after my first appointment were pain-free, but i was still bloated. then saturday and sunday were BAD. i think it's something i ate, but i am not entirely sure. on the poop front, i have to say there is something to this acupuncture and chinese herb thing. sorry if you don't like to hear about poop but it's basically one of the main problems of mine and reasons i am going to the acupuncturist. live with it. anyway, i have pooped five out of the past seven days! that's flipping fantastic! in fact, i was able to *go* less than two hours after today's acupuncture appointment. miracle? or maybe my chi flowing properly and nature doing the thang it was meant to do. either way, i'll take it. i feel like i should have a little chart and get a gold sticker for every successful day. too bad i am not a three year old.
as far as the bloating and pain go, dr. ding said it is normal to feel a little worse before you feel better. that's your body's way of working all the kinks out. i am going to give it an honest chance! i mean, i was already always in pain and bloated anyway, so it's nothing new. i will keep you guys posted on my progress.
tuesdays are heavy lifting at GPP. today's workout, "heavy EMOM", was a fun one. i think i am partial to it because there is an acronym in the title and i am partial to acronyms. even read my about me, i mentioned my love for them there. hah, ironically, i had a convo about acronyms just today.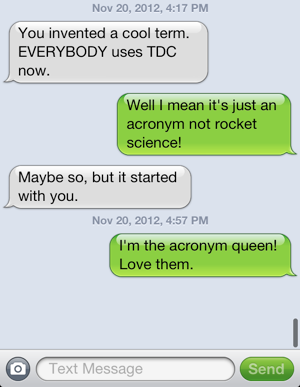 TDC stands for "turkey day challenge" which, but the way, is going fabulously. aside from some sugar slip ups and missed water.. but for the most part, i'm doing well!
anyway, back to the workout.. heavy EMOM.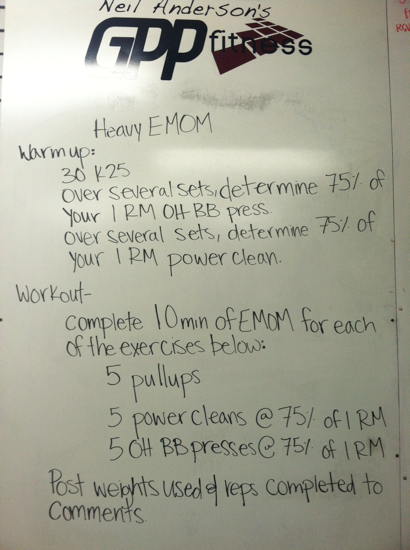 i skipped out on kipping my pull-ups today because of this little doozy that happened last thursday: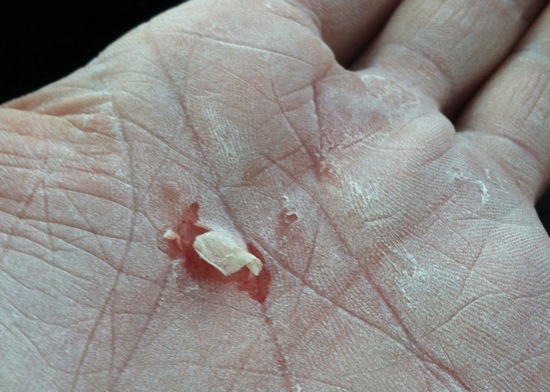 yeowch. still nursing my hands back to 100%. it's amazing what one little rip of skin on your palm can do to your whole life. i cannot imagine not having hands at all–i truly admire those who do so much without hands. i remember seeing a video about a woman who would make out checks at the grocery store using her feet. that is legit!
anyway, back to the pull-ups. i was super impressed with melissa's strong work on her kips! she got her first one last week and strung a few together today. she's a quick learner and so talented! way to go, melissa.  we finished the workout off with the OH press and power cleans. i did 55# strict OH presses and 75# power cleans. it was a deceiving workout and i sweat way more than expected! it was a lot of fun, though. i love tuesdays.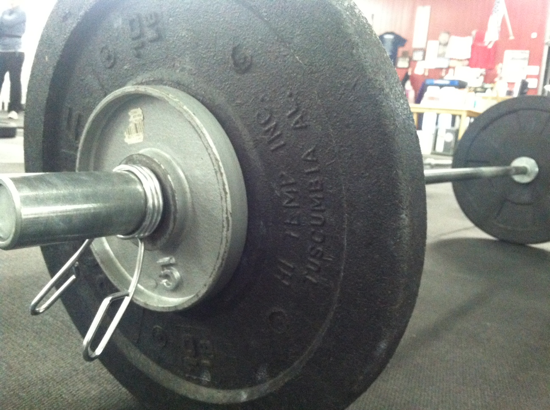 i came home and made dinner–it was taco tuesday!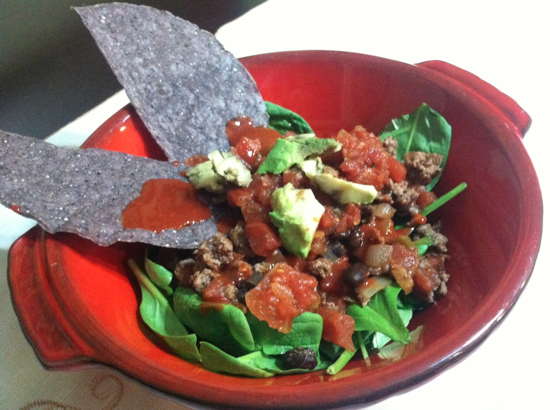 you know what sucks a whole lot? tacos (or taco salad, in my case tonight) WITHOUT CHEESE. seriously, is life even worth living if i can't eat cheese? i miss it big time. even more than coffee–never thought i would say that! cheese makes my world go round.
okay.. that's enough rambling for now i suppose. hope you have enjoyed this long, drawn out, ridic post! it was fun to type.
oh.. two more things because i love thought catalog always:
it's bad how much i can relate to this list of signs you are lazy. what can i say? i am lazy at heart. personal faves=#1, #8, #9, #16–suuuper guilty of all of these.
i am so a night owl. personal faves=#5, #15, and #18 for SURE.
lots of love!
Qs~
1. if you celebrate thanksgiving, how are you spending it this year?
2. tell me something random from your day. i've dished enough random out, time for me to take some in.
xo. janetha g.