hey! thanks for the feedback on my acupuncture appointment and on my sad lemon situation. i took last night off from blogging partially because my hands hurt (i ripped them at the gym) and partially because i was so freaking tired of the computer! i worked until about 5:45 last night and the thought of looking at a computer when i got home made me cringe.
and now.. it is friday night.. which means most of you are out playing for the weekend and a few of you are reading blogs. i may as well take this moment to do one of my favorite mindless activities–fill out a survey! i stole this from paige a long time ago but never posted it. answering questions is fun. you know it's true!
1. What did you eat for breakfast?
a scramble! sausage, eggs, peppers, chiles, onions, and mushrooms. also had a piece of sourdough toast on the side. the sourdough was from cowboy grub.. if you live in or around SLC, you gotta try that bread! so good!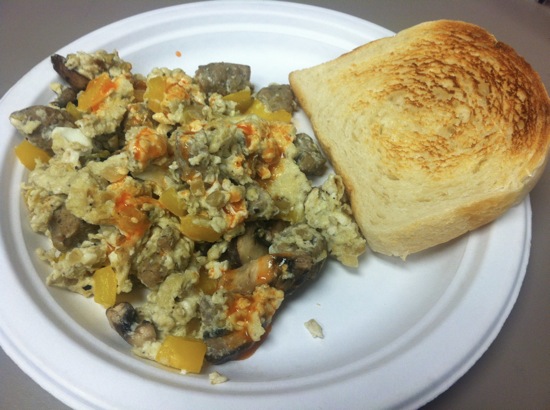 check out the other breakfasts from this week's breakfast club after this survey!
2. How much water do you drink a day?
right now i have a goal to get at least 96 ounces in. some days are good, other days are not.. but i can definitely tell when i don't hit my goal.
3. What is your current  favorite workout?
i currently go to GPP and there are so many GPP workouts that i love! they are different every day.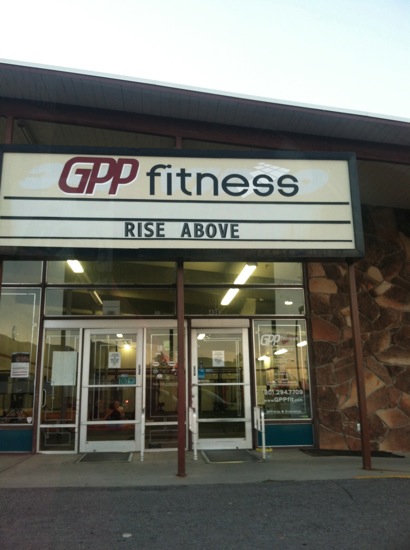 some favorites are cardio tabata, leg shredder, and STAB medley.
4. How many calories do you eat a day?
i don't count! if i had to guess, i would say around 1800.
5. What are your favorite healthy snacks?
lately i am loving honeycrisp apples with almond butter, carrots and celery with hummus, and PBJ rice cakes. i have also been guilty of eating homemade coconut butter straight from the jar every night.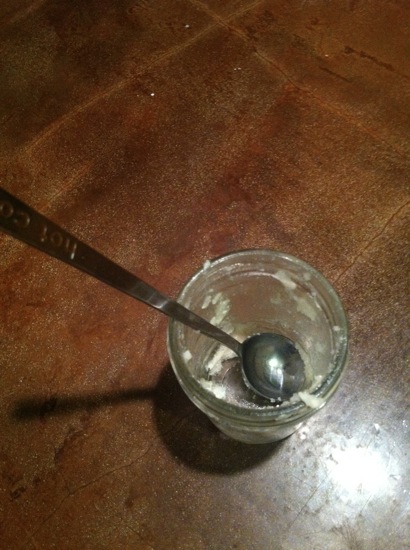 time to make more….
6. What do you usually eat for lunch?
most of the time it is leftovers! today i brought left over chicken and rice soup but, sadly, didn't get around to eating it before i left the office early. if i don't have leftovers, i will make a sandwich or a salad.
7. What is your favorite body part to strength train?
shoulders and legs.
8. What is your least favorite body part to strength train?
triceps… probably because they need the most work! i killed them in today's wiped workout. i was legit wiped afterward!
9. What are your "bad" food cravings?
no such thing, right? but to play along… french fries with fry sauce (it's a utah thing), my mom's scones (also a utah thing), nielsen's frozen custard (yep, another utah thing), and fresh baked cookies with whole milk. yum.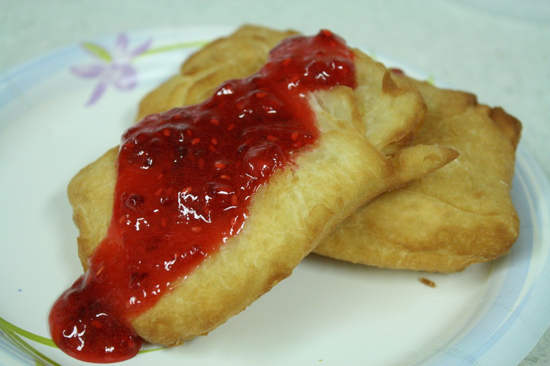 THIS is a utah scone!
10. Do you take vitamins or supplements?
not at the moment. my acupuncturist asked that i cease all supplementation—even my daily multivitamin—just until he can get my colon in order. before, i was taking a mutlivitamin pack called lifepak that i had been planning to post on after thirty days of using it, but now that post is on hold. i also used to take fish oil, coQ10, calcium, and vitamin C.
11. How often do you eat out?
usually 5 times a week… and those are all consolidated into the weekend. i should probably cut back on that! but not just yet.. we are looking at yelp to see what we want for dinner tonight AND i plan to eat out for dinner in park city tomorrow and for breakfast sunday morning… so, uh, yeah.. three restaurant trips lined up for the weekend! i love eating out…
12. Do you eat fast food?
does chipotle or kneaders count as fast food? i eat at those places somewhat often.
13. Who is your biggest supporter?
momma b!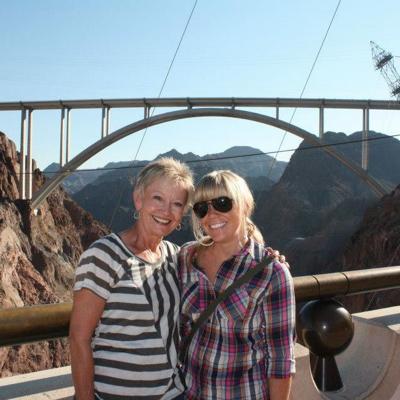 14. Do you have a gym membership?
yep, at GPP and a groupon one to gold's.
15. How many hours of sleep do you get a night?
around six if it's a good night.
16. Do you have a "cheat" day?
no.. i cheat a little bit every day, though. so sue me.
17. Do you drink alcohol?
occasionally.
18. Do you have a workout buddy?
a bunch! i have a lot of friends at GPP that i love to work out with. i have to say melissa is my fave lifting buddy. she's super strong and inspiring!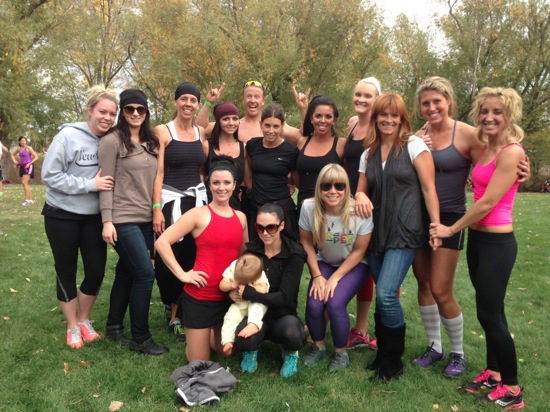 some of my favorite GPPeeps!
19. What is the best thing that has changed about your life since committing to a healthy lifestyle?
i am happier with myself. i feel better inside and out–mentally, physically, emotionally, you name it.. it's better.
20. What was the last healthy thing you did?
laughed at my husband. it's healthy to laugh!
******************************
THE BREAKFAST CLUB!
here's a recap of the breakfasts we made at work this week.
monday: pumpkin breakfast quinoa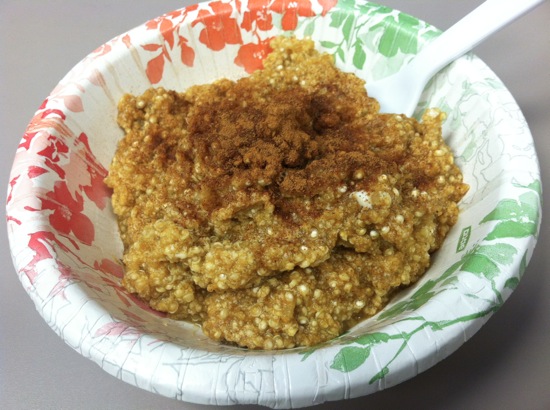 this was my first time eating quinoa in a sweet setting. it was super tasty, but the quinoa didn't cook all the way through. we are going to try again with a recipe that calls for steaming the quinoa using a lid rather than constantly stirring it.
tuesday: baked ham & egg cups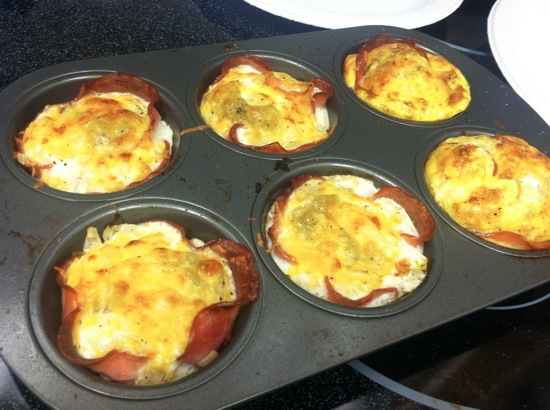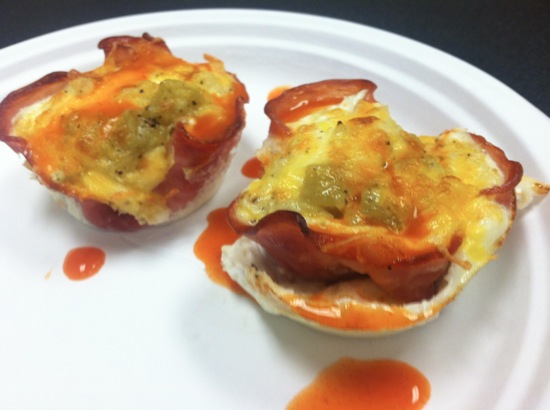 we used green chiles and onions as our mix-ins.
wednesday: french toast with strawberries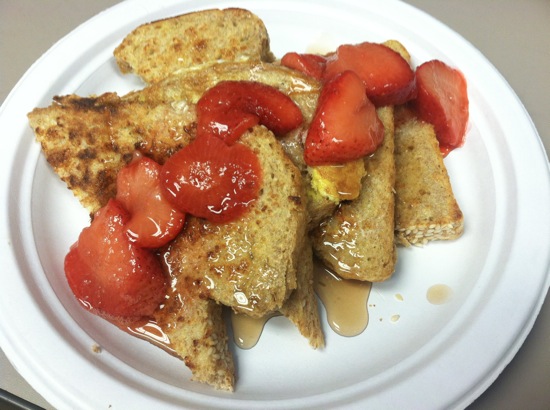 love julian bakery's sourdough bread! it's sooo good!
thursday: almond flour pancakes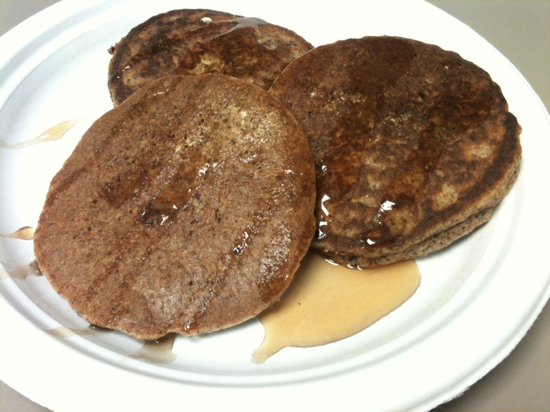 these were incredible! i had some almond flour to use up, and kerryne just found this recipe with a quick google search. it was a winner! we did have to thin the batter a bit, though.
friday: see #1 above!
*********************
that's all for tonight. have a great weekend!
xo. janetha g.