hey! whelp, here we are, sunday night again.
while i do have a few less than awesome things going on in my life right now, i prefer to focus on the good things–large and small. mostly small, now that i look at this list. it's the little things, right??
so, in no particular order.. here are ten of the things i liked about the past 48 hours.
1. a dinner date.
marshall and i went to settebello for some pizza and beer last night. we'd never been, but momma b raved about the pizza. we got two kinds and shared.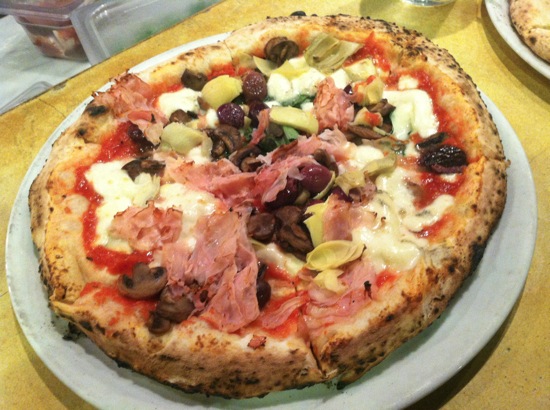 Capricciosa: Crushed Tomatoes, Prosciutto Cotto, Artichoke Hearts, Roasted Mushrooms, Olives, Mozzarella, Basil, Extra Virgin Olive Oil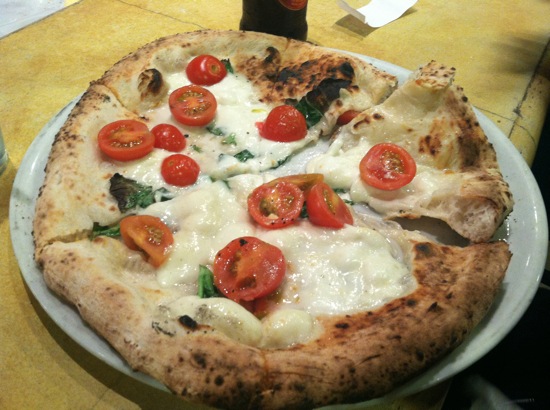 Filetto: Fresh Imported Buffalo Mozzarella, Cherry Tomato, Fresh Basil, Extra Virgin Olive Oil  
marshall isn't a fan of fro yo, bless his heart, but he loves me so he took me to orange leaf on the way home. i had a mix of pineapple, coconut, and original tart frozen yogurt topped with graham cracker crumbs and coconut shreds. yum. and i owe about $3 to the turkey day challenge jar for all those cheats. at least the money goes to the food bank!!
2. a surprise in the mail.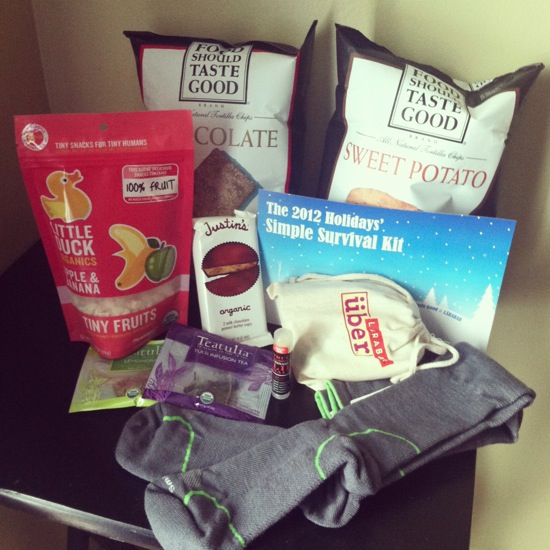 nooo idea why i was lucky enough to receive this package, it came as a total surprise! but here's a big thanks to larabar, food should taste good chips, justin's nut butter, smartwool socks, little duck organics, and teatulia teas! can't wait to use the fun things in this simple survival kit for the holidays.
3. sleeping in with randy as a neck warmer.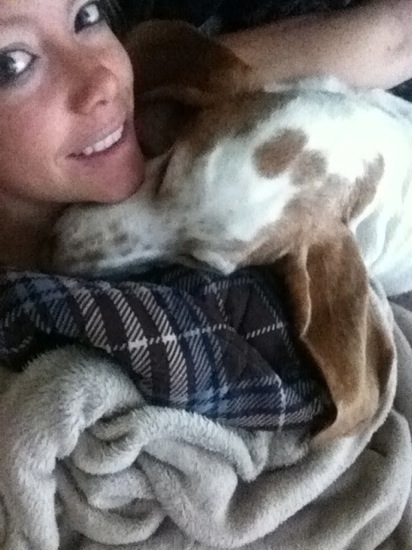 sundays are sleep in days around this house. on saturday i try to wake up to make it to the gym (the last class is at 8:45) but on sunday, all bets are off. we slept a little past ten today and the only reason i finally got up was because i had to pee real bad. i made marshall come in and move randy off my neck because i didn't want to be the bad guy. does anyone else let their pets rule their lives like this? i hope i am not the only one…
4. snow. yep, i love the snow.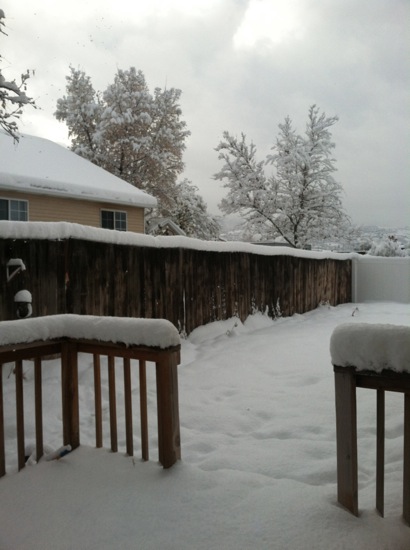 lots of people are pissed off that it snowed. i LOVE the snow. welcome, winter, come on into my life. i can't wait to go snowboarding! oh, and this point on my list contradicts the next item of business and i really do not care… haha.
5. bitching about all the snow photos on instagram with my friends.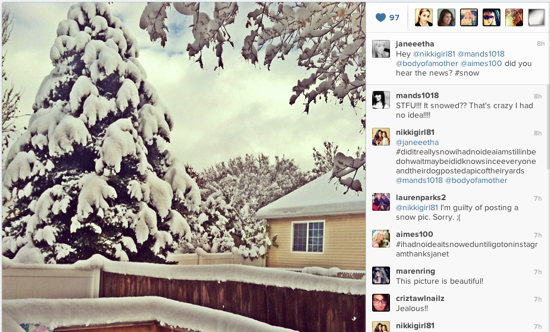 i am the first to admit i am guilty of posting the obvious.. so don't get offended over this one. i am pretty sure every one of my social media platforms were taken over by snow posts. 90% of the ones on instagram were from one of my bestestest friends.. you know who you are! <3
i didn't really mind it, but then my friends and i got to talking about it in our 6-way texting conversation and it was rather entertaining and it became the subject of the day! well, next to the whole trying to convince mands to use a suppository for 30 solid minutes.. that was probably first place for topic of the day.
6. the christmas expo… minus the creepy dolls.
kerryne, amanda, and i went to the christmas expo friday night. i would say only about half the stuff there was christmas-related. the rest of the stuff was probably stuff you can find at EVERY expo, no matter what the theme is. these plaques made me laugh….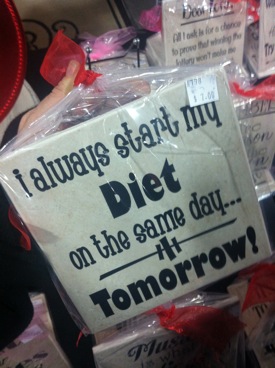 there were some mega-creepy dolls at the expo. kerryne picked one up for her daughter.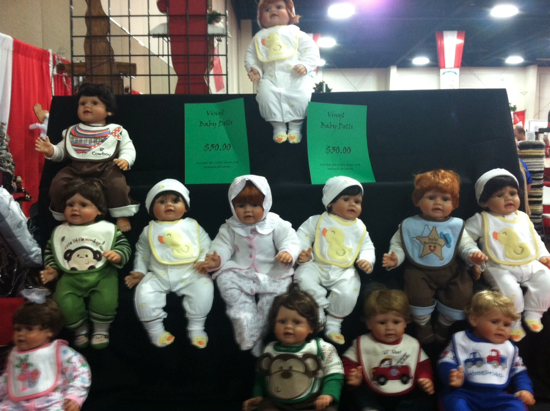 okay, okay.. nobody thought these were creepy except for me. what can i say? i don't love dolls. i never had one growing up. in fact, i cried when i received a doll for my 4th birthday! i was weird. (still am.) i had stuffed cats and dogs. and i played restaurant. that explains a lot about me today, right? i have dogs instead of children and i love to cook. makes sense. at least marshall agrees with me on the doll thing, haha.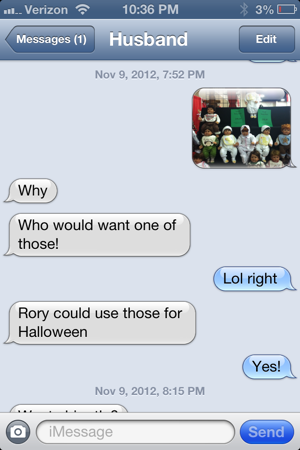 7. linds coming to GPP again.
yay! no picture to prove it, but my SIL lindsay joined me for saturday morning GPP. she's loving it. we did shape shifter which is actually one of my most-hated workouts. yuck. but it was fun to have here there doing it with me! she is gonna come again tomorrow… i hope the plate cleans don't scare her off.
8. having a clean house and ALL the laundry being done.
enough said. marshall and i worked our butts off saturday afternoon and we are enjoying the results–let's see how long we can keep this clean house, folded laundry thing up.
9. delivering dinner to mands.
my friend mands (her name is amanda but i already blog about my other friend amanda a lot so we will call her mands.. or mandy.. but she hates that!) had her uterus taken out so we delivered her some dinner on saturday night. i was in charge of the entree so i made white chicken enchiladas.
i also got her some really awesome legos to put together to help pass the time while recovering. she had that put together 2.2 seconds after we left and had a picture to prove it. dang.. guess it was not that great of a time-passer after all?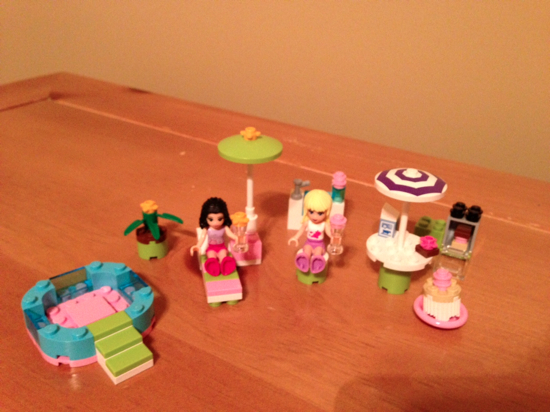 *deleted part of this post because it made some people upset. turns out some inside jokes among friends should just be kept inside. sorry to offend.
10.  seeing skyfall.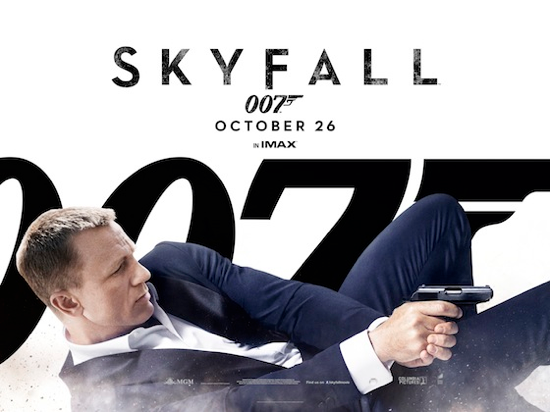 i liked it. aaaand daniel craig is sexy.
okay, there you go, ten totally random things i liked about my weekend. this post was all over the place. i will try to get it together by tomorrow. no promises, though. mondays can be rough! hope you have a wonderful one!!
Qs~
1. what was one highlight from your weekend?
2. my friend nikki wants to know how effective it is to keep flour in the freezer. her mom taught her this and so she does it, but doesn't know how big of a deal it is. anyone have some input? (haha.. she asked me to ask you guys! you guys know these things!)
xo. janetha g.