hello! before diving into today's topic, i want to mention two very important events.
event #1: susan's auction! i am copying and pasting some of susan's words for this one.
I'm Susie from Air Heart and I'm hosting an online auction from Nov. 14 to Nov. 16 on my blog.  All proceeds will go towards the Leukemia & Lymphoma society. I am almost one year into remission from lymphoma myself and am running a half marathon in Scotland to raise $6000 for this charity.  It is a ridiculously challenging undertaking for so soon out of treatment, but incredibly important to me.
Auction details:
Bidding opens Nov. 14 at 6am ET
Bidding closes Nov. 16 at 11pm ET.
Anyone (anywhere!) can bid by leaving a comment on the item's page. Your comment should only contain the dollar amount of your bid.
CLICK HERE TO SEE ITEMS UP FOR BID
don't forget to head to the auction starting this wednesday, the 14th!
***********************************************
event #2: foodie pen pals for sandy! do you ever participate in foodie pen pals? i have in the past, and i know many of you have too.. or at least have considered it. well, december's foodie pen pals is going to be a bit different. let me copy and paste lindsay's explanation!
Instead of matching people up to send FPP packages in December, we're going to use this group for good and raise some money for the victims of Hurricane Sandy. There are two ways you can get involved:
1) I will be setting up a paypal account to accept donations. Please consider donating the $15-$25 you would have spent on purchasing items and mailing your FPP package in December. Donations will be accepted from December 3-7th and I will make one big donation to a recovery organization in the name of Foodie Penpals at the end of the week. I'm still researching organizations. Some that i've looked at include Brooklyn Recovery Fund and Kids In Distressed Situations.
2) I'm in the process of searching for an organization that will be collecting holiday gifts for the people affected by this storm. With the holidays approaching, if you're in the mood to shop instead of just donate money, I will try to provide an address that you can mail gifts to and encourage you to spend $15 to purchase some gifts and send them out so they can be distributed to families.
You guys, we have the power to make a huge difference here. Think about it. On average, there are about 1,000 participants per month. If we all donate the $15 we would have spent, that's $15,000 right there. That's HUGE. Let's make a difference!
CLICK HERE TO FILL OUT THE PARTICIPATION FORM
***********************************************
okay, onto the post! guess what? i was cleaning out my post drafts folder and found this one that i meant to post… last fall. oh well! it's fall again! so this still applies, right? right.

how's that for alliteration?!
i saw an article on shape that listed the "top" fifty fall foods that support weight loss:
apples
pumpkins
pumpkin seeds
cinnamon
nutmeg
vanilla
allspice
bay leaf
cloves
ginger root
garlic
coriander
sage
runner beans
bok choy
gourds
dates
pears
tangerines
pomegranates
brussels sprouts
cauliflower
acorn squash
parsnips
rutabaga
pecans
chestnuts
swiss chard
leeks
quinces
cranberries
elderberries
sweet corn
pork
venison
persimmons
yams*
soups and stews
casseroles
broccoli raabe
oat bran
gulf flounder
celery root
kohlrabi
frisee
moose
duck
goose
goat meat
stone crab
what do you think of this list? do you consume very many of these foods?
i consume the majority of them regularly—or i have at least tried them at some point.  however, i have never tried venison, moose, goose or goat meat and don't have a burning desire to do so. there were four other items on the list that i have never tried but am intrigued by and would like to try.. some i had never even heard of!
runner beans.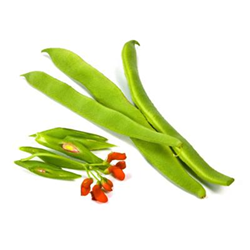 from the article:
These filling and protein-rich beans are low in fat and high in fiber, DeFazio says. "One of the main pitfalls with low-calorie diets is that you're constantly hungry. By eating foods like beans, which also contain protein, you'll feel fuller eating smaller portions." (One note of caution: Runner beans should not be eaten raw, as they contain a chemical called lectin phytohemagglutinin, a toxin that creates a clumping effect on the red cells in your blood. Be sure to cook them thoroughly before eating).
broccoli raabe.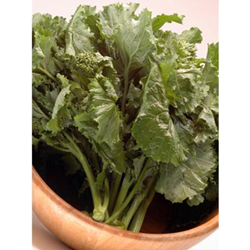 from the article:
"Though not as bushy and dense as broccoli (it's ruffled leaves hold tiny little florets), it is just as nutritionally sound," says Lauren O'Connor, a registered dietitian and owner of Nutri Savvy in Los Angeles. "A great source of antioxidant vitamins A and C, it also provides folate, calcium, potassium, and fiber for only 22 calories per cup, making it a great low calorie way to bulk up your meals." Try it in an omelet or in this delicious farfalle pasta dish.
quinces.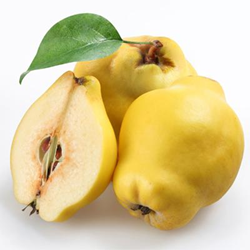 from the article:
Related to apples and pears, quinces (pronounced 'kwins') are a golden yellow, broad pome fruit loaded with vitamin C, dietary fiber, copper, antioxidants, and pectin, which aids in controlling digestion and improving your blood sugar level, Batayneh says. Because of their sour flavor, you won't want to eat these right off the tree. Try them in jams and jellies, or dice half of one into a homemade apple pie to enhance it's flavor. (Waistline bonus: adding bitter flavors to desserts can help bring out their sweetness, which could help you eat less).
elderberries.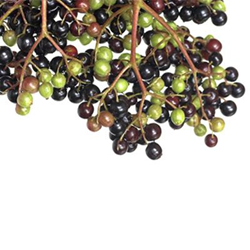 from the article:
These purplish-black berries are loaded with potassium, which can help reduce blood pressure and keep you going strong during your workouts. They may even help you reduce belly fat: "animal studies have shown that a compound found in elderberries may be beneficial for reducing body weight, particularly abdominal fat," Newgent says. "Look for elderberry jam and spread it on toast instead of butter."
can you guess which two i had never heard of? runner beans and quinces. i wonder if i could find either of these near me? i am going to look around!
Qs~
1. are there any items on the list of fifty that you have never tried?
2. what item(s) on the list do you eat regularly?
xo. janetha g.