it's twenty nine minutes to midnight on tuesday night.
think i can pound out a post about my whole day before midnight hits?
let's give it a shot!
i got up bright and early, got myself ready, and enjoyed my morning juice made lovingly by marshall.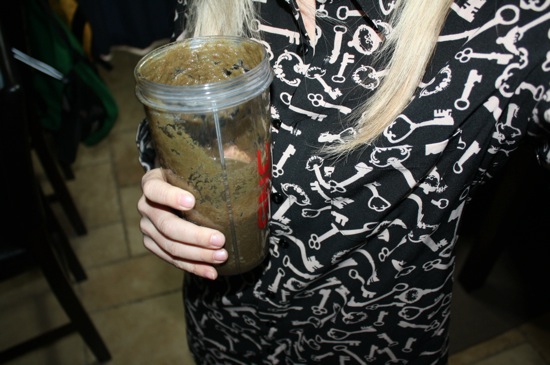 i never said it was pretty. this had kale, spinach, cabbage, carrots, apples, berries, OJ, and MCT oil. maybe some other stuff.. not sure.
then marshall and i rocked the vote.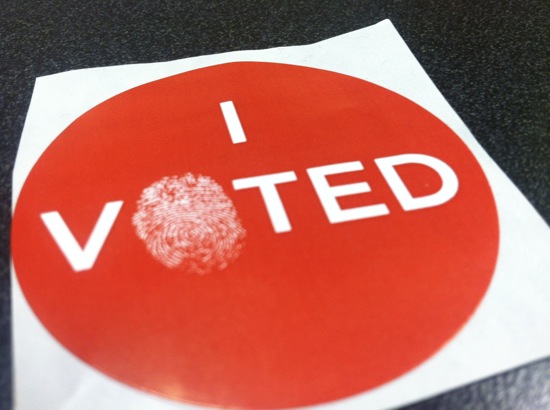 yay, obama.
i came home, gave the pups a treat (they stayed home from daycare today) and said goodbye to my two sweeties.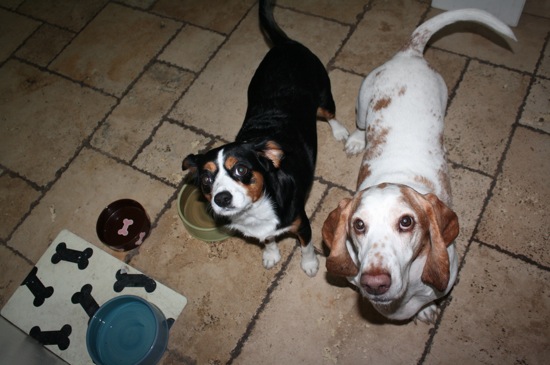 i got to work and got right to work.. coffee and water on hand.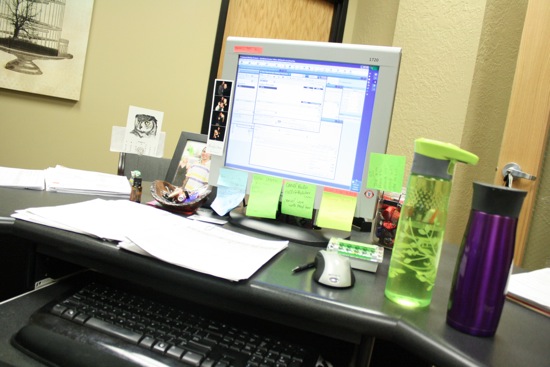 like my new artwork? it replaced the dumb moose painting that has been in my office since the beginning of time. this is much more "me".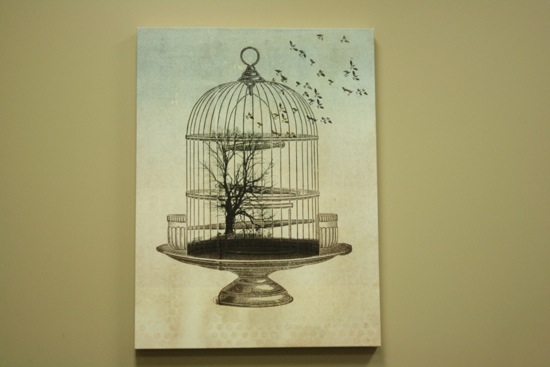 i got it from society6.com.
pretty soon it was time for the breakfast club… on the menu today was breakfast casserole!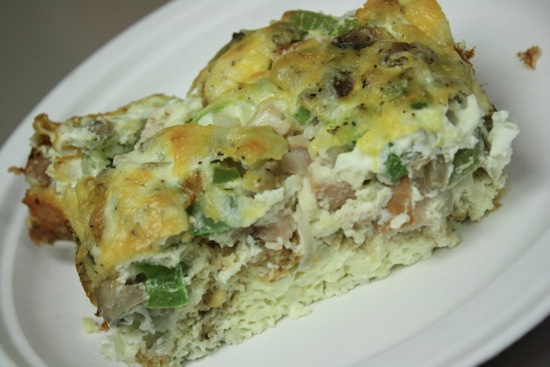 kerryne and amanda made this while i worked. they layered two slices of diced oat bran bread in a loaf pan, then topped the bread with mushrooms, peppers, onions, smoked turkey, and cheese. five eggs and six egg whites were poured on top and then it baked for about a half hour at 350 degrees. yum. i topped it with greek yogurt and spicy avocado hummus after the photo op.
i worked for four more hours, drank more water, and had a little entertainment while reading amanda's new emails on match.com. let me tell you, that is a recipe for a good time. pretty soon it was time for lunch: a turkey sandwich paired with a simple side salad.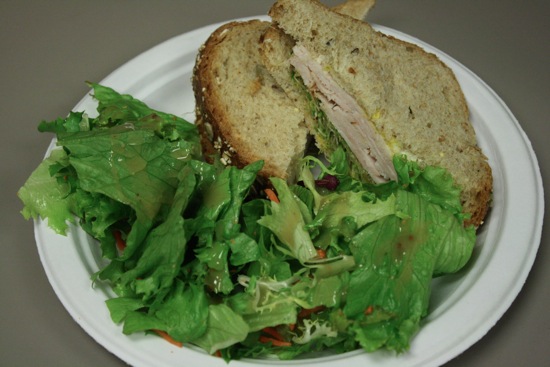 i love this new oat bran bread i picked up from sprouts!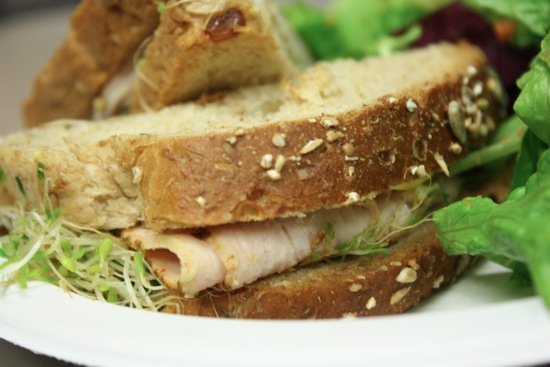 i had a VERY important appointment at 2:30 today. guys, i decided to buy a car. i was actually SHOCKED to see my credit score. no idea how it got so high. maybe it smoked some weed. last time i checked it was in the 700s.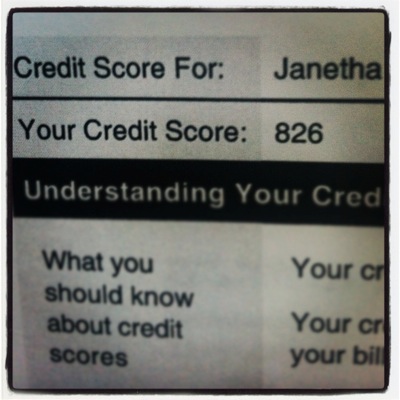 the whole process took about two and a half hours, but it was worth the long wait… check out my shiny, new car!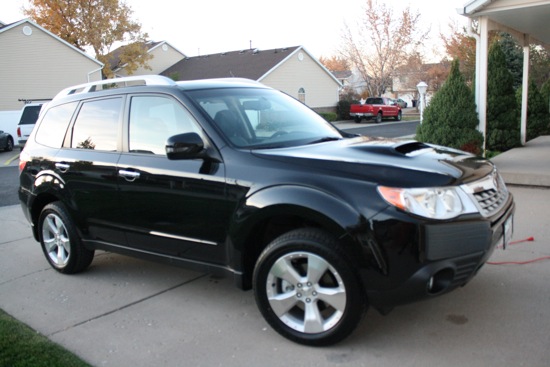 ugh. i am in love. i test drove the STI i posted last thursday, but didn't LOVE it. i wanted an automatic. so… i test drove this forester… and accidentally fell in love. i always said i wouldn't buy a brand, spanking new car.. but i guess you should never say never!
i hurried and changed for the gym so i could make it to the 5:45 class at GPP. i quickly had my noxpolde with a side of love from the pups.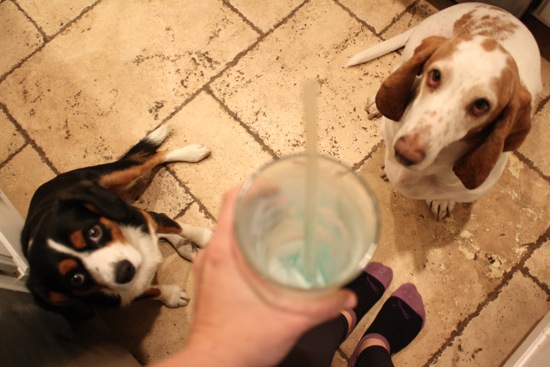 penny wanted some.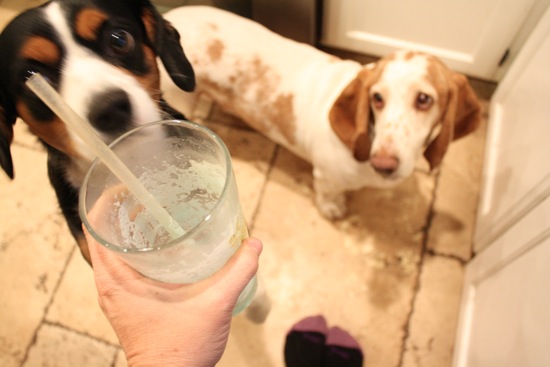 noxplode is not for dogs.. but i did have a rice cake with almond butter…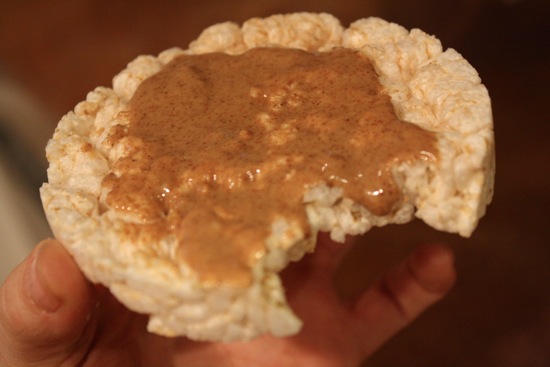 …so i treated penny and randy to a little almond butter of their own. i put it in their dishes so they don't think i am feeding them MY food. gotta teach them manners, right?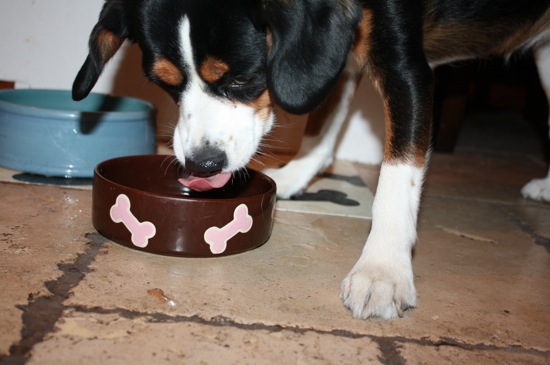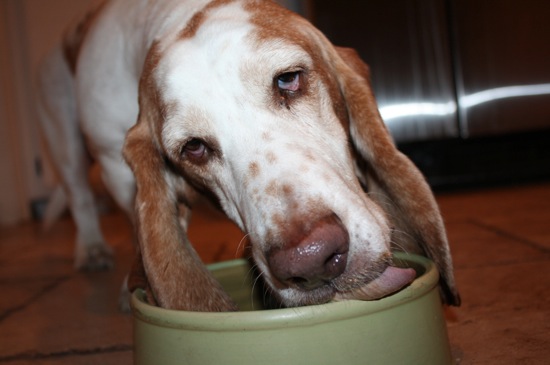 licked clean.
today's workout was power cleans & rowing.. SO MUCH FUN. you can check out the logistics of the workout here.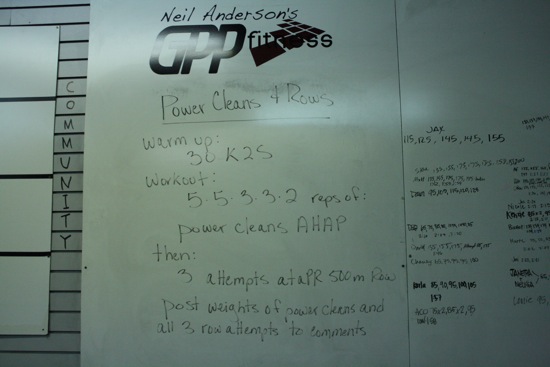 i worked out with my favorite buddy, melissa. she pushes me to my limit! she is so strong and fierce!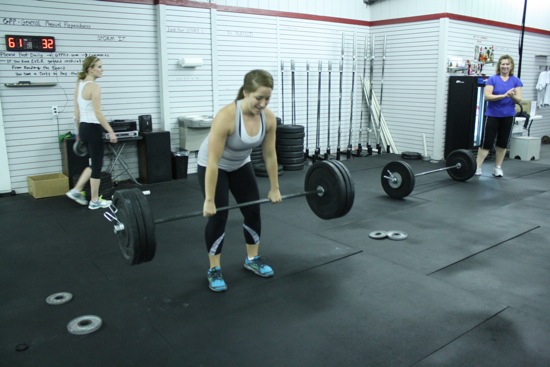 and beautiful!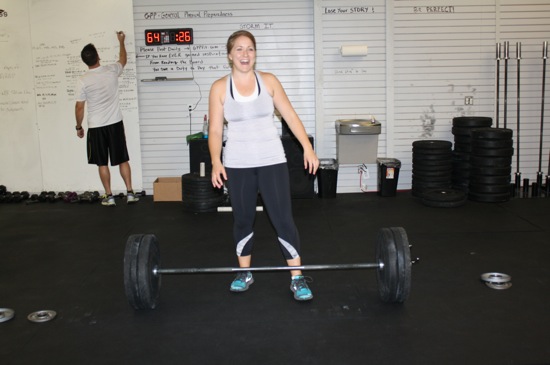 we both hit some new PRs on our power cleans! 115 for melissa and 105 for me!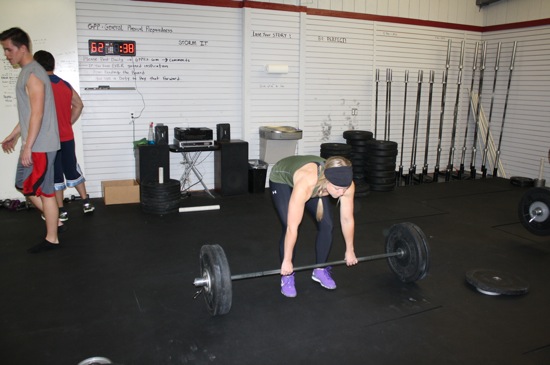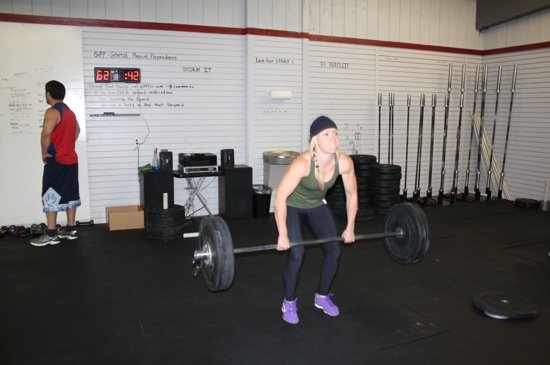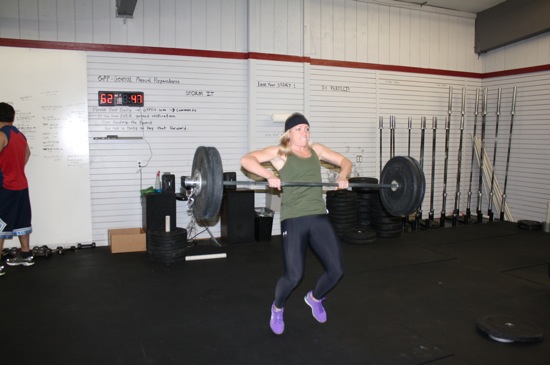 apparently i make funny faces when i clean.
after the cleans we had to pull our fastest 500m row three times (with lots of rest in between.)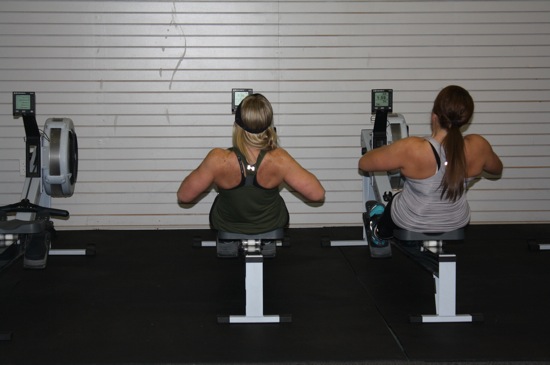 i pulled a 2:05, 2:06, and 2:09. getting better after learning how to row properly!
as i was leaving i checked out the big box of goodies i dropped off at the gym yesterday. i had a lot of nutrition bars, supplement samples, protein powders, and other random things that i just couldn't use quick enough, so i decided to give them to my gym friends.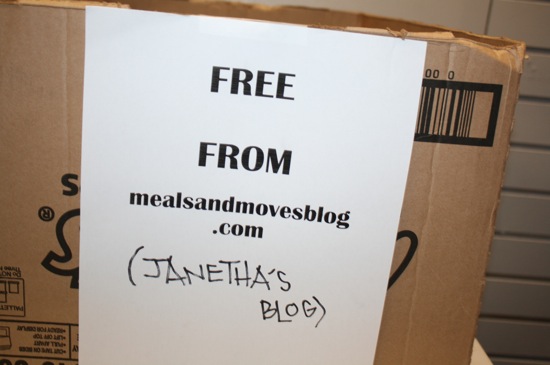 i was happy to see almost everything had been taken, except for the strangest protein powder sample that i never dared try: BEEF protein isolate!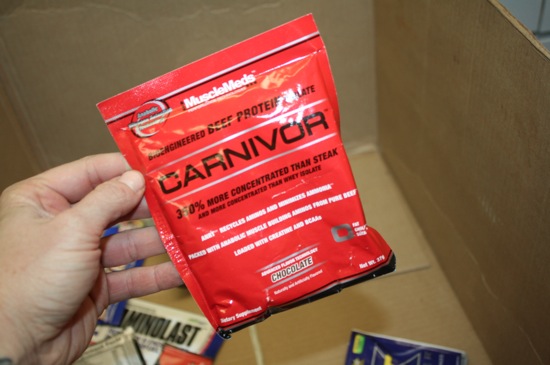 not gonna lie.. that's kinda weird to me.
i rushed home with a pitstop at kneader's on the way–marshall and i had plans so it was dinner to-go tonight!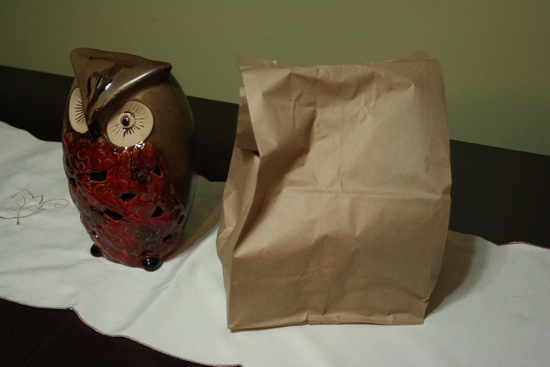 i had a turkey sandwich on sourdough. i NEVER get sick of sandwiches. or bread. i ate it at all three meals today.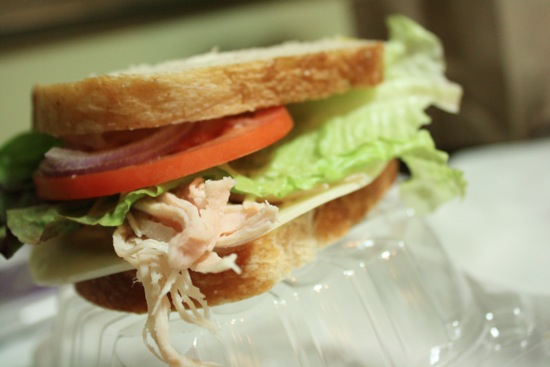 i cleaned myself up as best as i could in under ten minutes and then it was out the door again! we headed to the cursive and minus the bear show–LOVE! minus the bear is my favorite and cursive as an opener was just an added bonus!!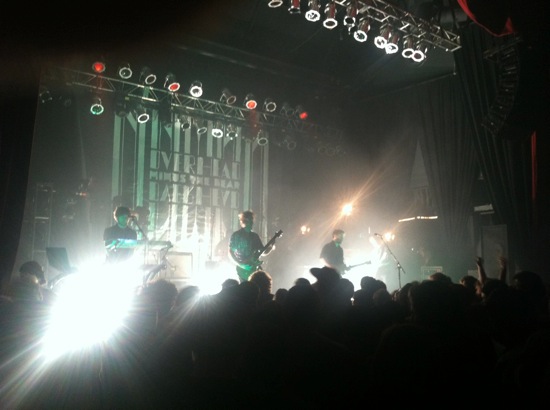 the show was amazing, as usual. i came home and was hungry, as usual. cereal with banana slices and almond milk fit the bill!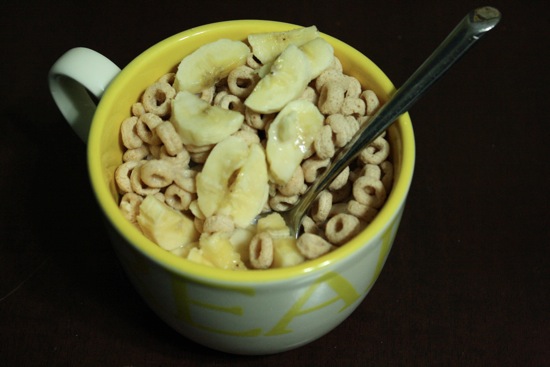 and now we are watching obama's victory speech!
wow, i managed to type that up with two minutes to spare. not too shabby.
and that, my friends, was my whole day.
gotta get up early for a 6:30 AM workout! wish me luck… i am going to need it. it's lemon's revenge, eeeek!
Qs~
1. what one food could you eat at every meal? me=bread. like today. or cereal… but i am trying to be realistic here. i wish i could eat cereal for breakfast, lunch, and dinner.. ha!
2. why are you proud of yourself today? me=power clean & rowing PRs. fitness is fun and feels good.
xo. janetha g.