hi!
today was a good day. actually, it's been a really good week. let's talk about some random happenings!

after work today, i scouted out a location for blend retreat in park city.. serious potential, folks!
stay tuned for upcoming announcements regarding the location, the official sponsor, and some of the other headlining sponsors for the meals and the boot camps. great things are in the works!

this week i began a new face washing experiment. i still love my norwex rags, but my friends have been using the oil cleansing method for awhile now and SWEAR by it. i have had some issues with clogged pores and the oil remedies that. plus, i love the idea of using oil to cleanse and rejuvenate my skin.
i mixed a solution of 70% sunflower oil and 30% castor oil and store the mixture in my bathroom. here is the nightly routine:
do NOT wash or wet your face. leave your makeup on if you wear it.
pour a quarter-size drop of oil in your hand.
slowly massage the oil all over your face. don't scrub—just rub.
focus on rubbing longer on the problem areas of your face. for me, it's my chin.
take your time, breath deeply, and relax as you are rubbing the oil into your face.
drench a washrag in hot water and wring it out well.
place the steaming rag over your face and let it sit there until it has reached room temperature.
slowly remove the rag from your face, wiping the oil off as you go.
repeat the hot rag/wiping process three or four more times until all oil has been removed.
do this each night!
i have only done this for three nights, but i can already see and feel a difference in my skin. i am not surprised at this, because when i posted the photo above on instagram, i got lots of people giving me positive feedback on the method. many said they use jojoba oil + castor oil and someone said they add a few drops of tea tree oil to the mix to combat acne.
you can play around with the different oils and ratios used, but you always must have castor oil in the mix. i have heard of people pairing it with olive oil, grapeseed oil, and flax seed oil. i am sure they all yield a little bit of a different result, but the site i was sent by my friends said to use sunflower oil so i started with that. the reason to use castor oil is it is thick and actually dissolves the oil on your skin. it will pull out the impurities from your pores. if your skin tends to be drier, use less castor oil. if your skin is oily, use more castor oil. castor oil i there are LOTS of sites that talk about this method.. if you google it you will learn lots more.
i will let you know how i like this after a month or so!

GOOD NEWS! i was at my training class at GPP on monday, and neil made me get up on the bar to see how my kipping pull up was coming along. i laughed.. because the last time i had tried a kip was months prior and i grumbled and declared i would never be able to do one. instead of being a normal human and actually practicing, i ignored the fact that i couldn't do one and i just stuck with jumping pull ups every time the workout called for pull ups.
well, my friends, i gave myself a little surprise when i got up on the bar and actually DID ONE.
take a look:
i know it may not seem like a big deal, but it was for me. now i need to work on actually doing more than one at a time.. and maybe now that i know i can do one, i will actually practice doing more than one. yay for progress!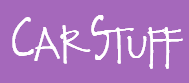 my poor subaru has been in the shop twice because of a smoking engine. i thought the problem was fixed, but it is STILL smoking. boo. i have had the car for a long time (some readers may remember when i got it!) and so i am thinking maybe it's time to trade it in for something new. well, something used, but something new-to-me. i would never buy a brand-spanking-new car.
i kind of think this obnoxiously bright blue STI with gold rims is dope. i always have had a black, white, or silver car.. maybe it is time for something fun and out of the ordinary?!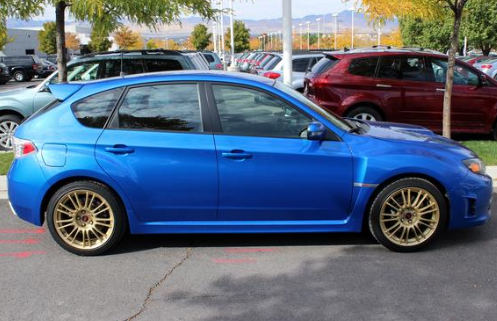 source: mark miller subaru south towne
oh, uhoh.. i kinda really like it.

my good friend, susan, needs your help. you may remember her from the great balancing act (and the auction i held for her last year—the great fundraising act.) well, susan is cancer free, has started a new blog, and is fundraising for an upcoming goal. let me let her tell you all about it.
from susan:
In a very drastic and stupidly exciting attempt to travel again and get my fitness back, I am running a half marathon in Edinburgh, Scotland with Team In Training in April 2013. Team In Training is one of the fundraising arms of the Leukemia & Lymphoma Society, an organization that I very much support. There are very exciting things happening in the world of blood cancer research right now. Things that will go on to help treating other cancers, and LLS is behind some of that funding.
So, by signing up to run in Edinburgh, I agreed to raise $6000 for LLS. This is a HUGE undertaking. Physically and emotionally, especially as I am only eight months out of chemotherapy. So I need your help.
I am holding an online auction on my new blog, "Air Heart" November 14. Right now I am asking for people to donate items to auction off. Anything you are willing to donate — I have people giving jewelry, knit goods, services, beauty supplies, books, etc. Shelf-stable foods or gift baskets are also welcome, get creative!

In order to donate an item, you need to do two things:
1) Email a photo and description of the item to susan.e.ehrhardt@gmail.com. Include a suggested starting price for the item if you have one. Deadline for this in November 12.
2) Mail the item to the winner's address (which I will send you) within a week after the auction. This way the auction items will arrive in time for Christmas gifts!
so, there you have it. if you are interested in donating something for the auction, please email susan at susan.e.ehrhardt@gmail.com. i hope you decide to participate!

finally, a little shameless pup-promotion. penny & randy are in a costume contest through their daycare's facebook page. click here and simply "like" the photo to vote. you don't have to, but if you want to.. that would be rad.
okay, that's all i have for today!
YOUR TURN! tell me something random and/or rad about your week.
xo. janetha g.