hello! happy halloween!
it has been an eventful day for me.. i have been on the go all day. you better believe i am going to tell you all about it. it's gonna be a long one! get a refreshing beverage and maybe a snack.
the halloween festivities kicked off this morning when we were getting the kids ready for school.  they had a costume contest at daycare!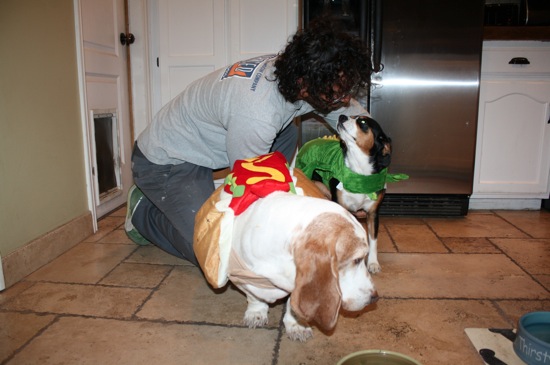 "dad! what are you dooooing to me?!"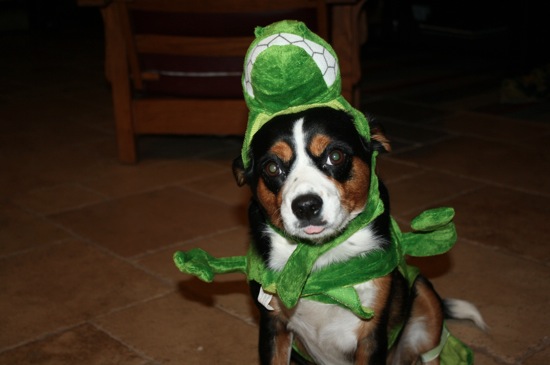 "dad. i look ridiculous."
you guys, aren't their costumes amazing?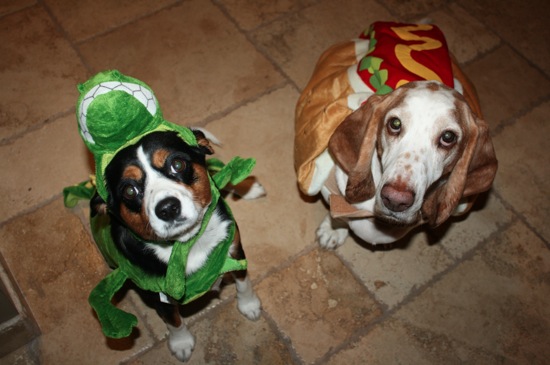 randy stood perfectly still when we put the hotdog suit on him. he froze. we think he was just embarrassed. poor guy.. marshall had to carry him to the car, ketchup and all.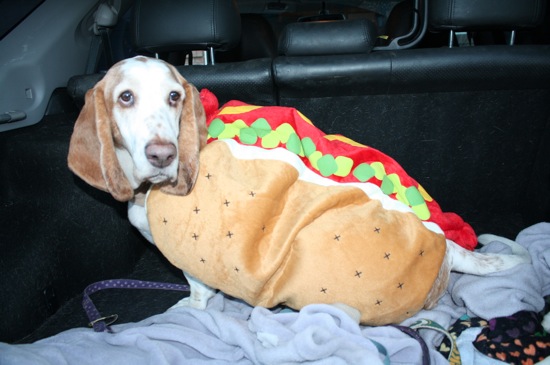 penny was actually not even bothered by her dino costume. her friends at daycare dubbed her dogzilla. raaaawr.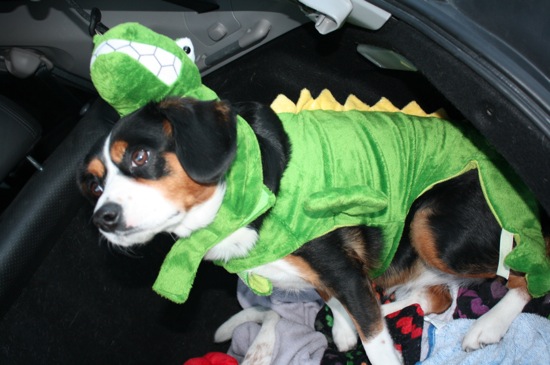 love my pups!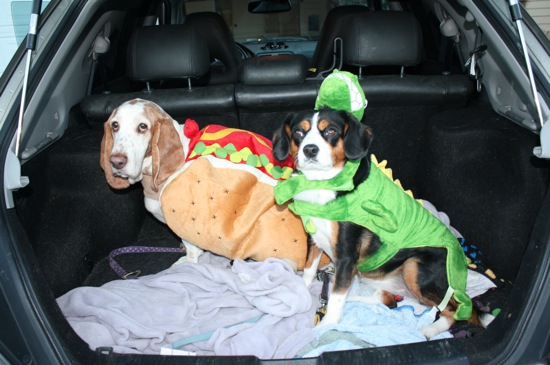 the pups even got gourmet halloween cookies at daycare. yay for trick-or-treating!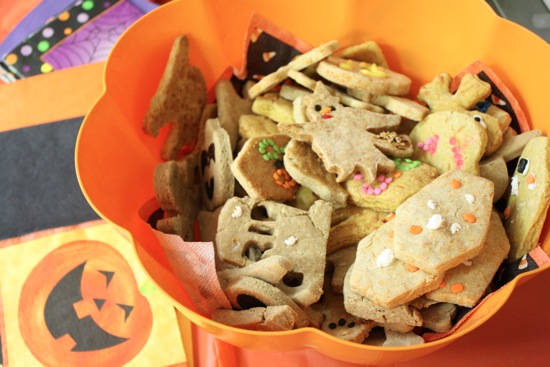 QUICK! go vote for penny and randy's picture on facebook.. it's for the costume contest!! click click click.
the halloween fun continued at my day job with our luncheon!
we had an array of spooky soups. okay, maybe not so spooky, but let's pretend.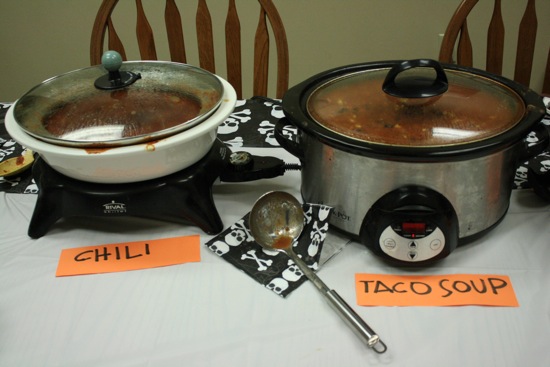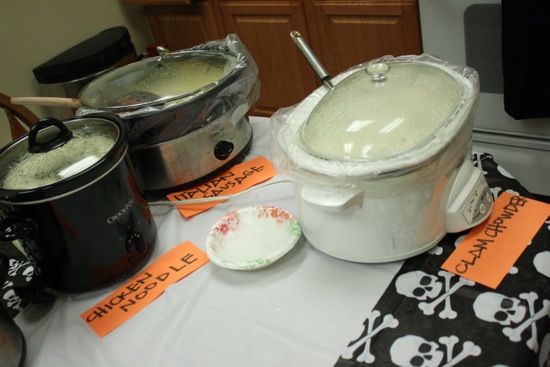 a little carby goodness on the side–pretzel rolls are the best. THE BEST.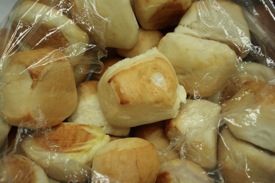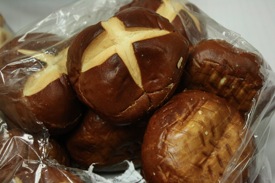 some salad, because we all could use a vegetable or two.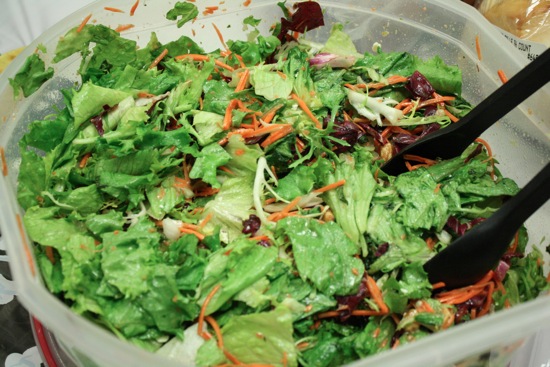 and cheese… duh.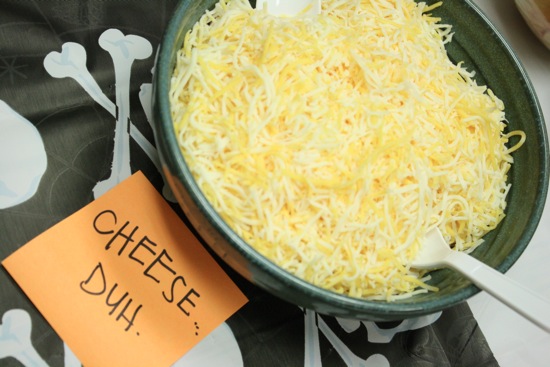 we even had festive spoons, bowls, and napkins.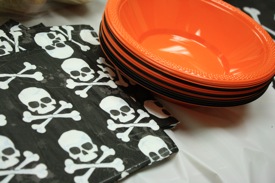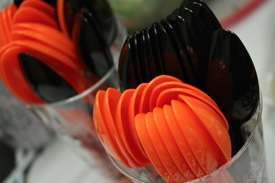 we had the triple D table set up in the showroom: drinks, dips, and dessert!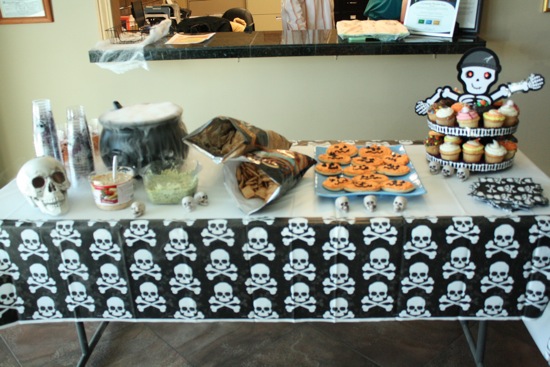 check out the creepy cauldron of spiced cider… muahaha.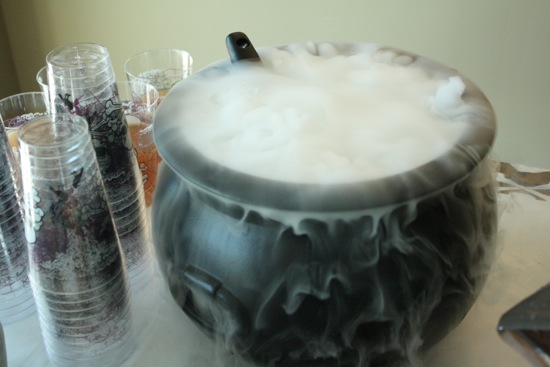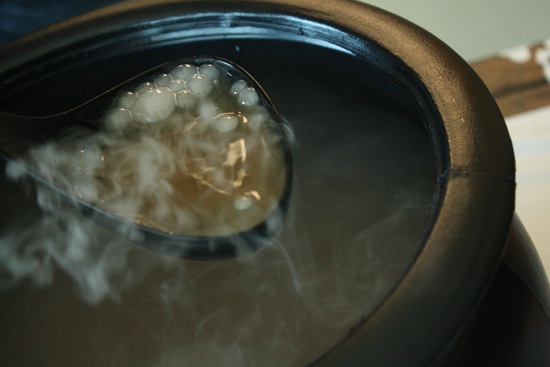 this whole foods spiced cider is super good.. and no sugar added! score.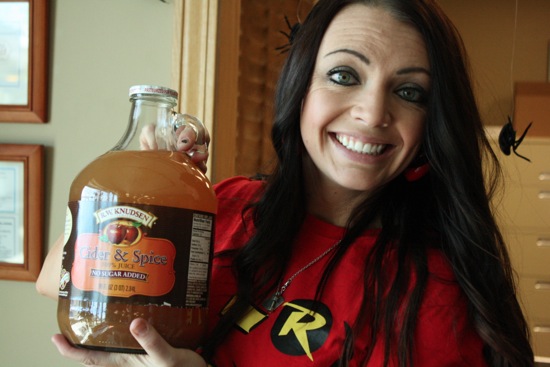 we had sugar cookies and a variety of cupcakes from my sweet tooth fairy… best cupcakes in SLC!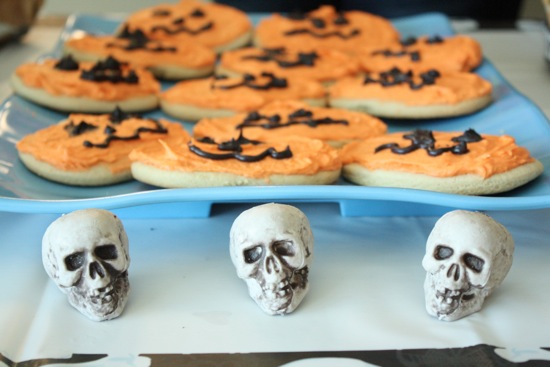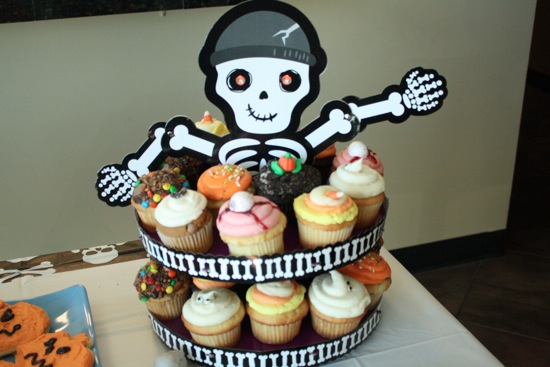 check out this cute halloween craft my boss's wife found on pinterest! love it.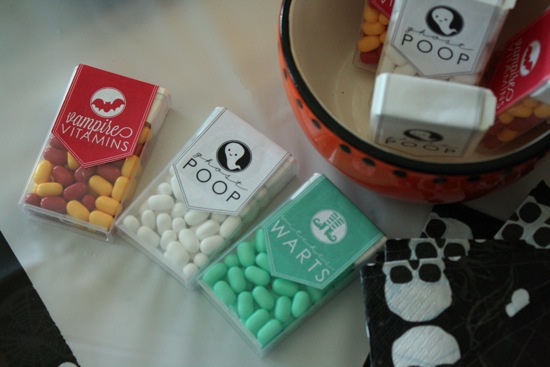 ghost poop, anyone?
i totally cheated on my turkey day challenge and had a delicious coconut cupcake!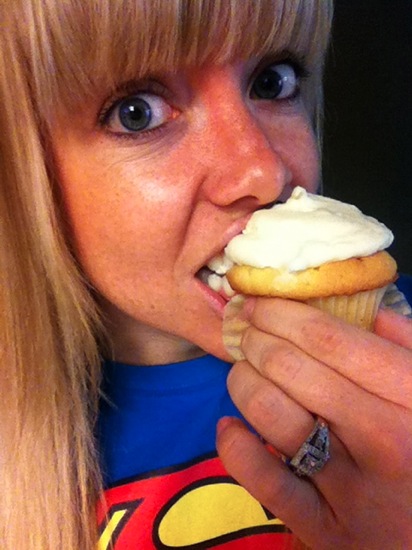 totally worth the $1 penalty. actually, it was a big cupcake.. so i will pay $2 for that baby. and another $1 for the tasty pretzel roll i had with my soup. yum and yum.
what's a halloween party without costumes? don't worry, we were on it.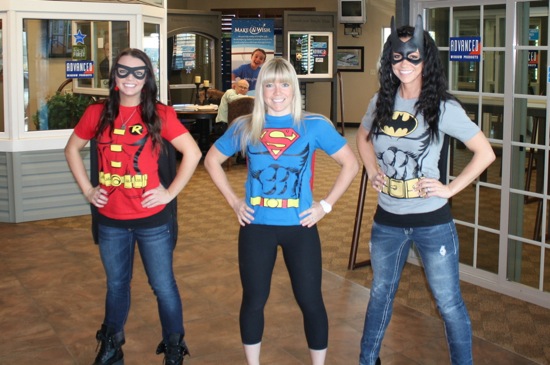 ready to fight crime!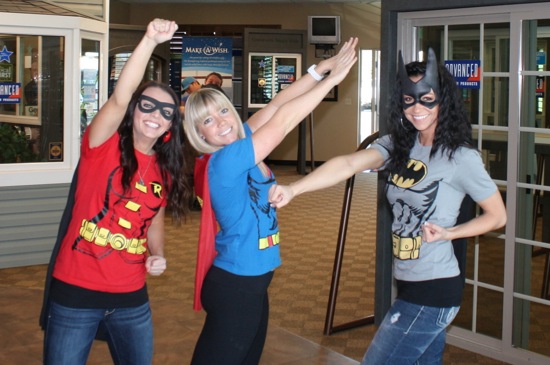 my co-worker, crystal, had the best teddy bear costume! so legit.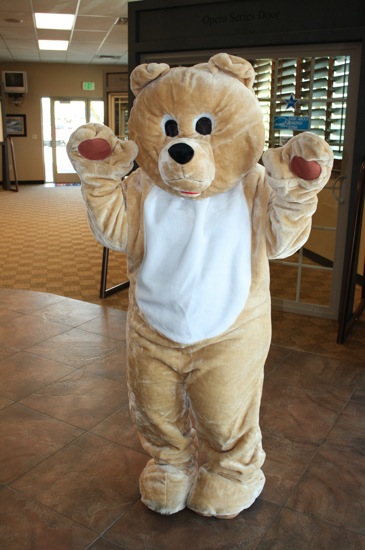 our bosses are rad and let us close at 3, so i rushed home and got ready to hit up the 5pm class at GPP. it was a killer biceps, abs, and triceps medley. ouch. but it was super fun because we were all in costume!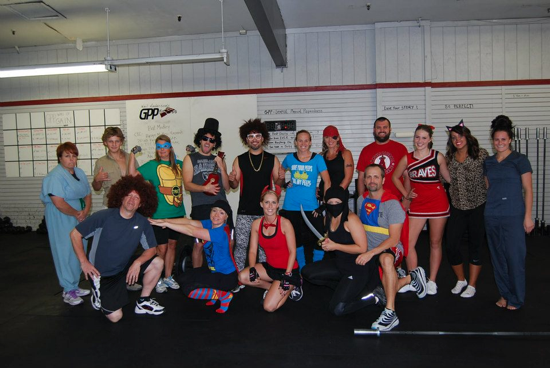 i firmly believe we should wear costumes to the gym at least once a month. it was so fun to work out in costume!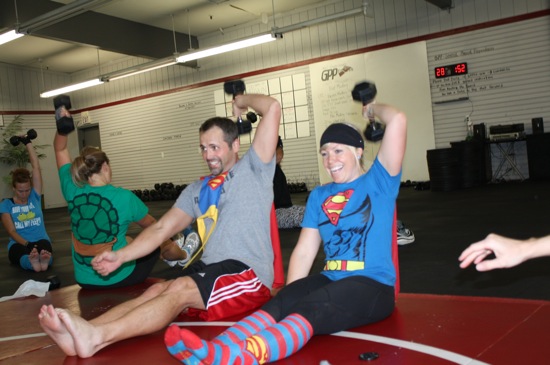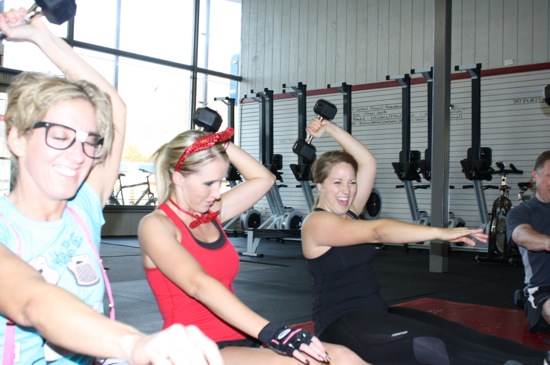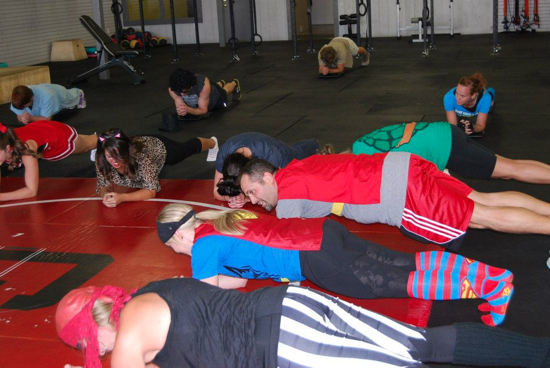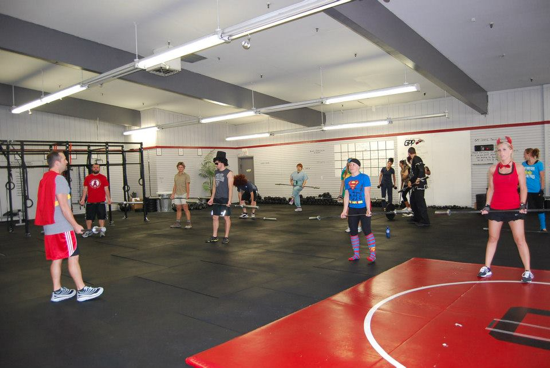 ames is the cutest nerd ever in the history of nerds, right?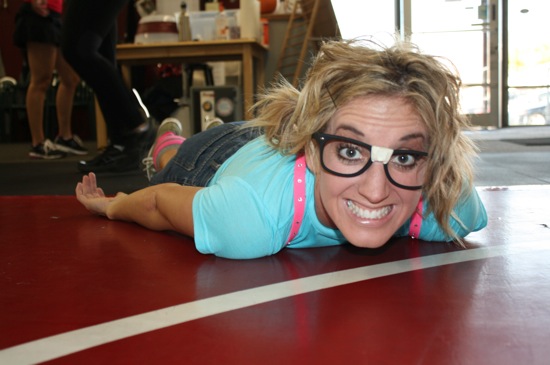 right.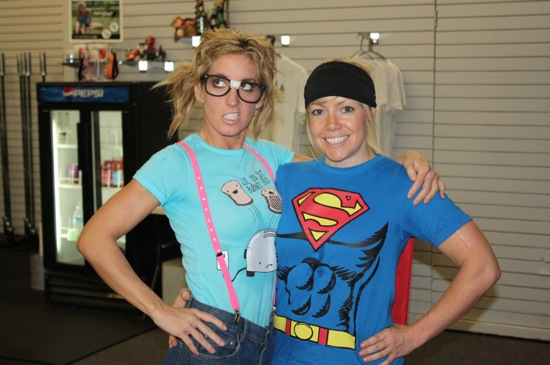 i can't not post her mom jeans up her butt. she was calling me janet all day, it's payback, aimes. we still do not know what the brown spot is.. hmm..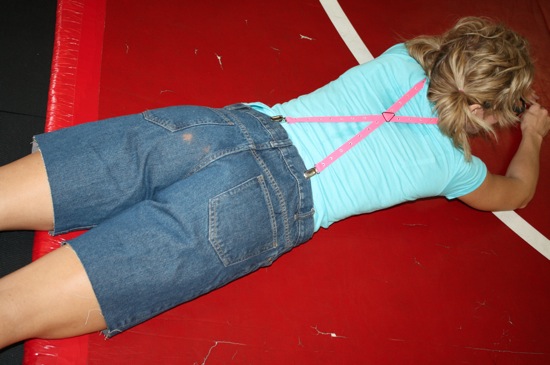 me and neil were supertwins! total coincidence. well, actually, he copied me. and i had better abs.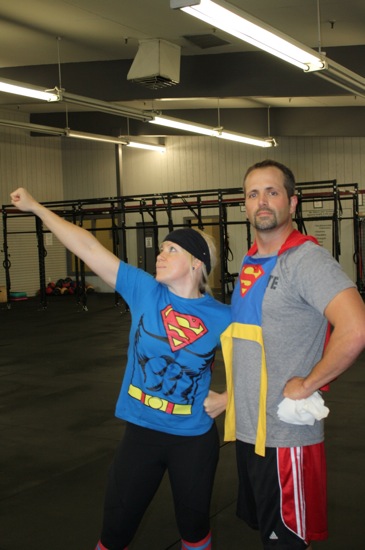 kym and melissa made a great devil and ninja. and my lazy eye is equally as awesome.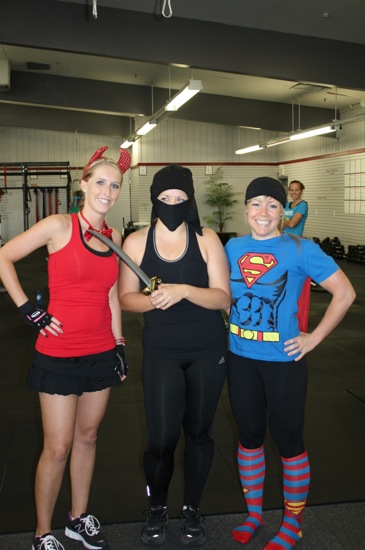 i am particularly in love with the superman socks i found at the last minute on the way to the gym. meant to be. 
after the gym sesh, i met up with kerryne and her kiddos for a little trick-or-treating. it was my first time going as one of the grown ups and not as a trick-or-treater! weird. but it was still a lot of fun! i was a little bugged by the amount of teenagers without costumes that were out stocking up on candy. in the words of stephanie tanner.. how rude! ha, no, but really.. if that bothers me, does it mean i am getting old? it must. if they'd had costumes on that would be fine.. but they didn't even dress up! sheesh. 
after hitting a few neighborhoods (including momma b's!) i came home to my cute family, some taco soup with a side of nachos, and now we are watching the tail end of the jazz game. we are up! excited to get back into basketball.. i like it a lot.
well, that concludes halloween photofest recap 2012. hope you guys all had a wonderful holiday! and, wow, november tomorrow. crazy. 
Qs~
1. what is your favorite holiday?
2. what do you think.. how old is too old for trick-or-treating?
xo. janetha g.