hola! happy tuesday. hope your day was good.
mine was not too shabby. i woke up bright and early at 6 AM for a leg session at gold's gym with kerryne & amanda. my membership to gold's expired, but i bought a 10-day pass from groupon (for just $20!) so i could go to the gym with those ladies every once in awhile AND so i could go on sundays, since GPP is closed on sundays.
speaking of groupon… i found another deal website today. whoops!
one of you lovely readers (hi, kaitlyn!) sent me a link to this awesome deal today via my facebook page: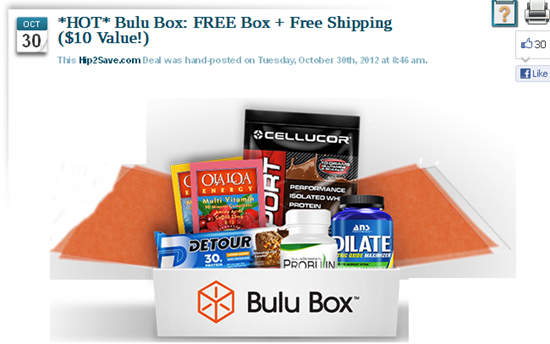 a free box of random goodies and free shipping? no strings attached? of course i cashed in on that business. the only thing i have to do is make sure to cancel my subscription before next month (unless i love the box, then i will probably not cancel.) can't wait to try my bulu box. i love those monthly box subscriptions and this one looks cool. it has lots of health-conscious items including protein powders, supplements, and vitamins. i even saw fitmixer among their products!
i couldn't help but spend a little more time on the deal website (called hip2save) to see what other deals were offered. in the end, i snagged a couple more bargains.
first, i used the k-cup code to get a box of 24 for six bucks (plus shipping).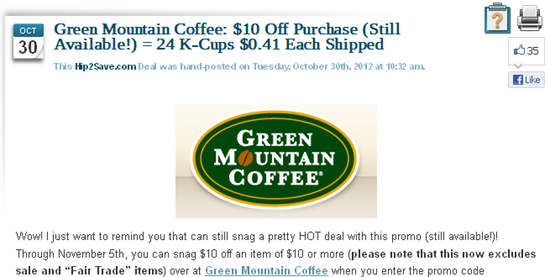 i got this black tiger blend for marshall. he loves dark coffee!
i am sure it will be super good.. i love green mountain coffee. they were actually a sponsor for blend retreat last year!
the other deal i took advantage of was for another box—a love with food box.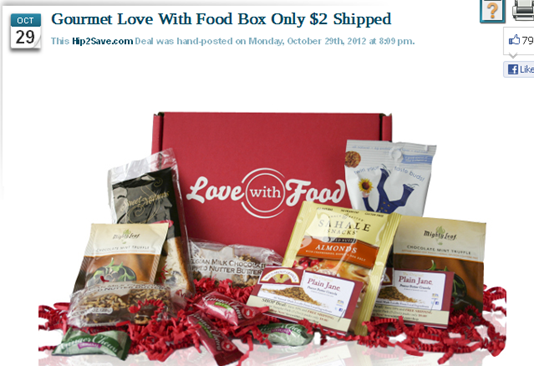 i noticed a couple brands i love in the box including nuts about granola, somersaults, and bonne maman.
the other cool thing about these boxes is for each box sold, a meal is donated to a hungry child. love that!
i signed up for the monthly box and paid just $2. it's like the bulu box, where i can just cancel the subscription after the first month if i choose to. what a deal!
the last thing i needed was another deal website.. i already subscribe to groupon, living social, and ksl deals. i am HOOKED on myhabit for limited-time deals. i also love to check whiskey militia and steep & cheap. i can't be stopped! but, man, i am a sucker for a bargain! i blame momma b for passing that trait onto me. but, lets be honest, it is not that bad of a character flaw, right?!
anyway, just wanted to share the savings love! hope you all had a great tuesday and have a happy halloween!
Qs~
1. what is the last thing you purchased online?
2. any killer deal websites you'd like to share with the class?
xo. janetha g.