remember my mantras post last monday? well, it seems like i was not the only one feeling a bit sluggish, bogged down with sugar, or wanting some accountability going into the holiday season. the trainers at my gym have come up with a challenge to keep us in check right up until thanksgiving! it runs from today, october 29, until wednesday, november 21.. so it is just over three weeks.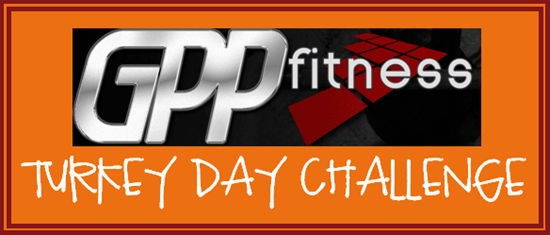 this challenge is for EVERYONE, not just locals who attend gpp. we have people from all over the world who have committed to the challenge! hopefully some of you want to join us. not only will this challenge keep you accountable, but it will also help raise donations for those in need. it's free to join, but in order to keep you accountable, you will have to pay up when you slip up! all proceeds from this challenge will be donated to our local food bank.  the details for the challenge are below, taken from gpp's site.
Beginning Monday Oct. 29 we issue this challenge to those who need to clean up their eating, become more committed to exercise and improve health. 

You may eat NO ADDED SUGAR – no white sugar, no brown sugar, no high fructose corn syrup (you'll have to check labels for this sneaky beast). Honey and agave are ok. Unprocessed fruits are OK.  You can have Splenda and Asptartame, but why the H would you want to?  Basically, anything that is a sugary sweet eaten for pleasure alone is off limits.  Just until Thanksgiving day.
You must complete 5 GPP workouts per week PLUS three extra 30 minute cardio sessions per week. (if you don't GPP, then replace the 5 workouts with your own five from your workout routine.)
You are to pick a health related challenge to stick to.  Once picked, you should post this healthy challenge and how you will be accountable for compliance to it.  For example: you may choose to begin a few rounds of BCD & post (daily) whether or not you stuck to it.
Below are a few suggestions of health related challenges you may consider:
Comply strictly with a GPP meal plan.
Get 6-8 hours of sleep per night.
50 extra burpees per day.
Pray/meditate daily
No unhealthy snacks.
Take a daily multi vitamin.
5 servings of fruits + 5 servings of vegetables per day.
Eat .9 g of lean protein per lb of lean body weight daily.
Eat healthy & correct portions of breakfast/lunch/dinner.
Weekly community service.
Weigh & measure weekly.

If you are going to commit to any of the above, you have to be committed enough to put some teeth into it.  In other words, it has to HURT if you break your commitment.  So here is how that works:
You must commit to, and define your intention to complete the challenge to comments. <—click for the link to the post where you will commit!
You must post daily results of your challenge to comments.
There are penalties for not following through.  Each time you miss a workout, indulge in a sugary treat, or mess up on your personal goal (your observable, measurable & repeatable one) you are to pay $1, or 1 can of food for every offense!  Strictly enforced by HONOR.  These are to be dropped off at GPP HQ. (or if you aren't local, collect your money/cans of food and donate to your local food bank!)  Questions or exceptions are to be voted upon by those in the challenge.  Majority rules!
All of the money raised and food items collected will be donated to the Bountiful Food Pantry.
Challenge ends at midnight, Nov. 21st. 
We invite anyone looking to get a healthy jump on this holiday season to participate!  We look forward to your successful daily posts!

pretty great challenge, right?! i am excited for it.
it took me awhile to decide what my third commitment would be. there are so many good ones that came to mind! i have a lot i could work on, but i don't want to bite off more than i can chew. in the end, i chose two because i couldn't decide! i also chose to tweak the other ones just a bit (see below.)

no added sugar *except* for the small amount found in my protein shakes, bread, certain sauces and dressings (but NOT HFCS or refined sugar!), and other random items i deem healthy. by this we are talking <2 grams of sugar. there are particular items that do have a small amount of evaporated cane juice or something similar and i do not consider them a "treat". the point of this challenge (for me) is to knock off all the treat eating, so if i have some balsamic salad dressing with one gram of sugar in it, that's not breaking the rules.
5 GPP workouts a week (monday through friday) + three 30 minute cardio sessions a week. saturday's GPP workout, should i choose to do it, can act as one of the cardio sessions (no matter how long or short it is.)
drink at least 96 ounces of water daily. that's four of my 24 oz contigo water bottles.
NO BLTs! i am notorious for grabbing Bites, Licks, and Tastes of everything in sight. for this challenge, if i am going to eat something, it has to be a part of my meal or snack. no handfuls of granola, spoonfuls (okay, fingerfuls) of peanut butter, or thirteen bites of the cookie dough while i am baking. no more.
i am printing out this commitment with my list to keep as a reminder for the next few weeks!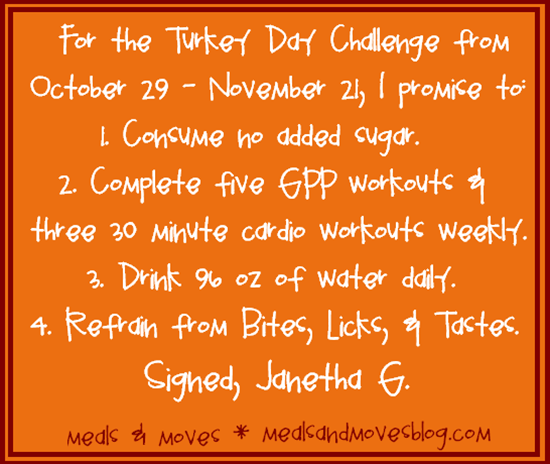 i always love participating in group challenges, so i look forward to doing the turkey day challenge with everyone.  i will be posting my daily results on the GPP site, but won't be blogging about it every day. so if you are interested in following the challenge, you can do so there. i really hope you guys hop on board and join us all in the challenge! it's free (haha.. well.. as free as you make it, that is!), it's fun, and it's for a good cause.
Q~
what is something health- or fitness-related you'd like to work on in november?
xo. janetha g.