hola!
so, it's snowing here in the great SLC! i do love snowboarding and winter, but it caught me a bit off guard today! it makes me just want to curl up on the couch and watch re-runs of the family feud. wait, i want to do that even when it's not cold and snowy. marshall is working out of town so i am all alone and it's pretty sad and lonely. at least i have these two rascals to keep my company!
love them.
i thought i'd answer more questions tonight, i have lots to knock out so sorry if i haven't got around to yours yet. slowly but surely!  oh, i keep getting repeat questions about GPP and about body for life, so make sure you check back to my previous installments for those answers. i am skipping over any repeat questions i receive. i will leave links to previous installments at the end of this post!
here we go.
Q: Do you ride park?
A: what a good question since it is snowing right now! for those of you not hip to the lingo, this question is asking if i ride in the terrain park while snowboarding. once upon a time, i was a park rat. then i broke my humerus. now i am a scaredy cat. i do hit boxes and little kickers here and there, but not much these days. i would rather ride backcountry or in deep powder tree runs, anyway. luckily utah is known for the best snow on earth! (who am i kidding, though, i get hurt even before i GET to the ski resort! ahem.. broken nose.)
Q: Have you ever smelled Randy and Penny's feet? Every dog I've ever owned had feet that smelled like crackers or some kind of salty snack. Strange, but true. 

yes. randy is laying in penny's crotch here. i don't know.
A: YES YES YES. i agree with you 100%! dog feet smell like popcorn. or corn chips. fact of life. go sniff your dog's paws. it's true. very random someone asked this, but it only further confirms the fact.
Q: Any tricks for using laughing cow in recipes (like make it room temp first?)? Every time I try to follow a recipe that includes laughing cow, it's an absolute fail.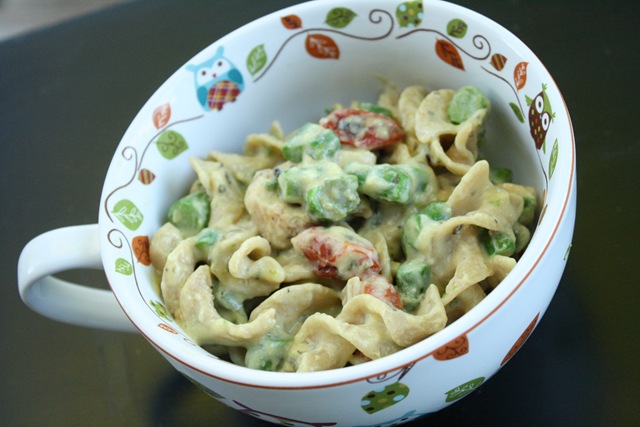 A: oh, no! sorry to hear your adventures with laughing cow are less than stellar. whenever i am using laughing cow in a recipe (rather than just spreading it on some toast or topping some scrambled eggs) i like to heat it on half power in the microwave for 30 seconds. make sure you remove the foil before doing this! nobody needs sparks. if i want to make a cheesy alfredo-ish sauce, i will combine a wedge or two of the laughing cow with some milk and heat it in the microwave, then pour the sauce over whatever i want! it's good over meatballs, chicken, pasta, veggies—basically anything! i love laughing cow! for a few of my fave recipes: click, click, click, click.
Q: Hey Janetha, I know your really into fitness and trying new things. Do you think you'll ever do a fitness, figure or bikini contest like your friend Kerryne??? -Sarah @ The Healthy Diva :)
A: nope! i can honestly say i have zero interest in getting on stage in front of hundreds of people in a bikini. i give serious props to the ladies who do this—it takes some confidence and some guts! neither of which i have. and i am okay with that. i will keep supporting my hot friends from the audience!
Q: GPP workouts seem so short, time wise. 20 minutes or however long it take you to finish the WOD. How do you feel your fitness level is compared to before GPP? Just trying to figure out the craze with Crossfit style gyms when the workout are so short.
A: i am going to be 100% honest. i am in WAY better shape now than i have ever been. and i work out WAY less. my workouts are super short. some as short as even 8 minutes! on average, though, workouts are 20-25 minutes 5-6 days a week. they may be weird workouts.. like tossing plates down a line (shown in the photo above) but these sometimes weird workouts WORK!
GPP has changed my life. these workouts have allowed me to get more done with my body in a shorter amount of time. neil, the owner, has a minimalist approach. he wants people to get the most bang for their buck. he wants people to get in, get out, and get on with their lives. nobody should be living in the gym! there is no reason to be there for hours at a time—or even ONE hour at a time.
it's pretty cool to see the changes in both my body and my fitness level since i started GPP back in april. i attribute this to the constant changing up of workouts each and every day. jillian actually wrote a great post about this concept the other day, check it out. throwing so many different things at our body keeps us in check—we never adapt and we are always improving!
i mean, the fact that i was able to complete tough mudder with no training AND my workout results are constantly improving says a lot about GPP workouts. they work. end of story.
Q: How do you split up your training days? When working out 6 days a week do you do weights AND cardio all 6 days?
A: no way. i would never do cardio six days a week, haha. like i said above, i just follow the GPP workouts, so i don't plan ahead. but i do know a bit about the programming since neil is training me to be a trainer.
basically, there are ten aspects of fitness that need to be hit multiple times each week. those aspects are cardio/endurance, strength, stamina, power, speed, agility, coordination, balance, flexibility, and accuracy. so it's NOT just about weights and cardio! most people at GPP don't go on saturday, so he tries to hit these ten things in the five weekday workouts, and saturday is a bonus round!
we never really know what is going to be thrown at us, but tuesdays are always heavy lifting/strength-focused days and you can always expect mondays and wednesdays to be pretty brutal. abs are usually hit near the end of the week, but sometimes they are thrown in on a monday, too, so you really don't know what to expect. the nice thing is, you don't have to worry about it. just show up and do the workout—no thought required. that's what i love. i always record the outcome of my workout in case we come back to that one later—i can see how my time improves.

i improved my time on this workout (fitzoner) by 3.5 minutes in just a couple of months.
from the GPP site:
"If you follow our programming, each week you will gain balanced (left to right, top to bottom, back to front) and measured increase in each of these important aspects of your health and fitness."
there's a method to the madness, i know that for sure, so i don't question it.
Q: I'm curious what changes you've seen in your body and fitness capacity since starting GPP. Their workouts are legit!
A: this goes along the same lines as the previous two questions, so i have kind of already answered it. but i have definitely seen awesome changes in my back, my abs, and my ARMS. i hate, hate, hated my arms for ever and ever. but thanks to the mixed up workouts at GPP, i am actually starting to really love them. i have noticed they are changing—big time—and i am thrilled. no shame in being stoked on results you see from diligent training!
what i like so much about my situation now is that i really have been a slack ass on my clean eating, but my workouts are intense enough that—on the outside–i haven't suffered a great deal from crappy eating.  on the inside, however, i definitely have. that's why i wrote my post on monday—i just feel crappy and need to clean up my diet!
knowing that i am eating worse than i used to AND i am exercising substantially less than i once was makes me even more happy. that means when i actually do get my diet in check, i can expect even better results. cool.
several people who train at GPP constantly PR their race times simply by showing up to GPP every day. they train less for their races and end up with better finishing times. like i said, i don't question the method to the madness. the programming works and i will gladly reap the rewards from completing the workout each day.
Q: OK, this is kind of a personal question, but … do you still have abs? How hard was it (really) to get them? At what point in your BFL Challenge did they show up?
A: we all always HAVE abs! they are just sometimes covered by a nice, warm layer.. right? ha. to be honest, i had a bit of a—uh—winter layer to get rid of at the beginning of this year after an indulgent couple of months that started with my trip to mexico and went downhill from there. haha. i was happy to see my linea alba (the line down the middle of my abs) came back out to play after awhile of following the GPP workouts, which is nice.
since you asked about my BFL challenge, you can see my abdominal progression below, click the photo to enlarge.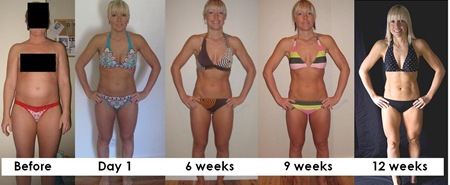 as far as abs showing up.. i really think this has SO MUCH to do with genetics. not everyone can achieve a six pack or "washboard abs" or a super flat tummy—their muscles simply do not have that make up. you could lose almost all your body fat and you still could not have whatever ab look you are after, simply because you are not built that way. don't get discouraged… just focus on being happy with the muscles you DO have.
personally, i used to wish i could have a totally flat stomach. i can't. no matter how lean i am, i always have a slight bump under my belly button–i had it even at my leanest of 13% body fat. i got over it. who cares? nobody else does, so why should i? try to adopt that mentality if you are discouraged with the body god gave you. i mean, you should be pretty stoked you are in a position to actually care about how your abs look. thought catalog's "18 signs you're doing better than you think" made me think of that last thought. it's a good article.. read it.
Q: What type of company do you work for?
A: i work for advanced window products. we manufacture and install vinyl replacement windows for residential homes. i am the CEO at the company.. meaning the "chief everything officer". ha. i do lots of stuff there—accounting, human relations, customer service, you name it—i do it. it's fun, though. i love the company i work for. we are like a family. a slightly dysfunctional family—but a family, no less. plus, i met marshall there. AND i get to work with two of my best friends, amanda and kerryne! if you ever need vinyl windows, siding, or roofing… i am your girl.
that's all for this installment! here are the links to previous installments:
remember, you can ask me anything using the anonymous box in my sidebar to the right. no guarantees on how quick i will answer your question—haha, sorry. i am slow!
Qs~
1. if you work, what type of company do you work for?
2. how do you split up your training days?
xo. janetha g.