ali posted this this morning. i needed to read it—i have been slacking and my future self is gonna be mad if i don't get a grip.
this post isn't about beating myself up or being hard on myself for slacking, so let me make that clear from the get go. (who the hell came up with the term "get go"? it's so weird. is it supposed to be one word, "getgo"? i don't think so.. hmm..)
lately, i've been beyond lenient with my eating habits. i think the whole two vacations, two weddings, and multiple birthday celebrations in the past six weeks are the reasons i have so easily let my healthy habits fall by the wayside. i just got more and more lax with my habits as the weeks went on.
i've been eating out more than six times a week. (i typically like to stick to two, tops. it's friendlier on the wallet and waist.)
i've been eating tons of sugar all day long—chocolate, ice cream, sugary cereal, cookies, cupcakes, you name it.. i'm eating it. and if i could just stop baking it, maybe i'd stop eating it.. but i cannot be stopped!
i've been neglecting protein and, for the most part, have been eating carbs like its my job. pumpkin butter and strawberry jam sandwich with a side of honey nut cheerios? sounds like a perfect breakfast to me! oh, wait. that's all carbs.
and, no, not the "good" carbs. i've been focusing on the white ones, the sugary ones, the liquid ones… i don't think those are "bad", but i also think i should probably be eating the carbs most of the population refers to as "good". you know what i mean.
there are days i don't eat a single vegetable. in fact, multiple days go by without a veggie in sight. it's even worse now that our vitamix is broken which means i don't even have my morning fruit & veggie juice. (the new part for the blender is on its way!)
again, i am not writing this to beat myself up. i really don't get down on myself these days. i don't think i am gaining weight (although i could be, i don't weigh myself) so i am not writing this from an "i am so fat!" standpoint. (in fact, i love the way i am looking these days. no shame.) i am simply writing this to take accountability and say, "hey! self! you should probably eat a vegetable. and cut back on all those damn cookies. but the ice cream habit can stay."
because i feel crappy. i feel lethargic. i feel like i NEED sugar all the time. i crave it. i have less energy. i just don't feel very GOOD.
i have no problem eating anything and everything under the sun. and the moon. i don't have any foods that are "off limits" or "unapproved" or in some way banned from my life. i've been there, i've done that. it's not for me. but i also haven't been using that whole moderation motto—which, i believe, needs to be in place if you are eating anything and everything under the sun and moon. know what i mean?
so, as the holidays draw near, i decided i better take a step back and seriously evaluate my all-over-the-board eating habits as of late. i can eat the things, but i should not EAT ALL THE THINGS. i just need to reign it in every so often… and now is one of those times.
i thought back to the last time i was actually doing well with my diet—it was in august, thanks to Rx+ week at my gym. i read two mantras from fellow GPPers that week and i remember LOVING those two mantras. today, i decided to look back to those mantras in order to give me a virtual kick in the butt with things.
"it's just ONE day." – Jody
jody says:
Every year my extended family goes to Bear Lake for the day and when we are finished we get shakes. This year our trip occurred during Rx+week. My husband asked if I was going to get a shake. I said no. He replied, "Oh come on now. It's just one day." I passed.
I have been thinking about that statement, "It's just one day," and how just one day is holding me back from reaching my ideal health goals.

I started thinking about all the birthdays, holidays, annual traditions etc., that find me using the excuse, "It's just one day" to justify poor eating choices. So I wrote them down. In my little family of five divine souls, there are 42 "just one days." Start adding the annual vacation, camping trip and extended family functions and that's a whole lot of just one days that usually spill over into one or more days with leftovers.

So anyway with the self-evaluation I have been doing this week, I decided to use "It's just one day" as my mantra. I can choose to pass on the birthday cake, the shake, the smores, the second serving, the whatever….because after all, "It's Just One Day."
there are definitely special occasions. there are days—and even weeks—that i will eat all the things. like when i want to chicago.. holy crap, i added it up and i ate over 12,000 calories each day i was there. no, not exaggerating. i was living it up! when i am on vacation, i think you should definitely eat whatever you want—that's part of the fun.
the rest of the time? you should be selective. as jody said—when you add up ALL the special occasions, that's a lot of indulging. and i like that she points out the fact that those special occasions have leftovers and the celebrations spill over into the next day… or week. pretty sure the entire time between thanksgiving and new year's day is spent celebrating one thing or another. with food, of course.
in the future, i will be mindful of which days are most important for me to really throw all caution to the wind. for me, that's when i am on vacation. other specific days that come to mind are thanksgiving, christmas eve, christmas day, and my birthday. i don't think every single family or friend get-together is reason for a 12,000 calorie day (okay, okay, i know going out to dinner and celebrating does not have to add up to 12,000… but when you factor in drinks, appetizers, entrees, and desert into the equation—it adds up quick!)
remember, i am all for having treats and dessert on a regular basis. the indulgences i am talking about here are the overboard ones.. not the bowlful of ben & jerry's on a weeknight. i have those often.
okay, you got me, i typically don't bother with a bowl and i eat it straight out of the container. like the other night.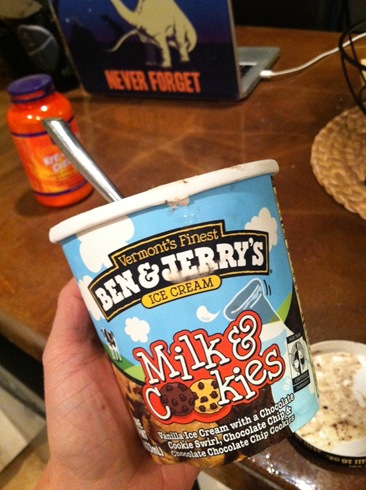 pick your battles—or in this case, pick your days to splurge. don't be stingy with your celebrations, but also.. don't be a celebration whore when it comes to food. your future body will thank you. promise.
onto mantra #2!

"i already know what that tastes like." – Chantelle
chantelle says:
Last night I was at a school meeting and not eating the refreshments. My friend asked why, and I explained about Rx+ week, that I'm so close to being perfect, and how I'm not messing it up on Thursday night. She said, "that's okay, you already know what a brownie tastes like."

I do, I already know what a brownie tastes like, I have eaten one before. I've eaten cake and cookies and ice cream and chips and corn dogs and nachos and…and…and… It really, truly helped me last night. I'm sure it will in the future. I can say no because, "I already know what that tastes like."
i think this one is particularly great as we head into the holiday season.
i am all for indulging in some holiday treats, but i swear there is a new tray of goodies every day for three solid months—i cannot justify eating everything! instead, choose your indulgences wisely! if it is some new, fabulous, treat (like those double chocolate covered pumpkin spice swirled cream cheese brownie cake cookies that your co-worker found on pinterest) that you have never tried and REALLY want to try—then by all means eat one! but if it's a box of store-bought pumpkin chocolate chip cookies that you have eaten year after year after year and have luke-warm feelings for? meh, skip it.
ha.
these next few months, we are all bound to be faced with endless delicious options. there are bound to be new ones. of course, there will be the old favorites. if the indulgences you face are something you have tasted and could go without, just tell yourself "i already know what that tastes like." and skip it. if it is something you simply adore and LOVE what it tastes like, then, yeah, eat it. god knows i will be eating all the thanksgiving stuffing i can get my paws on—for days on end. i know what it tastes like and it tastes delicious and i am not willing to say no to it.
again, pick your battles. think about your choices before you aimlessly devour every single fun food you are faced with this holiday season. i promise, you will always have the chance to those things again. there's always a holiday. there's always a celebration. there's always a reason.
feel free to put these two mantras to use in your own life. chances are, your future body will thank you.
in related news.. everyone should check out the article: "for the millionth time, i'm not hungry" on thought catalog. it is about turning down food without hurting feelings–which, in theory, should be a simple task.. but i know we all struggle with it. it's a great read, check it out!
Qs~
1. what is one of your favorite mantras in life? why?
2. any thoughts to add regarding keeping yourself in check during the holiday smörgåsbord? 
xo. janetha g.