HEY! happy friday to you!
just a reminder, the burpee mile is going down tomorrow!! the event starts at 10 AM in murray park. here are the deets: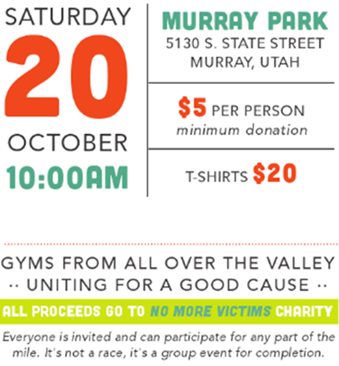 registration is $5 and you can definitely register day-of… i will actually be registering people before the event! come see me! if you want to avoid the wait, though, do yourself a favor and register online here.
the burpee mile t-shirts turned out SO cute. check them out! (front/back)
to snag a t-shirt, go here (second row down.) ALL proceeds (for registration AND shirts) go to no more victims—a charity that helps sexually abused children. you don't have to actually participate in the burpee mile to buy a shirt. click here to read some thoughts on wearing the shirt without actually doing the mile. remember, this is about supporting a cause rather than actually doing a mile of burpees. if you can't make it or if you don't live here in utah, feel free to purchase a shirt and wear it proudly knowing your $20 went to a wonderful cause. also, if you plan to participate in the burpee mile offsite, go here for information! i know bonnie is planning on it.. hope some more of you join in!
hope to see many of you tomorrow! if we have never met, please come up and introduce yourself to me. i look forward to it!
now, onto friday fun.
i found this foodie info to be super cool. it's actually from an email i received years ago and just found it while looking for an old email—so i don't know who or where to credit (photos included.) but i thought i'd pass it along!
carrots.
A sliced carrot resembles the human eye including the pupil, iris, and radiating lines. Science indicates that carrots help protect the vision, especially night vision.
tomatoes. 
A tomato has up to four chambers and is commonly red. Tomatoes are rich in lycopene and helps prevent heart disease, prostate cancer, breast cancer and more. Tomato juice can also reduce the tendency toward blood clotting.
grapes.

Grapes hang in a cluster that resembles the shape of the heart. The stronger the color of the grape is, the higher the concentration of phytonutrients. Grapes prevent heart disease and reduce platelet clumping and harmful blood clots.
walnuts. 
Walnuts resemble the brain, mimicking the wrinkles and folds of the neocortex.Research suggests that walnuts may reduce the risk or delay the onset of Alzheimer's disease. The high concentration of omega-3 fats in walnuts promotes healthy brain function.
kidney beans.

Kidney beans, true to their name, are kidney shaped. They provide nutrients that are helpful to the human kidneys. Kidney beans contain molybdenum, which helps sulfite oxidase to form and is responsible for detoxifying sulfites.
celery.
Celery has a bone like appearance and is rich in silicon and Vitamin K, which are needed for healthy joints and bones
avocados.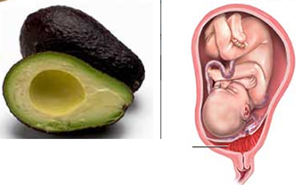 Avocados target the health and function of the womb and cervix of the female – they look just like these organs. Today's research shows that when a woman eats 1 avocado a week, it balances hormones, sheds unwanted birth weight and prevents cervical cancers. And how profound is this? …. It takes exactly 9 months to grow an avocado from blossom to ripened fruit. There are over 14,000 photolytic chemical constituents of nutrition in each one of these foods (modern science has only studied and named about 141 of them).
sweet potatoes.
Sweet potatoes resemble the pancreas and have a low glycemic index count, which is beneficial for diabetics.
olives.
Olives resemble ovaries and may help reduce hot flashes in women going through menopause. Research indicates that Olive Oil may reduce ovarian cancer by 30%.
citrus fruits.
Grapefruits, oranges, and other citrus fruits have been compared to the appearance of female mammary glands. These fruits contain nutrients that are helpful in the fight against breast cancer.
ginger.
Anyone who's ever reached for a glass of ginger ale when they've had a stomachache knows about the antinausea effects of ginger. So it's fitting that the herb somewhat resembles the digestive organ. According to Dr. Moulavi, "gingerol, which is the ingredient responsible for ginger's pungent scent and taste, is listed in the USDA database of phytochemicals as having the ability to prevent nausea and vomiting."
red wine.
Red wine, which is rich in antioxidants and polyphenols, including powerful resveratrol, looks like blood. "When you drink it, you're really loading up on the healthy stuff that protects against destructive things in the blood, like LDL cholesterol, which can cause heart disease," says Somer. "There's also a blood-thinning compound in red wine, so it reduces blood clots, which are associated with stroke and heart disease."
have a great weekend! hope to see some of you in the morning :)
xo. janetha g.