hi!
so, i mentioned the other day that my feet are hurt. they started hurting during the last couple miles of tough mudder on saturday and by sunday morning i could barely walk. i wasn't sure exactly what was wrong with them, but i did know it was absolutely painful to walk. it still is—just not quite as painful. luckily the severity of the pain has subsided over the past few days.
the upside to injury? sweet friends like lizz bring me delicious, buttery, home-baked rolls so i can eat my worries away.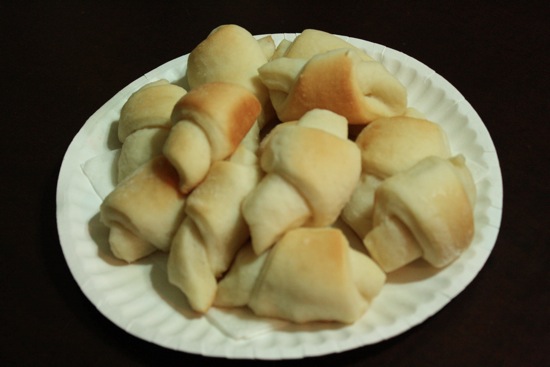 (she brought these sunday. i polished the last one off yesterday. i couldn't enter or leave my kitchen without eating one. so tasty.)
i am blessed to have a best friend (otherwise known as kristen) who is a physical therapist AND she has family and friends in the field. fortunately for me, she set me up with her friends at neuroworx to see just exactly what is up with my feets.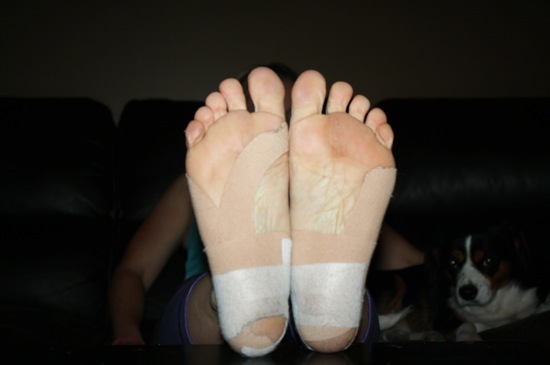 (feet are not very cute. just sayin.) 
there is this cool contraption called a pitchfork that helps test for stress fractures.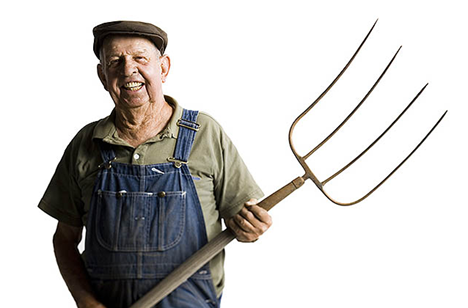 no, not that kind. it's a metal instrument that she tapped on a hard surface (so it was vibrating) and then held it to my foot to see if the vibration caused any alarming pain. luckily, it didn't. (i realize that any PTs reading this are totally shaking their head with my botched description of this method…)
so, yay!, more than likely not a fracture. the only real way to be super sure is to get an MRI, but for now the diagnosis ended up being peroneal insertional tendonitis. that's a mouthful, right? here are a couple articles online about the condition: article one, article two.
a brief explanation of what it is, taken from the article linked above:
Peroneal tendonitis occurs as a result of acute or chronic overloading of one or both of the peroneal tendons. Peroneal tendonitis results when a load is applied to the tendon that is greater than what it can sustain over time. The location of pain associated with peroneal tendonitis is distal to the lateral ankle and just proximal to the 5th metatarsal base as seen in the image to the right.
there are three reasons (that i can think of) why i ended up with this injury:
uneven terrain during tough mudder—lots of holes, hills, mud, dirt, and other unstable situations for 12 miles that forced my ankles and feet into many foreign positions in a short amount of time.
i had never run more than 10k (6.2 miles) consecutively in my life… and then i went and ran 12 miles. yep, i am fit enough to do something like that, but my feet were asking WTF was going on!
i wore my minimalist shoes. i have been wearing vibram five fingers or new balance minimus shoes for over a year now, so i didn't think wearing "regular" shoes would be a good idea for tough mudder (since it's not what i am used to.) however, i had also never run 12 miles before! so the lack of padding and support in my shoes during the race probably played a role in my injury.
so, yep, that's why i'm hurt. not a very good story, but a story none the less.
my friends at neuroworx treated my feet with ultrasound, an ice massage (not as relaxing as the type of massages i'm used to!), and finished them off with some kinesio tape. i have been instructed to continue taking an anti-inflammatory, ice the affected area, and give my feet some rest. this is where the sitting-for-8-hours-at-my-day-job comes in handy… luckily i don't have to be on my feet too often!
it's definitely discouraging that i have this injury to deal with for a few weeks due to tough mudder, which was just a few hours of activity. while my fitness level is in line with the challenge i faced with the race, my feet were not prepared to take such a beating. i am trying not to get too hung up on the situation, because there's nothing i can do about it now. hindsight is 20/20, right?
i found this paragraph about the healing process of tendonitis in one of the articles i linked above interesting:
"Tendon injuries, including peroneal tendonitis, are notoriously slow to heal. The reason that tendons are slow to heal is simply due to the fact that the blood supply to a tendon is limited and extremely fragile. As a result, tendons are poorly supplied with blood and are unable to respond well in cases of injury. When a tendon is injured, the initial response to the injury is that the tendon becomes inflamed. Inflammation is the primary means by which the body sends out a signal or call for help to manage the injury to the tendon. Inflammation is a signal that requests increased chemical and cellular responses to the injury. Inflammation is also the body's tool that is used to bring additional blood flow and oxygen into a specific area to promote healing."
let's not think about the "notoriously slow to heal" part—ugh–i found the bit about inflammation pretty cool. our bodies are built to send physical signals to injured areas immediately. so, while inflammation sucks and is painful, it's actually our bodies being super smart! here is the next bit about pain following the paragraph about inflammation:
"Why does tendonitis hurt? While inflamed, the tendon is actively working to repair itself. There's an acute influx of blood, oxygen and cells that results in swelling. The arrival of all these cells is a new and unusual activity in and around the tendon causing pain. Pain is simply nature's way of limiting physical activity and promoting rest. Although pain is not desirable, pain is our best guide to the nature and degree of injury and will help guide choices used in healing the injury."
pain sucks. there's no doubt about that. but where i read that last sentence, it made me like pain a little bit. pain is more than just a pain—it is a calculated way for our body to tell us to take a load off and give the affected area rest until the pain subsides.
this made me think of when i have a scab. i am one of those people who can't leave well enough alone and always tries to peel scabs off of my skin, but it hurts! duh, of course it hurts. scabs are there to heal our skin, and when it is painful to peel them away, our body is saying "don't flipping mess with that scab! i made it to fix your injury!" i need to go through this thought process the next time i am tempted to mess with a scab.
i am glad i read up on injury, inflammation, and pain. i am more likely to actually give my feet a break rather than ignore the pain and make matters worse. i have been rowing at GPP this week instead of running, and i skipped out on the squats from monday and tuesday. i also have been forgoing burpees.. can't say that i am missing those, haha. i rowed a 5k today instead of doing burpapalooza. i won't be running for awhile, which you know i am not complaining about a single bit! i do have a 5k to run on october 27, so i am hoping things are feeling better by then. if not, i will just have to cheer my friends on from the sidelines. after all, i only have one set of feet… gotta take care of them!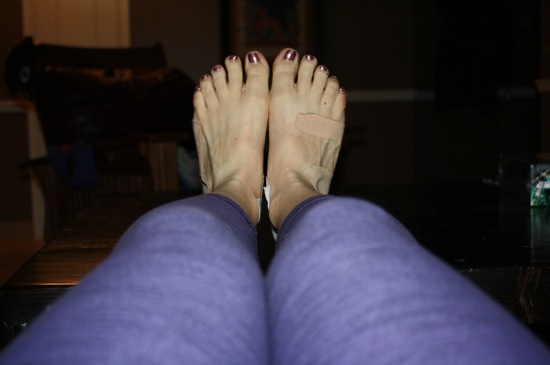 Q~
what was your worst/most painful injury?
mine was for suuure when i broke my arm while snowboarding.
xo. janetha g.