hi! happy sunday. i am currently lounging on the couch with marshall, penny, and randy. the dogs are sleeping. marshall is watching football. and i have a bag of frozen shelled edamame on my foot. it's real hard for me to walk. that would be a direct result of yesterday's event: tough mudder.
yesterday morning i woke up bright and early–wait, scratch that, dark and early at 4:30 AM. there wasn't a brightness in sight, since it was many hours before the sun would rise. i had never done a 12-mile obstacle mud run before (yep, 12 miles.. it initially was 10.1 but turned out to be 12) and actually had never run more than 6.2 consecutive miles before (i've done two 10ks in my life) so i had no clue how to fuel myself for the big event. so, i did what any normal person would do.. i ate all the carbs! i had some fruit, a bowl of cereal, some toast with peanut butter and jam, and half a bagel on the way out to the race venue. i also downed 48 ounces of water mixed with fitmixer aminos.
we got out to the venue just in time for registration. they marked our foreheads with our ID numbers using a black magic marker. it was cold. it was dark. it was WINDY. i was scared. not just a little bit nervous.. but straight up SCARED of the race. i actually wanted to bail out. or throw up. i didn't do either. instead, i put a smile on my face and snapped a photo with my awesome team, down n dirty, before we headed to the starting line.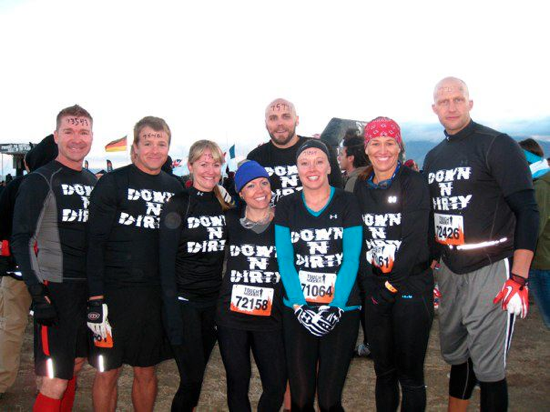 there were eight of us total. me, my bestie kristen (in the teal) and then six more people kristen knows–lyle, brandon, abby, charlie, mind, and matt. everyone was super nice, helpful, and fun to run with!
like i mentioned, the course ended up being 12 miles rather than 10 like i thought. here's the exact map of the course: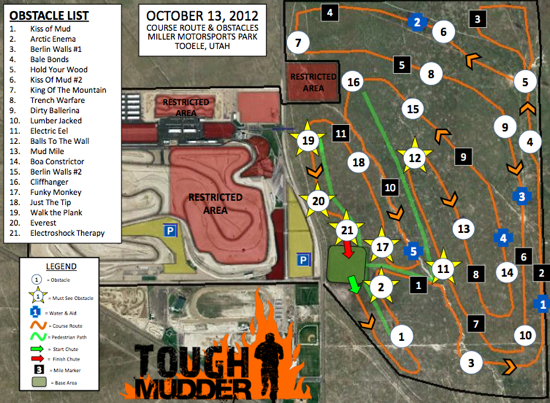 twelve miles containing twenty one obstacles. the ones with stars were "must see obstacles" for the spectators who came to watch the pain… er, the fun. marshall came out to watch, which was awesome and made me real happy. rory came, too, along with a few of kristen's family members. i stole all of these photos from rory, kristen's step mom, and marshall. thanks! i also took a few from the tough mudder facebook page.
the starting line was awesome. there was tons of energy thanks to the MC, the music, and the participants starting in my 8:20 AM heat time. we jumped around, recited the pledge, listened to the national anthem, and chanted a few pumped-up chants. before i knew it, we hit the ground running.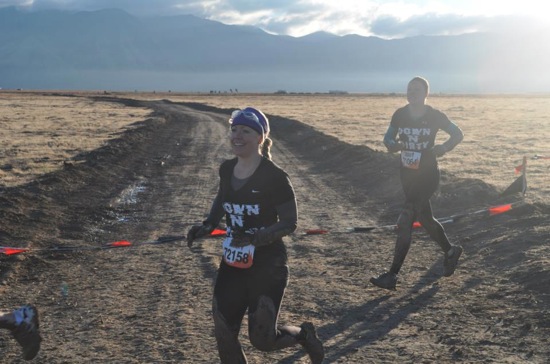 the first obstacle, kiss of mud, was nothing crazy. we army-crawled through some mud under 2x4s and barbed wire. i didn't mind the obstacle a bit… i was more worried about obstacle #2: arctic enema. a big tub full of ice water. it was even more fun than it sounds.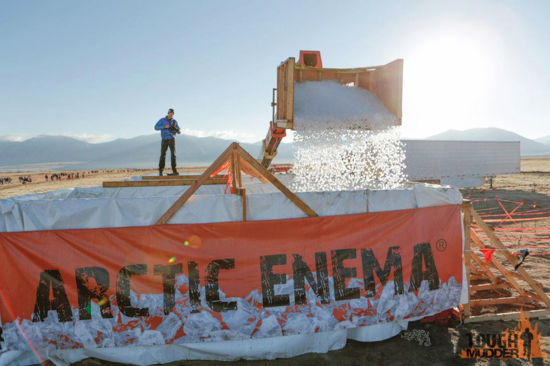 this was actually the obstacle i was most terrified for, so i am glad we got it over at the beginning. (although it ended up not being the worst obstacle of the race!) kristen and i hopped into the icy water together and came out SCREAMING. it was definitely bad. my muscles froze up and i am fairly certain my heart skipped a beat or two, but we made it out alive.
the miles went by as did the obstacles. obstacles 3, 4, 5, 6, and 7 were honestly not bad. the ones that were a little tough were simplified with team work–like the strong dudes on our team hoisting us ladies over the tall berlin walls and using group strength to carry a large log for a quarter-mile.
we got to #8, trench warfare, and i panicked just slightly. this obstacle was dark underground tunnels and i am very claustrophobic. the fact that there was lots of manure, bones, and animal carcasses surrounding the obstacle didn't make matters more pleasant.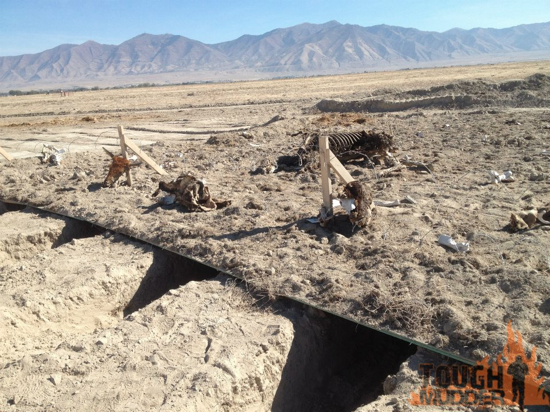 i wanted to opt out, but i went for it. there was a moment inside the tunnel where it turned a corner and i was in complete darkness. i freaked out just a little, but kept going and came out the other end being VERY glad that was over. ugh. i get nauseous just thinking about that one.
the next obstacle of note was #11, electric eel. i was worried about getting shocked (especially since the MC told us at the starting line that if we have metal in our bodies it might be wise to skip it and i have a titanium rod in my arm…) but i went for it.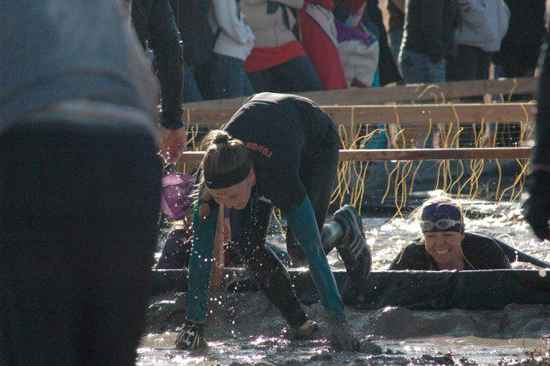 luckily, i only got zapped a couple of times at the end. this obstacle wasn't nearly as bad as i expected. however, kristen later told me that rory had informed her the electric wires weren't working properly and we had lucked out. oh well, i'll take it!
balls to the wall was one of the "surprise obstacles" that they announced the night before the race. this one was intimidating since there was a rope climb and i don't do well with heights. i actually ended up really liking the obstacle because my stellar teammates helped me up and over the wall and coaxed me down back to the ground. i couldn't have done it without them.
i was happy to see marshall's face during obstacle #13, mud mile. this one was not difficult, but the water was icy so it made it slightly uncomfortable. it's always good to get out of our comfort zone, though, right??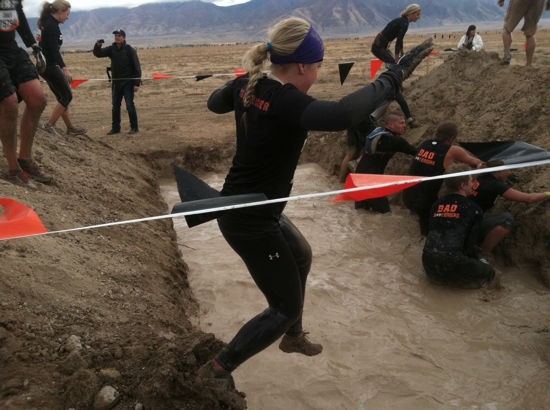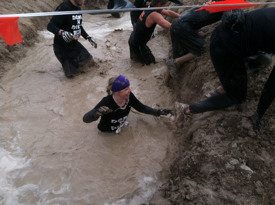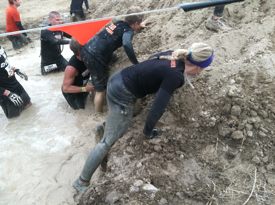 we rallied the troops for a photo op after mud mile.
we kept trekking through the tough mudder course. we were about eight miles in and my left knee was starting to hurt. remember, my longest distance prior to tough mudder was 6.2 miles, which has caused me serious knee pain both times i ran that amount. so when the pain didn't come until mile 8 (WITH all those obstacles added) i was actually surprised. it was mild, though, and i was fine reducing my pace and taking it easy on the running.
the next couple obstacles weren't too bad. boa constrictor consisted of crawling through tunnels full of stinky water and then berlin walls #2 was just like the first one but the walls were a bit taller. obstacle #16, cliffhanger, was TOUGH. there was a pit of water followed by a very steep wall of mud that we all had to climb up. our team ended up making a chain ladder with our bodies and each one climbed the ladder, helping each other along the way. i would have to say that this was my favorite obstacle when it came to teamwork. it was awesome to conquer that one together!
we kept running along the course, i believe we were all still smiling at this point!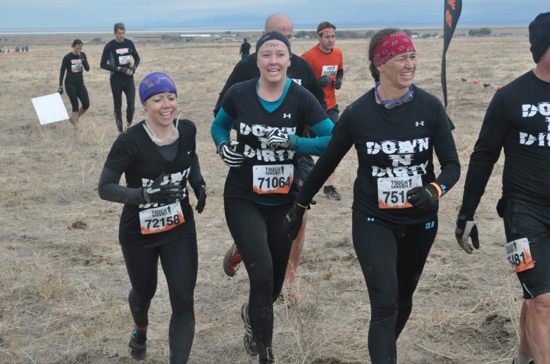 funky monkey was next–another one of the "surprise obstacles"–and you all know i cannot do monkey bars! i tried multiple times the other weekend, but failed miserably. i decided that my life WILL go on if i can't do monkey bars. never in my 29 1/2 years have i crossed a single set of monkey bars, so i knew this obstacle was out of the question. i did swim through the icy, murky water, though! i am not a total quitter–ha. but it was comforting that many people were opting to swim through the water instead of cross the bars. it was tough stuff!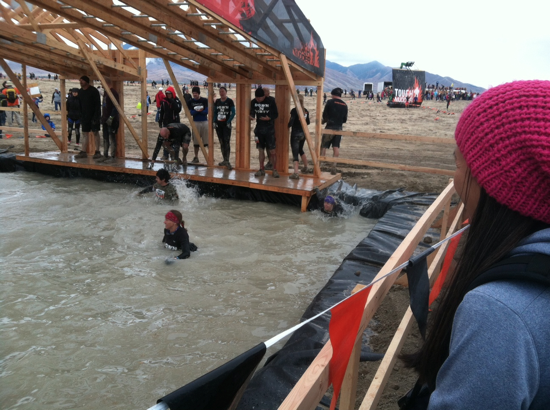 can you spot me in the water?
serious props to kristen who managed to make her way across a few of those slick bars. she's amazing!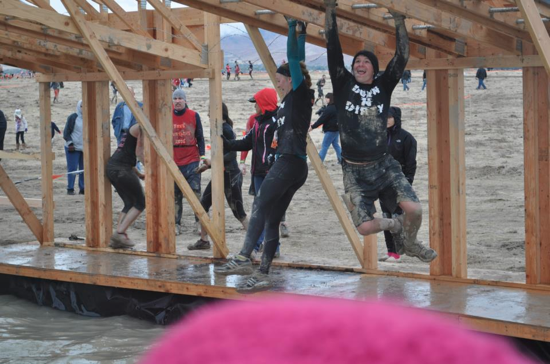 i was wet and cold after funky monkey, and the wind was picking up. it was overcast, a little rainy, and SO FLIPPING COLD. we had made it nearly ELEVEN miles, i couldn't believe it. by this time my knees hurt, my hips were aching, and the bottoms and tops of both of my feet felt like someone had taken a sledgehammer to them. hmmm. maybe my minimalist shoes were a bad choice? but i knew no other way–those are the shoes i ALWAYS wear. however, i had never run so far in my life.
the next two obstacles had more cold water to swim in. ugh. i was over the cold water obstacles. twinkle toes was a balancing act that resulted in the majority of participants (including myself) falling into the cold water below after losing balance. and the obstacle after that was walk the plank–pretty sure this was my second most hated obstacle. (i'll get to my most hated one in a minute.)
walk the plank required us to scale an incline to a 15-foot platform followed by an immediate jump into icy water below. the volunteers were rushing us through and there was zero time to even think before hopping off the plank, which i am actually grateful for. i would have psyched myself out and stood there for way too long if i hadn't been rushed! the reason i hated this so much was because A: i hate heights and B: more cold water… and this time it was deep. i plunged deep down into the icy pool and came up gasping for air, swimming as fast as i could to the exit and then scrambling quickly to get out. yuck. i hated it. for real.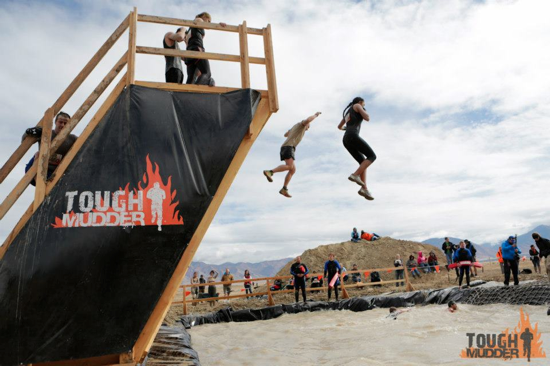 i was SO COLD after walk the plank. i think my face says it all: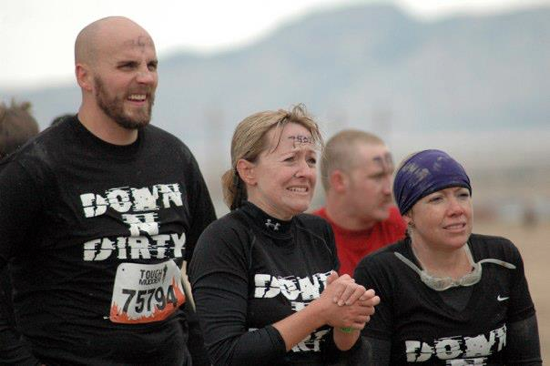 i was so glad we only had two obstacles left before finishing. the second to last obstacle, everest, was actually pretty cool. it was a greased up quarter pipe that we had to run up and over.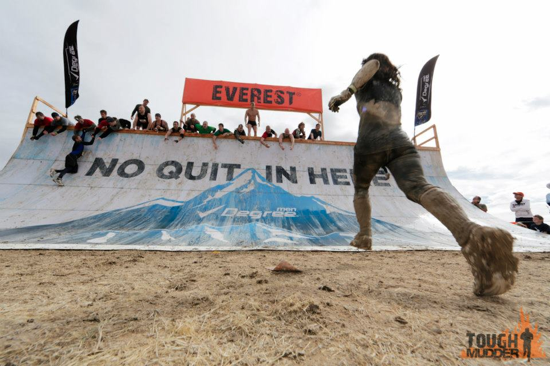 lucky for me i had big, strong guys on my team who pulled me up to the top of the pipe.
we crawled down from the quarter pipe platform on a rope ladder and face one final obstacle: electroshock therapy. this was a field of live wires carrying up to 10,000 volts of electric shock in each wire. ugh. did i really sign up for this?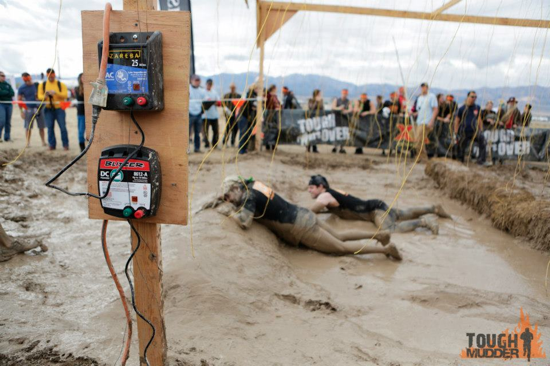 our team gathered together so we could all go at it at once.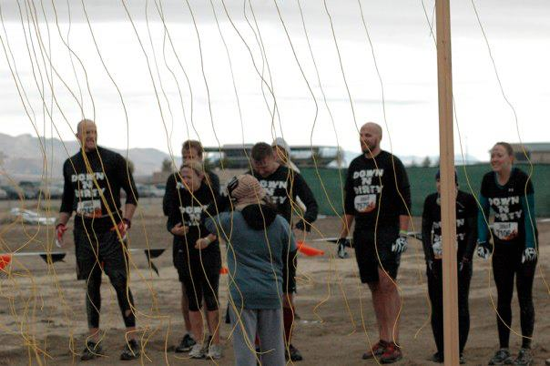 i started by running through the wires, but immediately was zapped to the ground, where i continued to crawl through the remainder of the field.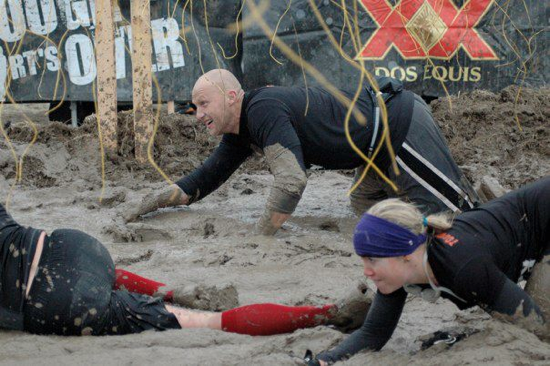 then at the VERY end of the race, it happened. a wire flicked me right between the eyes and i was shocked so badly that i blacked out for a very brief moment (just a few seconds) and then got up, disoriented, and stumbled to the finish line. you guys, it sucked. getting shocked between my eyeballs was seriously the single worst part of the entire race.. and it happened right at the very end in the last seconds of the 3+ hour experience!
but, thank god, i finished. with my team. they were awesome.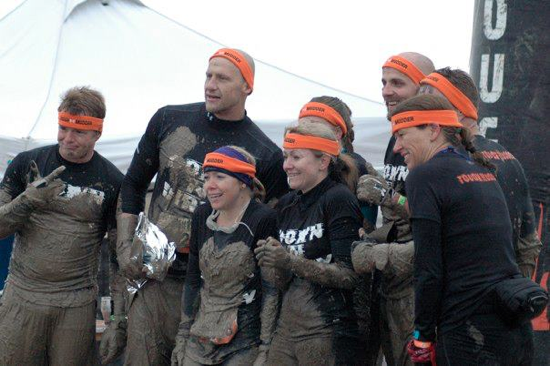 you can see i was less than stoked in the finish photo–ha.
the volunteers gave us heat sheets and i skipped my free beer at the finish line. i was so cold that my teeth were literally chattering!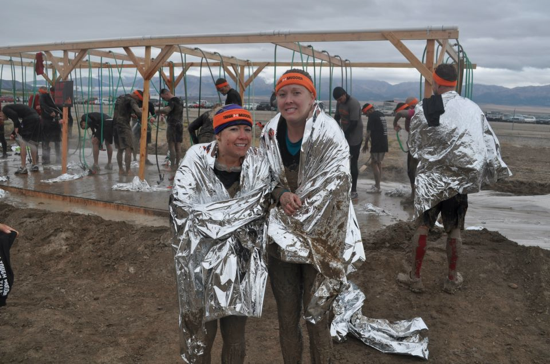 i rinsed off as best as i could and changed into some warm clothes. i was SO GLAD the race was over. i was cold to my bones, my joints ached, my head hurt from the shock, and something was seriously wrong with my feet.. i couldn't really walk. but i could definitely give a thumbs up!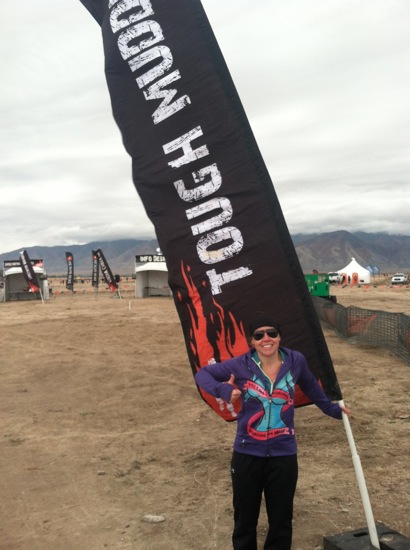 i was more hungry than i was worried about showering, so marshall and i went straight to the original pancake house where i got (hot!) coffee and a french toast combo.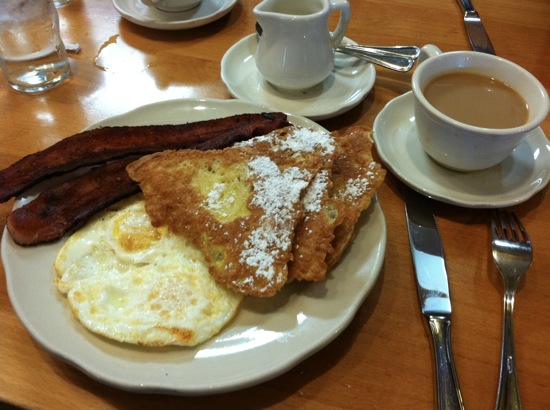 it was so good, and so needed. aside from my carb extravaganza in the morning, i only had a half of a peanut butter probar after the race and a half a banana and some sharkies (energy fruit snacks) that were handed out during the race. i was one hungry girl. marshall had worked up an appetite spectating, so he ordered two dishes.. cherry crepes and huevos rancheros (his fave!)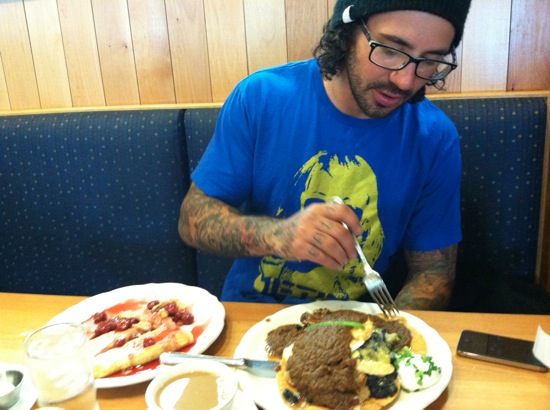 i stole many bites of his crepes and hash browns. yum.
i went home and only had a few hours between showering and leaving my house again for kerryne's bikini competition.. so i didn't snag a nap. i hobbled around all night (no, really, i could barely walk!) and then i got home last night around 11 PM. i passed out immediately. i slept a solid 11.5 hours before getting out of bed today. needed that!
i am actually kind of worried about my feet. i hope they are just sore from running so far–it's something i have never done, yes, but this pain is something i have never felt. i plan to head to a podiatrist if the pain gets worse or doesn't go away.
aside from my sore feet and achey hips, i feel great! while i did nothing to train for tough mudder, i managed to get it done with no problem. the only reason i REALLY hated it was the cold. the cold and the wind. when it comes to strength and endurance, i didn't have a problem with the 12-mile obstacle course. well–except for that whole electric shock thing–but that isn't something i could have trained for. that just sucked.  i give full credit to GPP for giving me the ability to complete tough mudder efficiently and without too much trouble. i believe in the programming and i can definitely see why GPP veterans consistently improve their race times simply by doing the GPP workout every day. it's crazy, but it works. and i am so happy to be a part of it all!
special thanks to marshall for not only supporting me at the race, but being super helpful afterward. love that guy. and even though she's crazy for making me do it, special thanks to kristen for roping me into tough mudder in the first place. for some reason she has the ability to make me do things i would NEVER typically do… that's what best friends are for, right? not sure i would ever do a tough mudder again, but i sure am glad i DID complete one and i lived to tell the tale. the entirely too long tale.. yes.. i realize this was long. thanks for reading!
well, my bag of edamame is now no longer frozen. i am going to go rummage around in my freezer to see if there's a random bag of something else i can use to ice my feet. maybe i will find some ice cream while i am at it….
Q~
what is the most physically challenging thing you have accomplished? and the most mentally challenging?
xo. janetha g.