i checked, and the last time i did a tuesday's entirety post was in august. that means it's time to ramble about my whole day again! just to warn you.. this could get long. and boring. read at your own risk.
things started off this morning by pressing snooze on my alarm clock three or eleven too many times.. meaning i didn't make it to GPP for the early morning class.. also meaning i barely made it to work on time. okay, i am lying, i made it to work 16 minutes late. that's okay, though, because i stayed 22 minutes past quitting time.
i drank my morning juice on the way to work. marshall is still making me juice every morning, and i am still happily drinking it.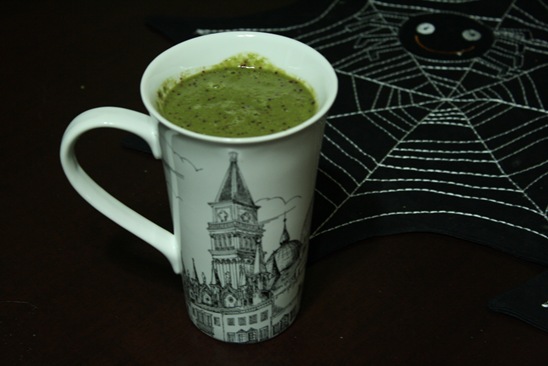 i owe you guys a post on how marshall makes this whole-food juice. it's in the works. promise.
after dropping the pups off at daycare, i got to work and did a few morning tasks before breaking for coffee.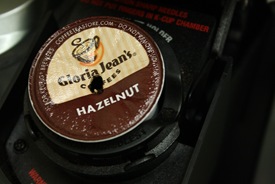 today's brew was a hazelnut k-cup with vanilla cream. it's a tasty blend, but doesn't beat the pumpkin spice k-cups i picked up at dunkin' donuts in chicago last month. if any of you dunkin' donuts frequenters want to pick me up a box, feel free! ;)
breakfast came around 10:30 AM.. i like to have my juice and coffee a couple hours before eating. the real reason for this is because kerryne and amanda eat at 10:30 and i want to hang out with them in the kitchen.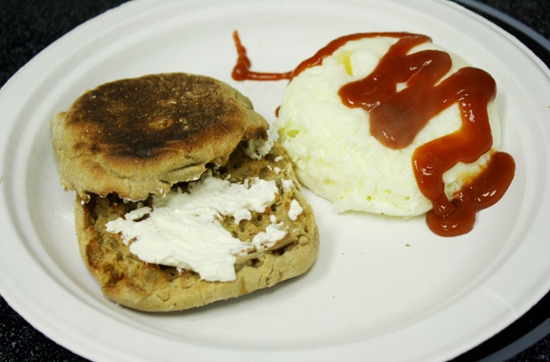 as you can see, breakfast today wasn't glamorous, but it was tasty. an egg plus two whites cooked in the microwave topped with ketchup (this is really grossing marshall out right now, he hates the stuff…) and then a new-to-me english muffin, toasted and topped with whipped cream cheese.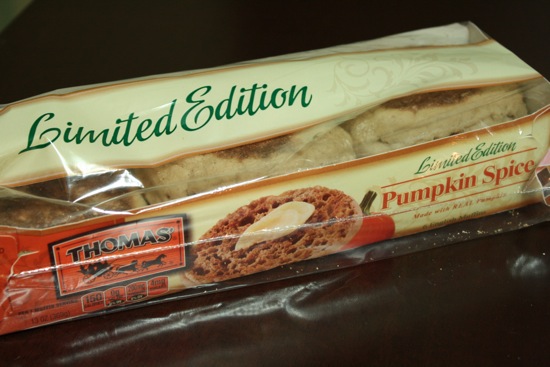 these PUMPKIN english muffins were sent to me for free from thomas. they are limited edition and they are freaking fabulous. there are also pumpkin spice bagels and bagel thins. these are in stores now through early december.. keep an eye out and snag some if you see them! they are flipping delicious.
work got super crazy for a few hours… i am not sure why, but i was bombarded with one problem after another and then one more for good measure. it was stressful. and time consuming.
because of that, lunchtime wasn't until 2:15. i realized i'd consumed zero ounces of water for the day. what is my problem?!? so, instead of filling up my water bottle, i filled up my belly with a sandwich. at this point, i was more hungry than i was thirsty.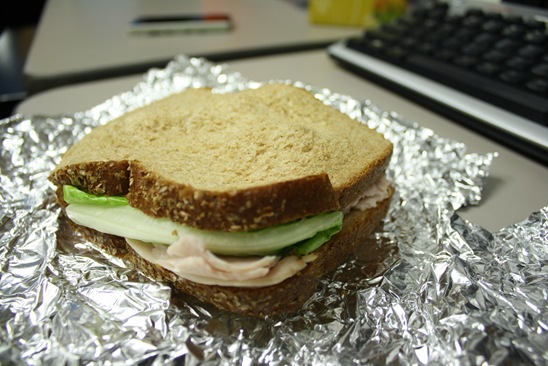 this was wheat bread, mustard, herbed turkey (from costco) and romaine. i know, another sad and pathetic photo. this is why i don't detail my meals each and every day. i eat at my desk, i work all day long, and i don't do anything to fancy up the situation like i used to back in the day. sadly, i am just way too busy at work to mess with office food photo shoots these days.
my boss pulled me away from my "lunch break" (if you can call it that) to do some urgent work, so i got side tracked for an hour and didn't end up drinking any water until 3:30. i freaking suck. i managed to down 50 ounces before leaving for the day.
i picked up the pups after work and got home just after 5 o'clock. i popped my gummy vitamins, love these things!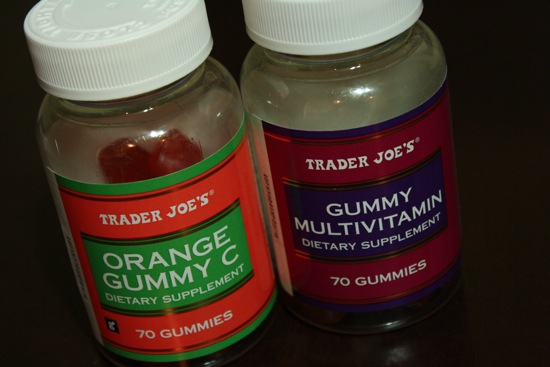 i quickly threw a couple chicken breasts in a marinade of garlic seasoning and balsamic vinegar for dinner and changed for the gym. i scarfed down a muffin from the batch i baked last night.. they are peach pear banana muffins and are totally healthy! recipe here.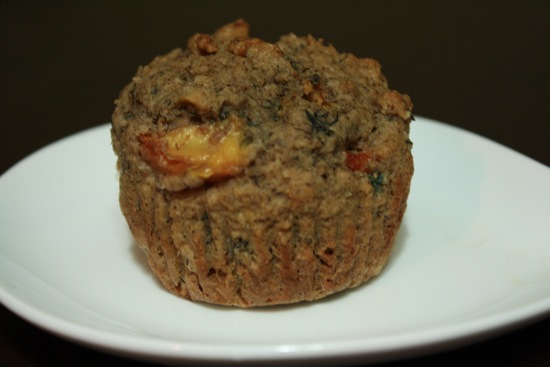 i also drank my noxplode and fitmixer as a pre-workout beverage. no photo, i was in a hurry! i actually couldn't even find my shoes and was going to be late to class, so i went without them. the workout didn't require shoes, anyway, so it was fine.
today's workout was shoulders & triceps at GPP. i love tuesdays because we always work on strength gains. this was a lot of fun! i love working my shoulders.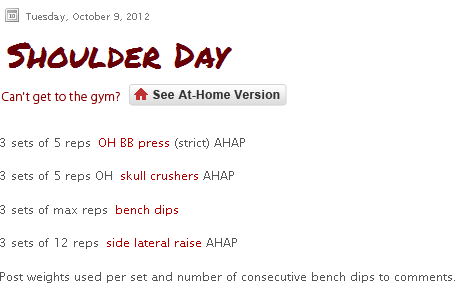 source: gppfit.com
i did the workout in the order written and my results were as follows: OH press 65#x3; OH SC 45#, 50#x2; dips 35×3; and lat raise 15#x3. after the workout i did 100 burpees with a few of my lady friends at the gym in preparation for the burpee mile!  it was a fun night at GPP. even more fun because melissa and i matched each other in an inverted way with our teal and black.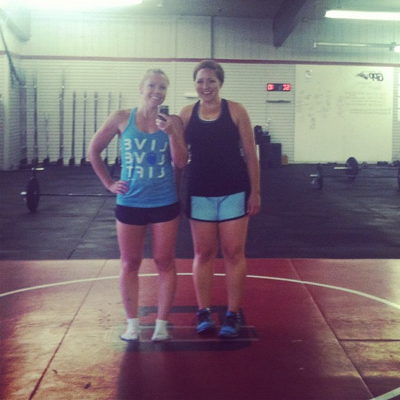 i came home and ate another half a muffin because i like them. lots. i also checked the mail and squealed with delight because i got a postcard from jessica who is over in the UK on vacation. HI JESSIKER! THANKS!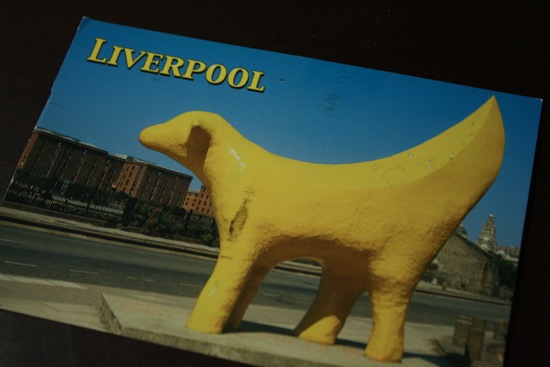 other good mail? the box of core power protein drinks i ordered from amazon (love these drinks so much!!)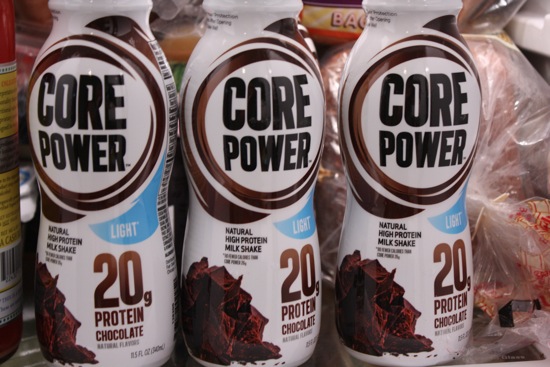 and a packers gear catalog.. marshall's birthday is next week. think he'd like this bathroom setup? haha.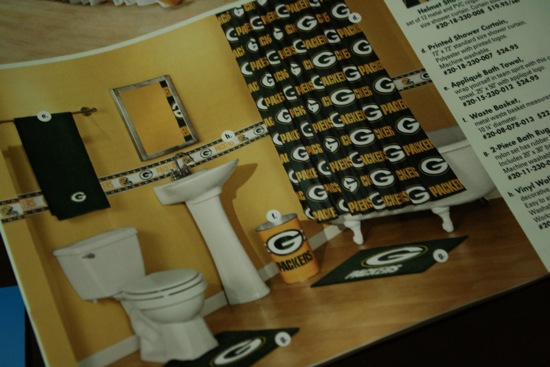 after basking in my fun mail, i made a mediterranean-inspired quinoa to go with the balsamic chicken that was marinating while i was at the gym. it was simply cooked quinoa tossed with olive oil, white balsamic vinegar, diced tomatoes, feta, dried basil, salt, and pepper. so simple, yet so good!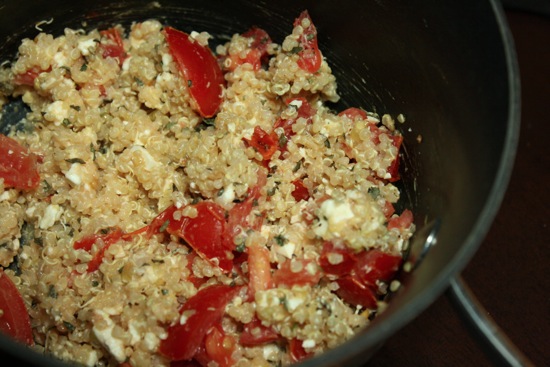 i grilled the chicken on my staub indoor grill pan and steamed some broccoli to serve on the side. it's a good thing, too, because i realized the only veggies i'd had all day were in my morning juice and the sad romaine lettuce on my sandwich. truth be told, i am not the best at getting my veggies in. eight ounces of chicken, however? no problem. yum.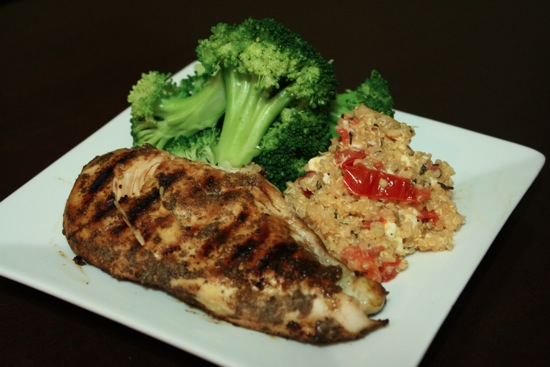 i plan to spend the rest of the evening cleaning, de-cluttering, folding clothes, and trying to get my life in order. september was a whirlwind of a month with so many events and so much traveling, and my house has seriously suffered from the situation. of course, i made a list!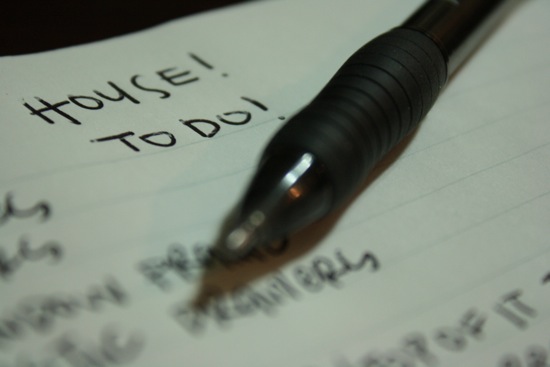 i am going to spend the next few evenings straightening up so i don't go completely bonkers from the mess.
dessert will most likely be another peach pear banana muffin…i mean, i have, like, 13 more to eat.
thanks for reading my rambles! have a good one.
Qs~
1. on a scale from 1 to 10, how bad (or good!) are you at getting your veggies in?
2. when it comes to strength training, what is your favorite muscle to work?
xo. janetha g.