hey! how was your monday? the worst one since last monday? yeah.. same here.
naw, it actually wasn't too bad. aside from the fact that penny ate my lunch this morning… yep. i have a five-minute meeting on mondays. the pups stay in my car during the meeting and then i take them to daycare afterward. well, i hopped in my car after the meeting this morning and it reeked of mustard and guilt. more specifically, my sandwich's mustard and penelope jane's guilt. she got her paws on my turkey sandwich and went to town! oh well, that's what i get for wrapping it in foil, i suppose.
the rest of the day was pretty mellow, aside from the rubber cockroach kerryne left on my keyboard. um, talk about a fright! don't worry.. this means war.
after work i headed to GPP for burp-o-rama. it's basically as awesome as it sounds: 10 burpees every minute on the minute for 20 minutes. that's 200 burpees in 20 minutes! i went for an Rx+ and did 12 burpees for the first five rounds, 11 burpees for the next five rounds, then the prescribed 10 burpees for rounds 11-19, and on round 20 i did burpees for the entire minute. i managed to get 18 burpees in that last round for a grand total of 223 burpees in the 20 minutes. whew. i was beat afterward! i laid on the floor for a good five minutes.
i headed home and whipped up buffalo chicken pizza for dinner. it had been awhile since we had this goodness in our lives!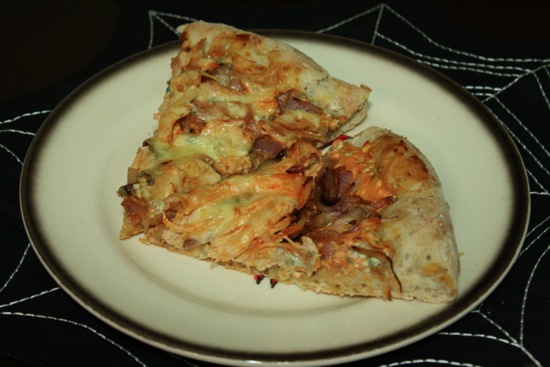 notice the backdrop? yep, i busted out the halloween decor tonight!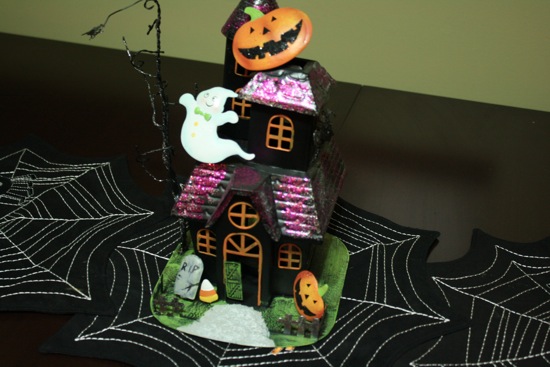 marshall hates this little haunted house centerpiece. he doesn't think it is scary enough. i did try to up the scary factor with our door decor: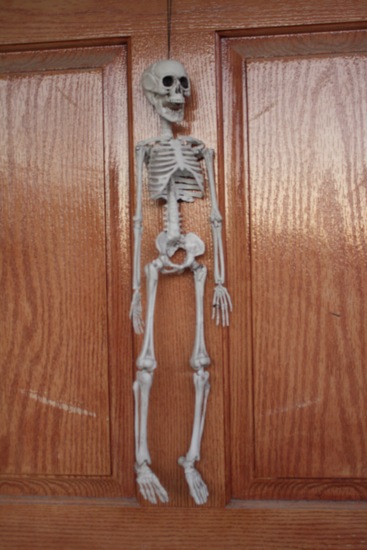 but, still, i don't think it's scary enough for marshall. we are going to make a trip to the spooky store soon to make our house a tad creepier before halloween hits!
for dessert i broke into some rich, decadent chocolate i received in my knoshbox.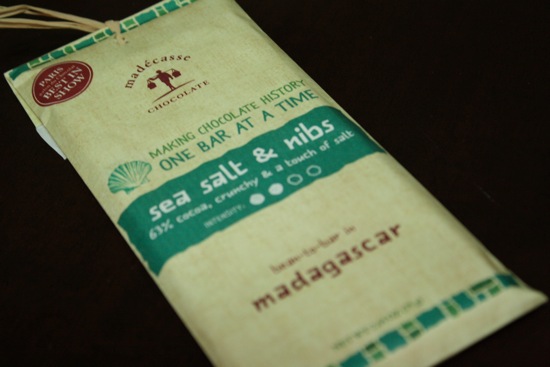 this madecasse sea salt & nibs chocolate bar came with a slew of other snacks packed perfectly in this delicious box put together by the knoshbox team.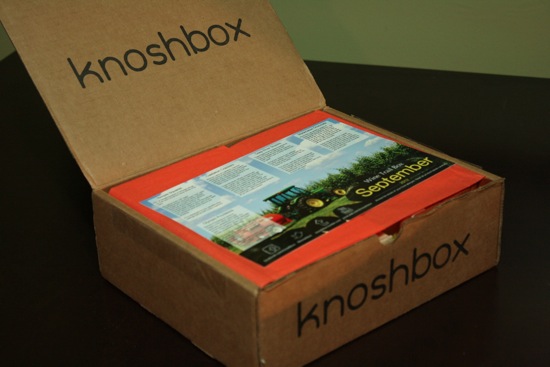 i have been in correspondence with the owner of knoshbox, richard, about possibly sponsoring blend 2013 (yes, we are currently planning the next retreat and it's gonna be amazing!) and he offered to send a box my way to try for myself. the box came with a hand written note from richard–i have to say that right there makes me respect the company a ton.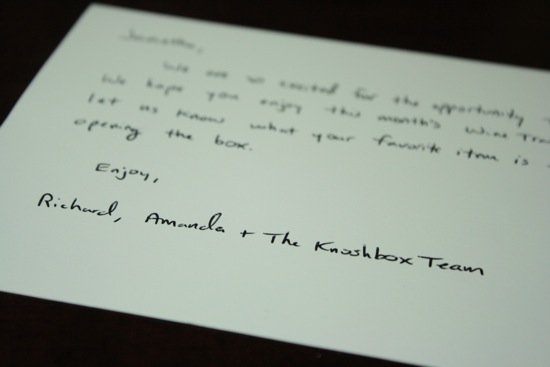 i was thrilled to see all the fun goodies inside the box!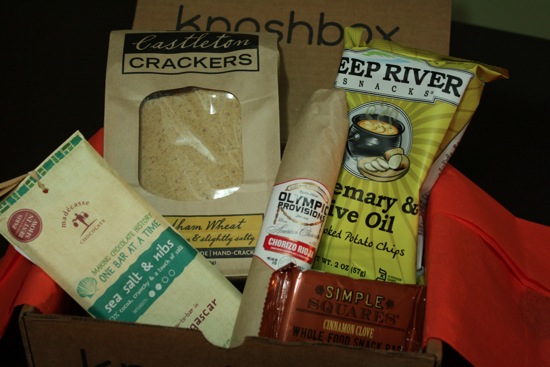 in the box:
Castleton crackers hand made in Vermont
Madecasse sea salt & nibs chocolate from Brooklyn, New York
Olympic Provisions rioja chorizo from Portland, Oregon
Deep River Snacks rosemary & olive oil chips from Old Lyme, Connecticut
Simple Squares cinnamon clove bar from Chicago, Illinois
this is their wine trail box that came with a card detailing each item along with a suggestion for a wine pairing for each snack. cool!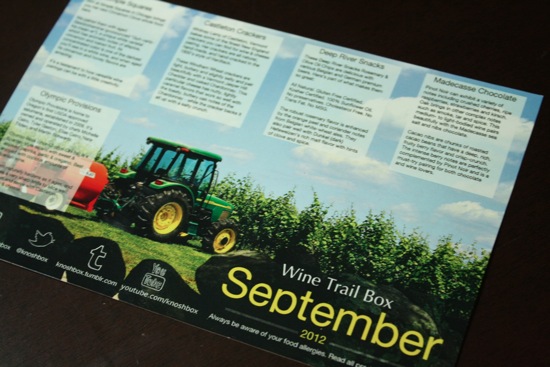 i have tried a few different monthly snack box subscription services in the past, but i feel like knoshbox items are a cut above the rest. the items in the box are all very gourmet and unique–they are all items i wouldn't typically pick out myself at the store. i look forward to trying all the exquisite items in the knoshbox.
something really awesome about knoshbox is they have a pinterest account and they dedicate a whole board to each box each month. click here to check out the board for the box i received. i love this idea! it's fun to learn more about each item included in the box.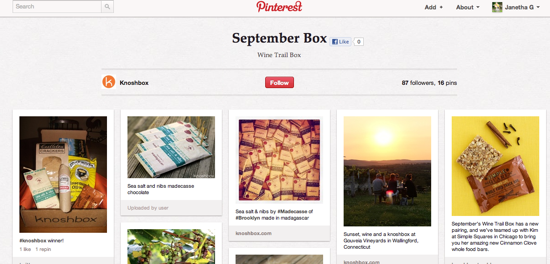 now…a couple good things for YOU!
first, a giveaway! knoshbox is offering up their october knoshbox for giveaway.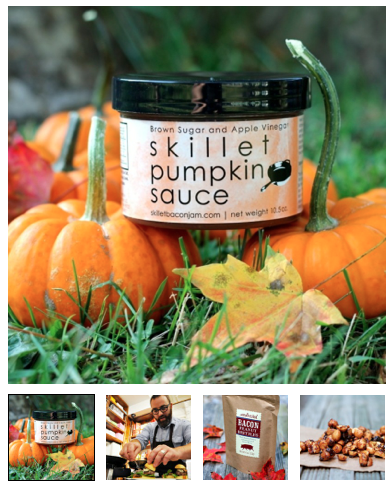 in the box:
Happy Jack small batch pumpkin granola by Nate's Naturals of New Haven, Connecticut
Toasted Orchard apple granola bar by Nate's Naturals of New Haven, Connecticut
Skillet Pumpkin Sauce with brown sugar & apple vinegar by Skillet Street Food of Seattle, Washington
Maple-roasted peanut brittles with natural cured smokey bacon by The Redhead of New York City
oh my gosh.. SKILLET PUMPKIN SAUCE? my imagination is going wild at the thought of that stuff.
to enter:
leave a comment on this post telling me your most recent indulgence (does NOT have to be food-related!)
for an extra entry, follow knoshbox on pinterest and repin one of their pins (leave another comment saying you pinned)
for an extra entry, tweet:  "i want to win a @knoshbox from @janeeetha http://wp.me/p1B7vY-cwx" (leave another comment saying you tweeted)
i will pick a winner on friday the 12th.
and second, knoshbox is offering a deal for everyone. select the "try or gift" option and use the code MEALSANDMOVES at checkout for free shipping! (a $6 savings.) the "try or gift" option is great because it doesn't require a subscription and it lets you try out the current box without committing to multiple months OR it lets you gift the box to a friend.. what a fun idea! you can use this code until november first, so it will be good on next month's box (which items have yet to be announced!)
coooool. thanks, knoshbox!
well, i am off to bake a batch of these.. i have a few black bananas that need to be used!
xo. janetha g.
*i received the knoshbox free for review. i was not compensated nor am i affiliated with the brand. knoshbox is providing and shipping giveaway item. giveaway open to USA residents only.