hola! it's been a minute since i sat down to blog (and not just re-post a previous flashback friday) so i really don't intend to recap everything i have been up to. too time consuming for me to type, too boring for you to read.
instead, how about a couple highlights?
friday highlight: the metric show with marshall & my ladies followed by more shenanigans at dick & dixie's.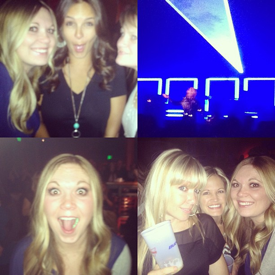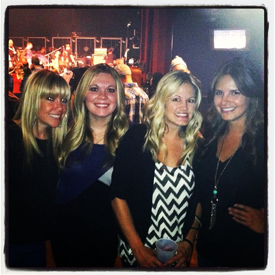 saturday highlight: went out to eat at chanon thai (a new-to-me spot) which is on 9th south and 3rd east. SUPER GOOD THAI.. utah locals MUST try it!
sunday highlight: hike up adams canyon with amanda. it was a bit chilly, but the waterfall at the end of the challenging hike was worth it! we got lost a few times… making the round trip around 4.5-5 miles. good times.
after the hike i hit up TJ maxx in search of some K-cups for my keurig… they usually have them on sale. well, they didn't have any there today. whomp, whomp. but the trip was not a total bust.. i managed to drop $100 before heading back out the door. isn't that ALWAYS the case with places like that? i swear i can't be tamed when i am at TJ maxx, marshall's, target, or costco. (speaking of costco.. yep, i over-spent there today, too.)
i have to say, though, for $100 i really got a lot of stuff! i am a good bargain shopper. check it out!
*3 pair of puma socks for $6–because you can never have too many socks… right?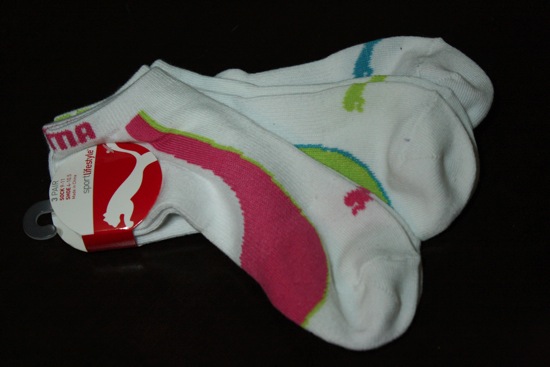 *two long sleeve workout tops for $17 (hind one) and $25 (nike one)–because i realized i am going to actually need warmer workout gear this winter! every other winter of my life, i worked out at gold's gym (aka all indoors all the time.) but now that i am exclusively at GPP, i will be running outside on the days the workout calls for a run. saturday's workout had four 400m runs and it was a wee bit chilly. nothing that required extra clothing, but it got me thinking about the upcoming winter months and i decided i better be prepared!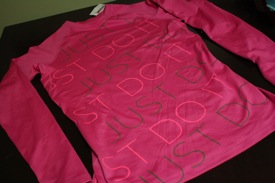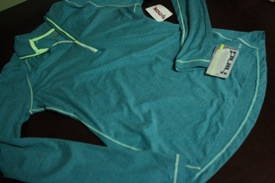 oh and the only requirement on long sleeved workout gear? THUMB HOLES. these both have them. (i used to cut thumb holes in all my hoodies as a teenager.)
*a pair of aviators for $17–because i have a pair of black ones, but i am weird and like my sunglasses to "go" with my outfits so these ones will be good when i am wearing golds/browns/earth tones. yeah, i am an odd one.
*and finally, a pair of new balance kicks on CLEARANCE! whoop! they were the last pair and they happened to be my size–yay for tiny feet! snagged these for $32.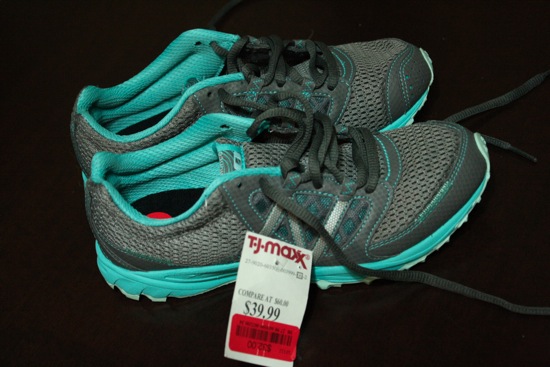 sadly, they will be ruined in less than a week. i actually picked up the new balance shoes for my upcoming tough mudder. eep! yeah, it's this coming saturday!! so nervous. i was going to wear my vibrams because they worked so well in the dirty dash a few months back, but then i realized the terrain may be sharp and rocky and vibrams may not be the best choice. however, i have become a minimal shoe convert and running in my old asics sounded like a bad idea–especially since i will be weighted down with mud during the race! when i spotted these new balances today i was super stoked–now i have a pair of (cheap) minimal shoes for the race and i don't have to worry about ruining a pricy pair! i am sorta sad, though, because i like them a lot and ruining them in the mud is kinda crappy. oh well, such is life.
and that brings me to my next item of business.. all these upcoming events! i was just talking to marshall and i realized that the rest of the saturdays in october are filled with fitness activities!
the first saturday (this upcoming one, the 13th) is the tough mudder.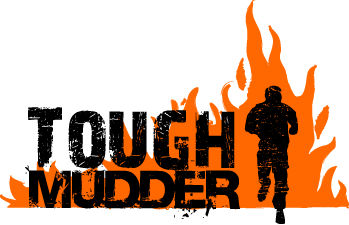 i haven't really blogged about the tough mudder. it actually snuck up on me and i am really scared that it is on saturday! i haven't been doing any additional training to prepare for the race—just my daily GPP. i hope it's enough to power me through the 10+ mile muddy obstacle course.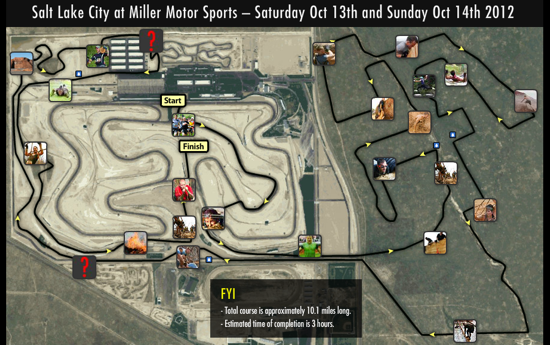 i have to say i am most nervous for obstacle #3–arctic enema! um, plunging into an icy pool?! my skin crawls just thinking about it. i am also worried about the mystery obstacles–there are two of them. i hope they don't surprise me with monkey bars, because this girl cannot cross those. i hear you can skip any obstacle and do burpees instead, so i think i will be doing A LOT of burpees during the race! wish me luck!
speaking of burpees.. that brings me to the next event! on october 20th i am participating in the burpee mile. i can't WAIT for this event. it is going to be a fun way to gather together with so many fitness freaks here in utah. we are using our fitness to do a mile of burpees in order to raise money for no more victims (a charity that helps abused children.)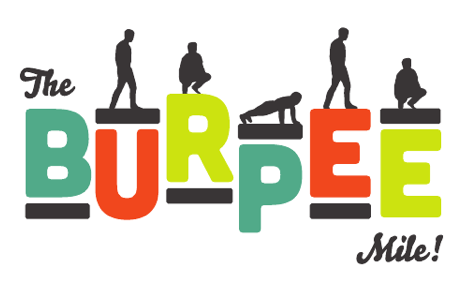 i have said it before and i will say it again, if you are a utah local you REALLY should come out to this event! i don't want you to get scared by the idea of doing a mile of burpees. this isn't a race and it isn't for time. even if you can only do ONE burpee, you should still come. everyone is welcome–young and old. it won't be some die hard, strenuous mile of burpees like you are thinking. this will be a community event where we all do the burpees in unison and take needed breaks and just have a great time using our fitness for a great cause! please come! it's only five bucks and for a good cause. (click here to sign up!)
the third and final saturday of the month i am doing the zombie chase! amanda, kerryne, and i have signed up to do this 5k where you chase zombies through a haunted house filled with obstacles!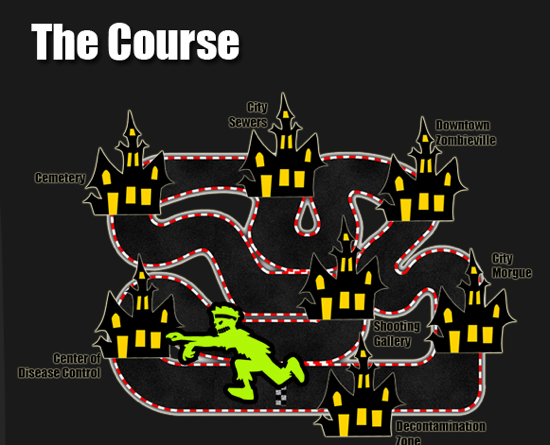 it is the first year for this race, so i am not sure how it will be, but it sounds really fun and festive for halloween! 5ks are perfect for me–i don't love to run because i get bored, but the short distance of a 5k isn't bad at all. plus, all the obstacles and the fact that it is in a haunted house will be pretty rad. i am excited!
well, i gotta jet. dexter is almost on! that is the only television show i can get behind. well, aside from re-runs of the family feud with richard dawson. he's so dreamy.
have a great monday!
Qs~
1. what was your latest and greatest bargain?
2. do you like races? what type/length do you like best? (obstacle, 5k, triathlon, mud run, etc)
xo. janetha g.