hey, friends! i am popping in at an odd time today to tell you about an exciting event that meals & moves is sponsoring!
my gym, GPP, has organized a community event to benefit no more victims—an organization that helps abused children. we will all band together on october 20th to do a MILE of BURPEES!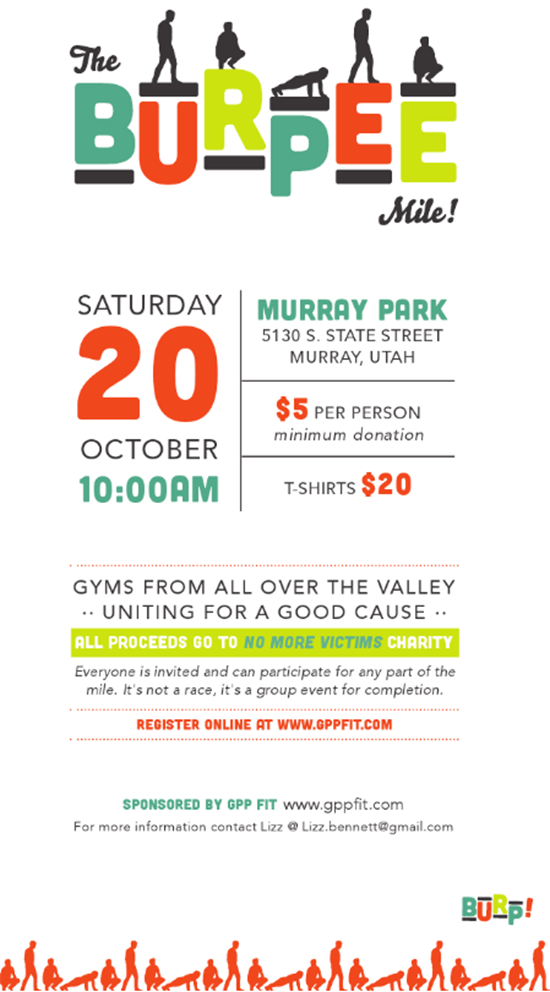 yes. one mile. of burpees.
more about the event from GPP:
This event is about using our fitness to help and serve others. All proceeds go to No More Victims.

This event is also about unity among the health and fitness professionals in Utah. We want to give as many different gyms a chance to promote themselves and share their passion for fitness. We will give them the opportunity to LEAD PART OF THE BURPEE MILE! They can stand and represent themselves and show the strength and professionalism of their facility. All gyms can give out prizes and swag to their hearts content.

We will have contests for some awesome prizes too! Like free memberships! With so many quality fitness professionals in Utah it is high time we came together to start a revolution for positive impact. Many media companies have been contacted. We have some fun surprises in store.

Logistics: How the Burpee Mile will progress is together. We all do a burpee and then jump forward to the next one. We pause for a bit before starting the next burpee. We will take some breaks and pace ourselves because this is NOT a race. It's a group effort for a greater purpose. We begin together and we finish together. If you need a breather then walk with the group as the group progresses then join back in with burpees when you are ready.
i am so excited to participate in the burpee mile! and i am also grateful to have the means to donate to the burpee mile event so meals & moves can be a sponsor. as stated above, ALL proceeds (including the $5 registration fees, $20 shirt fees, and $100 sponsor fees) will go to no more victims.
it's pretty amazing that so many different fitness factories are banding together to use their fitness for a greater good. so many times i hear about different gyms bickering with each other about which one has the better training methods, facilities, or other silly things… but one thing we ALL have in common is a love for fitness and making each day better than the last.
another thing we all have in common is the burpee! whether you love it or hate it, you can't deny that it is a move that has many benefits and hits several of the ten aspects of fitness. i have seen people doing burpees in every single gym i've ever been to—and in every single fitness program i have participated in (including insanity, jamie eason's livefit trainer, and the fitmixer bootcamp!)
so, utah locals, i urge you to sign up and join me in a mile of burpees on saturday, october 20th! please come, i would love to see all of you (and meet many of you for the first time! what a great chance to do so!)
if you would like to participate in the burpee mile OFFSITE, you totally can! everyone is welcome and we would love to see photos of you doing your own burpee mile remotely!
CLICK HERE TO SIGN UP FOR THE BURPEE MILE!
if you have any questions about the event, please leave them in the comments below. also, if you are interested in sponsoring the event and would like your blog or brand name on the back of the shirt, sponsorships are being accepted until october 10th! you can also leave a comment below stating your interest in sponsorship.
i look forward to october 20th and hope to see you there!
xo. janetha g.