so i had some free time on my hands awhile back… it was a long while back, since i have had zero free time lately. i decided to look at my old myspace account. what a trip down memory lane that was! it was hilarious to read the comments people were leaving five years ago… and the comments from marshall before we were an item. it was also hilarious to read the surveys i filled out (via myspace bulletin.) i found several survey gems in my myspace email that made me laugh. i tucked it away for a busier time in my life (like right now) and decided to post a myspace survey with the original answers (circa 2007) and post my current answers. because that's fun. for me, at least. good thing this is my blog!
let's set the scene: i was 23. it was may, 2007. i was recovering from my stupid broken arm. i didn't have a boyfriend.. marshall and i were just co-workers. but i wasn't working, because i was laid up on the couch. i had a lot of time on my hands… that could have gone without saying.
OA=original answer
AT=answer today
(anything in italics)=something i have to say today about my original answer
i will throw in some old flashback photos for visual appeal.
When did your last kiss take place?
OA: the other day (and for the record, it was not marshall)
AT: this morning, before marshall left for work. it wasn't a very good one… i was sitting on the floor doing my makeup, he was standing over my head, so it was kinda like a spiderman kiss, ya know?
Four words to explain why you last threw up?
OA: whiskey beer jager lortabs (boy, i knew how to party)
AT: i don't remember the last time i threw up! gold star.
If you could fly, where would you go first?
OA:either australia or norway.. to see friends
AT: i've been to norway! not austrailia..yet.. but if i could fly today, the first place i would go would be to greece.

[in norway]

[in norway again]
Who do you want to be with right now?
OA: someone who is on vacation.. (haha.. and by that i meant i wanted to be on vacation myself. not with any particular person.)
AT: right now? i wouldn't mind being alone. i've had quite the crazy busy life lately and being alone sounds nice.
How do you handle a break up?
OA: i usually make it happen.. so better than the guy most times
AT: hopefully i won't have to handle one any time soon. i don't think it would be too fun.
Your motivation for tomorrow?
OA: lets see, thursday. im closing a fence deal.. going to the gym.. those are both pretty motivating
AT: saturday, whoop! the gym, the farmer's market, the big ass show, and out with some birthday girls. lots of motivation right there!
Last thing you ate?
OA: english muffin
AT: leftover red enchiladas (made with jarred trader joe's sauce) and some nacho cheese tortilla popchips.
Do you kiss your pets on the mouth?
OA: of course. mable kisses lalala
AT: awe i miss mable kisses! but at least i have randy and penny kisses.

[mable kisses!]
Have you ever accidentally eaten an insect?
OA: spiders crawl into your mouth all the time, i heard like 3 to 4 a year? i need a muzzle.
AT: i still don't have a muzzle… i am probably still eating spiders. ick.
Have you ever cleaned up someone else's vomit?
OA: yes, and that is true friendship right there
AT: yep.. most recently it was dog vomit, because i am a dog momma. still haven't taken the human child vomit task on. maybe one day…
Have you ever dropped food on the floor and eaten it?
OA: depends on the floor.. ours are pretty covered in dog hair.. ick
AT: haha yes, actually, earlier today at work. a chip. a popchip, to be exact.
What was the last thing you ordered at McDonald's?
OA: um i got my boss a #2
AT: don't remember, but i bet it was something for my boss again. i never buy mcD's for myself.
What's crazy to you?
OA: that i broke my arm. really. its a trip.
AT: that i had a dream about a biker gang shooting at another biker gang and marshall was riding his motorcycle next to the gang being shot at and he was shot and killed, and then when i told him about it he told me that the news reported a dead biker with shotgun shells around him and was suspected to be in a biker gang. WHAT THE WHAT? WHAT. no, WHAT?!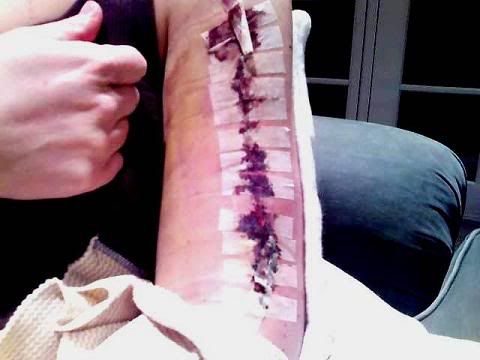 [the day i got home from the hospital after breaking my arm]
When did you last eat pizza?
OA: ummmmmmm tuesday, i made a bbq chicken pita pizza..dellllish
AT: last saturday in chicago!
What are you drinking?
OA: water water water i drink atleast a gallon a day…
AT: same answer! but i have been BAD at my gallon lately. whomp whomp.
Have you ever talked about marriage with someone before?
OA: haha. with one person. thank god that didnt happen. we were young. woahhhhh.
AT: well, yes. i am married now. and we actually talk about marriage now more than we ever have.
Favorite place to be?
OA: with friends, hanging out, having fun, snowboarding, boating
AT: on vacation. or doing all the things in my original answer.

[snowboarding with friends]

[boating with friends]
Does anyone hate you?
OA: doubt it but i guess they could
AT: probably. when you put your life on a blog, someone is bound to hate you.
How many people do you trust fully?
OA: hmm. a handful. i have small hands.
AT: i think my hands have shrunk a bit since my original answer…
What hurts you at the moment?
OA: my arm, as usual
AT: my gut. i owe you all an update on it, i am aware.
When and where was the last time you met someone new and who was it?
OA: last nite at stg i met some dude named jonny, and tonys pal dustin
AT: i met michelle at brunch with GPP friends yesterday! i am always meeting new people at GPP.
Do you believe that you can change someone?
OA: they have to want to.. but im sure you can have a influence on it
AT: i am feeling like you can have less and less of an influence on changing people and they really just have to want it for themselves.
What bill do you hate paying the most?
OA: car insurance. because lets face it…you put a lot more money into it than you get out of it.
AT: health insurance! it's way more than car insurance and i use it never.
If you could go back and change one thing what would it be?
OA: july 10th 2003..that would have prevented a lot of other problems also for example canada deportion, and also the whole probation for 18 months was somewhat whack.
AT: i would still probably change that day. criminal records suck.

[my few hours in canada.. before leaving due to deportation]
What errand/chore do you despise?
OA: getting gasolina. and folding clean laundry. my floor is covered in oh so clean clothes.
AT: what do you know, same answers. still hate both those things with a passion.
Strangest place you have ever brushed your teeth?
OA: no place is too strange for oral hygiene.
AT: it's true. 2007 janetha knew a thing or two about clean teeth.
and that's all for today. have a great weekend!
Qs for you~
1. if you could go back and change one thing what would it be?
2. when and where was the last time you met someone new and who was it?
3. what bill do you hate paying the most?
xo. janetha g.