i like the internet. it has some good stuff. chances are you like it, too, since you are on it right now… reading my blog. here are some things for you to check out!
are you wearing pants? most times, i am not. what can i say? i love leggings. and lulu lemon. and i don't reeeeally like pants. unless we are talking about randy pants. love him.
oh. my. gosh. i am an instagram addict, guilty as charged, but i got a huge kick out of this song making fun of instagrammers! so legit.
since we are on the topic of smart phones.. here's another funny for you. my friend neil sent this link to me—HILARIOUS. it is a spoof on the new iPhone 5 and gearing it toward food photography. i had to watch it a few times because i liked it so much.
side note.. did you know that the new iphone 5 is going to have a different charger than, like, ALL THE OTHER APPLE STUFF i own? that's so lame.
so, have you ever read a book, love it so much, and then wish you could find one similar? wish no longer, because there's a website for that. whatshouldireadnext.com lets you put in a book title or author and it will generate other books that are similar to your entry. cool! i recently read gone girl by gillian flynn. i loved it SO MUCH, so i decided to read another one of her novels. i only got about 1/3 of the way in before giving up and deciding it wasn't for me. too bad i didn't know about this handy generator until now. i plugged gone girl into the generator and it spit out a plethora of options. now the only problem is selecting one from the list…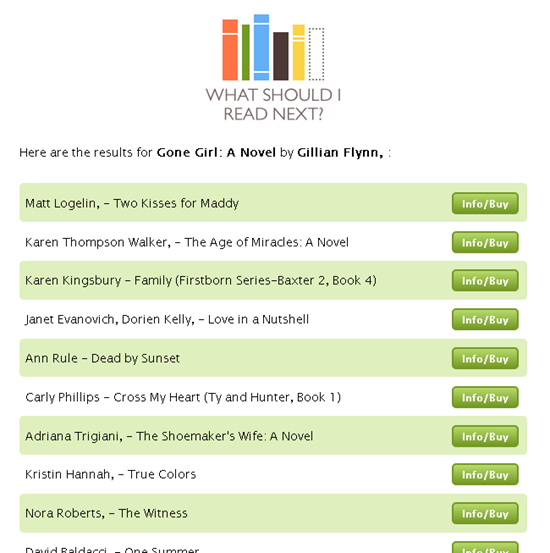 how about one for the animal lovers? my dog: the paradox. this had me in stitches! i can so relate to it all—but especially the part about cleanliness. i swear my dogs never stop licking, licking, licking… ack!
and if you are looking for an entire website that'll make you laugh (and you have already read ALL OF THE POST on what should we call me) then give hilarious humor from outer space a shot. it's pretty funny.. here are a couple of gems:
that's all for today! hope i made you smile. have a fabulous weekend!
xo. janetha g.