when we got home from our family vacation, i had five black bananas staring me in the face. on sunday night, i decided to use them to make muffins. i have been trying time and time again to get that dome shape on my muffins, because they typically fall flat. after a whole lot of research on the interwebs, i think i've finally figured out how to make muffins with that rounded crown i was after.
here are the measures i took to achieve the dome-top:
i used new baking powder & baking soda
i barely mixed the dry & wet ingredients together… the batter was much clumpier than usual (this is reflected with the chunky muffin tops below)
i filled the muffin cups just over 3/4 of the way full
i transfered the muffin tin to the oven immediately after filling the cups—i did not let the pan sit and wait or give the uncooked cups a chance to rest
i increased the baking temperature to 400° F
these tweaks ended up working out for the best and i was thrilled to see my muffins rose to a point rather than laying flat as a pancake. i even sent a text to amanda and kerryne because i was super stoked!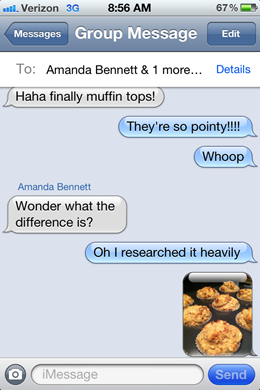 why, yes, i did let out a "whoop".
anyway, onto the recipe! i used four different flours for this recipe. yes, four! i couldn't decide which one to use, so i used a little bit of all that i had. each flour has a different flavor and i think the four of them combined worked really well! let me tell you a bit about each of the four flours. (click photos for source)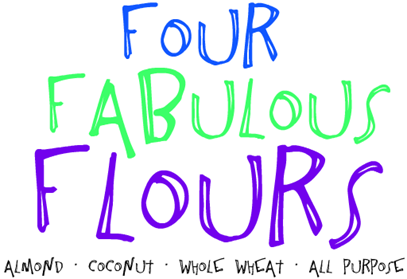 [pinit]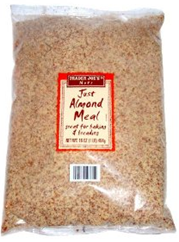 almond flour.
per 1/4 cup: 180 calories, 5g carbs, 7g protein, 15g fat, 3g fiber
almond flour is simply ground almonds. i bought mine at trader joe's, but you could easily make your own in a food processor or vitamix. because using almond flour is just like eating almonds, you reap the same nutritional benefits. while it is higher in fat, there is no trans fat in almond flour. it is rich in magnesium, vitamin E, iron, and calcium. almond flour is gluten free.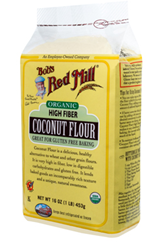 coconut flour.
per 1/4 cup: 120 calories, 20g carbs, 4g protein, 3g fat, 12g fiber
coconut flour is a by-product of coconut milk that has been ground into flour. i buy bob's red mill brand coconut flour. coconut flour is high in fiber. in fact, it is 58% fiber, making it the most fibrous flour out there! this gluten free flour ranks very low on the glycemic index, which is a system that ranks food by the effects they have on your blood sugar. because coconut flour is a low GI food, it will keep you full for longer and give you steady energy. additionally, because of the fiber content, coconut flour is low in net carbs. (net carbs are figured by subtracting grams of fiber from overall grams of carbs.)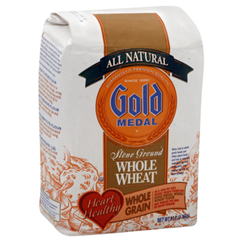 whole wheat flour.
per 1/4 cup: 100 calories, 21g carbs, 4g protein, 1g fat, 3g fiber
whole wheat flour comes from unrefined wheat. because it is "whole", it contains the bran, germ, and endosperm of the wheat grain. it is rich in fiber and other nutrients including vitamins B1, B2, B3, E, magnesium, iron, zinc, and phosphorous. many say whole wheat is the "heart healthy grain" because it plays an important role in preventing cardiovascular disease. consumption of whole wheat has also lead to fewer instances of obesity, high blood pressure, high cholesterol, and diabetes. go, whole wheat, go!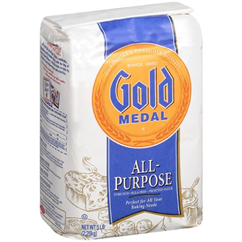 all purpose flour.
per 1/4 cup: 100 calories, 22g carbs, 3g protein, 0g fat, 1g fiber
all purpose flour is a blend of hard and soft wheat–it is refined from wheat. it's easy to see that all purpose (also known as "white") flour ranks last of these four flours when it comes to nutritional content. because it is a refined flour, it loses most of the nutritional content during the processing. however, some of the nutrients are added back in—this is why you see the word "enriched" on the label. while it contains very little fiber, it is high in thiamin, folate, and niacin thanks to the enriching process. the reason i like to use a little all purpose flour in my baking is because of the texture it lends to the finished product. it is really good for quick breads (like these muffins.) it offsets the heavy, dense texture that whole wheat flour can sometimes give to baked goods. i know many people avoid white flour at all costs, but i don't think a bit of it is going to kill us.
now that you know way more than you wanted to know about flour, i will share these tasty muffins with you!
[pinit]
healthy banana muffins
makes 12 muffins
prep time: 5 minutes
bake time: 20-22 minutes
ingredients
dry bowl:
1/2 cup almond flour/almond meal
1/2 cup coconut flour
1/2 cup whole wheat flour
1/2 cup all purpose flour
1/4 cup xylitol (or other sweetener of choice)
1 T baking powder
1 t baking soda
1 t cinnamon
1/2 tsp salt
wet bowl:
2 large eggs, beaten
1/2 cup unsweetened applesauce
1 tsp vanilla bean paste or extract
1 1/2 cups mashed over-ripe banana (about 5 small bananas)
if needed, 1/8-1/4 cup unsweetened almond milk
directions:
preheat oven to 400° F.
line a muffin tin with parchment paper liners.
in one bowl, combine dry ingredients and mix thoroughly.
in another bowl, combine the eggs, applesauce, and vanilla.
fold bananas into the wet mixture.
form a well in the dry ingredients and pour the wet ingredients into the well.
gently stir to combine the ingredients, but DO NOT mix well. there will be clumps—that's OK.
fill muffin cups 3/4 of the way full with the batter.
bake immediately for 20-22 minutes, tops will be golden brown. you will know they are done when a toothpick comes out clean when inserted into one of the muffins.
remove from oven and let cool completely before removing from muffin tin/liners.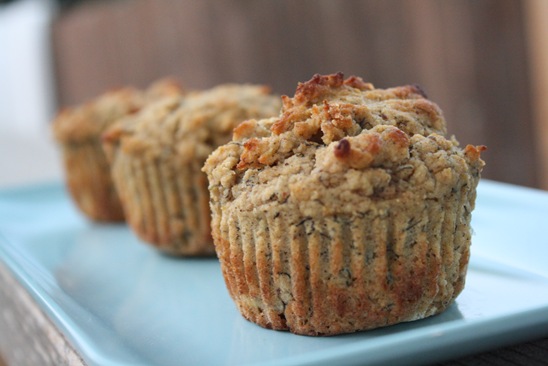 enjoy!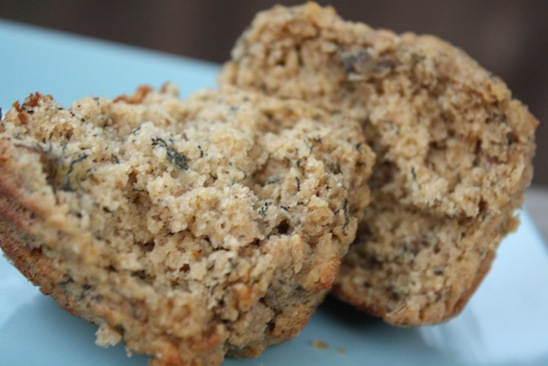 nutrition facts: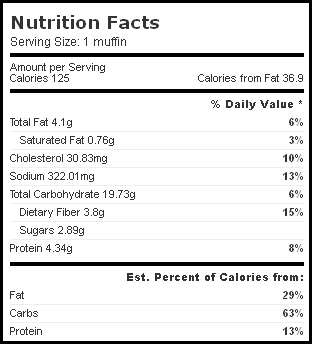 i have to toot my horn on this one—i REALLY like these muffins. i have been eating at least one (and most days two) a day.. they are great for breakfast (crumbled over some plain chobani greek yogurt) or as a snack (heated in the microwave and smeared with butter!) no matter how you serve them up—they're great.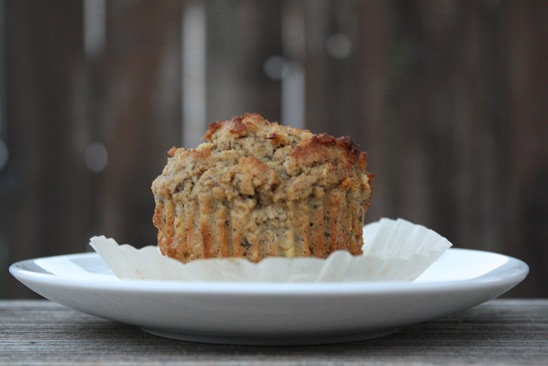 let me know how you like this recipe if you try it!
xo. janetha g.