i'm back in the salty city! well, the city just to the north, i suppose.. since i don't live right in salt lake city. y'know what i mean, though. i am home from my family vacation and i just got out of bed… at 10:31 AM. i am claiming jet lag (even though it was a road trip) because there is an hour time change. yep, good plan.
my family is really close–we are that annoying family that loves to do lots of things together and thrives on tradition. unfortunately, it's hard to get EVERYONE together very often due to busy schedules and the fact that my eldest sister and her family live in san diego. well, my mom, AKA momma b, turned 60 on thursday. to celebrate, we ALL headed to lake las vegas resort (which is just 20 minutes or so from las vegas) to enjoy a few days of hardcore family & birthday fun. the destination was about a 6-hour drive from home. we left our house close to noon and only made one bathroom/gas stop along the way. 
a bonus? marshall and i were able to bring the dogs along! my family was staying in some condos on the lake, but they didnt allow dogs.  so, instead, marshall and i booked a room at loew's, which was 1.8 miles from the rest of the fam, because it sounded perfect for people traveling with pups. they offered dog walking, pet sitting, animal massages, and had an in-house gourmet chef to whip up tasty treats for the pups. when we arrived on wednesday evening, we saw that the hotel had changed from loew's to a westin. no big deal, right? wrong.
after we had settled into our room (and i posted a blog post) i tried to find the pricing for the pet sitting, since we would want to utilize that service while we were out and about during the vacation. come to find out, the pet sitting feature (along with all the other awesome animal offerings) were no longer available since the hotel had changed ownership. WHAT? so, to make a long story just slightly shorter, we ended up getting them to cancel our reservation and we moved to the ravella, which was another animal-friendly resort but was walking distance to the condos where everyone else was staying. added bonus: the rooms were much nicer and the staff was much friendlier.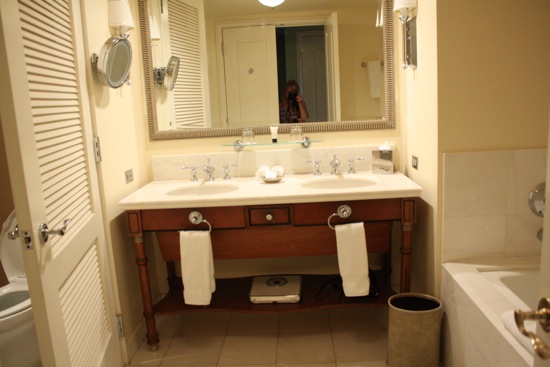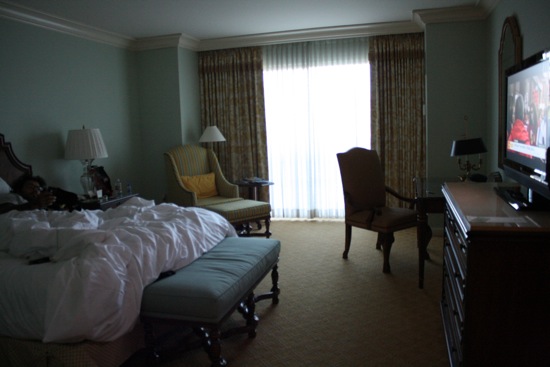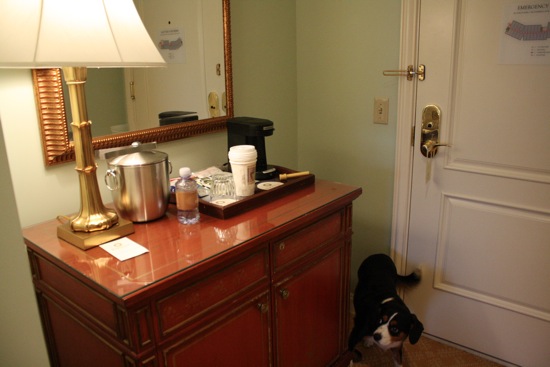 the downside was they didn't offer pet sitting, either, so we had to figure out a way to juggle the pups the whole time. had we known that pet sitting wasn't available, we would have left penny and randy at home. we only brought them because we thought it would be fun and easy to have them tag along. in the end, it did all work out and we were able to take them most places with us, but it was slightly aggravating that the hotel had done a switcharoo without letting us know! i will be reviewing both the westin and the ravella on yelp and tripadvisor. i think it's important to share experiences–both good and bad!
we turned in pretty early wednesday night so we could wake up and hit the lake first thing in the morning. the bed was super comfy and it was nice to have a big king-sized bed to share with our two furry bed hogs.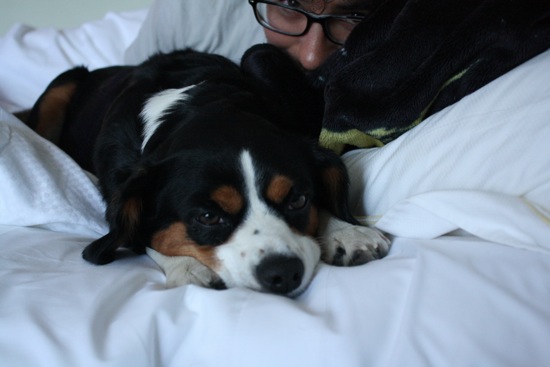 on thursday morning, we needed breakfast before heading out the door, so we decided to get a little fancy and order room service. it was a first for both of us!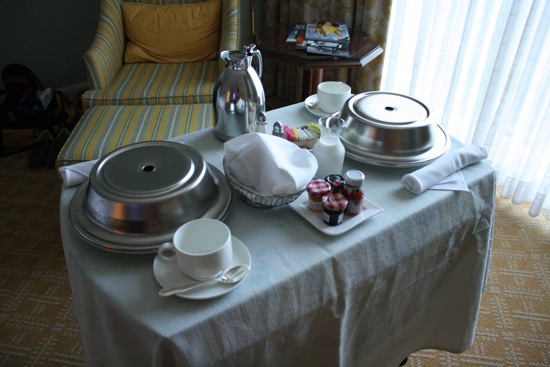 i had a frittata and marshall had his favorite–huevos rancheros. we also shared a pot of lavazza coffee.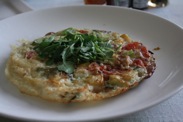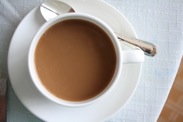 the best part? the miniature condiments! squeal. times ten.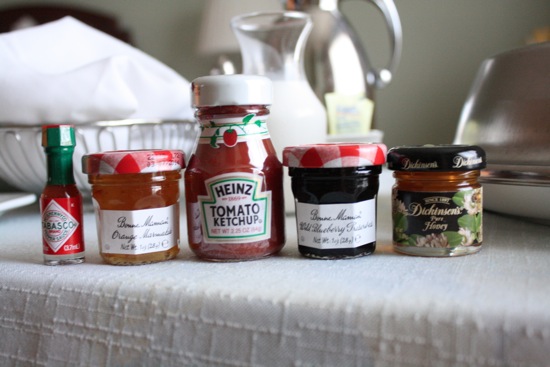 if you don't get a kick out of this baby tabasco bottle, i question your character.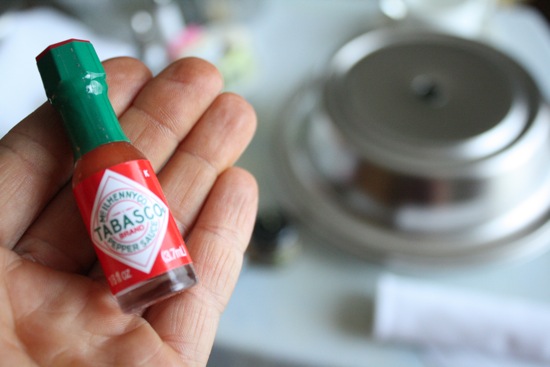 the poor pups were begging for food the whole time, it wasn't fair to be cooped up in a hotel room with room service that smelled SO good–especially to randy's super power basset hound sniffer.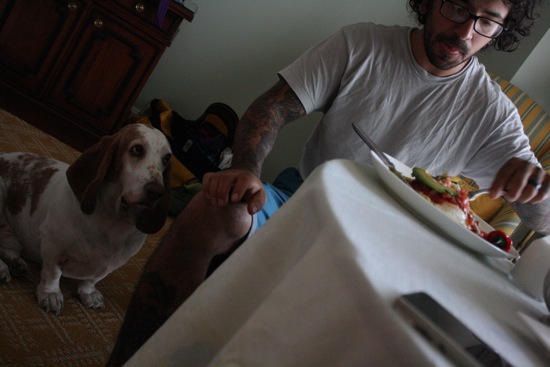 after awhile, marshall did give them some of our toast. we typically don't feed them human food, but  they were on vacation, too, after all!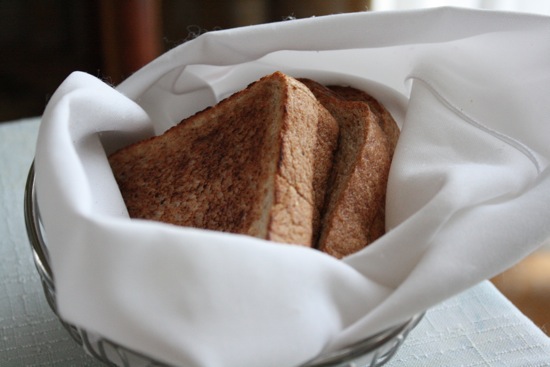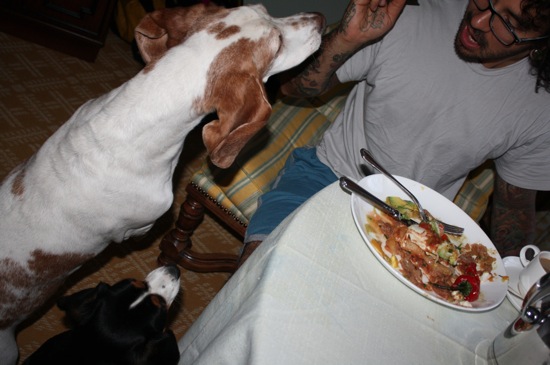 after our fancy shmancy room service, we threw our swimsuits on and headed to lake mead for a day of boating to celebrate momma b's 60th!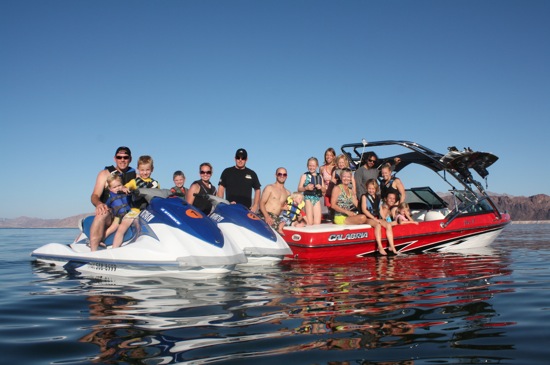 this post is already pretty lengthy, so i'll recap the boat day in my next post. hope you have an enjoyable sunday! i am going to unpack and possibly squeeze in a garage workout.. i haven't sweat from exercise since last wednesday. sweating from 100-degree temps is a different story… 
Q~
do you have any hotel experiences to share–good or bad? the more you know…
xo. janetha g.