don't let the title fool you. i am not with child. no way, no how.. and not any time soon (if ever.) BUT, i follow becky's blog, and she is pregnant! she has been staying fit throughout her pregnancy and i was inspired by this. i thought you'd like to read her story, so she is sharing it with you all today. enjoy!
*******************************************
Hi readers! This is my first time doing a guest post, so please bear with me, especially if I start to ramble. Janetha was so generous to ask me to chat to you about working out during pregnancy and I feel very honored to do so.
I guess I should start by introducing myself. My name is Becky (or Bex) and I blog over at The Bex Factor about my two big passions in life, fitness and music. In February this year I had quite the shock when I found out I was pregnant. My boyfriend and I are expecting a little baby boy at the end of September.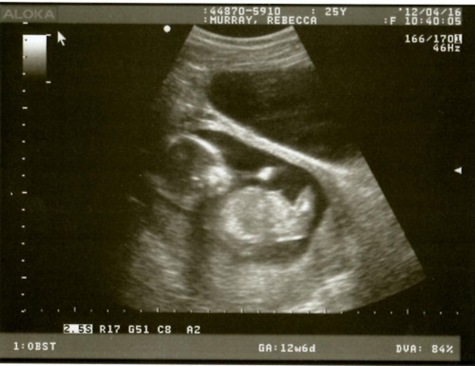 Finding out I was pregnant was a huge surprise, definitely unplanned. It wasn't anything I saw for myself right now as I had been very dedicated to my workouts and eating clean. I wasn't ready to give up the life I had made for myself to grow a baby yet. But sometimes life has other plans for you and I was determined not to let pregnancy stop me from staying focused and reaching my goals. I didn't want to turn lazy and lose my fitness routine. My doctor assured me that it was fine to continue doing what I do as long as I was comfortable and not causing myself any pain so that's what I planned to do.
I fought through my first trimester fatigue to make it to my regular Crossfit classes twice a week and get out for runs every other day. It wasn't easy when I would nap on my lunch break, come home from work and nap again, go to Crossfit and come home and go to bed, but I made it happen somehow.
Once people noticed I was pregnant they started treating me like I was sick and that I should basically sit on my couch doing nothing so as to not put myself and my growing baby in danger. I think this way of thinking is ridiculous. Pregnancy is not a condition or an illness and I do not believe that you should stop doing what you're doing. My belief is that if you've always been active and if your doctor hasn't advised you otherwise, continue your usual fitness routine throughout pregnancy. This is the route I took.
In July I ran the Mud Hero, a 6km race with 16 obstacles. I was 7 months pregnant. People thought I was nuts for doing it, but I wasn't going in blind. I ran an obstacle race last year and knew what to expect out of it. Leading up to the race I heard a lot of people doubt my ability to do it, that I would be too uncomfortable. Or they would express their concern of me injuring myself or the peanut. Well, I hadn't been too uncomfortable with my workouts so far, so I didn't see this as being any different. I knew I wouldn't push myself to get a good time or complete every obstacle if I was unable. All I wanted to do was cross the finish line to show people that it was possible. The more people told me I couldn't do it, the more motivated I was to show them they were wrong.
The race ended up going really well and I had a lot of fun. I alternated jogging and walking, and definitely skipped some of the obstacles that dealt with height and balance so I wasn't in danger of falling. But I still climbed over hay bales and steep hills, crawled under barbed wire, ran through tires like a champ and got nice and muddy.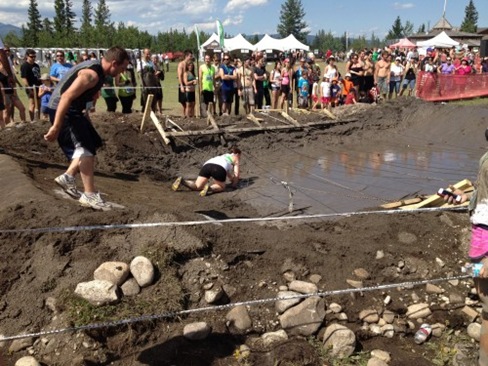 Crossing the finish line was emotional. I was all smiles but fighting back tears at the same time. To most, this race would be a walk in a park, but to me it meant a lot more than the medal around my neck. It meant I had proven the naysayers wrong, that fitness is still ok while you're pregnant, that no one should have an excuse to give up their fitness routine (unless the doctor advises otherwise.) I was proud of myself for achieving my goal.
For weeks after, all I heard was how amazing I was, how I've inspired people and how people hope they can be like me when they get pregnant. I can't even describe how amazing it was to hear these things. Of course people still told me I was crazy, but I took it as a compliment, it's a good kind of crazy.
Everyone had expected me to slow down after the Mud Hero. What they didn't know was that I was still registered for the Spartan Sprint, a similar obstacle race, in August. That put me at 8 months pregnant. As race day approached I was getting nervous about how well I would be able to do this one. My running had come to an end as my legs just couldn't handle it. I was still attending Crossfit twice a week but the workouts were hit or miss. A lot of the movements suddenly became super awkward or nearly impossible. I still kept at it, scaling what I had to so I could finish the workouts. I was showing up and putting in an effort, which is more than those people sitting at home on the couch are doing.
When Spartan Race day came I wasn't out to prove anything like I was with the Mud Hero. I was just there to have fun and hopefully cross the finish line. As this is a tougher race than the Mud Hero, I knew I would most likely end up walking most of the race and doing a lot of burpees in place of the obstacles I couldn't do (25 burpees for each failed or unattempted obstacle).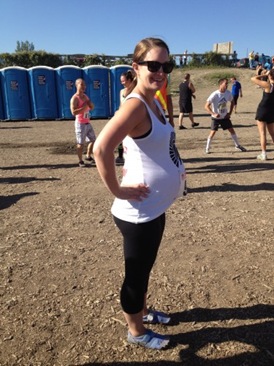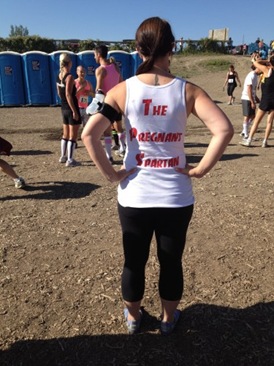 As I suspected, the race was tough. This was the race I had run last year and it was more of a challenge. The terrain was rough, there were tons of deep mud pits and the obstacles were tougher. I did end up walking the majority of the course just because I was afraid of falling or twisting an ankle. I did what obstacles I could do but ended up having to complete about 125 burpees for skipped obstacles. I still managed to get a half decent time somehow and impressed a lot of people.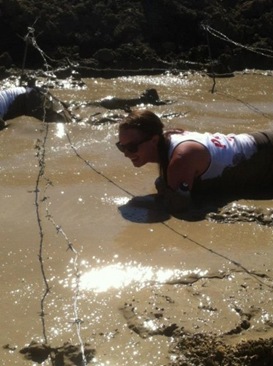 People's reactions when they saw me on course were pretty funny. All of the obstacle attendees were just in awe when they saw me waddle walk up. I heard some even used me as motivation for people in the heats following, saying "a pregnant girl just did this, so you can too!" When I reached the finish line I was awarded two medals, one for me and one for baby. And boy, was I happy to have reached the end!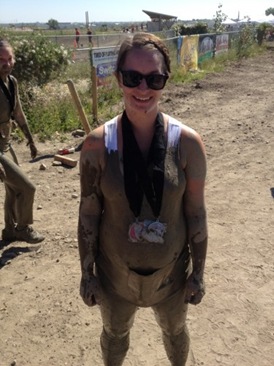 I still got a lot of praise for completing something most people would never attempt under normal circumstances, but I did it while being 8 months pregnant. I still heard that I was an inspiration and that people really admire me for being so fit and active through out my pregnancy. I am still proud that I completed the Spartan Race, no matter how tough it was, or how much of a wuss I felt for not being able to give it my all.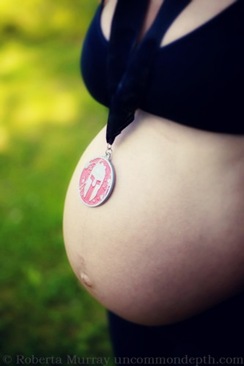 I'm now four weeks from my due date and still rocking Crossfit as much as I can. I have my good days and bad days but I continue to go and do the best I can. I will continue to go until my doctor advises me not to, or until I go into labor. I haven't had an excuse to quit yet, so why quit now? I hope my experiences will show others that pregnancy is a life giving experience and not some medical condition that requires women to be treated (or treat themselves) as delicate little wallflowers that can't do anything. Certainly there are complications which can confine a woman to complete rest to protect the pregnancy, but for the majority of us, it's life as usual unless we're told otherwise. I also hope I've showed people that they can achieve their goals if they set their minds to them, pregnant or not, and no matter how many people try to say they can't.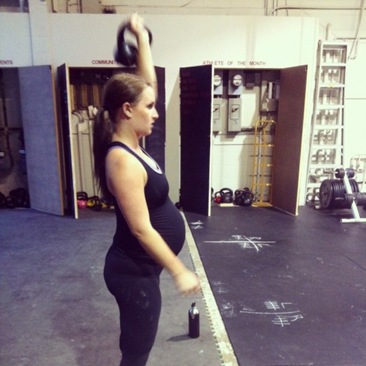 Thanks for reading!
Q~
What are your thoughts on fitness and pregnancy?