hey, guys! happy labor day.
my gym is closed today, and since yesterday was my rest day i decided i better get my butt in gear and complete a workout on my own. i decided to design a workout to complete in my garage! the workout was mainly geared toward cardio, simply because i don't know what my GPP workouts will be this week and i didn't want to overdo it on any particular muscle group. i also threw some abs in at the end, because that never hurt anyone, right? right.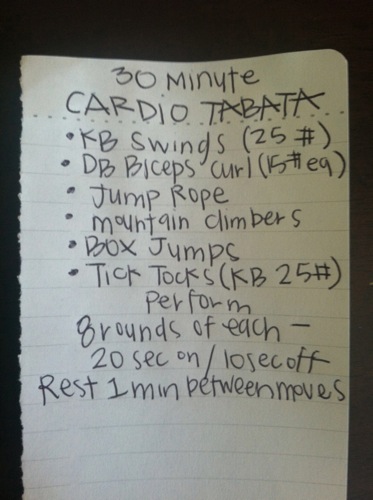 [pinit]
it's easy for me to make an at-home workout because we have collected quite a few pieces of exercise equipment over the years. however, if you don't have access to any equipment, you could easily sub out the moves that use equipment and do bodyweight exercises instead. some of my favorites are air squats, high knees, butt kicks, pushups, and.. wait for it.. burpees. yep, i love them. in a love-hate sort of way, ya know? ha!
i kept the workout short–just thirty minutes–which is actually longer than most of my daily workouts. the programming of the GPP workouts is so effective that there really is no need to work out for hours on end… or even half hours on end! i actually received a question yesterday (via my ask me anything box–found in the sidebar to the right) that asked: "I noticed your GPP workouts are not very long… Do you feel like you are as toned as when you did Body for Life? I only ask because doing 20-30 min a day sounds great to me. PS I want your abs :)"
ha! first of all, thanks for the ab comment. i believe abs are made in the kitchen, so if it's great abs you are after.. start there. as far as how toned i am now versus how toned i was after body for life, i would actually say i am MORESO now than i was then! i am definitely a lot stronger, have more muscle, and have a better shape overall. body for life worked wonders for me to lose weight and get interested strength training.. but i believe 75-80% of my success was due to the nutrition, not the workouts.
don't get me wrong, the body for life workouts are great! they also aren't too time consuming, believe it or not. on body for life, you work out six days a week. three of the days are cardio which lasts 20 minutes and the other three days are strength training which lasts 45 minutes. so, when comparing the body for life workouts to the GPP workouts, there is not a huge time difference. what IS different is the actual programming of the workouts. i believe my workouts now are more effective. they take a minimalistic approach–i workout for as little time as possible and it yields fantastic results simply because of their design and the effort i am putting into them. at GPP, it's balls-to-the-wall for the entire workout. if i give it my all for that sliver of time, i can relax for the rest of the day! of course, i still have to remember to stick to proper nutrition (for the most part…)
it should be noted that when i tried to do body for life a second time around, i didn't have great results. i believe the reason for this is because my body was used to that routine–it had adapted to that type of exercise and i couldn't expect amazing results (as i had the first time around) simply because my body craved something new in order to change. that is why i would never repeat any of the programs i have done in the past (like insanity or jamie eason's livefit trainer.) the great thing about GPP workouts is they are different every single day! sure, we may repeat a certain workout every few months or so… but each and every day i am putting my body up to a new challenge. this has been awesome for gaining strength and dropping fat–my body is constantly surprised with what i am throwing at it and i am constantly changing… and constantly improving. it's cool.
side note.. here is what the GPP website says about the whole minimalistic approach to exercise.. you may find it interesting and it may help explain why i do the workouts i do these days:
"GPP is about getting you healthy.  Period.  
We are minimalists.  We refuse to do one more rep of one single exercise than is absolutely necessary to accomplish our goal of optimal health. 
We believe the only worthy reason to exercise and eat right is so that we can lead richer, fuller lives.  Lives not limited by capacity and/or self-induced disease.  
At GPP we realize that health isn't about who the fittest person in the world is.  It isn't about who can lift the most weight, run the fastest, or obtain the highest work capacity imaginable.  These things are silly, wasteful pursuits.  They have no meaning.  They serve no purpose. 
Instead, get your workout in and go home.  Go be a human.  Do things that interest/edify you.  Contribute to your family, your community and/or society. "
so, there's my long answer to that question. the short answer is YEP.. and 20-30 minutes a day IS great. especially since it works! and it allows me to go be a human during the remaining hours of my day.
anyway, back to my at-home workout i did today!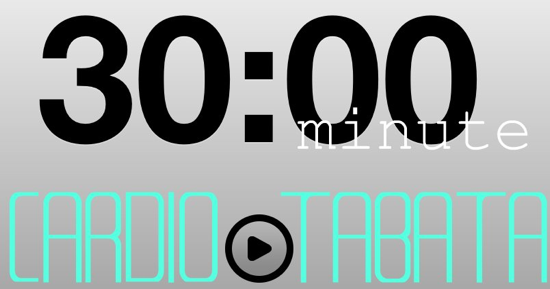 [pinit]
each round is 20 seconds on, 10 seconds off. perform 8 rounds of each exercise before moving onto the next. rest precisely one minute between exercises. click on each move for a demo video!
i set everything up in my garage.. fancy shmancy workout room, folks!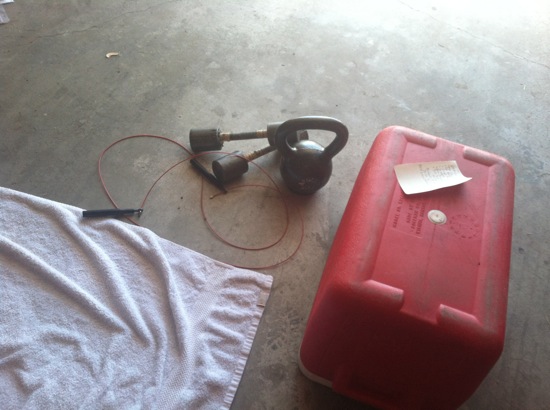 equipment required:
tabata timer (see below for options)
kettlebell or dumbbell at a challenging weight for the swings and tick tocks (i used a 25# kettlebell)
jumprope (i just bought this one from rogue fitness and really like it)
set of dumbbells at a challenging weight (i thought mine were 15# but weighed them and they're only 12#)
towel- optional (i laid this down on my filthy garage floor so i could put my hands on it during the mountain climbers!)
box or step for box jumps (see below for my option)
i used the tabata pro app to time my rounds. i believe this was 99 cents in the app store.. TOTALLY worth it.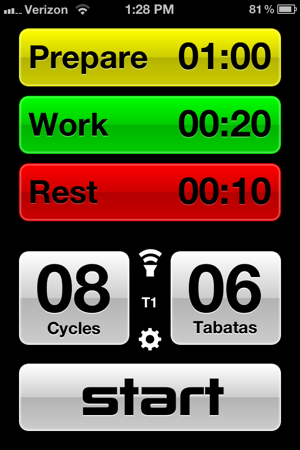 if you don't have an iPhone, i suggest the gymboss interval timer. that's what i used to use for tabatas and i loved it.
i don't have a box for box jumps.. but marshall helped me improvise and put a weighted medicine ball in our cooler so it was very safe and stable.. worked like a charm.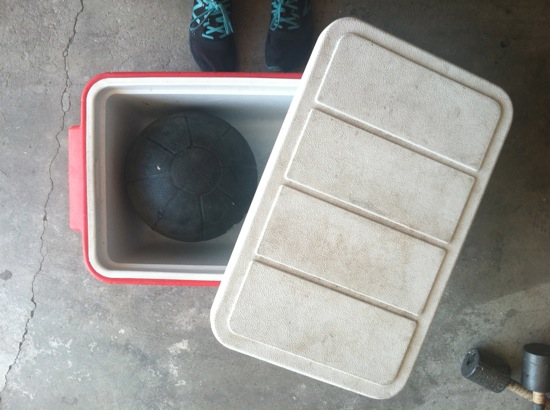 no workout is complete without tunes, right?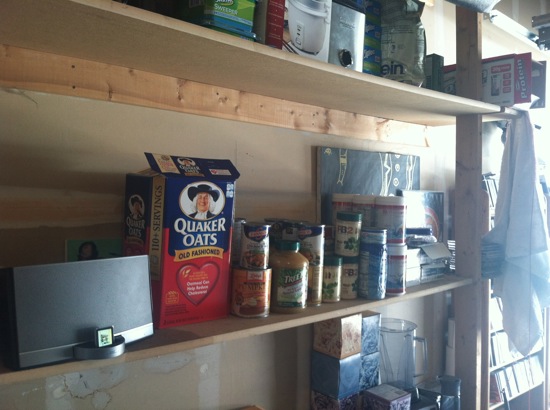 don't worry, my home gym comes complete with a stereo system… right alongside the oats, canned pumpkin, applesauce, pb2, fitmixer, and other food storage… ha. i also spy our broken vitamix.. wonder what i should do with that?
we actually recently purchased this wireless bose docking station from target and it's the best! we can take it anywhere, no plug required, and the sound is exceptional.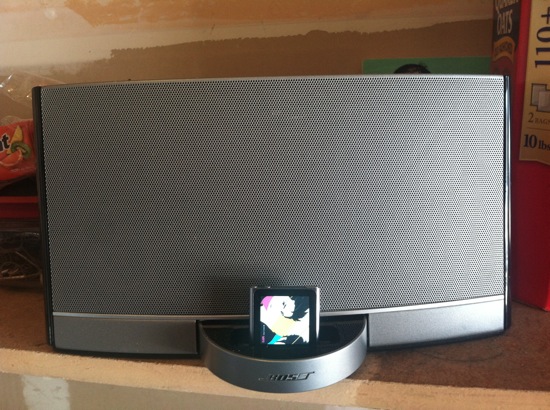 the tunes helped me power through my thirty minute sweat sesh. artists included ming & ping, shiny toy guns, tegan & sara, and me first and the gimme gimmes. gotta keep it mixed up!
i love that i was able to get a heart-pumping, sweat-inducing, wonderful workout done in the comfort of my own home! i'm off to enjoy the last few hours of this holiday weekend… i have a few new recipe ideas up my sleeve and i'm going to use my free time to experiment. wish me luck!
Qs~
1. where do you prefer working out?
2. what's your favorite workout jam?
xo. janetha g.