i haven't done a my-whole-day post since june, so i thought i'd throw one out there today.
my alarms went off this morning and i buried my iphone under my pillow, suffocating my good intentions to work out before work.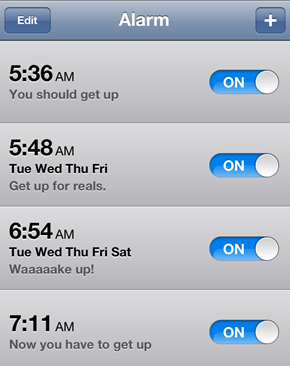 see the top two? yeah.. those are the morning workout alarms. the bottom two are the alarms that wake me up after i disregarded the work out alarms. i suck at mornings.
i did my morning routine and marshall brought me my morning juice.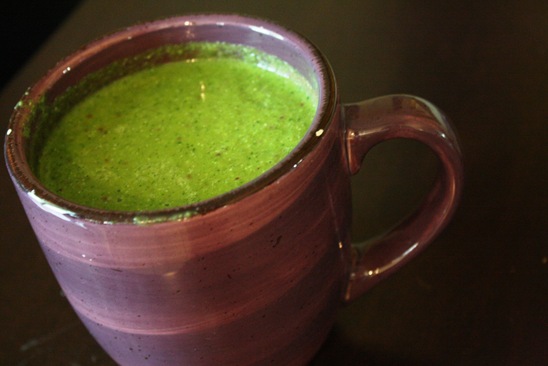 this had celery, kale, spinach, apple, peach, orange juice, hemp seed, and coconut oil. oh, and ice. he blends everything up in our vitamix to make a whole food juice. verrrry tasty!
after getting ready, i got to work on packing my breakfast & lunch for the day.
breakfast: a fage yogurt & two hard boiled eggs (plus the juice.)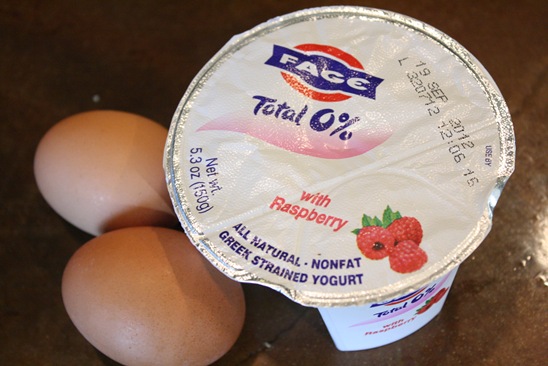 lunch: a sandwich stacked and packed with lots of goodness.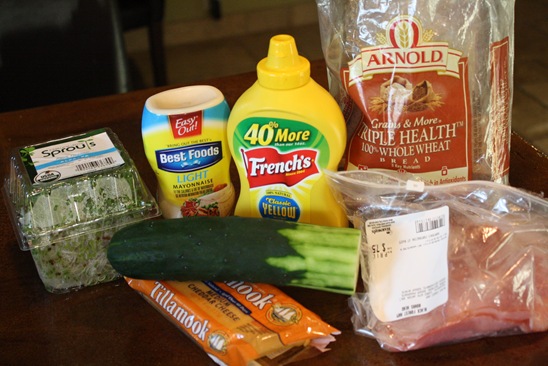 today's sandwich had low sodium boar's head ham, mayo, mustard, sprouts, cucumber, and cheddar cheese… which i ate a few hunks of during the sandwich-building-process.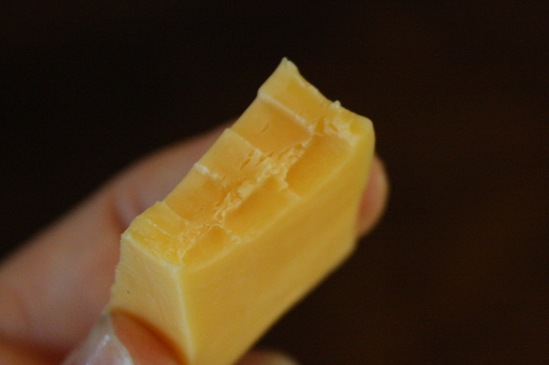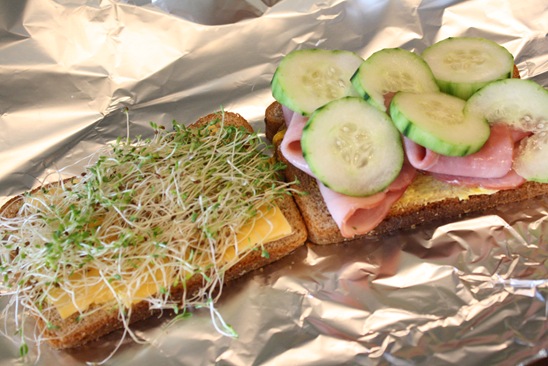 for my sandwich bread, i have been using this triple health 100% whole wheat variety that was sent to my by arnold bakery awhile back. i'm loving it! not surprisingly, since we usually buy arnold's health-full bread on a weekly basis and really enjoy all arnold products we try. this specific variety is packed with fiber and has a fair amount of protein as well.
i will definitely be buying another loaf once it is gone. since marshall and i are both huge sandwich people, we buy bread (and go through it) often!
my eyes were killing me this morning and i realized it had been about two months since i last took my contacts out. i am the worst! i decided to rock my spectacles today. of course, that meant i had to double up the glasses while driving, i have to wear sunglasses while i drive. i should probably invest in a pair of prescription sunglasses, but for now, this look will have to do:
i got to work and had a lot of things to do right away, so i didn't get around to making my coffee until about 10:45 AM.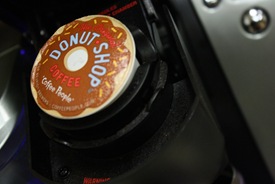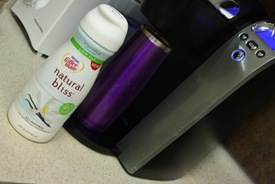 that's okay, though, because it was the perfect time to take a break and enjoy a banana peach muffin that kerryne baked with love!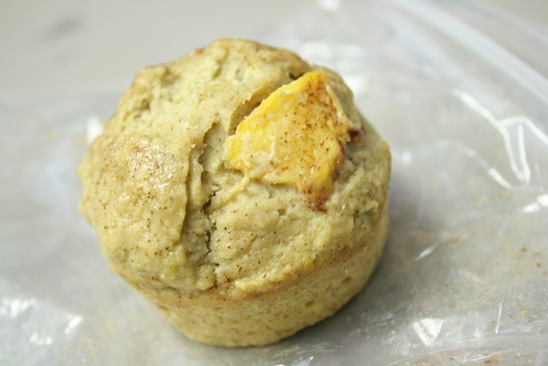 OH. MY. these (healthy) muffins were REMARKABLE. dense, fruity, sweet, moist, and delicious. yeah, yeah, i know the word "moist" sucks.. but there is no other word. kerryne promises she will post her recipe for them on her blog soon. "soon" might mean in a month, but she will post it one of these days ;)
i typically eat lunch around 1 o'clock, but i didn't get hungry until 1:45 today. i ate my ham & cheese sandwich while chatting with amanda and kerryne.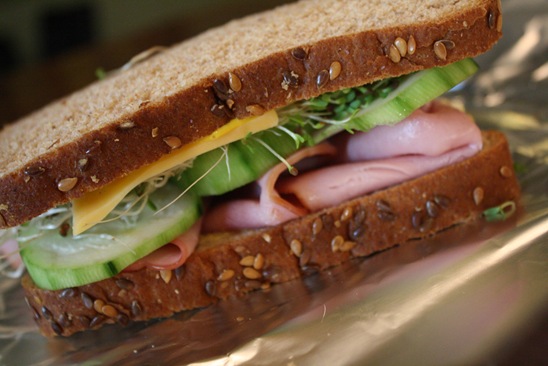 i didnt get out of the office 'til 4:45, so i was in a rush on the way home. i snagged the pups from daycare on my way home. i changed for the gym and took my vitamins—i never remember to do that in the morning and always end up taking them after work. i also grabbed a handful of marshall's nuts to snack on. minds outta the gutter, folks.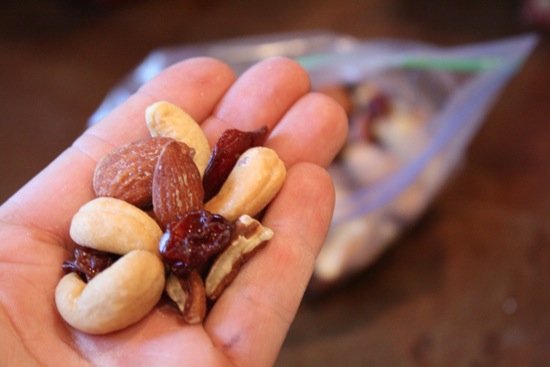 since i didn't make it to the morning class, i headed to GPP for the 5:45 evening class.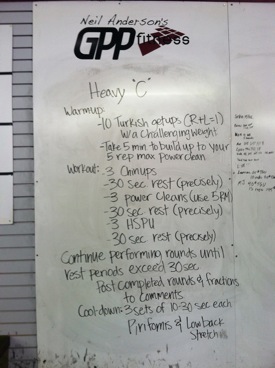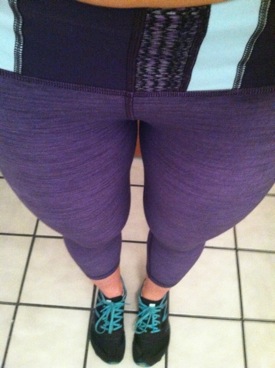 i just got a new pair of lululemon wunder under crops in purple denim. i am loving them so much that i wore them two days in a row! the thick denim fabric is the best and of course i dig the purple—my favorite.
the class was fun today! i'm so glad that i am no longer afraid of handstand pushups. the turkish getups were a tad awkward, but they are a great move for a dynamic warmup. i completed 12 rounds of the workout before calling it quits.
when i got home, i wanted to make something fast & simple for dinner. one of the dinners on the menu this week was blue cheese bacon burgers, so i decided to fix those.
first i baked the bacon—way less messy than frying it! just turn your oven to 400°F, cover a cookie sheet with foil, lay the bacon on top, and bake for 20-25 minutes!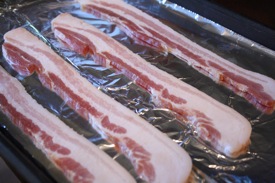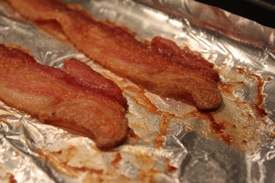 i snacked on raw string beans fresh from kerryne's mom's garden while the bacon cooked. i need to become a gardener!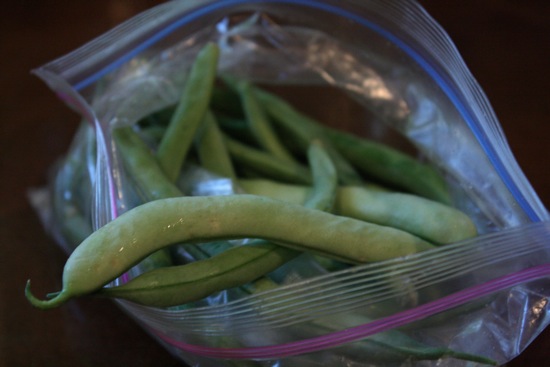 once the bacon was done and cooled, i crumbled it and made the patties using the bacon, crumbled bleu cheese, local, grass fed 85% lean beef, roasted garlic, salt, and pepper.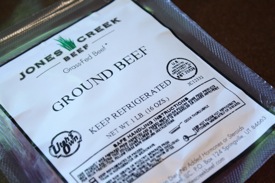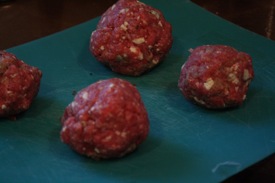 finally, i grilled them using our grill pan we bought back in july and have been loving.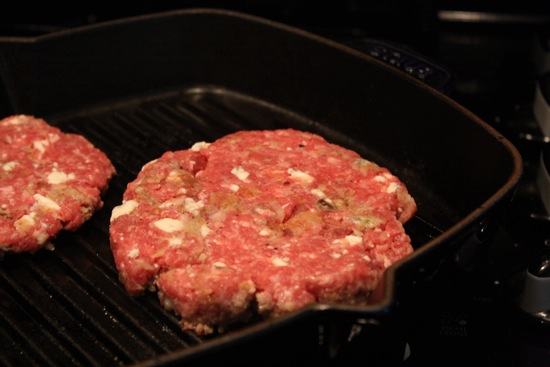 we garnished our burgers with heirloom tomato slices, smashed avocado, spinach, and mustard. simple, but tasty.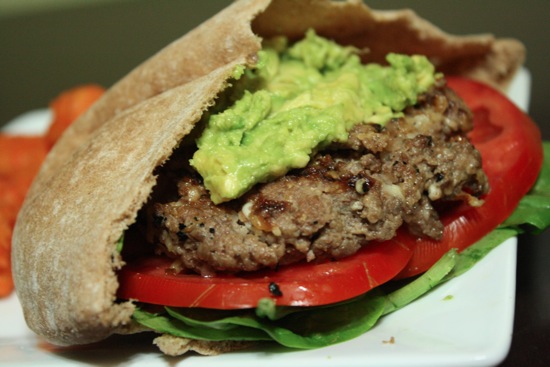 oh, and we used pitas instead of buns. i bought bagels, pita bread, and sandwich bread at the store on sunday.. i did NOT need to buy a fourth type of bread product. we are two people. things get moldy.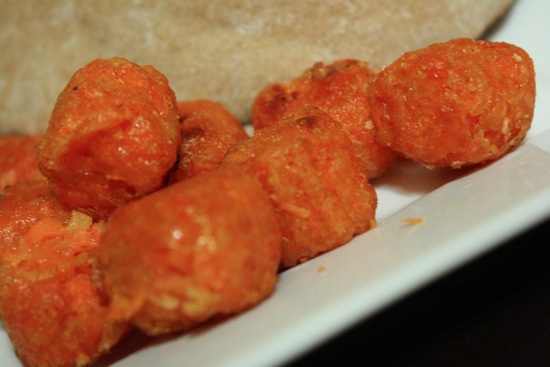 we had sweet potato tots on the side. these are from alexia and are found in the frozen section at the grocery store. they are so tasty and so easy! they make a great side.
the whole time i made and ate dinner, i was blasting the new minus the bear album! it was released today and marshall snagged it right away. ohh.. i love them. can't wait for their upcoming show.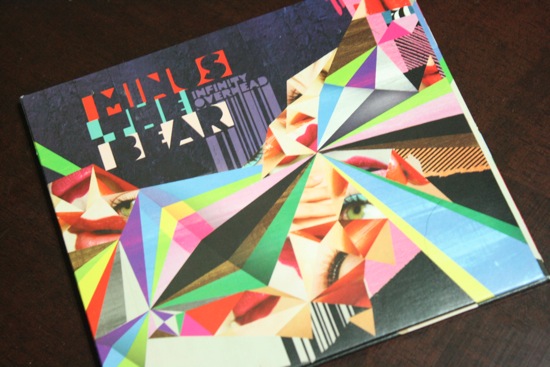 now i am typing this up and thinking about folding the massive pile of laundry that is taunting me. ugh. folding laundry makes me stabby.
whew! and that, my friends, was my whole day. so far, at least. i am thinking i will have a fresh peach from the farmers market diced up and doused in almond milk before heading to bed. peach season is too short to not eat at least one peach a day! they are my favorite fruit.
thanks for reading this LONG ramble! now you know why i rarely recap my whole day.
Qs~
1. what's your favorite fruit?
2. what was the last CD (or itunes album) you purchased?
xo. janetha g.