hey! how was your weekend? short? mine, too.
it's been a productive day today! i started things off by mowing the lawn. that has never happened. not at this house, at least. it was actually nice to do some yard work–i think i'll go buy some gloves so i can pull weeds in the evenings this week. marshall, if you are reading this… don't hold me to it ;)  i also did some laundry, some dusting, and straightened up the house. sundays are usually my day for cleaning. i should do a little bit each day, but that never happens and i usually end up doing it all on sunday. oh well, it works.
i had the day off from exercise so i lounged around and drank coffee while making a grocery list. when marshall headed to the gym, i headed to the store. i just got home and wanted to share my haul with you.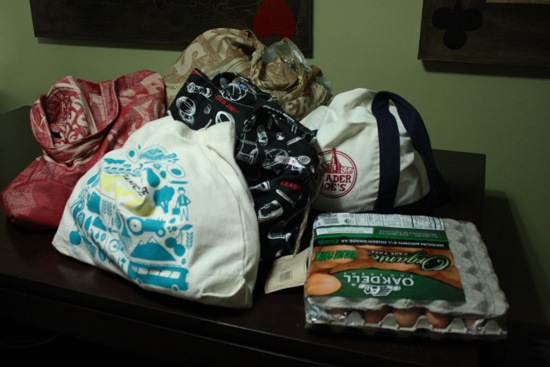 i wandered around harmon's for an hour and managed to get almost everything on my list! i usually do one big grocery trip on sunday (and costco, too, if needed.. didn't go there today) and then i will stop at the store after the gym during the week if there are any items we really need before the following sunday. like ice cream…
so, like i said, today's trip was successful! the one thing i didn't get was almond milk, because they were out of my favorite one (blue diamond unsweetened vanilla) but i managed to buy the rest of the store while i was there.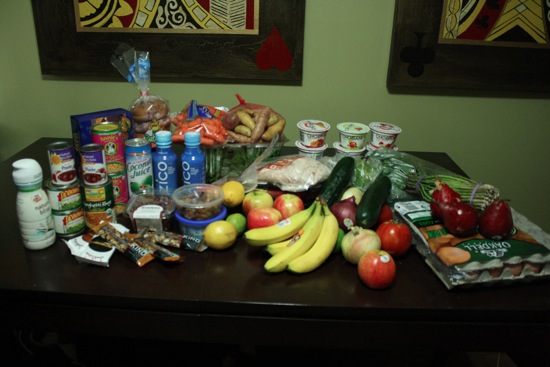 let's take a closer look!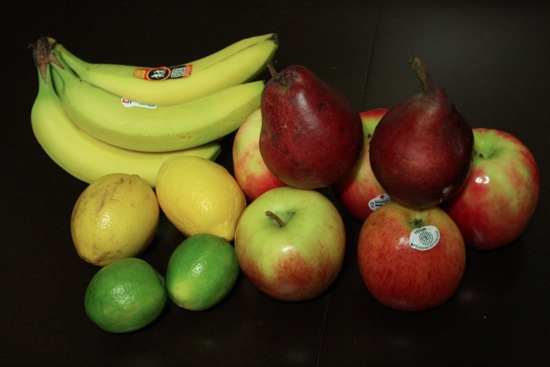 fruit: bananas, lemons, limes, apples (pink lady and braeburn) and pears. i don't know why, but whenever i buy pears there is at least one that gets completely ruined in the bag…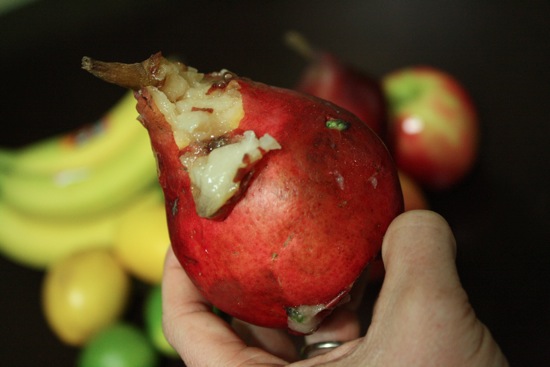 that just meant i had to wash it off and eat it immediately. no biggie.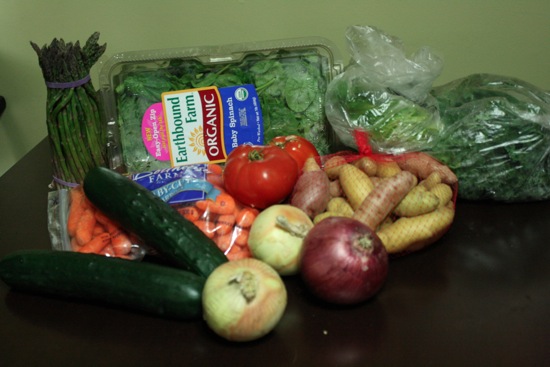 vegetables: asparagus (has to be the skinny stalks!), cucumbers, baby carrots, spinach, kale, cilantro, yellow and red onions, fingerling potatoes, and heirloom tomatoes. i debated putting tomatoes with the fruit or the veggies.. but i always have thought of it as a veggie.. so that's that.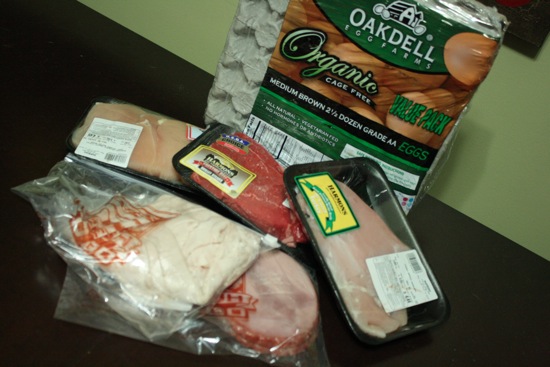 proteins: low sodium turkey and black forest ham from the deli, chicken breasts, turkey breasts, top sirloin steak, and eggs.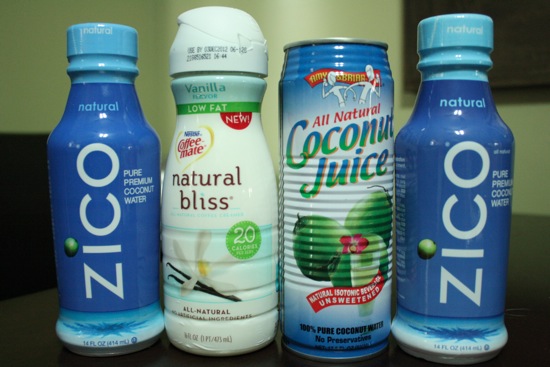 ummm.. things that are liquid? coconut water and low fat vanilla coffee creamer.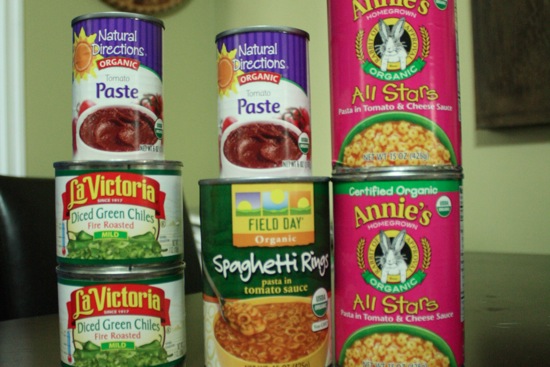 canned goods: diced green chiles, tomato paste, and spaghettio's for marsh.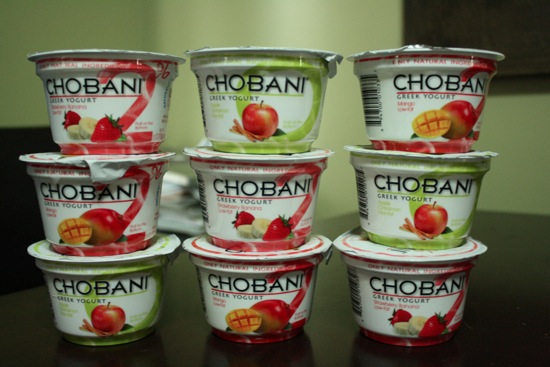 chobani! a staple in our house. i will have to buy more mid-week.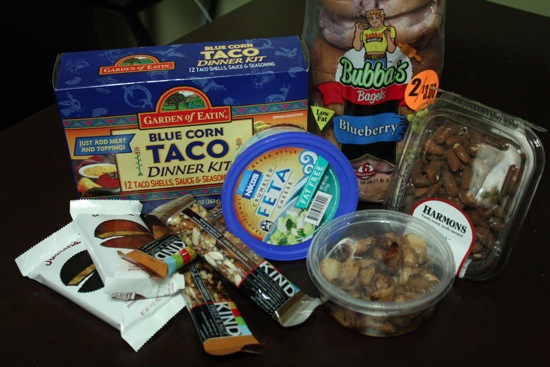 odds & ends: blue corn taco shells that i had to buy in the "kit" (comes with seasoning and hot sauce) since they were out of the box of just shells, blueberry bagels, almonds, feta, roasted garlic because it's convenient and i am lazy, justin's PB cubs (dark and milk chocolate), and kind bars… i am most excited for this new-to-me flavor: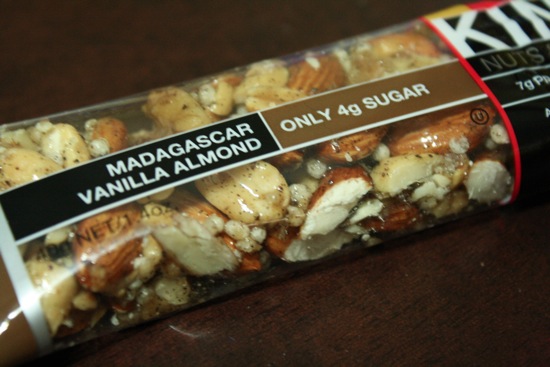 you know i love vanilla bean… check out those bean specks! yum.
these groceries are going to play a part in this week's meal plan. here's the dinner schedule this week:
sunday: cobb salads (greens, hard boiled eggs, diced chicken, diced ham, green onions, tomatoes, cheddar, blue cheese, avocado, and olives)
tuesday: ham, cheddar, broccoli, and rice casserole (using the recipe linked but subbing in the ham)
wednesday: steak, carrots, and potatoes in the dutch oven with asparagus on the side (no recipe.. winging it!)
thursday: mac & cheese and chicken strips
friday & saturday: leftovers or out to eat
breakfasts, lunches, and snacks are usually the same ol' thing around here.
for breakfast we will both have coffee and fresh fruit and veggie juice. marshall has a bagel & cream cheese and a yogurt and i have a protein shake. 
for lunches we will both have sandwiches (usually turkey and cheddar–yum) and marshall also takes a chobani and his annie's spaghettio's in one of our contigo hot mugs. or, if there are dinner leftovers, we will take those for lunch–at least one of us will, depending on how much dinner is left over.
snacks will include bars–kind bars and simply bars and pro bars (we love bars!), ready to drink protein shakes (we buy premium protein brand ones from costco), veggies, fruit, hard boiled eggs, babybel cheese, yogurt, and the random snacks we got in our healthy surprise box. 
i'm off to boil some eggs for our cobb salads! have a great evening!
Qs~
1. what's on your dinner menu this week?
2. how many times a week do you go to the grocery store?
xo. janetha g.